Flying privately is more accessible, socially acceptable, and enriching than ever before.
Once reserved for presidents and potentates, private aviation providers now court travelers with a wealth of flying options, more accessible pricing, value-added perks, and philanthropic initiatives. Jetsetters ready to rule the skies can enjoy the apex of luxury, safety, and security with the knowledge that their flight can benefit people in need.
RISE OF THE HIGH-FLYING LEISURE TRAVELER
Although COVID-19 has grounded most business travelers, leisure travelers are now taking to the skies more frequently than before the pandemic. Over the past several months, Wheels Up has witnessed 90 percent of its first-time travelers flying for personal, not business, use.
Due to this change in market mix, private air providers are adapting their business strategies and marketing tactics to capture new leisure travelers who were once content with flying first-class on commercial carriers.
After experiencing the benefits of flying privately, these first-time flyers will likely continue on the private path. As Warren Buffet famously said, "Once you fly private, going back to commercial is like going back to holding hands."
COMMERCIAL VS PRIVATE
Although airlines and private aircraft both have instituted stringent cleanliness and safety measures, commercial air travel involves navigating a large airport, checking in luggage, and standing in security and boarding lines, all of which take time and can challenge social distancing practices. Including the actual flight and departure, commercial air passengers encounter approximately 700 points of contact with people and objects.
By comparison, private air travel entails only 20 to 30 such contact points. It's faster and safer and offers a bevy of luxurious amenities, including:
Coordinated ground transportation to a fixed-based operator (FBO). An FBO is a private terminal at an airport that caters to private air travelers. Local FBOs can be found in San Francisco, Oakland, San Jose, Livermore, San Carlos, Half Moon Bay, Hayward, Concord, and Napa.
Time and privacy. When passengers arrive at the FBO, they are personally escorted on a red carpet to their aircraft. Upon landing, a driver awaits to whisk them to their resort or vacation home.
Refreshments and entertainment. Once ensconced onboard, travelers can enjoy complimentary snacks, a variety of refreshments including wine and cocktails, and Wi-Fi to keep in contact with earthbound mortals as passengers recline in buttery soft seats and soak in the view.
Meals. For an additional fee, customers may arrange for a catered meal to be served onboard the flight.
Pet-friendly service. Fido has freedom to fly. Pets are welcome on most aircraft.
No lost luggage. You will never lose your luggage. It flies with you.
In the wake of the pandemic, commercial airlines have drastically reduced their number of daily flights and routes. Private aviation transports clients quickly, safely, and in style to destinations not serviced by commercial airlines—now and possibly in the future.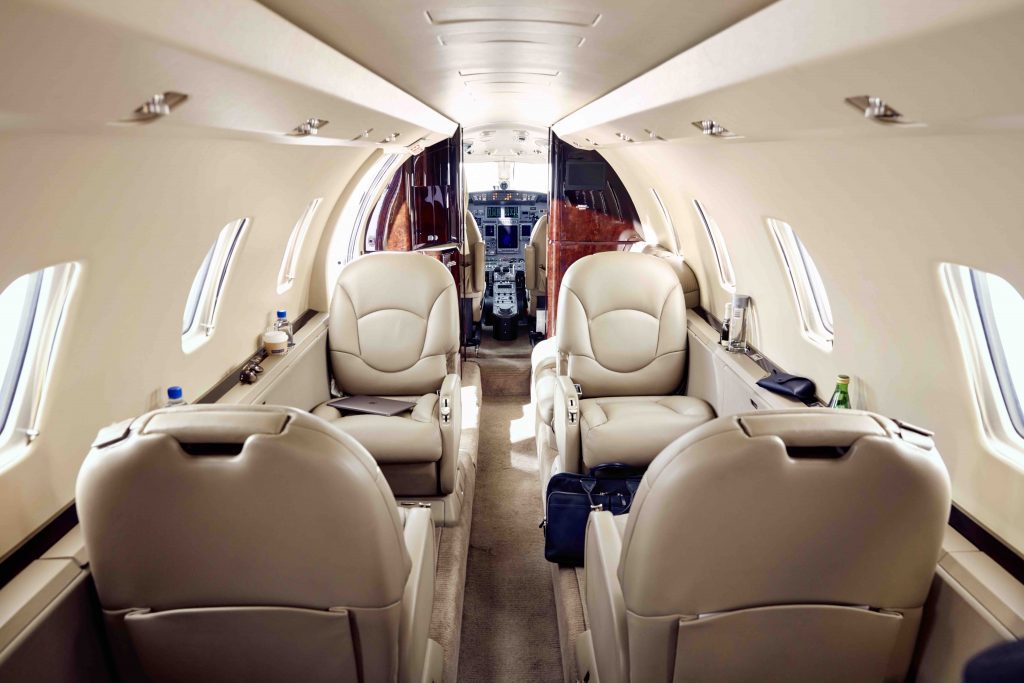 According to Kenny Dichter, founder and CEO of Wheels Up, "What was once considered a luxury is now often considered a necessity."
AN INSIDER'S TIPS ABOUT FLYING PRIVATE
For guidance regarding this new age of private air travel, we enlisted the expertise of world traveler and national business reporter Brian Banmiller. His experience in private aviation is vast and personal. Banmiller fulfilled his lifelong passion for flying by earning a pilot's license. He has co-owned an aircraft and is a member of Wheels Up.
HL: How do you prefer to fly?
BB: Although learning how to fly was a blast, I like to travel as a passenger. My time in the air provides a terrific beginning and end to an extended vacation or a day trip with family and friends. I can relax with a glass of wine and focus on my fellow passengers and the vistas surrounding us.
HL: Do you recommend owning an aircraft or joining a membership-based private aviation provider?
BB: My advice is to consider owning a jet or turboprop only if you fly more than 50 hours per year or spend $500,000 (or more) annually on transportation. Otherwise, it's a huge expense and requires considerable upkeep for a depreciating asset.
Membership-based models such as Wheels Up significantly reduce upfront costs and allow clients to finalize their travel plans 24 hours before takeoff with the ease of a digital app. I live in Danville and can arrive in Palm Springs in two hours with door-to-door service. That's important when time is a prized commodity.
HL: Is now the time to upgrade from commercial to private air travel?
BB: Private aviation is a cutthroat industry with dynamic pricing. Right now, there's a lot of competition in the sky, and consumers can land great deals if they do their homework.
For example, we're seeing jet cards, which often require a purchase of 25 hours, being sold in smaller increments of time. Many charter companies are lowering the price of one-time flights to attract new customers.
Always remember, safety comes first. Clients should ask for the safety ratings of the aircraft, crews, and private air operator when selecting a carrier. Two pilots and two engines provide the ultimate safety in the sky.
HL: How has private aviation changed in the last decade?
BB: Due to increased competition, select private air providers have elevated their level of services and amenities both on the ground and in the air. This robust lifestyle approach and new tiers of membership make flying more accessible and fun.
THE SWEET SPOT OF PRIVATE AVIATION
According to Banmiller, Wheels Up represents the sweet spot in private aviation. Founded in 2013, the company owns and manages more than 300 aircraft, including the largest fleet of turboprops in the U.S.
Members who travel from New York to Washington, D.C. or San Francisco to Palm Springs need not pay a premium for a GulfStream jet when a King Air 350i turboprop can take passengers to destinations within a 2.5-hour distance for much less money. Approximately 80 percent of air travel in North America takes less than two hours of flight time.
IT'S A LIFESTYLE
Wheels Up is a lifestyle brand complete with concierge service and Wheels Down star-studded sporting and entertainment events. Membership includes access to Inspirato, which provides once-in-a-lifetime travel experiences delivered with five-star service at the world's finest vacation homes and hotels.
FLYING ON THE WINGS OF ANGELS
Netjets, Wheels Up, VistaJet, and XOJET are among the private jet operators donating flights to move medical personnel and supplies during the pandemic.
Inspired by the donation of 1 million meals to Feeding America by brand ambassador and NFL star Russell Wilson and his singer-songwriter wife, Ciara, Dichter launched the fund-raising initiative Meals Up with the goal of providing 10 million meals to the food insecure.
He mobilized his resources and network of ambassadors—including Jennifer Lopez, Alex Rodriguez, Tom Brady, JJ Watt, and Joey Logano—and surpassed his goal in just one week. Wheels Up continues to generate meals for Feeding America, a nonprofit that gives 4 billion meals per year to more than 60,000 food banks, soup kitchens, and churches across the U.S.