Lucy Lewand, Owner and Innkeeper, Camellia Inn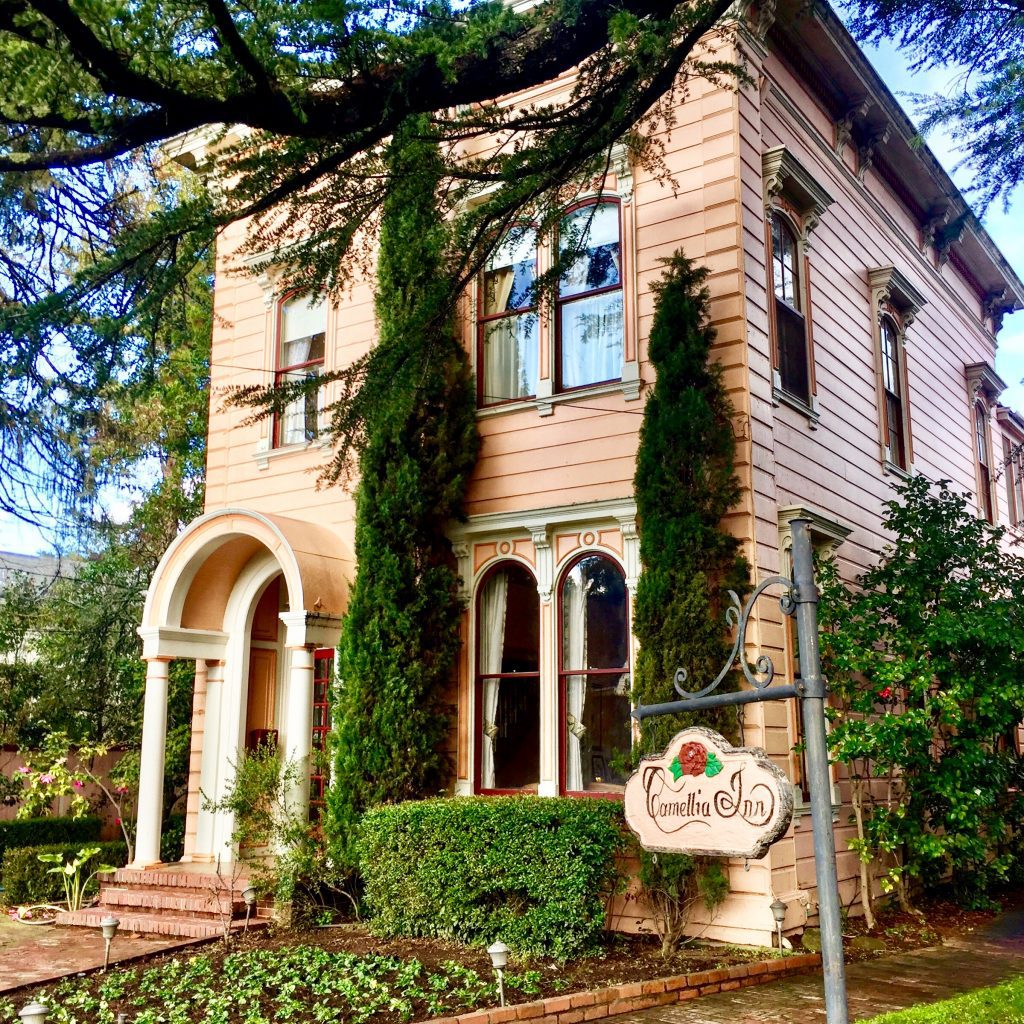 Sunday morning sunlight floods the front parlor room in this sweet, south-facing, salmon-colored 1869 Victorian Italianate two blocks from Healdsburg Plaza. Step outside for a self-guided tour of the garden starting at the fish pond. You can't miss the giant Cedar of Lebanon tree and don't want to miss the dwarf Japanese maple. The oldest of 80 camellia trees of 50 varieties dates back to the 1820's.
Owner Lucy Lewand can tell you more about the beloved camellias. But for now she's chatting with guests over a relaxed breakfast at a large mahogany table in the dining room, sharing tips about the inaugural Healdsburg Tastemaker Weekend activities and all the local options for the day ahead: wine tasting, watercolor painting and pizzas, a cooking class, pastry making, mushroom foraging, an afternoon high tea.
Lucy should know. Her parents, Ray and Del Lewand, bought the house in 1981 and opened Healdsburg's first B&B as a "leap of faith," she says. Escaping from the congestion of Southern California, they arrived at a very different Healdsburg—one that was without a single restaurant, filled with dilapidated houses (this one included) and a largely boarded-up town square. Forty years later, compare that to the destination downtown Healdsburg scene that's sprinkled with restaurants, art galleries, tasting rooms, shops, an antique store, a swish boutique for pets and one longtime fixture—a European-style, century-old destination bakery called Costeaux.
After earning her MBA at UCLA, Lucy joined the trendsetting family B&B business, contributing to the growing community as head of the chamber of commerce and chair of the tourism council. These days, she greets guests and runs the antique-filled, intimate nine-room property (note the outdoor pool and in-room massages) where free parking, Wi-Fi, a wine tasting passport and a delicious buffet breakfast (the best toasted bagels ever) and a late afternoon wine hour are part of the warm hospitality.
Camellia Inn, 211 North Street, Healdsburg CamelliaInn.com
Dustin Valette, Chef-Owner, Valette Restaurant
As good fortune has it, a dream come true turned into a mission statement: "To provide a canvas for Sonoma County farmers, winemakers and artisans to showcase their craft." Valette is a good old-fashioned, thriving family-run restaurant that stands as testament to the owners' strong desire "to do something we're passionate about."
Positioned on an enviable corner in Healdsburg where his great grandfather once owned a bakery, chef-owner Dustin and his brother, general manager Aaron Garzini, are the front- and back-of-house pair at Valette, named in honor of that gentleman baker.
Before partnering with Aaron, Dustin Valette trained under James Beard Foundation Award–winning chefs Michael Mina, Thomas Keller, and Charlie Palmer. Some say Valette serves American-California cuisine. "It's hard to say what kind it is," said Chef Dustin, "other than delicious, fresh and local."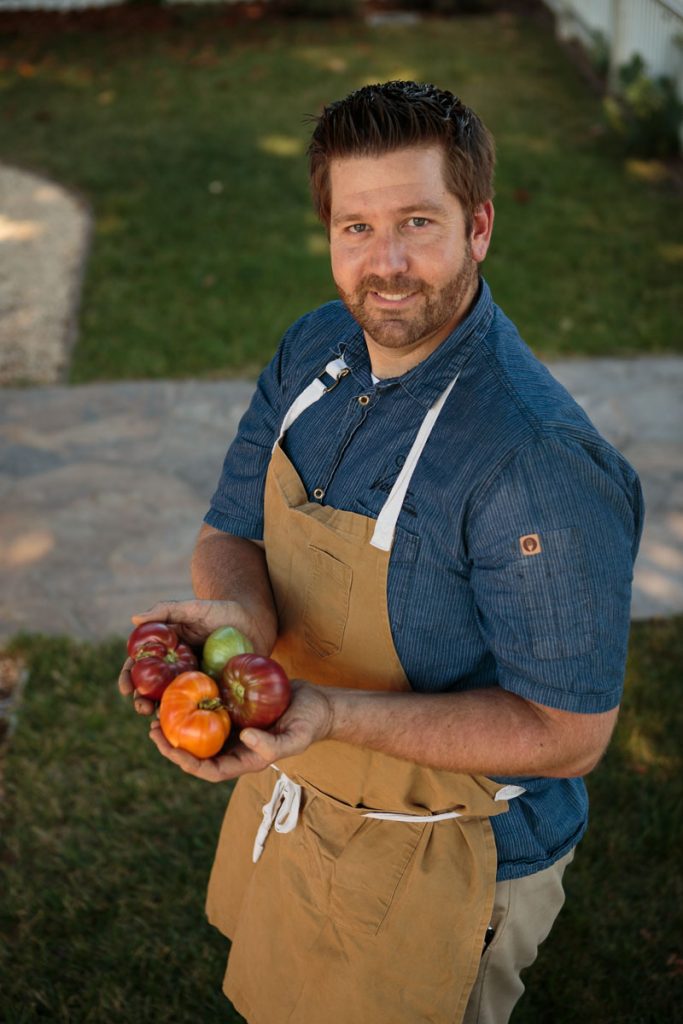 Chef may twist an orange from the tree and plan a dish around its just-right ripeness. Other days, he may spy edible pine buds, meet up with a supplier milling heritage wheat, or yearn to do caramelized pears when the weather turns chilly. Notice that Vallette's menus are printed on the cheapest possible paper? It's intentional. Chef Dustin and General Manager Aaron intentionally sourced this paper so they'd always have the built-in freedom and flexibility to frequently change the menu when fresh ingredients or the best catch create opportunity.
Just yards from the restaurant, a 5,000-square-foot chef's garden provides inspiration for the ever-changing seasonal five-course menu."The garden is one of the main drivers," Chef Dustin explained. "It's more about flavors and practicality than a showcase; there are 200 tomato plants, 50 pepper plants, corn and lots more. We utilize everything and really enjoy getting back to basics and being good stewards of the land."
To understand the heart of what makes Valette tick, listen to Chef Dustin discuss teamwork as a foundational pillar. "It's about the artisans, our sommelier, our servers…we couldn't do it without this collective energy, a team who are so damn passionate that it gets us all fired up. And that's the positive vibe we consistently deliver to our customers."
Valette, 344 Center Street, Healdsburg ValetteHealdsburg.com
Executive Chef Todd Knoll, Jordan Winery
"Seventeen years," says Chef Todd. He's proud to state his tenure at Jordan Vineyard & Winery, where as a chef who's also a farmer and environmentalist, nowhere could be better. "Everything grows here—it's the best place to be for sure. My garden is my baby. Every morning, I'm there with the bees, the butterflies, the hummingbirds." He notes that more than three-quarters of the sprawling 1,200-acre estate is dedicated to natural habitat.
This destination winery, famous for producing Bordeaux-style California Cabernet Sauvignon in Sonoma's Alexander Valley, is just five miles from Healdsburg Plaza. The objective of the founders, Tom and Sally Jordan, was to combine food, wine and hospitality to give visitors traveled to France without leaving California—a goal most definitely achieved. On the approach, the 'wow' moment is provided by an ivy-covered French-style stone chateau that houses winemaking facilities, kitchen, dining room, tasting library, wine cellars, and lovely guest suites all under one roof.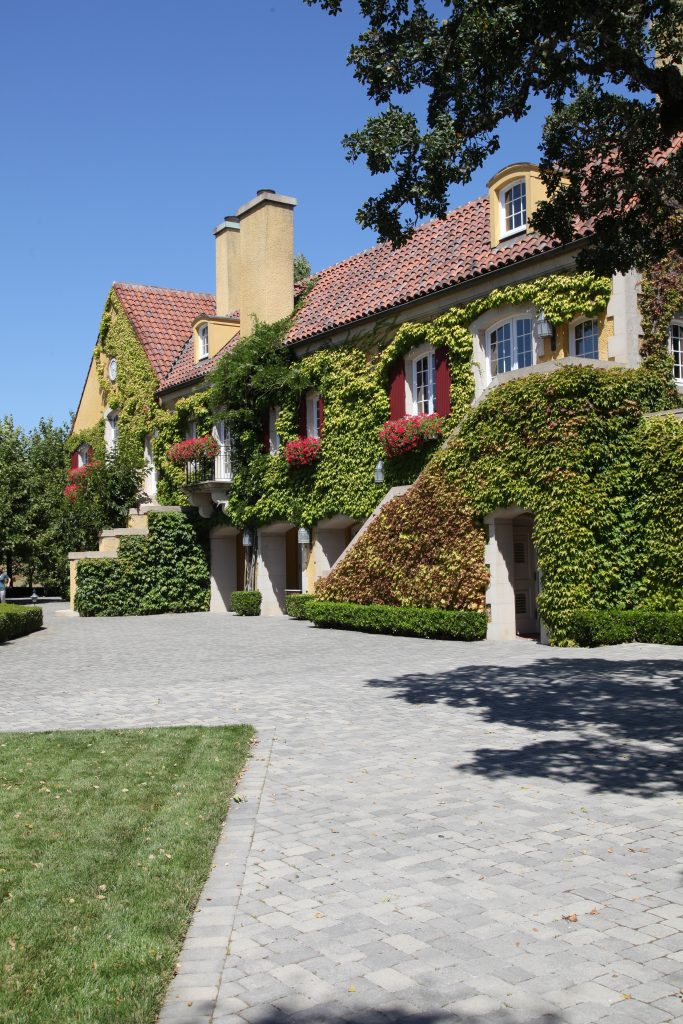 Healdsburg High Tea in the Jordan Dining Room was so well received by guests during the inaugural Healdsburg Tastemaker Weekend in February, it is returning by popular demand. Chef Todd and his wife Nitsa Knoll, director of hospitality and events at Jordan, are both veterans of California Culinary Academy and Ritz-Carlton San Francisco, so they know that afternoon tea service is "a regimented thing," says chef.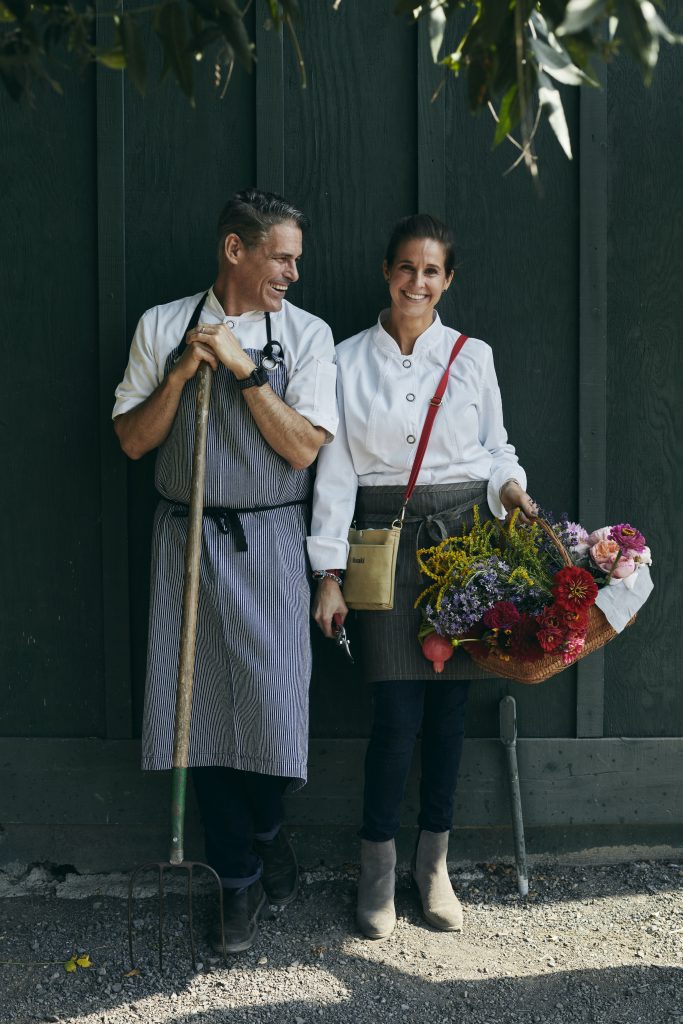 But before sitting down to enjoy a meal, Chef Todd gives us a look at how the food on your plate got there on one of the intimate Jordan Estate Tours (say "JET" to sound like an insider) available to visitors by reservation. "Get a glimpse of the wine country lifestyle that I'm so fortunate to have," he suggests.
Surprises? Plenty. See a 30-strong herd of steer grazing on native grasses plus corn husks and herbs from the garden during harvest, enjoy chef's bento box lunch served al fresco beside one the lakes, hike to Vista Point Pavilion for breathtaking views or ride to remote corners of the gorgeous estate for al fresco wine and olive oil tastings.
Jordan Vineyard & Winery, 1474 Alexander Valley Rd., Healdsburg Jordanwinery.com
Winemaker Shelly Rafanelli, A. Rafanelli Winery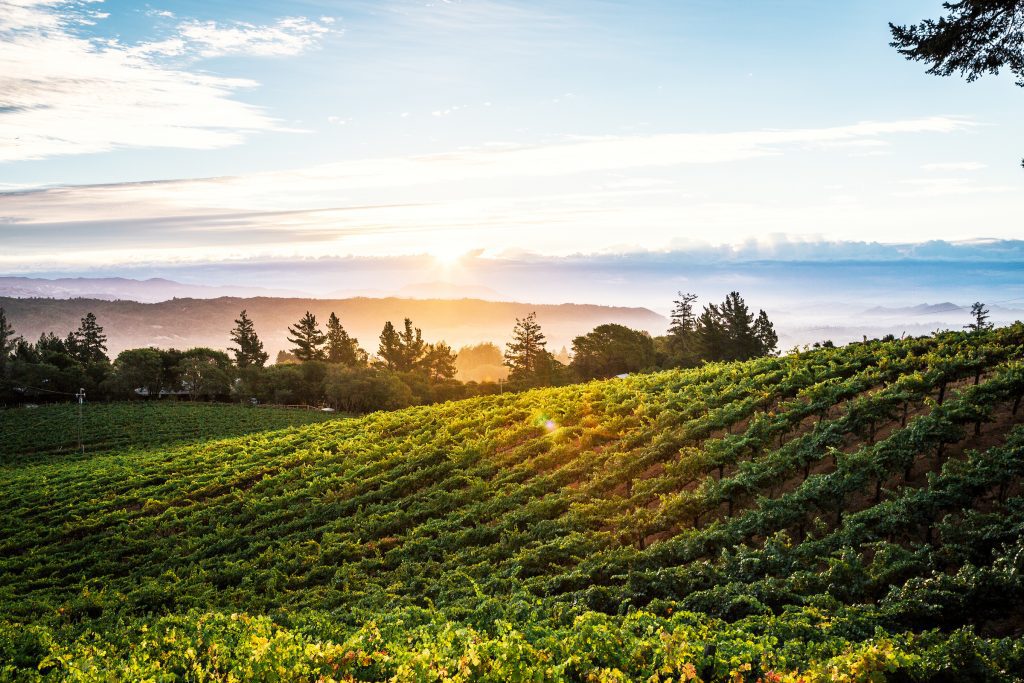 A rustic wooden barn on the beautiful grounds gives a clue to the historic family tradition that defines A. Rafanelli Winery in Healdsburg. Fourth generation winemaker Shelly Rafanelli-Fehlman said, "More than a century ago, my great grandmother came to America from Orentano, a Tuscan village, at the age of 19. Speaking only Italian and not knowing where her journey would lead, she bravely departed New York on the long train journey west to seek California climate more suited to growing grapes."
Settling in Healdsburg, these early farmers could not know that Prohibition would arise as the next challenge. "But she said it was crazy, it wouldn't last—and kept planting grapes," said Shelly. Today, the family is the core team of capable hands producing a "manageable size" production of 11,000 cases of Dry Creek Valley Zinfandel and Cabernet Sauvignon. "We're motivated by the long tradition of growing grapes and making wine in the heart of Dry Creek Valley."
Shelly has seen the town change. Growing up in Healdsburg, Shelly says school classmates from around the region would tease the town's name as "Hicksburg." For attending high school, and for shopping, restaurants, movie theatres, we had to go to Santa Rosa," Shelly recalls. "Healdsburg was very rural, mainly a farming community, and just look at it now. We're so spoiled. And, we're really pleased to help promote the destination by sharing our wonderful wine, food, and other businesses."
The enthusiasm around planning to participate in a special Healdsburg Tastemaker Weekend event began months ago. A. Rafanelli Winery provided a unique opportunity for 20 guests to join a cave dinner (catered by local restaurant Baci) and tasting experience at which six select private library wines were poured, the oldest being a 1988 Zinfandel. The red wine bottles were concealed in paper bags so people could enjoy guessing the varietal and vintage. How did everyone do? "It was fun to reveal the results because blind tasting isn't easy for those who aren't in the professional wine world. Two guests each got one right," said Shelly.
Walks through the vineyard and tastings in the 100-year-old barrel room can be arranged by appointment.
A. Rafanelli Winery, 4685 West Dry Creek Rd., Healdsburg ARafanelliwinery.com