Shares Secrets of Forever Radiant and Fabulous at 85
The stardom of legendary screen and culture icon Sophia Loren rose out of the slums of post-war Naples and soared to prodigious heights. Born in Rome, Italy on September 20, 1934 as Sofia Scicolone, times for Sophia were about to become extremely challenging. From the shanties of Pozzuoli during the Second World War, Sophia's childhood left all the world's hope, opportunity, and glory to her imagination. We recount a tale of a girl, born out of wedlock in extreme poverty, during a time when the world was in turmoil, a time when, for Sophia, only a dream or a miracle could offer a bit of respite.
"The two big advantages I had at birth were to have been born wise and to have been born in poverty" says Sophia.
To Sophia's advantage, she was born with an unmistakable beauty that the whole world recognized at a very young age. Her break came at the age of 14 when she entered a beauty contest and victoriously placed as one of the finalists. From there, her outward beauty showed brightly, yet her inside beauty, which spoke volumes, had yet to be discovered. Film producer, Carlo Ponti, 22 years her senior, was struck by Sophia's beauty, and the two eventually wed in 1966. In her early film years, Sophia was credited as Sophia Lazzaro, her beauty perceived as one that could raise Lazarus from the dead.
Armed with an unique combination of striking beauty, effortless grace, glamour, and wit, Sophia's illustrious acting career spanned six decades in more than 100 films, including her early films: The Pride and the Passion, Houseboat, It Started in Naples, Yesterday, Today and Tomorrow, Marriage Italian Style (for which she was nominated for a second Oscar), Sunflower, The Voyage, and A Special Day. Her performance as Cesira in the movie Two Women (1961), directed by Vittorio De Sica, earned her the Academy Award for Best Actress, making her the first actor to win an Oscar for a foreign-language performance. She also holds the record for having earned six David di Donatello Awards for Best Actress, a Grammy award, and five Golden Globe awards. Sophia eventually changed her name and public image to Sophia Loren, and it stuck. Having been coined as "one of world cinema's greatest treasures," Loren received an Honorary Academy Award in 1991 for her body of work.
Having lived a full, rich life with countless successes and challenges along the way, she feels that any opportunity you are presented with could, in fact, propel you to new beginnings. "I've never tried to block out the memories of the past, even though some are painful. I don't understand people who hide from their past. Everything you live through helps to make you the person you are now."
As we fast-forward to today, our world now faces a global pandemic, something with which we have neither much experience nor enough knowledge to impart. Italy, in particular, has faces grave danger and strife in dealing with this crisis. It has brought a greater sense of camaraderie and unity among Italian civilians who band together and fight this radical disease. Our beloved Sophia resides in Geneva, Switzerland and is thankfully braving this challenging time and staying well.
"Italy has and will always be in my heart and being. It is an essential and intrinsic part of who I am as a woman, person, and artist.Italian culture and ethos have shaped my artistic identity since the beginning of my career, and I am proud to be considered by many as an ambassador and representative of my country's cultural heritage and achievements," Loren says.
The novel coronavirus has given us all a time for reflections on family, peace, health, and internal and external world and familial matters. It has called on all of us during this challenge to contemplate how we can better serve our families and communities. On the topic of health—and particularly preventative health—Haute Living brings forth the ageless beauty, none other than Sophia Loren, to speak on behalf of her healthy habits, secrets, and practices.
Today, the world dotes on the Italian icon for her intelligence, for her talents, and for managing to remain an inspiration for women around the world for generations.
In this exclusive interview, Sophia Loren shares with Haute Living the mystical, covert tips and formula of her daily routine regarded by yours truly. "There is a fountain of youth: It is your mind, your talents, the creativity you bring to your life and the lives of the people you love. When you learn to tap this source, you will have truly defeated age," Sophia recounts. How does one define beauty? The profundity from Loren's life experiences—not only as an internationally acclaimed actress, but also from her years raising her two accomplished sons, Carlo and Edoardo—has imparted to her wisdom, poise, and acuity in her beliefs on the sound mental and physical importance of one's well-being.
Through the lens of Loren, "I have always believed that beauty first and foremost comes from internal attributes more than external ones. The inner depth and richness of a person contributes immensely to their physical appearance; I think most important is what one harbors inside rather than outside." As a leading lady and heroic global icon in the realm of femininity and grace, Loren has led with extreme passion and benediction. When asked to share if there is one word that describes femininity to Loren, she simply answered: "Class."
When asked what comes to mind when the words "Sophia Loren" are muttered, one would naturally consider descriptive words such as beautiful, radiant, dazzling, exquisite, brilliant, charming, alluring … the list goes on. Yet what was most striking from our interview was Loren's profound sense of sophistication, depth, and refinement. Her acuity and keenness stood out strong, as if to say, "Thank you, Sophia." The inner strength of a woman can take us places many haven't gone before. We are inspired. We are energized to make positive change in our lives. Loren has given women that voice. So, is there a secret? A healthy secret that can stand the test of time, to radiate through the years?
The one question we deeply all wanted to know was: At 85, how do you stay so lustrous? "I think exercise and balanced nutrition tremendously help to keep a healthy and attractive physical appearance. The former help me feel good and in turn make me radiate the well-being that I feel inside. In addition, I have had the privilege of leading a life rich with professional and personal satisfactions, and I feel my gratitude for these successes is mirrored in how others perceive me as well." Undoubtedly, Sophia continues to grace our presence with the wisdom that balance is beautiful and great physical health paired with great emotional health endows one with high spirit and a healthy, grateful attitude.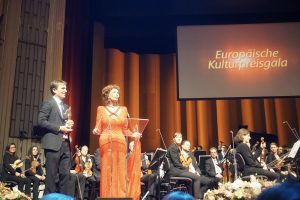 Loren continues to shed some light on her routines: How would you describe your view on the importance of having a wellness plan in your life? "I have always been a person who prioritized exercise and a disciplined lifestyle in terms of physical and mental activity. To this day, I still wake up at 6:00 a.m. every day and go through a 45-minute calisthenics routine to start the day on the right foot and with a good frame of mind. Exercise and physical activity not only help me stay in shape for the endeavors of personal and professional life, they also give my daily life structure and focus." Now, couldn't we all learn from Sophia? Her continued motivation at 85 can certainly pique us all!
When thinking of Sophia and how she has used her stardom to influence the lives of modern teens and adults, I was compelled to ask her: What beauty advice would you give a young woman growing up in these modern times?
"Strive to show your true colors. If you believe in yourself you will shine with the glow of confidence and strength and share these attributes with others, inspiring them with your radiance."
Today's youth will need much guidance as they navigate the waters of social media, societal pressures, school situations, and other alternate stresses that can wreak havoc on one's health, mentally and physically. Loren gives a bout of confidence when recounting her advice to today's youth. As proved by science, mental well-being is just as important if not more so than our physical body. Sailing through these rough waters as COVID-19 brings heightened challenges into our homes, the world looks to our great heroes and heroines for their insight to bring about greater peace among us.
In admiration for Sophia's wise words, she speaks on one of her favorite films:
"Choosing a favorite film of mine is very challenging, as I love them all for different reasons: they tapped into my artistry in countless varied ways. I truly cherished working on every one of my movies. I must, however, say that the films that I did with director Vittorio De Sica, which include the film Two Women for which I won an Academy Award in 1966, stand out as memorable experiences for me, as Vittorio was not only a great friend but probably the most significant artistic mentor that I ever had."
The wholeness that Sophia Loren has brought into our lives shares her passions for artistry on a multitude of facets. What is the one characteristic that defines success for you? "Having the freedom and privilege of doing what you love professionally; having one's passion be one's work, which is a privilege few are lucky to have; and, to have the fortune of having a strong and stable family, which perhaps takes even more dedication than any artistic endeavor or occupation."
She has unveiled the secrets to a life well lived, with longevity and the utmost passion for what drives her. From her amazingly troubled childhood to a prosperous and full life, the way it has unfolded and touched the hearts of those around the world amplifies its strength. Haute Living is particularly moved by her concluding remarks on family:
"My greatest accomplishment to this day is my family. I credit my wonderful and beloved late husband, Carlo, for having given me my two sons, Carlo and Edoardo, orchestra conductor and film director, respectively. The most challenging achievement, in my opinion, is to build a balanced, happy family unit. It is more difficult than any career achievement, for it demands endless love, altruism, and patience."
What an honor it has been to share some commentary on the life of an incredibly talented woman who rose from the perils of poverty up through the ranks to become one of the greatest artist figures of all time. Sophia, you are an inspiration, and your story will live on to inspire and motivate those who may think they are incapable of success, both internally and externally. I thank Sophia Loren and her son Carlo for their cooperation and friendship in helping to tell this tale. Once the impasse and crisis of the novel coronavirus has lifted, we shall all recall her reminders of strength, good health, and fortitude and go forth to share with others.