Imagine having breakfast at Tiffany & Co. surrounded by astonishing gems, delighting in chocolate croissants, gourmet coffee, and chatting with chief artistic officer, Reed Krakoff. It was like a dream—being invited for a rare and private first look at the timeless Tiffany T1 collection, available in May. Over a bucket list breakfast with a Tiffany blue table setting, Reed and I discussed his vision and stunning new pieces which were created to be lived with, not set aside for an occasion.
HL: Everything you design for Tiffany & Co. has an American point of view. Talk more about that.
RK: It implies that function creates the form. Iconic American designs have grown out of utility and tend to be less formal. I want clients to embrace beauty in their everyday lives.
With American design, there's a level of refined restraint. There aren't a lot of extraneous details, and because of this, you really need to pay close attention to the craftmanship and the quality of the creation. How things are made is so central to the success of American design. How Tiffany makes and manufactures collections is so elevated—everything we make, no matter the price point, is made with the same commitment to beauty, quality, and craftmanship.
HL: What is the creative process for new collections, like Tiffany T1?
RK: The Tiffany T1 Collection embodies Tiffany's heritage of innovation and creating jewelry that is timeless. It's clean, uncomplicated, and designed with extraordinary Tiffany diamonds. The beveled edge and angular design of the pieces give them an attitude, but still employ the highest level of craftsmanship.
HL: What are the design highlights of the Tiffany T1 bangle and ring?
RK: I was inspired by our historical use of the "T" motif that has been featured in Tiffany jewelry since the 1980s. The goal was to evolve the "T" motif into a new, bold symbol that felt very modern. It's a reimagining of our iconic motif as one continuous design, an unbroken circle featuring a beveled edge, angular surface, and a multi-faceted finish.
HL: Tell us about your high jewelry Tiffany T1 necklace in 18k rose gold.
RK: This is the first time high jewelry has been introduced into the Tiffany T collection which, to me, expresses the idea that luxury should be effortless and can be worn even very casually, so it becomes a part of your life. Even things that are very precious can be worn every day with an off-hand attitude and a sense of irreverence.
High jewelry is typically very refined and expensive or very casual. The necklace blends these two ideas and is quite refined, yet bold. It's a great example of luxury that doesn't equate to formality.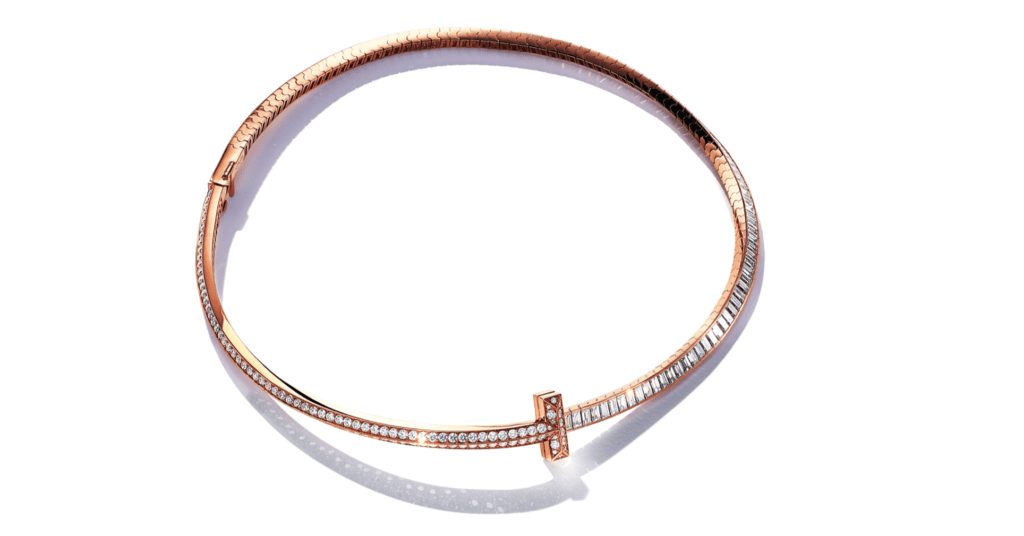 HL: What do you love most about being Chief Artistic Officer of Tiffany & Co?
RK: Tiffany is a place that you genuinely feel lucky to be, for so many reasons. I grew up with the brand and have a deep respect and appreciation for what's been built over these last hundred-plus years. There's a level of commitment to craftsmanship. There are no shortcuts, whether it's a sterling silver keychain or a $20 million 100-carat yellow diamond. That's something that is incredibly unique today.