Oahu is known to feature the best of both island worlds. The South Shore is home to cosmopolitan Waikiki, where luxury boutiques and gourmet restaurants intermingle with some of Hawaii's original and most iconic hotels and resorts. On the island's other side—the North Shore—the emphasis is on nature, surfing, and wide, open space. This is the Oahu sought after by adventurers and explorers; and those in search of the region's natural beauty find a great homebase at Turtle Bay Resort, where respect and reverence for the land and its history is palpable.
This North Shore hospitality gem encompasses 1300 acres of prime, oceanfront turf, which it stewards and preserves with utmost care. Sea lions who come ashore to birth their pups are provided a roped-off barrier; the Hawaiian green sea turtles who swim within the bay for which they are named receive a gracious boundary. And the resort's bird watching guide engages guests by having them count various species along the tour route which meanders in and around the Arnold Palmer championship golf course. The results of the bird tally are then reported directly to the Cornell Lab of Ornithology for conservation purposes.
Turtle Bay guests are invited to explore the organic acreage via foot, horseback, surfboard or bicycle (grab a complimentary cruiser from the resort's fleet). 12 miles of trail lead to stunning vistas along secluded, beachfront bays, and to an ancient banyan tree, a familiar sight to fans of the television show LOST; many scenes were staged underneath the immense canopy. North Shore's legendary waves lure the world's best surfers, and if a "when in Rome" attitude takes hold, the Jamie O'Brien Surf Experience team ably guides neophytes in hanging ten.
All of this adventure comes with a bit of luxury. Beautifully appointed room and suites in the main hotel building are ideally situated to take full advantage of sunrise or sunset views. Most have furnished patios from which to enjoy the spectacular scenery. Additional luxe accommodation options include spacious ocean villas, or sand adjacent ocean bungalows, ideal for families or larger groups.
Two large swimming pools—one for families, and one specifically for adults—feature ample chaise seating. Additional lounging options can be found along the shore of Kulima Cove where gentle waves invite snorkeling and body surfing. For something a little more private, pack towels and sunscreen and walk the trail to secluded Kawela Bay.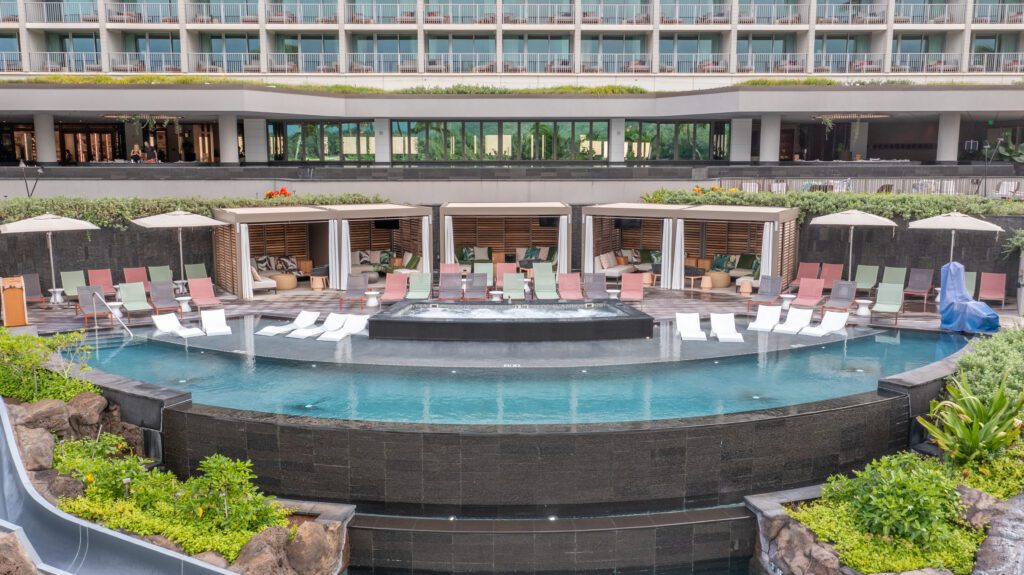 The North Shore boasts a number of small eateries, but Turtle Bay guests will find the best, locally sourced items right on property, thanks to the resort's own 468 acre Kulima Farm. The farm provides the resort's marquee Alaia restaurant and casual poolside Sunset bar and grill with the freshest produce. At Alaia, a simple Little Gem lettuce salad illustrates exactly how wonderful just-picked goodness can be. Same with the Heirloom Tomato Salad, and Garden Beet Trio. It goes without saying that here, along the Pacific, any seafood fare promises to be outstanding, but in the hands of Chef de Cuisine William Lochetto (formerly of three Michelin-starred The French Laundry), the Kona Kampachi Sashimi and the Hawaiian Ahi Poke in particular reach levels beyond deliciousness. Make sure to start your meal with a crafted cocktail; the "Don't Touch the Turtles" vodka-based tipple (named for the mantra aimed at over-enthusiastic snorkelers) is fittingly served in a gleaming copper turtle. In the morning, find sustenance at the lobby located Ho'Olana Café where the Banana Bread Latte receives rave reviews and the Kulima Farm fruit is the freshest you'll find.
Over the years, it's become increasingly challenging to find an authentic Hawaiian hospitality experience. Turtle Bay Resort comes as close as any within the islands to providing such a getaway. With a reverence for its home turf, and a respect for island history and natural resources, Turtle Bay checks all the boxes for a genuine island retreat.
Photos courtesy of Turtle Bay Resort