The newest resort on Oahu is easily its most compelling. Completed in 2018, The Ritz-Carlton, Waikiki Beach and its two stunning, modern towers ('Ewa and Diamond Head) feature rooms and suites that offer unobstructed views not only of the Pacific Ocean but also of the vivacity of Hawaii's OG beach town. The combination of the resort's sleek, urban energy paired with the region's inherent laid-back surfer undercurrent is nothing short of intoxicating. Add the Ritz-Carlton's legendary hospitality, a welcoming spirit of aloha, and family-friendly and sustainability-focused offerings and initiatives, and the result is the island's most dynamic hospitality option.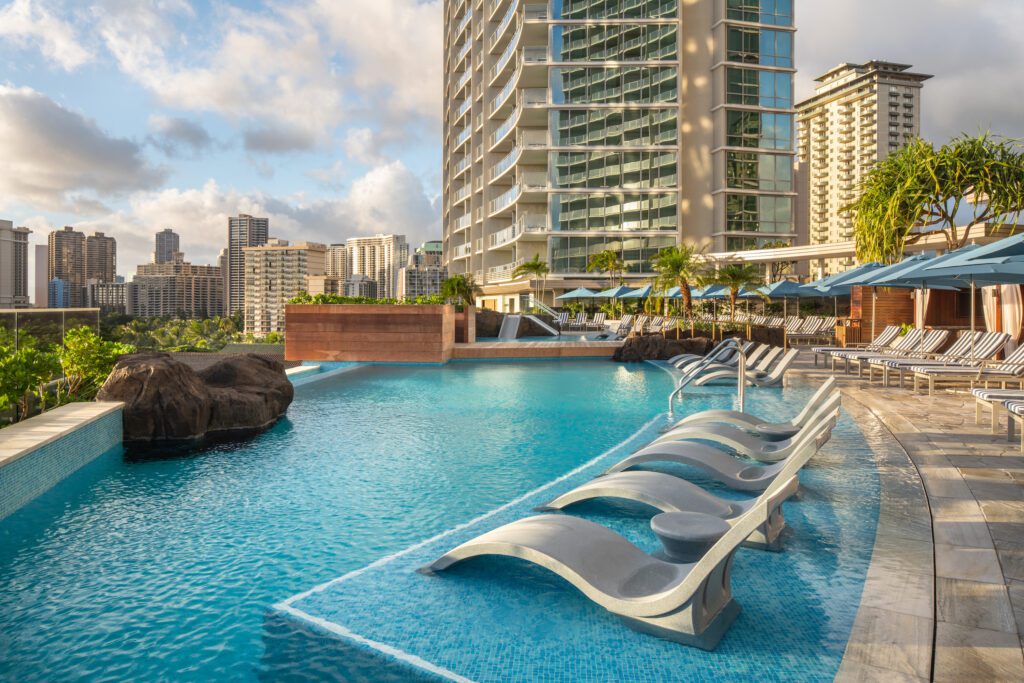 Unique to the region is The Ritz-Carlton's residential aspect, making it an ideal retreat for families or larger groups. The 522 rooms and suites, in a variety of sizes and layouts, all feature full kitchens and washers and dryers, allowing for choice. While you won't want to miss a meal at on-site restaurants Quiora (where rustic Italian cuisine is served with a spectacular view), French fare La Vie, or Sushi Sho (the exclusive 10-seat omakase-style sushi restaurant by Japan's renowned sushi legend Chef Keiji Nakazawa), the in-room kitchen provides further options. Enjoy morning coffee from your in-room Nespresso coffee maker and watch the sun rise, or run downstairs for a latte and almond croissant from Dean & DeLuca, one of two of the gourmet purveyor's last outposts in the United States. Purchase dinner ingredients at adjacent Island Country Markets and whip-up your own gourmet spread, or grab a prepared to-go meal to be enjoyed al fresco on your expansive lanai via candle light.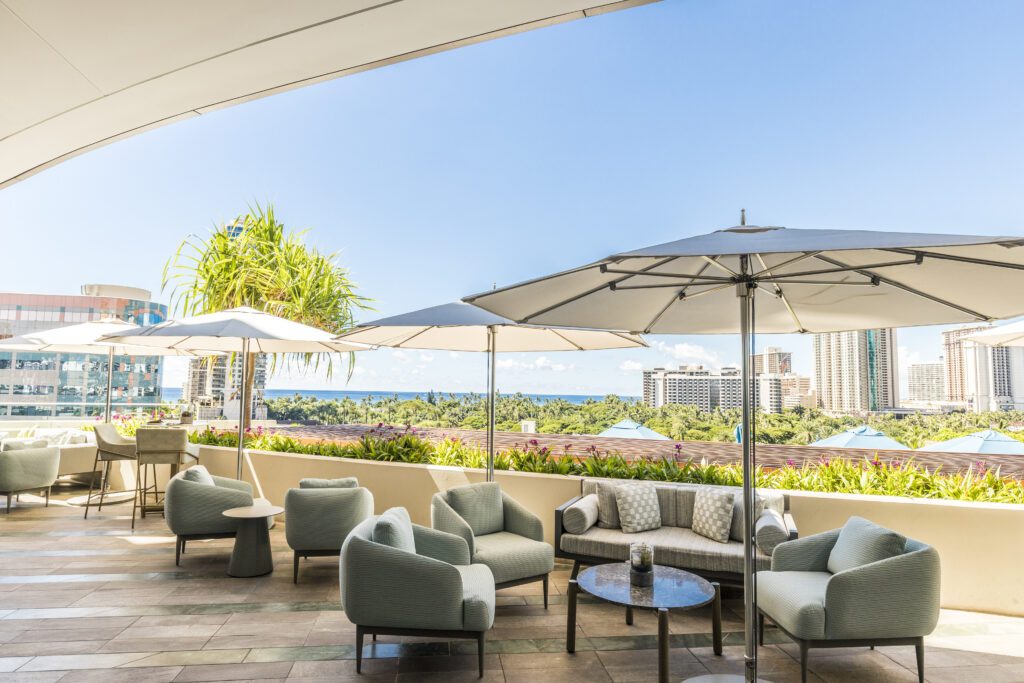 Also favored by families is the resort's The Art of Ho'omāka'ika'I program. The property prides itself as stewards of Hawaiian culture, providing guests with an authentic experience, and this program, meaning "exploration" in the Hawaiian language, is designed to connect families with the local community, land, and traditions through introduction to a range of education and immersive offerings such as a Keiki cooking class for young guests, a Hawaiian language lesson, a hands-on pāpale making class (hats handwoven from pandanus leaves) and an ocean excursion and beach clean-up. The Art of Ho'omāka'ika'i experience starts at $15,000 with four nights in any of the resort's multi-bedroom suites that range up to four bedrooms, accommodating families of various sizes from four and up to 10.
The resort's commitment to its island home is also demonstrated in its recent sustainability initiative of under-sink water purification systems in every room and suite, and the gift of complimentary aluminum water bottles. The Ritz-Carlton, Waikiki Beach is the first and only hotel in Hawai'i to offer such an amenity. The installation helps to eliminate more than 300,000 single-use plastic water bottles annually, reducing the resort's carbon footprint.
And finally, through the resort's Malama Maui offer, each night of participating guests' stay will contribute $20 to the Marriott TakeCare Relief Fund plus the resort will match this donation with an additional $20 for a total of $40. Guests also receive a $30 resort credit per night to enjoy at The Ritz-Carlton Spa, La Vie, Quiora, the resort pools or for in-room dining.
But beyond these thoughtful and generous enterprises, The Ritz-Carlton, Waikiki Beach is all about indulgence. You'll not be faulted for simply lounging by one of the *two infinity swimming pools (each at the highest elevation within Honolulu), focusing on your fitness within the state-of-the-art fitness center, or pampering yourself with a treatment at the tranquil spa. Shop the adjacent Luxury Row featuring the best in luxe goods (Chanel, Dior, Gucci, Bottega Veneta, Prada etc.), and don't forget to treat yourself to a crafted cocktail at the resort's La Vie bar.
The Ritz-Carlton, Waikiki Beach's Discover Oahu offer encourages guests to stay longer and adventure more. From helicopter rides over captivating scenic points to snorkeling excursions that reveal an enchanting underwater world, guests are invited to discover the best of Oahu's historic and adventure sites with an Activity Credit of up to $500 when reserving four nights or more. This limited-time offer is available only during *the resort's pool renewal periods (now until December 8, 2023, and January 8 – April 26, 2024). Embark on a memorable island journey with guided waterfall hikes, dolphin activities, sunset tours, Kualoa Ranch tours, luaus and more.
All Guest Rooms and One-Bedroom Suites: $200 Activity Credit
Two-Bedroom Suites: $300 Activity Credit
Three-Bedroom Suites: $400 Activity Credit
Four-Bedroom Suites: $500 Activity Credit
The Activity Credit can be redeemed by contacting the resort's concierge for a list of available destination activities, including services and treatments at the resort's spa. The credit cannot be applied towards dining, parking, room rate, tax, gratuities, or service charges. Offer based on availability and cannot be reserved through points or combined with any other offer. Advanced reservations are required, and rates do not apply to groups. Rates listed are per room, per night, single or double occupancy, and exclusive of taxes, gratuities and other charges unless otherwise noted.
Photos courtesy of The Ritz-Carlton, Waikiki Beach