Summer Day Tripping
Summertime is here! With the long dog days of summer upon us, it's time for summer get-togethers. Whether it's a posh picnic, an outdoor wedding, a day at the beach, or a good ol' backyard barbeque, for most of us summertime is the best time of the year to entertain family and friends: the weather is good, and everyone just seems to be in a more jovial frame of mind.
This summer there will be plenty of Saturday dinners of eight (a tradition at our home), showcasing a different theme and cuisine with each dinner. From French to Spanish to Mediterranean and good, old fashioned Southern comforts (a tip of the hat to my late father's Southern roots, as it's Father's Day I'm writing this), and more. I go all out in creating the menu and décor to pay homage to the evening's theme. But I have to say, one of my favorite ways to kick off summer entertaining (and guests would agree) is an elegantly posh and truly British afternoon tea. And with the recent coronation of King Charles III, why not be on theme? And that's just how we began this summer!
Won't You Join Us for Afternoon Tea?
One of the United Kingdom's most favorite export is the ritual of afternoon tea. Lady Anna Russell, the Duchess of Bedford, debuted the ritual in 1840 as a means to stay hunger during the long hours between 11 a.m. lunch and fashionably late dinners served traditionally at 8 p.m. The duchess would order her chef to prepare her a tray of tea accompanied by lightly filled sandwiches and cakes. Eventually, the duchess invited friends to join her in the late afternoons for conversation, and a tradition was born. Queen Victoria popularized the tradition, serving buttery sponge cake with layers of whipped cream and strawberries, a recipe made possible after the invent of baking powder by English food manufacturer Alfred Bird in 1843.
The cake became to be known as the Victoria Sponge and is (to this day) synonymous with teatime. It's the quintessential afternoon tea cake enjoyed across the UK and was a favorite of the late Queen Elizabeth II during strawberry season at the woodlands of her Balmoral estate in Scotland.
Today, afternoon tea—often mistakenly referred to as "high tea"—is an entirely
different meal usually consisting of hot and hearty fare that we Americans would call "pub food," such as savory, handheld meat pies, jacketed potatoes (loaded baked potato), chicken wings, and sliders, to name a few. The name "high tea" refers to the height of the pub table known as a "high boy" (and afternoon tea could be referred to as "low tea," as tea is often taken at a low table, such as a coffee table). We would liken it to our happy hour.

To me and many, hosting afternoon tea is the quintessential start to summer
entertaining. June's sunny and pleasant weather lends itself to taking tea in the garden and decorating the space in flowering garden motifs. It is a means to catching up with friends for a little polite conversation and naughty gossip or "spilling the tea" over a pot of good tea, champagne, and light bites of refreshing, summer harvest cucumber sandwiches, petite cakes, and freshly baked scones with Devonshire cream, zesty lemon curd, and sweet preserves.
Ladies can display their fashionable hats to shield their faces from the late afternoon sun and adorn themselves in chic and elegant tea-length summer dresses. Whether tea is served indoors or out, afternoon tea is always a welcome way to show the friends in your life how much you value their company. And that's just the sentiment my Ed and I shared to start this summer's entertaining!
In planning afternoon tea, I keep three essential things in mind: the invitation, the
menu, and the tablescape. The invitation serves as a unique call to action that gives the guests a glimpse of what to expect. I purchased four elegant watercolor images of ladies in Victorian-era garden scenery that I used to create a whimsical animated clip: hovering butterflies, a fawn, and wisps of steam rising from teacups to add a wow factor. (See it in action on my Instagram account, @aubrey-brewster).
Two: the menu. I collaborated with Neiman Marcus San Francisco's The Rotunda
executive chef, Erik Harrelson, and general manager, Katrina Parlato, to curate a tea tray selection that would represent the art of traditional British teatime with American sentiments. Minced country ham and Swiss cheese on artisan white bread and egg and pimento salad on tomato bread paid homage to America's Southern heritage. Classic English cucumber with dill cream cheese on spinach bread and "Coronation Chicken" on white bread paid homage to the United Kingdom. A chopped chicken salad with a hint of curry that was served at Queen
Elizabeth II's coronation on the second of June in 1953 paid further tribute to the late queen.
Finally, the tablescape. It was essential to me that guests felt they were a part of
something exquisitely special and that their every need and want was catered to. Table captain Dahn van Laarz, a longtime server of The Rotunda, made sure of that. Guests sipped on French Henriot Champagne, Nuit à Versailles green tea and English Breakfast black tea on ornate white lace table overlaid atop willow green linen tablecloths under grand and lush 7-foot-tall, cascading lavender wisteria trees. White porcelain service ware, teapots, teacups, and china kept the afternoon's vibe clean and airy.
Concerned for etiquette protocol, one guest, Betty Yu, texted me to ask if it would be appropriate or too macabre for her to wear a black dress and sheer black gloves to tea. I replied, "Why not? It could be Wednesday Addams chic!" Much to both our surprise, all but one of the ladies attending wore black and white outfits! So, yes, opting for black or dark blue over summer or spring colors added to the very chic afternoon—and as Coco Chanel once said, "Navy blue is the black of summer."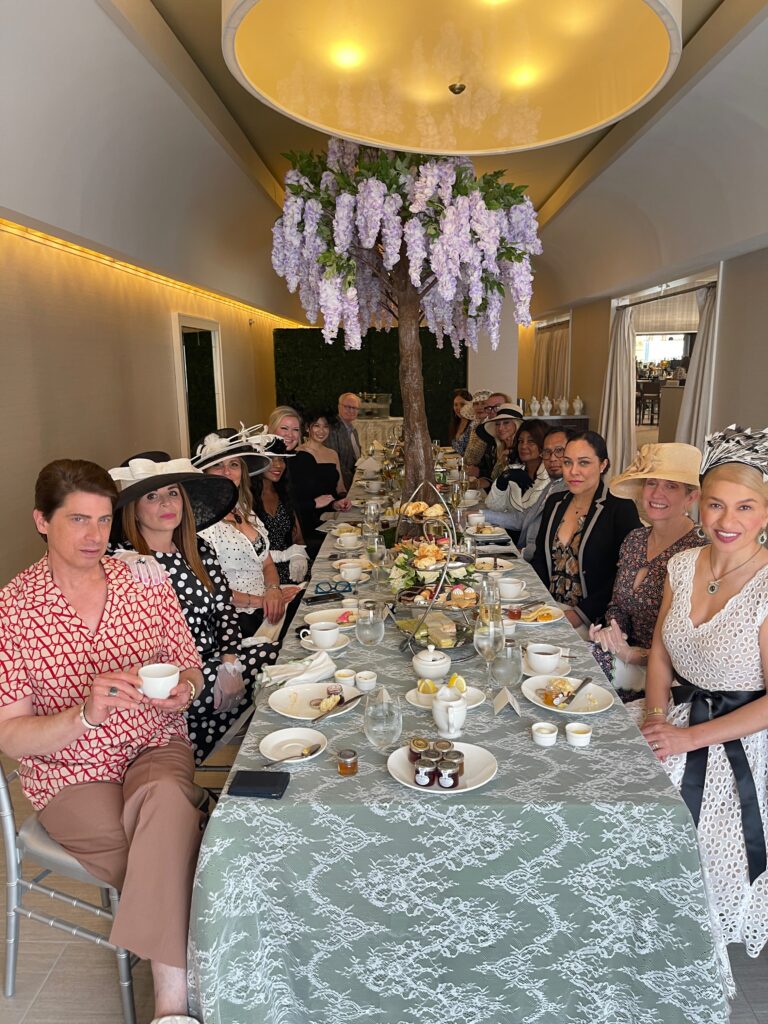 The afternoon's guests included my partner and cohost, Dr. Edward Winger;
author/socialite Jennifer Walske; socialites Farah Makras, Daru Kawalkowski, Betty Yu, and Clara Shayevich; philanthropist Navid Armstrong; Sanam Baiani; Pernella Somerville; ABC7's Carolyn Tyler (retired); Table & Teaspoon founder Liz Curtis; Union Square Alliance's president, Marisa Rodriguez; Haute Living SF's editor-in-chief, Teresa Rodriguez: interior designer Gioi Tran; and couture designer Vasily Vein. It was a fabulous afternoon filled with some of San Francisco's most notable and marvelous personalities.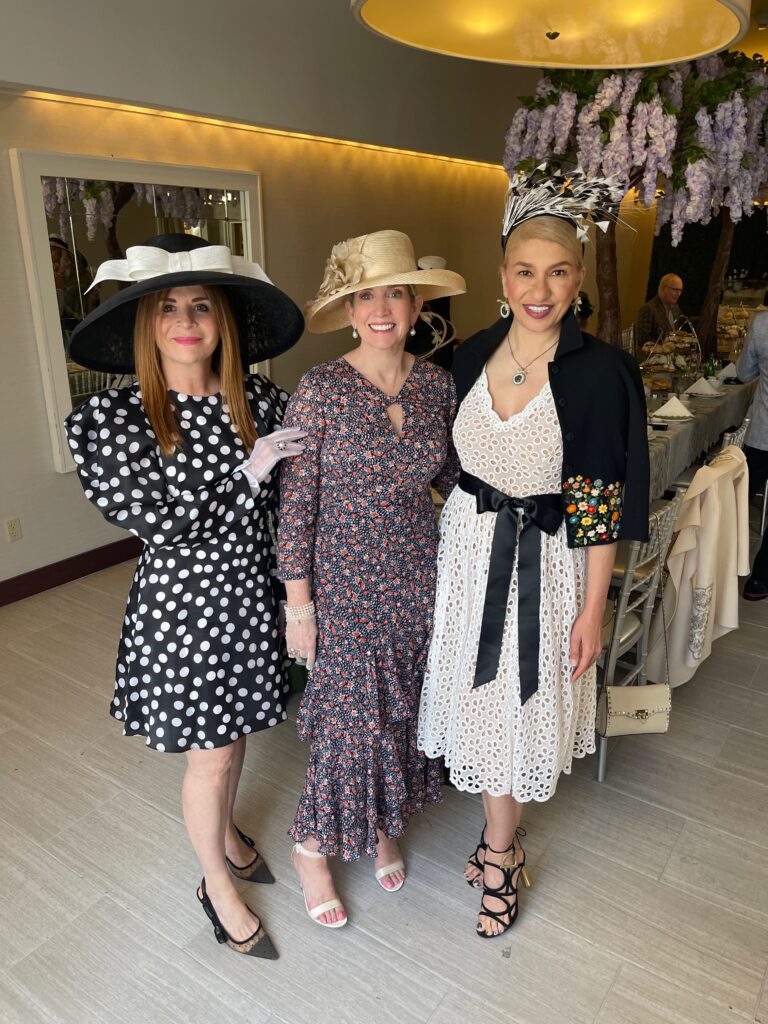 Luxury Game Day – SF Giants Pride Night
For many Americans, not much more conjures up summer fun than a day enjoying
America's favorite pastime, baseball. It's an activity we all can get behind, no matter rich or poor, gay or straight, male or female: we can collectively celebrate it together. There's something in the air that lifts us up and fills us with team spirit. And what a quintessential way to kick off summer!

When our friends, Doug Donnellan (partner, vice president, and general manager at San Francisco Toyota on Van Ness Boulevard) and his husband, Frank Anthony Celaya, called saying that Doug had rented out the Salesforce Champions Suite at Oracle Stadium for 30 of their closest and most fabulous friends, Ed and I didn't think twice. We were in! The day was electrified. It was a special day at the ballpark: the San Francisco Giants versus the Chicago Cubs. The Giants were celebrating San Francisco Pride month with their "Pride Night" kicking off summer in the Bay Area with a pink Saturday Pride eve night game. In typical San Francisco
fashion, the game started in high camp with SF's very own drag laurate and SF native, D'Arcy Drollinger (owner of San Francisco's iconic Oasis nightclub) throwing the first pitch in honor of Drollinger's longtime close friend and drag icon, the late and great Heklina.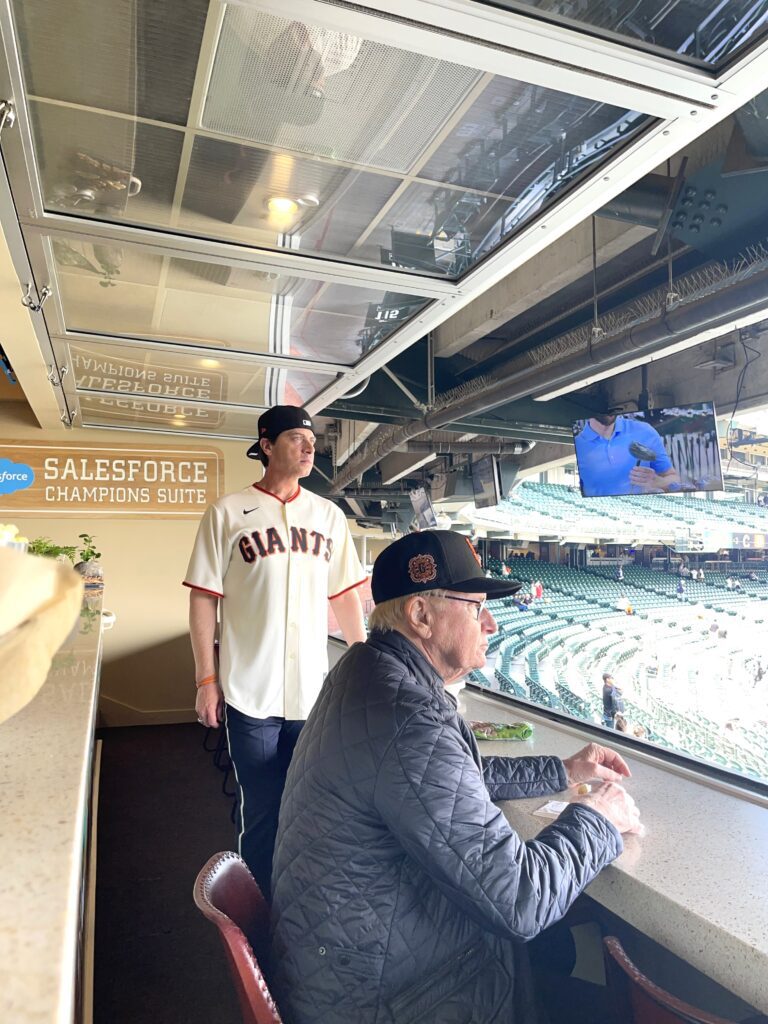 Doug and Frank pulled out all the stops with a fabulous party at the ballpark and treated guests to hot dogs, nachos, and pulled pork, scrumptious cupcakes, and Giants baseball caps.
The game was on fire. Halfway through, a foul ball hit our box suite behind first base, missing Ed's face by just inches and adding even more excitement to the game! To commemorate Pride Night, the Giants gave game goers collector baseball jerseys with the Giants insignia in LGBT+ pride flag colors. Though the Giants lost to the Chicago Cubs 0-4, it didn't stop this crazy group of vagabonds from having a marvelous summer afternoon at the ballpark.
AUBREY'S 12 DOS & DON'TS OF SUMMER ENTERTAINING
When it comes to summer entertaining, I've come to learn that there are some things that are tried and true "Dos" and some definite "Don'ts." Here are some rules to live by when planning your summer soirees that will make any event memorable and hassle-free!
Do plan ahead. Make lists of the menu, bar essentials, and décor. Hosting a party should be an exciting and enjoyable time. Being ill-prepared leads to stress, and if the host is unprepared, this stress will pass on to everyone involved.

Don't charge guests to offset the costs. You are the host, not your guests. Period.
Consider co-hosting if budget is an issue. If you want a Parisian birthday party, then make Paris your theme; unless you're planning on flying your guests to Paris, don't expect them to pay the costs. Doing so is a major faux pas.

Do have a theme. Immerse your guests in an escape they'll talk about for years to come. A theme also gives your event direction, helps in menu and décor decisions, and makes planning easier.

Don't serve alcoholic beverages without food to snack on. If you are hosting a cocktail party during dinner hours (6–9 p.m.) and not serving dinner, offer hearty bites. If your event is late in the evening, light bites and sweets are the exceptions. Allowing your guests to drink on empty stomachs is irresponsible.

Do personalize. Small, personalized details make guests feel special; and having guests' names in front of them ensures that everyone gets to know each other. Whether simple place cards or menus, party favors or glassware, a personalized touch takes your soirée to the next level.

Don't ignore your guests. They've come to see you! Be visible and available.

Do send invitations via mail. Not to say that electronic invitations aren't effective, and they are indeed far more affordable; however, a tangible invitation that one can hold engages guests. If done right, your invitation will create buzz, and guests will feel like they are a part of something special.

Don't send out invitations late! Your guests need time to schedule. This is especially the case when hosting an event in the summer months. Two months out is perfect. In the least, send your invitations no later than one month before your party.

Do be attentive to dietary restrictions. Nothing ruins a party like a sick guest. A simple "please advise of any food allergies" at the bottom of your invitation will suffice.

Don't use highly scented flowers. You may love freesia and tuberose, but nobody wants to be inundated with them, especially when eating. Except for the powder room, scented candles, oil diffusers, potpourri, and strongly fragrant flowers are best left out of the party.

Do make a seating chart. When hosting a sit-down luncheon or dinner, conversation flow and guest compatibility are essential for a memorable time. Having place cards with their names ensures everyone feels welcomed and thought of.

Don't try to do everything. If necessary, delegate small tasks to others or hire help.