The Magnificent 10 Days in the Summer
Festival Napa Valley (FVN) has been dubbed the "Best 10 Days in the Summer," and the 17th season this July exceeded all expectations! The concerts, the dance gala, the fashion show, the luncheons, the patron dinners, and the Arts for All Gala raised a record $4.2 million to fund music education programs, accessible and affordable concerts, and scholarships for young artists. The crowd seemed to have doubled this year, and most tickets were sold out weeks before the events.
It's such a pleasure to report the highlights and again enjoy the magnificent days and nights of the 2023 festival in words and pictures.
JULY 13 – FOUNDERS DINNER AT WAPPO HILL
The dynamic duo of the wine industry, Jean-Charles Boisset and Gina Gallo-Boisset, invited FNV guests to their home atop Wappo Hill for the annual Founders Dinner. The evening was a tribute to the benefactors and patrons whose vision, encouragement, and support launched Festival Napa Valley in 2006 and to the major supporters of the 2023 season. Wappo Hill, the former home of the late Robert and Margrit Mondavi, boasts sweeping vistas and is an iconic property at the pinnacle of Napa Valley. The Boissets, husband and wife each from a legendary family of vintners, are renowned hosts who love to bring together a who's who of wine, food, and culture. Wappo Hill's distinctive, art-filled spaces are where they held court for the exclusive evening.
Founders Dinner guests enjoyed gastronomic delights, unparalleled wines, and a collection of unforgettable musical surprises—while raising a glass to another spectacular festival season. The 2023 Manetti Shrem Opera Prize winners, Serena Sáenz, and Xabier Anduaga, performed opera arias followed by the surprise of acrobatic dancers in exotic costumes dancing on the covered indoor pool stage with special effects of music and lighting. The evening was magical. Guests included Gordon Getty, Rick and Karen Walker, Maria Manetti, Michael and Pepper Jackson, and most FNV board members.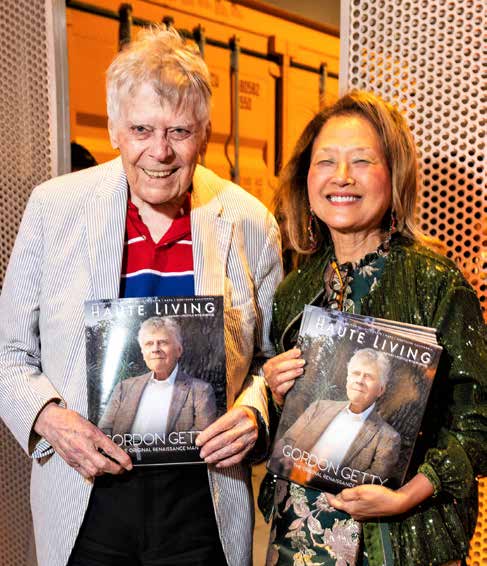 JULY 14 – OPENING NIGHT WITH FESTIVAL ORCHESTRA NAPA + PATRON DINNER AT CASTELLO DI AMOROSA
FNV officially kicked off its 17th season with a celebratory evening featuring two beloved masterpieces and one world premiere. The concert opened with a new work by rising young composer Yang Bao. Spanish guitarist Pablo Sáinz Villegas took center stage for Joaquín Rodrigo's iconic Concierto de Aranjuez. The evening culminated with pianist Alexander Malofeev performing Sergei Rachmaninoff's lush Piano Concerto No. 2, a fitting tribute to one of the world's greatest composers on his 150th Anniversary. Kyle Dickson, 2023 recipient of the Joel Revzen Conducting Fellowship, led Festival Orchestra Napa. A selection of artwork created by students and seniors in FNV's How I See Music workshops was projected during the performance.
The patron dinner at Castello di Amorosa followed the concert. Nestled in the heart of Napa Valley, Castello di Amorosa is a winery unlike any other. A vast estate with a 121,000-square-foot, 13th-century- style Tuscan castle at its heart, the winery boasts sprawling vineyards and breathtaking views. Named "Castle of Love," this realized dream of proprietor Dario Sattui is a real-life fairy tale and a place where memories are made. Castello di Amorosa hosted the Opening Night dinner in its most enchanting courtyard. Guests dined under the moon on a sumptuous meal paired with Castello di Amorosa's award- winning, Italian-style wines—a remarkable evening in the 13th century Italian castle that will be remembered for years to come.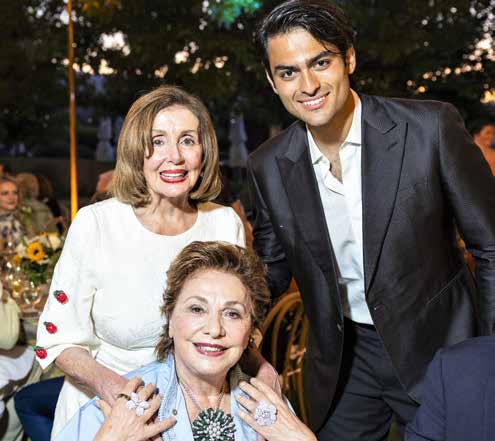 JULY 15 – TASTE OF NAPA AT THE MERITAGE REPORT
Featuring more than 70 wineries, craft breweries, restaurants, and food artisans with live music by Shelly Berg, the Frost Symphony Orchestra, and Broadway singer Christina Maxwell, this event is one of FNV's annual favorites. This year's sold-out event had 800 culinary connoisseurs who sampled gourmet nibbles and tasted the wines. It is a fun, walk-around event for mingling with people, food, and wines. Also, the event is a great venue to meet winery owners, order your favorite wines to be delivered to your home, and sign up as wine club members.
MATTEO BOCELLI IN CONCERT, AN OLIVIA DECKER POWER OF MUSIC SERIES & MANETTI SHREM VOCAL ARTS SERIES
Rising international star Matteo Bocelli took audiences on a journey through some of the most beloved songs of all time—Italian classics such as "Quando Quando Quando;" ballads like "Can't Help Falling In Love" and "Caruso;" favorite opera arias, and pop hits including "Fall on Me" and "Perfect Symphony." Bocelli performed some of his original compositions as well, including selections from his upcoming debut album and previously released singles, "Solo," "Tempo," and "Dimmi." Bocelli was joined by award-winning Spanish violinist Francisco Fullana, winner of the Festival's 2023 Khaledi Prize for excellence and innovation in classical music. Maestro Eugene Kohn, one of the conductors of Andrea Bocelli's concerts worldwide, conducted the orchestra. Talented and adorable, Matteo Bocelli, at age 25, is already a superstar for his California fans. All 700 tickets were sold out months before the event. As the sponsor of this concert, I received dozens of calls and emails asking me how to buy tickets. We could have sold 5,000 tickets if we'd had the capacity at the Krug Winery Festival stage.
A patron dinner at HALL Winery followed Bocelli's concert. Kathryn and Craig Hall are known for their commitment to sustainable winemaking practices, and their passion for hospitality and art is reflected in every aspect of their spectacular winery, HALL St. Helena. In 2003, they purchased the circa 1885 Bergfeld Winery to create a place of stunning beauty to match the exquisite wines they produce. They installed dozens of original works of art, restored and modernized the nineteenth-century architecture, and revitalized the vineyards. Today HALL Winery is a destination combining the best of the past and future.
The Halls' guests explored the estate and vast contemporary art collection with works by John Baldessari, Nick Cave, Shahzia Sikander, and more. A live performance by cellist Sophia Bacelar during the elegant meal, expertly paired with outstanding wines from HALL and WALT, completed the evening.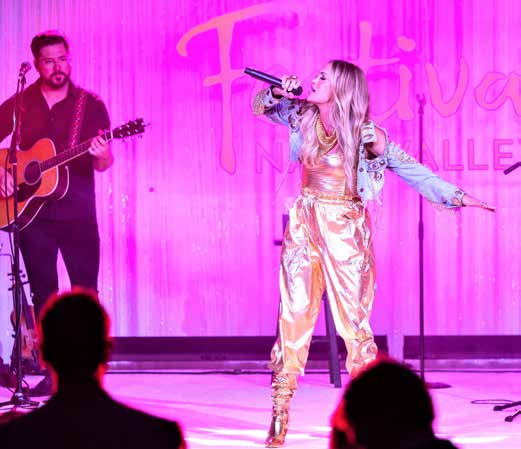 JULY 16 – ARTS FOR ALL GALA AND CARRIE UNDERWOOD CONCERT AT NICKEL & NICKEL
Ensuring access to the arts is core to Festival Napa Valley's mission and the inspiration of the Arts for All Gala. To date, the Gala has raised over $20 million, making it one of FNV's most impactful nights and among the nation's biggest fundraisers for the arts.
This year's Gala was headlined by superstar singer Carrie Underwood, a multi-platinum-selling artist with 8 GRAMMY® Awards, 16 Academy of Country Music Awards, and countless other accolades. She brought her powerhouse vocals to Nickel & Nickel to perform a selection of her chart-topping hits.
Guests enjoyed an exquisite dinner prepared by Michelin-starred chef Charlie Palmer, paired with offerings from the Far Niente and Nickel & Nickel family of wines. The festivities included a live auction hosted by Leslie Frank and Emmy Award-winning auctioneer John Curley, featuring a collection of luxury lots including coveted wine collections, exclusive travel and dining packages, unique performing arts, and bespoke experiences.
The auction raised a record-breaking $4.2 million. Bravo to Leslie Frank for her spectacular leadership and to the Gala committee for curating the stunning collection of auction lots and other "once-in-a-lifetime" lots that money can't buy. Among the 16 lots, an 8-day trip for four people to New Zealand with Leslie and Rich Frank raised $450,000, and a one-week trip for four people to visit Antinori Family Estate in Tuscany, Italy fetched $400,000.
Guests included Nancy and Paul Pelosi, Mayor London Breed with Dustin Sharpe, former Mayor Willie Brown, Maria Manetti Shrem, Olivia Decker, Marchesi Piero Antinori of Italy's Antinori winemaking dynasty who celebrated his birthday at the Gala, and Mary Beth and David Shimmon, Darioush and Shahpar Khaledi, Bob and Maria Torres, and Leslie and Rich Frank Torres who are the four board members underwriting the Carrie Underwood concert.
JULY 17 – DONORS' EXCLUSIVE DINNER AND CONCERT AT DARIOUSH
Darioush and Shahpar Khaledi, devoted and longtime supporters of Festival Napa Valley, love art, wine, and hospitality imbued by the rich traditions of their Persian heritage. To them, these are essential elements of a well-lived and generously shared life.
On this exclusive occasion, the Khaledis welcomed Festival Napa Valley's donors to a lavish dinner and private concert at their magnificent Napa estate, a remarkable compound inspired by the ancient capital city of Persepolis. The evening's show took place in the winery's majestic amphitheater. Soprano Serena Sáenz, violinist Francisco Fullana, cellist Sophia Bacelar, and guitarist Pablo Sáinz Villegas reprised selections from their much-acclaimed concert at last fall's inaugural Raimat Arts Festival in Catalonia.
The Khaledis' passion for music is rivaled only by their artistry in making outstanding wines, and the Persian-inspired dinner, prepared by executive chef Sean Massey, was paired with Darioush's exquisite Bordeaux-style wines. Capping off the evening was the estate's crown jewel, the limited-production Darius II, an intense, elegant, and age- worthy Cabernet Sauvignon.
JULY 18 – SEASONS OF HOPE CONCERT + PATRON DINNER AT ODETTE
Maestro Constantine Orbelian led Festival Orchestra Napa and a stellar lineup of soloists in Seasons of Hope, an evening of works featuring stories of courage, sacrifice, and hope. Cellist Kristina Reiko Cooper and vocal ensemble Volti performed Lera Auerbach's Symphony No. 6 "Vessels of Light," a piece dedicated to the extraordinary heroism of Chiune Sugihara, the Japanese diplomat who saved thousands of Jewish refugees during World War II. The program also featured three spellbinding choral works by esteemed composer Gordon Getty: "Shenandoah" with soprano Lisa Delan, the world premiere of "Annie Laurie," and the monumental Joan and the Bells, a piece honoring the life and martyrdom of Joan of Arc with baritone Lester Lynch and soprano Melody Moore. Performers also included soprano Ronit Widmann-Levy.
Illuminated with the theatrical effects of brass and woodwinds, Oberlian conducted Getty's rolling orchestration, transporting the audience through Joan of Arc's experience of the bells, the townsfolk calling out to Joan, and all scenes in artful composition in Joan and the Bells, a cantata on the 15th century trial and punishment of Joan of Arc by Pierre Cauchon, the Bishop of Beauvais, recorded by PentaTone with Lisa Delan and Vladimir Chornobyl in 2003.
Patron Dinner at Odette Estate Winery followed the concert. In literature, lore, and winemaking, Odette is a legend: a princess, ruler, and preeminent historical figure. She is also the namesake of the Odette Estate Winery, where some of Napa Valley's finest wines are produced and the picturesque setting for the night's patron dinner.
Nestled off the Silverado Trail, Odette's LEED Gold certified winery sits on 45 magnificent acres of estate vineyard in Napa Valley's iconic Stags Leap District. Odette wines are imbued with love and respect for the land and an emphasis on sustainability—the winery is both historic in its legacy and forward-thinking in its organic practices. More than anything else, Odette is renowned for its spectacular wines. Indeed, the winery and its head winemaker, Jeff Owens, made history when their inaugural vintage scored 100 points from The Wine Advocate.
For this quintessential Festival Napa Valley evening, guests at this festive dinner were treated to a gourmet meal under the stars, paired with Odette's acclaimed wines and an unforgettable musical performance. The host, Odette's owner, is the great composer, Gordon Getty, who is also part owner of two other Napa Valley wineries, Cade and PlumpJack. Wine and music are great pairings, too!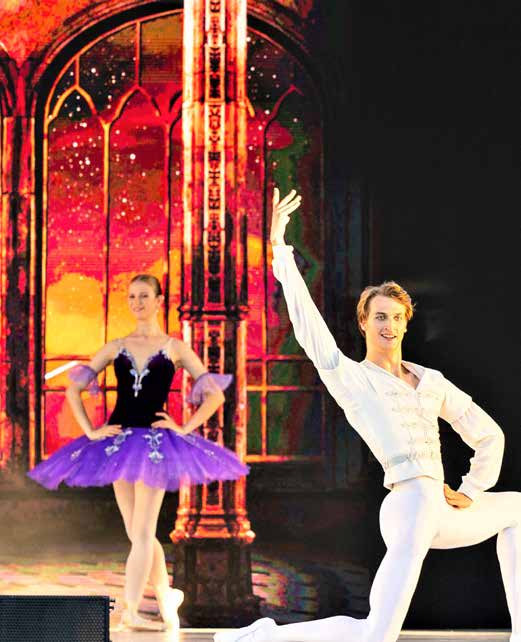 JULY 21 – DANCE GALA: REUNITED IN DANCE + PATRON DINNER AT TRINCHERO NAPA VALLEY
A star-studded ensemble of dancers impacted by the war in Ukraine come together to perform new works and beloved classics at FNV's annual dance gala. Led by Xander Parish, a former principal dancer at the Mariinsky Ballet, the evening featured dancers who were previously part of Russia's most elite dance companies, including the Bolshoi Ballet and Stanislavsky Ballet. Reunited in Dance is a testament to the resilience of dancers and the enduring power of ballet.
Patron Dinner at Trinchero Napa Valley. In 1948, Mario Trinchero and his family embarked on a journey west in search of a better life. They purchased an abandoned Prohibition-era winery in St. Helena and renovated it, starting a small-scale operation. Fast forward seven decades and Trinchero Family Estates has become one of the biggest, family- owned wine companies in the country, boasting an impressive portfolio of over 50 wine and spirit brands from around the world. The Trinchero family has always been at the forefront of industry innovation, shaping how Americans drink wine and consistently committing to sustainable farming practices. On July 21, Trinchero's principal and vice chairman, Robert "Bob" Torres, and his wife, Maria, hosted a dinner celebrating the family's passion for the land, community, and exceptional wine. Guests were treated to a sumptuous dinner perfectly paired with a curated selection of wines from Trinchero Family Estates.
JULY 22 – VINTNER'S LUNCHEON & NEIMAN MARCUS FASHION SHOW AT FRANK FAMILY VINEYARDS
Leslie and Rich Frank invited FNV guests for an afternoon of food, wine, and fashion at Miller House, a new, state-of-the-art hospitality space overlooking picturesque vineyards and mountains at Frank Family Vineyards. Designed by renowned American architect Howard Backen and named in honor of the boundless contributions of Leslie Frank (née Miller) to the Frank Family Vineyards legacy, the space is both practical and elegant. It features sustainably reclaimed wood, high ceilings, and natural earth tones that blend seamlessly with the surrounding landscape. Guests at FNV's Vintner's Luncheon experienced the latest in couture with a high-energy fashion show by Neiman Marcus while enjoying a delicious meal paired with Frank Family Vineyards' phenomenal wines. The fashion show was so beautiful, I was tempted to buy every outfit as Leslie Frank told her husband it was her shopping day.
JULY 22 – MANETTI SHREM OPERA: GAETANO DONIZETTI'S DON PASQUALE + PATRON DINNER AT QUINTESSA
Luminous Spanish soprano Serena Sáenz made her U.S. debut as Norina in Donizetti's classic comedy, Don Pasquale. The stellar cast included tenor Xabier Aduaga as Ernesto, baritone Alexey Lavrov as Dr. Malatesta, and baritone Lucas Meachem as Don Pasquale in this enduring tale of love and deception directed by Jean-Romain Vesperini and conducted by Noah Lindquist. It was Lindquist's first time conducting a professional orchestra, and he did a fantastic job.
Meachem told me, "It was a unique experience. Because we had to stage and rehearse the entire opera over eight days in June, then leave for a month, and arrive back in Napa just in time to put everything together on stage and with the orchestra—along with a tenor cancellation, a replacement conductor—made for a very hectic but special evening. Having made it to the other side of this endeavor, I feel very proud to have been a part of it. We truly overcame great obstacles to make great art. Festival Napa Valley's production of Don Pasquale proved the adage true that no matter what, the show must go on."
Indeed, it did, magnificently staged and performed. The special effects were so interesting, and the story was so funny. It was truly delightful entertainment to end the Festival's 2023 season.
The Patron Dinner at Quintessa followed the opera concert.
Nestled into the scenic Rutherford hillside, Quintessa is an architectural marvel, a graceful marriage of form and function. Every structure on the estate exudes simple elegance and sensitivity to the environment, making it one of the most stunning wineries in Napa Valley. Propriétaire Valeria and Agustin Huneeus welcomed guests with their renowned generosity and a spectacular meal, thoughtfully paired with Quintessa's world-famous, handcrafted wines. Guests dined under the stars, surrounded by picturesque vineyards. As the night progressed, a lively Latin dance band took the stage, playing salsa, merengue, samba, and more, as Festival Napa Valley guests kicked up their heels on the dance floor—a spirited end to a magical midsummer evening.
Photos by Drew Altizer