The American dream of Darioush Khaledi
I had the pleasure of meeting Darioush Khaledi when I joined the Festival Napa Valley's board of directors in 2019. Khaledi was a festival cofounder and co-chairman of the board. We have seen each other often at various board meetings and festival events every year since. I have always been impressed with his warm, big smile and generosity.
I remember in November 2019 when Gordon Getty hosted a dinner at his home for the festival donors and board members. My joining the board was announced as well as Getty's $5 million, 5-year matching grant to the festival. I raised my hand to donate $100,000, and Khaledi raised his hand and donated $500,000!
Born and raised in Iran and trained as a civil engineer, Darioush Khaledi was inspired by the rich wine culture in the fabled city of Shiraz, the eponymous grape of the city where he grew up. As a lifelong entrepreneur and avid collector and aficionado of Bordeaux wines, Khaledi pursued both a path in wine and the American dream. He had family who lived in Los Angeles, so he left Iran ahead of the revolution to visit them and quickly fell in love with the area. He purchased a home in Palos Verdes. During this time, the revolution in Iran was underway. He lost everything and was never able to return to his home country, which in a way was a blessing, because his life got a big jump beyond his imagination or expectation in United States.
In order to expedite his Permanent Resident Card, Khaledi and his brother purchased a grocery store in the LA area named K. V. Mart. The business eventually expanded to 23 stores under the names of Top Valu Market and Valu Plus Food Warehouse and employed over 1,500 people. Through their hard work, determination, experimentation, and a commitment to pursue opportunities others overlooked, it became the largest, family-owned grocery business in California.
On an anniversary trip to Napa around 1998, Khaledi and his wife, Shahpar, stayed at Auberge du Soleil and fell in love with Napa Valley. They discovered and understood the world class growing potential rivaling Bordeaux in France and purchased the estate vineyard property in 1998 from George Altamura, another immigrant who became super successful in Napa Valley. He named the winery Darioush Winery. The winery building with its unique architectural design was built and opened for business in 2004.
The winery is Khaledi's realization of his American dream. Believing early in the world class potential of Napa Valley, Darioush Winery produces refined, complex wines inspired by a worldly and cultural lens. Honoring both ancient traditions and modern influences, he sources grapes from cooler microclimates throughout southern Napa Valley. Since its inception, Khaledi has continued his commitment toward the valley's southern growing appellations.
Director of Winemaking Hope Goldie oversees the winery. Having worked for Khaledi for nearly two decades, she possesses a deep understanding of the valley floor and mountainside estate vineyard sites at Darioush. Goldie aims to produce classic California wines that are an intentional reflection of each vintage and representation of what Napa Valley grows best. Renowned international wine consultant Michel Rolland visits the property on an annual basis and consults on blending alongside the winemaking team.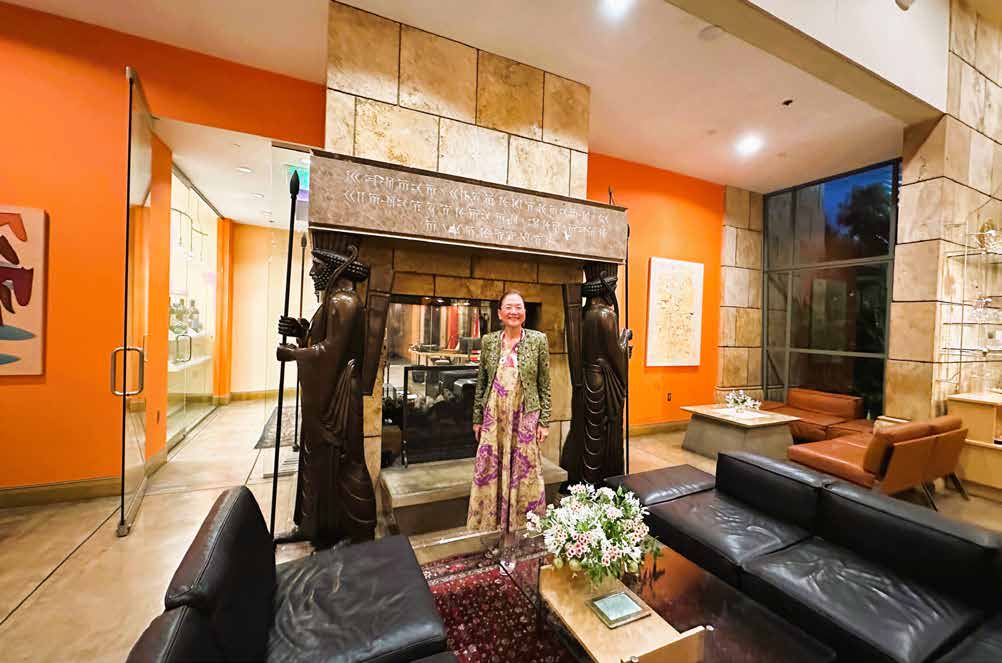 Today, Khaledi's estate vineyards encompass 120 acres throughout the southern regions of Napa Valley, spanning across the Mt. Veeder, Oak Knoll, and Coombsville American Viticultural Areas. Bridging Old World traditions with New World winemaking, Darioush Winery's portfolio of wines is known for individualism, ambition, complexity, and gravitas. Operating at the highest level of quality for everything they do—wine production, culinary offerings, and hospitality—Darioush Winey sets the stage for world class, modern luxury in wine country.