10 magical summer nights of music and art in wine country
Experience the ultimate summer celebration at Festival Napa Valley 2023. This flagship festival in California's wine country is back for its 17th season with an incredible line-up of music, food, and wine events that cater to every taste and budget. Headliners include Carrie Underwood, Matteo Bocelli, Pablo Sáinz Villegas, Lucas Meachem, and Time for Three. With more than 60 concerts and events at iconic venues scheduled from July 8 through 23, this is the summer event you won't want to miss. Discover all the insider details about Festival Napa Valley straight from the president and CEO, Rick Walker.
HL: What can guests expect during this year's Arts for All Gala?
RW: The gala is among the most magical nights of the festival—it's when the community comes together to enjoy the best in food, wine and music while supporting our mission of making the arts accessible to all. This year, the incredibly talented, 8-time GRAMMY® Award winner Carrie Underwood is our headliner. Michelin-starred chef Charlie Palmer is working his magic to create a special dinner paired with wines from Far Niente and Nickel & Nickel. And the live auction will feature a collection of "money can't buy" experiences. The Arts for All Gala has become one of the nation's premier arts charity events, raising over $20 million to date to support free and affordable access to world class performances, educational programs and original programming for youth, and scholarships.
HL: What are some additional Must-See Experiences at this year's Festival Napa Valley?
RW: Here are a few: Opening Night at Charles Krug July 14 will feature Spanish guitarist Pablo Sáinz Villegas in Rodrigo's popular Concierto de Aranjuez, Russian pianist Alexander Malofeev performing Rachmaninoff's Second Piano Concerto, and a world premiere by the talented young composer, Yang Bao, winner of this year's Maria Manetti Shrem Daniel Brewbaker Composer Prize. Afterwards we will celebrate with a dinner at Dario Sattui's magnificent Castello di Amorosa.
The following day, July 15, is Taste of Napa at the Meritage Resort. Expect a fun-filled day with more than 70 participating wineries, breweries, restaurants, and culinary artisans, games, live music, and more. It really is a perfect summer afternoon in Napa.
That evening, rising star vocalist Matteo Bocelli and violinist Francisco Fullana take the stage for an Olivia Decker Power of Music concert, followed by dinner at the stunning HALL St. Helena. Another highlight is this year's Manetti Shrem Opera, Donizetti's Don Pasquale, with an amazing cast and a new state-of-the-art production on July 21 at Charles Krug.
This season we are celebrating stories of courage, resilience, and hope. On July 18, we are presenting the Northern California premiere of Lera Auerbach's Symphony No. 6, "Vessels of Light," dedicated to Chiune Sugihara, the Japanese diplomat who saved thousands of Jewish refugees during World War II. Also on that program is Gordon Getty's Joan and the Bells, honoring the life and martyrdom of Joan of Arc. On July 21, we bring together a star-studded ensemble of dancers displaced by the war in Ukraine for Reunited in Dance.
HL: Why are patron packages the best way to experience Festival Napa Valley?
RW: Napa Valley has a tradition of hospitality second to none. Vintners and others in the community roll out the red carpet for festival guests. The only way to experience vintner's luncheons, patron dinners, fashion shows, and other special events is with a patron pass which also includes premium concert seating, valet parking, and access to the very popular patron lounge at the concerts. The passes afford ultimate access while helping to support the festival's core mission.
HL: What are the best ways to make the most out of the Festival Napa Valley experience?
RW: The festival has been discovered by people everywhere, who share a passion for the best things in life: music, wine, culture, friendship. Whether you come for a day or the full season, be open to meeting new friends from around the world. Passes sell out quickly, and I recommend reserving your place early. You can secure your spot for the 2024 summer season as soon as passes go on sale in August.
HL: How does Festival Napa Valley make the arts accessible to all?
RW: Every day, from July 9 through 22, we present admission-free daytime concerts at CIA Copia in downtown Napa. These include Festival Live! concerts with participants from the Frost School of Music and Blackburn Music Academy, Bouchaine Young Artist concerts, and family-friendly Novack Concerts for Kids. Evening concerts are priced at $35—affording everyone an opportunity to see world class performances. The festival runs two tuition-free summer conservatories for pre-professional musicians: the Blackburn Music Academy for instrumentalists in partnership with Frost School of Music and the Manetti Shrem Summer Vocal Conservatory for singers. Throughout the year, the festival presents a wide variety of arts education programs, partnering with schools, assisted living facilities, Napa Valley College, and Napa County Boys & Girls Clubs, among others.
HL: Does Festival Napa Valley make a lasting impression on guests? RW: Nowhere else on the planet is there an event like Festival Napa Valley. The natural beauty of the region, the generous hospitality of the vintners and the community, and the diversity of people, architecture, and styles, make the festival a draw for artists and audiences alike. We are proud that virtually everyone who participated in Festival Napa Valley in the early days, starting in 2006, is still involved—and even more so 17 years later. And we have become a magnet for artists around the globe who are more than happy to come as often as we will have them! The festival community is warm and welcoming and continues to grow with openness and generosity. We have something very special and it keeps getting better.
HL: How has Festival Napa Valley enhanced your appreciation of LIVE music?
RW: There is no substitute for sharing the experience of a live performance. During the pandemic, we presented concerts virtually and were surprised when they went viral, reaching millions around the world. This allowed us to reach new audiences. However, it felt unfulfilling for us, and I'm sure for the artists performing to empty spaces. Festival Napa Valley was one of the first festivals in the country to return to live performances in 2021, and it was an emotional catharsis. Jennifer Hudson was our gala headliner that year, performing for the first time since before the pandemic, and she loved it so much she didn't want to leave the stage! The audience felt the same. As humans, we respond to music and dance best when we see it live in the company of others, especially when the quality is very high. This is what we aspire to achieve with every performance at Festival Napa Valley.
HL: Does Festival Napa Valley enrich the community?
RW: The festival presents international stars and emerging talent in free and affordable concerts during the summer season and year-round through the Olivia Decker Power of Music Series. The festival also offers inspiring education programs for youth, families, and seniors; tuition-free summer academies for vocalists and instrumentalists; and scholarships for talented students. In all these ways Festival Napa Valley plays an important role in creating a thriving, healthy, and engaged community and fulfills its mission to bring the arts to all.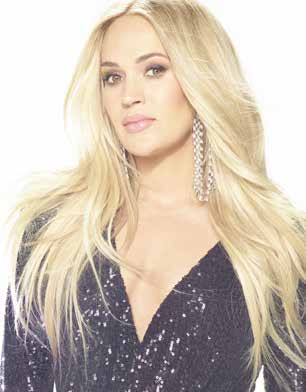 FESTIVAL NAPA VALLEY 2023 HIGHLIGHTS
Eight-time GRAMMY® award-winner Carrie Underwood headlines the Arts for All Gala.
Opening night with Festival Orchestra Napa features guitarist Pablo Sáinz Villegas, pianist Alexander Malofeev, and this year's Maria Manetti Shrem Daniel Brewbaker Composer Prizewinner, Yang Bao, unveiling a world premiere.
Matteo Bocelli and Francisco Fullana performing with Festival Orchestra Napa conducted by Eugene Kohn, an Olivia Decker Power of Music concert.
2023 GRAMMY® winning trio Time for Three makes its Festival Napa Valley debut.
Festival Napa Valley Dance Gala: Reunited in Dance, directed by Xander Parish, featuring Ukrainian and Russian ballet soloists displaced by the war.
Gordon Getty's choral works Annie Laurie, Shenandoah and the cantata Joan and the Bells, with Melody Moore, Lisa Delan, Lester Lynch, and Volti Chorale.
Northern California premiere of Lera Auerbach's Symphony No. 6, Vessels of Light, featuring cellist Kristina Reiko Cooper and soprano Ronit Widmann-Levy and dedicated to Chiune Sugihara, the Japanese diplomat who saved thousands of Jewish refugees during WWII.
2023 Manetti Shrem Opera: Donizetti's Don Pasquale directed by Jean-Romain Vesperini with Constantine Orbelian conducting
Festival Orchestra Napa, starring Lucas Meachem, Alexey Lavrov, Serena Sáenz, and Xabier Anduaga.
Taste of Napa, Festival Napa Valley's signature celebration of food, wine and music, at The Meritage Resort and Spa, with music by Shelly Berg and the Frost School of Music All-Stars and Broadway singer Christina Maxwell.
Jazz @ Charles Krug starring Gregg Field and the Frost School of Music All-Stars performing Mancini and Gershwin at the Festival Napa Valley Stage at Charles Krug.