When I was a young girl, my brothers and I would delight in exploring the hotels in which my family vacationed. We'd check into our room, throw our small suitcases into the closet, and set out to investigate every inch of our temporary digs. No longer a young girl, I engaged in the same practice on a recent visit to Hilton Los Cabos, and was reminded how much fun it is to discover something new and wonderful.
Though not exactly new (Hilton Los Cabos celebrates 20 years along the Sea of Cortez), the resort and the region were new to me, and both were indeed wonderful. The quick flight from SFO to Los Cabos (less than three hours) and the short drive to the resort had me wondering why I'd not previously made the easy effort. The resort's location and its innumerable amenities make for an ideal three night (or more) getaway.
After marveling at my AltaMar ocean-facing Plunge Pool suite with private infinity pool, I set out to explore with the same childlike exuberance my brothers and I once exhibited. My reconnaissance revealed stunning Sea of Cortez views and cozy seating areas that take full advantage of the panorama, multiple swimming pools with swim-up bars, colorfully frescoed hallways and porticos, and cozy cliffside cabanas. Three restaurants, a full service spa, a state-of-the-art fitness center and daily wellness activities, and a swimsuit-stocked boutique would require more in-depth inspection, which my full itinerary ultimately would reward.
Located at the southeast tip of Baja California Sur, Hilton Los Cabos is a lavish resort that holds its own along an oceanfront stretch of luxurious hospitality options for which the region is becoming well known. Considered a local Grand Dame due to its longevity in the area and for its traditional and welcoming hacienda architecture, the resort boasts the distinction of fronting one of Cabo's few swimmable beach coves (Tequila Cove), making it incredibly attractive to those for whom a coastal vacation is not complete without a dip in the ocean. For those whom a glance at the water is enough, Hilton Los Cabos also delivers.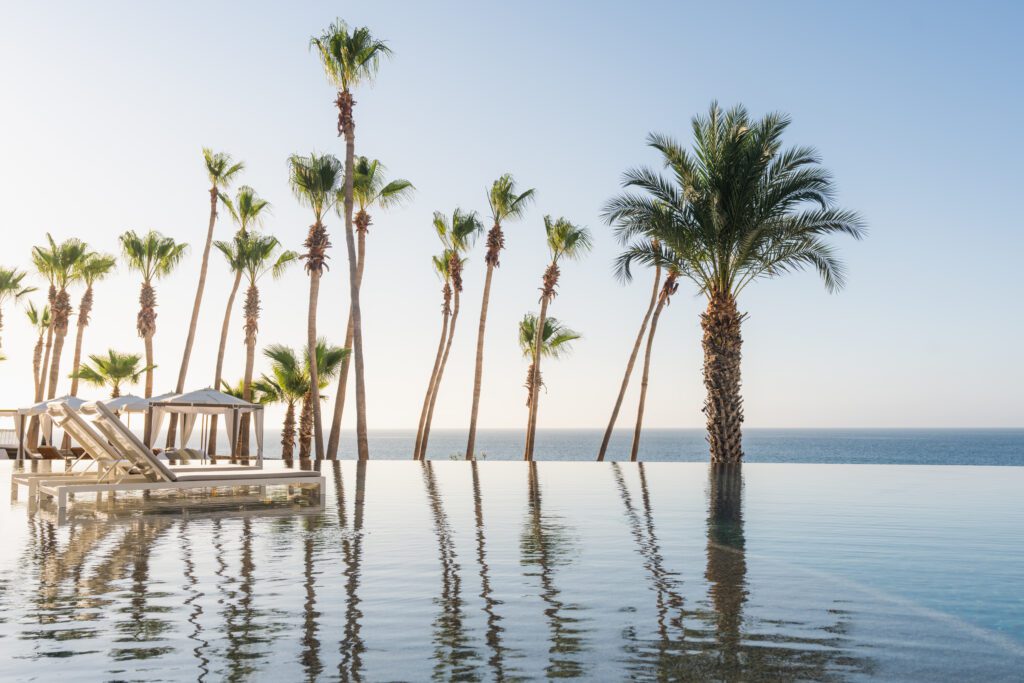 The majority of its 264 rooms and suites are poised toward the sea, each featuring its own furnished patio. AltaMar suites, which offer elevated amenities, occupy the top 5th and 6th floors for optimal views, and another handful line the resort's first level; these feature their own infinity plunge pools and daybeds. Additional AltaMar services include airport pick-up and drop-off, stocked and replenished drinks and snacks, daily breakfast, daily cocktail hour, morning coffee service, preferential pool seating, private check-in with welcome cocktail or mocktail, and a festive Hilton Los Cabos beach bag, that when used at home will surely conjure fond memories.
At a resort this size, food and drink are often mere afterthoughts, but at Hilton Los Cabos, the cuisine is destination worthy. Executive Chef Mauricio Lopez leads a stellar culinary and beverage team that oversees the resort's varied restaurant venues where guests will find everything from the freshest sushi, to Italian pastas, to wood-fire grilled meats and fish, for which sommelier David Reyes stands ready to pair the perfect Mexican wines. There is truly something for every palate, as illustrated at the bountiful Talavera buffet breakfast featuring made-to-order smoothies, handmade tortillas and a quesadilla bar, freshly baked pastries, and a variety of egg dishes. So highly regarded is Chef Lopez that the entire Hilton brand capitalizes on his expertise; Hilton hotels across the globe are known to request his consultation on their Mexican cuisine menus. Lopez has been with Hilton Los Cabos for 18 years—a remarkable distinction within the hospitality world where staff fluctuation is the norm.
And speaking of staff, the entire Hilton Los Cabos team proved adept, exceedingly friendly, and accommodating. Every morning, the resort shone like new with fresh, terry seat covers on every single chaise lounge. (With hundreds of seating options, there did not appear to be an early morning chaise chase here, as witnessed at other resorts.) Special requests are handled with aplomb, such as candle-lit dinners on the beach, or even seemingly impromptu fireworks displays that make for a truly extraordinary experience. The team can light the sunken beachfront fire pit for s'more making parties, Eforea Spa staff can provide relaxing and restorative treatments, and the resort's resident tequila master, the charimastic Ana Martinez, can turn even the most tequila or mezcal reluctant guests into believers at her educational and entertaining private agave spirits tastings.
Many in the Bay Area look readily to Hawaii for their getaways, and admittedly it's hard to match the islands' aloha spirit. But Los Cabos is a worthy competitor. Quicker and easier to reach, and with its own cultural richness, Los Cabos, and specifically Hilton Los Cabos, checks all the desired vacation boxes.