Experience the beauty of Yosemite National Park at the enchanting Château du Sureau
Indulge in the luxurious ambiance of France's Provençal region amid the lush foothills of central California's picturesque Yosemite National Park. Château du Sureau awaits you with its 9-acre estate, seamlessly blending Old World charm and natural beauty for an unforgettable travel experience.
Discover a hidden gem nestled among the green foothills of the Sierra Nevada mountains. Only 16 miles from Yosemite National Park, this welcoming sanctuary offers 10 graciously appointed accommodations and a private Villa du Sureau, all in an enchanting, storybook setting with gardens, pines, and fountains. Gourmands can savor award-winning cuisine at the Elderberry House Restaurant paired with an extensive wine list.  
Each of the 10 guestrooms tells a unique story inspired by the fragrant herbs and flowers native to the region. Every detail exudes opulent elegance from the ornate Empire-era furnishings to the colorful tapestries and original artwork. Relax by the wood-burning fireplace, rest in a canopy bed, or savor sweeping views from your private balcony. Discover contemporary luxuries intertwined with Old World charm, including wood beams, arched windows in the Thyme Room, and a sumptuous, deep-soaking marble tub in the Rosehip Room.
Escape to the Exclusive Villa du Sureau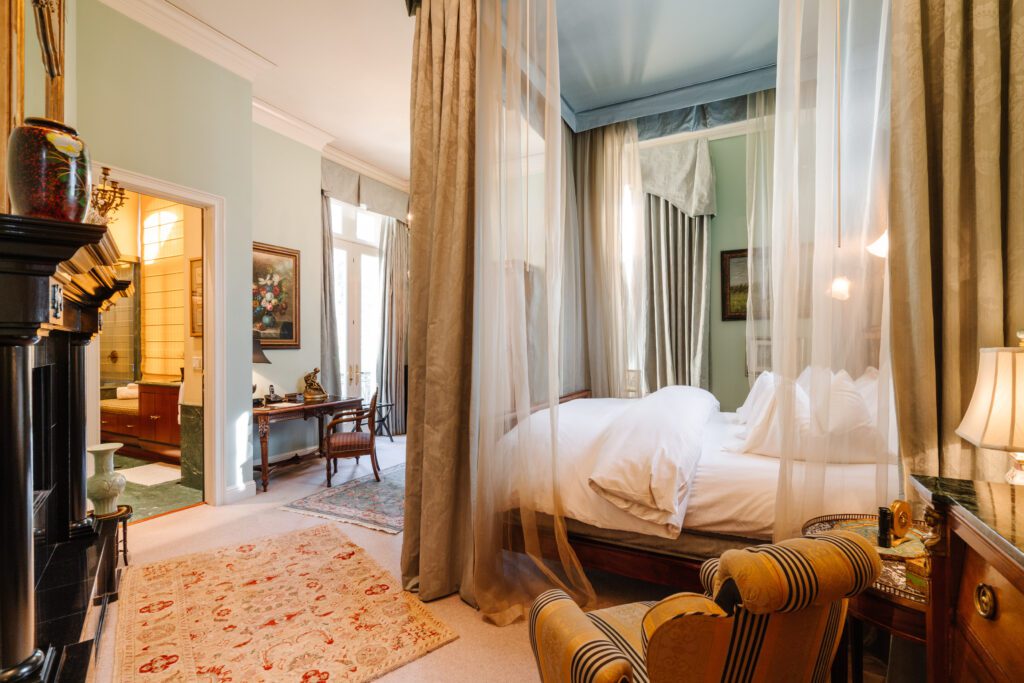 Indulge in the ultimate luxury getaway at the Villa du Sureau. Tucked away behind a private, gated entrance, this Parisian-style manor retreat boasts exclusive accommodation and a personal oasis for relaxation. With antique furnishings, specialty art, and charming design details, you'll feel like you're staying in your private residence. Enjoy a sitting salon and library, two spacious bedrooms with marble baths, and even a petite kitchen alcove for your convenience.
Step outside to a palatial balcony and Roman spa, and let your personal butler take care of all your needs. This 2,000-square-foot villa epitomizes sophistication and opulence for your next fairytale travel adventure.
The Elderberry House Restaurant
Embark on a journey for your taste buds and eyes in the charming, European-style Elderberry House Restaurant. Savor chef Chris Flint's mouthwatering dishes with local, seasonal, and organic ingredients from Central Valley farms. With an impressive, 800-label wine list that spotlights Californian and French selections curated by the resort's seasoned sommelier, Erica Ruiz, you'll experience a hint of luxury with every sip. Enjoy al fresco dining on the enchanting patio, relish in the ambiance of the adjacent stone-walled Cellar Bar, or immerse yourself in the culinary world with seasonal cooking classes.
Experience the best of local, seasonal, and organic ingredients in the newly revamped menu of The Elderberry House. Under the leadership of Culinary Director Chris Flint and chef Ethan de Graaff, taste flavorful dishes crafted with passion and served with finesse. Chef Flint has had an impressive career in his previous stint as executive chef at Maude in Beverly Hills, where he oversaw the relaunch of the one-Michelin-starred fine dining staple. Before that, he spent a decade with Make It Nice Hospitality, including his role as chef de cuisine at Eleven Madison Park and as executive chef overseeing the NoMad Los Angeles and NoMad Las Vegas openings. With such a wealth of experience, brace yourself for an unforgettable dining experience at The Elderberry House.
"It is an honor to be working with the extremely talented team at Château du Sureau and Elderberry House," says Chef Flint. He adds, "When staying there as a guest, I was so impressed with the elevated level of hospitality I experienced and the inspired food and gracious service offered at the Elderberry House. I look forward to collaborating with Chef Ethan and the rest of the team and positioning this Relais and Châteaux hidden gem as a premier dining destination in California's central valley."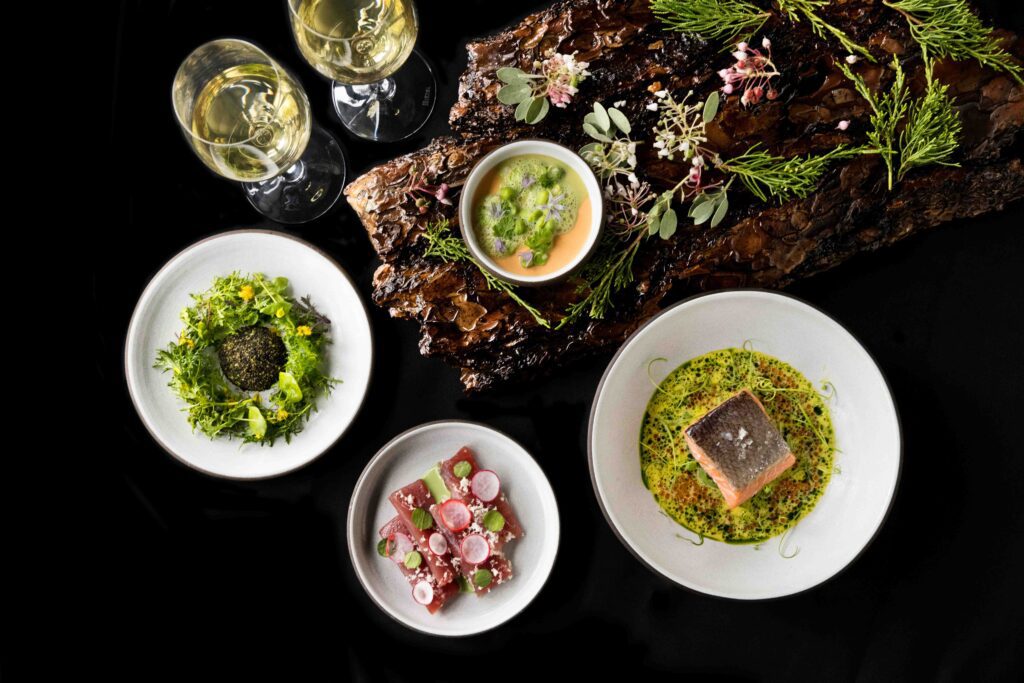 Discover the culinary wizardry of Ethan de Graaff, a longtime resident of Oakhurst who has made his mark in the kitchens of The Elderberry House. With a culinary arts degree from The Art Institute of California, de Graaff honed his skills at Château du Sureau's award-winning restaurant, eventually becoming lead line cook. Although he briefly worked as a private chef, de Graaff knew that his true calling was to return to his community and join the culinary team at The Elderberry House. As sous chef, he created mouthwatering dishes that brought people together for a memorable experience. In June 2022, de Graaff achieved his dream and been promoted to chef. Come taste the delicious creations of this rising star in the culinary world.
Unwind and Recharge at the Spa du Sureau
Experience the perfect blend of modern treatments and Old World charm at Spa du Sureau. Relax in a soothing lavender blossom body polish or treat your tired muscles to a rejuvenating Hiker's Repose massage after a day of exploring. With picturesque surroundings and endless relaxation opportunities, you can lounge by the vibrant, garden-framed pool, venture out on nature walks, or enjoy a romantic picnic for two.
Escape into Nature's Beauty with Château du Sureau
Located just moments from Yosemite National Park, the hotel can easily arrange for private guided tours of the park through discoveryosemite.com. Tours include stops at natural wonders such as El Capitan, Half Dome, the High Sierra, and Mariposa Grove. Come for November's Yosemite Photography Weekend, a first of its kind experience offered in partnership with The Ansel Adams Gallery. Guests will follow in the footsteps of the visionary Adams, learning his innovative techniques adapted for digital cameras while visiting the iconic park scenes he made famous.
Forest Bathing
Escape to the tranquil forest and immerse yourself in a sensory experience with forest bathing. This rejuvenating practice doesn't require any level of fitness, nor will you take a dip in the water. The two-and-a-half-hour guided session exposes you to unique techniques to unlock the absolute best from the surrounding forest, ultimately leaving you feeling re-energized. End the session on a high note with a forest tea ceremony and delicious homemade treats. The benefits of forest bathing have been well-documented, ranging from stress relief to enhanced immunity. Immerse yourself in tranquility at the Mindful Café.
Come and escape to a haven of tranquility and splendor at Château du Sureau. Let their incredible team create the perfect package for your dream vacation to Yosemite and experience all this first class destination has to offer.
chateausureau.com
(559) 683-6860