As at many fine restaurants, guests are often presented post dining with a menu of the dishes they enjoyed during their meal. Such is the case at Chef Peter Hemsley's sublime, Michelin-starred Aphotic, located on Folsom, just around the corner from Yerba Buena Gardens. Yet, Hemsley's simply defined menu belies the genius within each dish. His prix fixe, ten course menu lists each item in extremely sparing detail: "Trout," "Rockfish," "Abalone," "Prawn," etc. The modesty is charmingly amusing.
At Aphotic, within Hemsley's deft hands, that "Rockfish" is a crudo of two delicate bites topped with grapefruit, wasabi, and garum, the delivery system of which is an elegant, weighted pair of chopsticks. The "Abalone" is served with a table pour of soul-warming dashi broth, and the "Prawn" is found within a risotto of uni topped with an ethereal crab head foam, the umami deliciousness of which caused me and my dinner partner to lapse into a long and silent pause of appreciation.
The name Aphotic comes from the Greek prefix ἀ- + φῶς, meaning "without light." The name also refers to the depths of the sea where less than one percent of sunlight penetrates. Within Hemsley's Aphotic, the oft Michelin-awarded chef seeks to shed light on the dark by seeking out thoughtful alternatives to conventional resources, bringing often-overlooked and underutilized fish and sustainable sourcing practices to the forefront of fine dining. To wit, Hemsley is sourcing directly from aquaculture practitioners, traditional fishermen and women, and boutique artisans whenever possible. He seeks-out direct relationships with purveyors, gaining insight into the seasonality of fishing and alternative resource approaches. In doing so, Hemsley endeavors to improve the dialogue around seafood sourcing, both for restaurants and the consumer.
Originally from the Midwest, Hemsley adopted the Bay Area as his home after cooking in both New York and Paris fine dining restaurants. In the late 2000s, he cut his teeth in fish butchery in the kitchens of Michael Mina and Quince before opening his first solo venture, Palette, in 2019 in this same location.
With Aphotic, he has transformed the menu, and he's reimagined the interior as well. In concert with designer David Middleton, Hemsley riffs on Aphotic's "depths of the ocean" darkness with a moody interior of black walls and subtle illumination that accents custom walnut woodwork. Amplifying the sultry ambiance are Japanese Shou Sugi Ban detailing, bronze touches, and approximately 2,500 pounds of driftwood (much of it foraged locally by Hemsley himself) that lines the bathroom walls and the private dining room. A dining room focal point is the wood fired oven and hearth, fronted by more casual counter seating.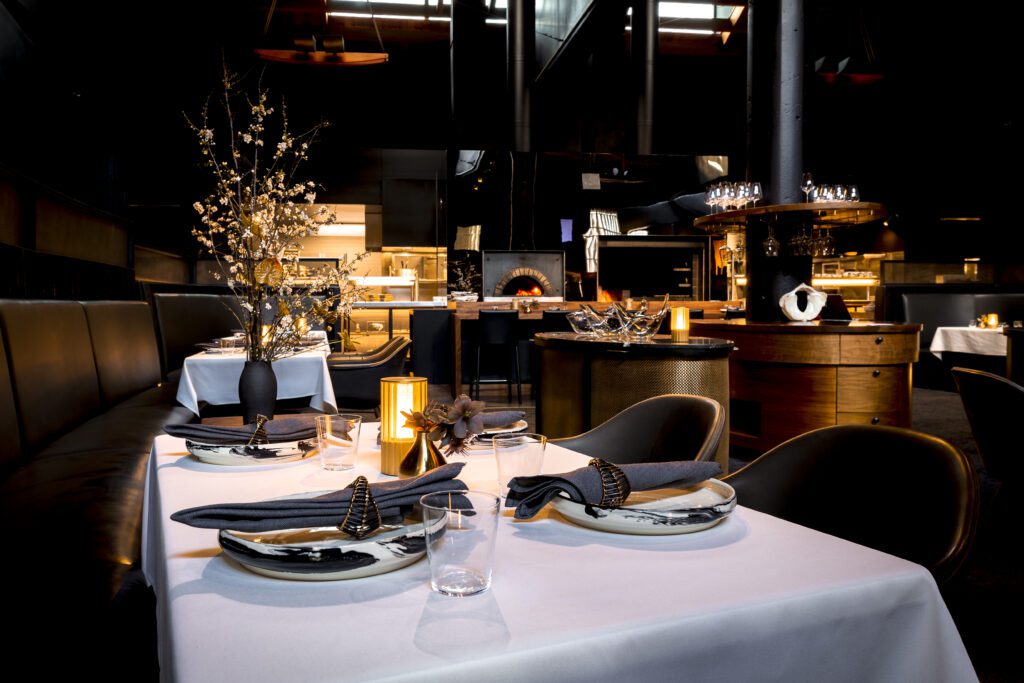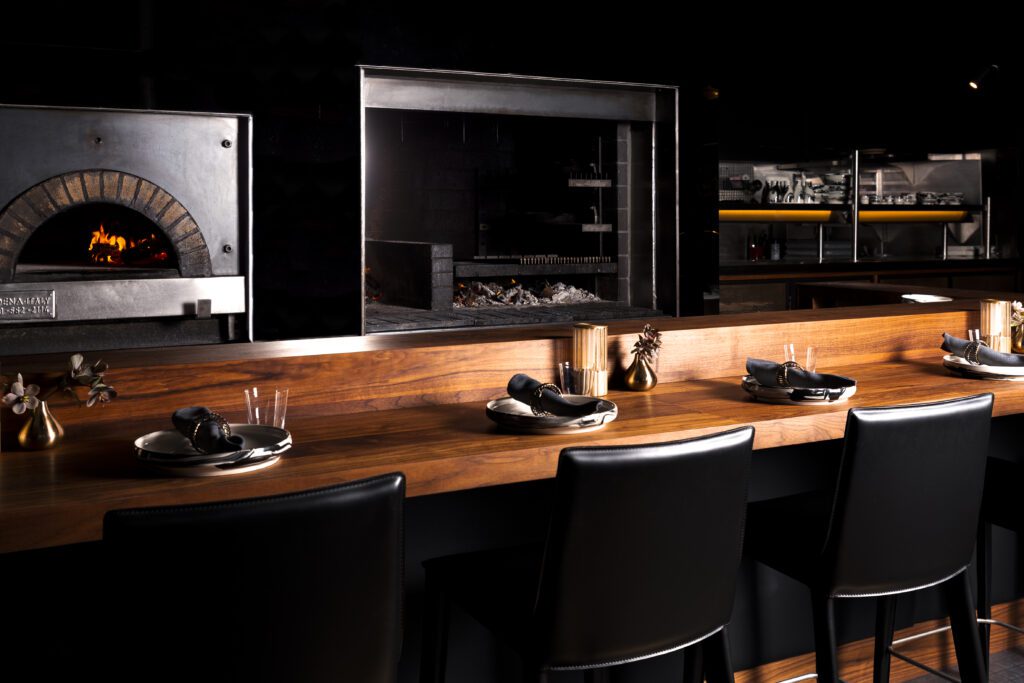 Accompanying Hemsley's fish-forward menu is a beverage program led by bar director Trevin Hutchins and built on three core pillars: house-distilled botanical spirits, foraged ingredients from the Western Seaboard, and coastal-crafted spirits from shores far and wide. Displayed behind the bar, Aphotic's in-house distillation program features craft spirits derived from locally foraged, native ingredients such as eucalyptus, bay, juniper and lavender; each cocktail is designed to complement the cuisine's oceanic flavors. Aphotic's wine list, spanning nearly 7,000 bottles and 100 vintages, focuses heavily on coastal wines of the world and includes a deep collection of Champagnes, as well as iconic California vintages from the 1970s and on. Pairings are definitely the way to go, and include a few surprises, such as a particularly memorable 2013 Chateau Montelena Sauvignon Blanc, and a yummy 1996 Château de Fargues Sauterne.
Note: This was one of the most delicious meals I've enjoyed in quite some time. (And I just returned from 3.5 weeks in Italy.)
Aphotic is also the recipient of a Michelin green star,  presented to those establishments that preserve resources and embrace biodiversity, reduce food waste and the consumption of non-renewable energy, and generally demonstrate an outstanding commitment to sustainable gastronomy and a more responsible future.
Photos courtesy of Aphotic & bread & Butter