Hosting The Party of The Year
As springtime ends and we stow away the pastels, the vivid and bright summer months beckon. The warm months make us anticipate the dog days of summer and entertaining with friends and family. Whether it be a family cookout, an enchanting night's get-together, or an elegant soiree, those summer parties are always the most memorable.
Though springtime partying is still going strong with those Aries, Taurus, and Gemini birthdays, flower shows, and spring galas, for me, spring entertaining comes to happy end with the wrap-up of my annual birthday bash.
One comes to expect that each year's party out tops the previous, so who am I to disappoint and break tradition? Not to say, my mission every year is to outdo the year before; I guess it just happens that way. Back in 2022, I transported 60 guests to Paris, France—well, almost Paris—by transforming the fifth floor of Neiman Marcus in San Francisco into a near facsimile of the City of Light, complete with a 12-foot Eiffel Tower, a 10-foot Arc de Triomphe, the Jardin des Tuileries, and even a Moulin Rouge lounge with a bona fide absinthe bar!
Researching and planning for the event I'm currently working on often inspires the next, just as it came to be for "Meet Me in Paris," my Parisienne-themed birthday party last year. When looking for all things Paris, I came across things like Victorian circus tents and 19th century sideshow advertisements, just to name a couple. I guess, subconsciously, it's a need for a creative mental break from the research monotony of the theme at hand. And the spark of imagination always ignites there: "Wow, wouldn't a Victorian-era carnival be so cool?" A couple days later, I already designed a logo!

I knew "Under the Big Top Birthday Carnival Spectacular" had to be special. It had to have a sense of whimsical nostalgia, an afternoon of pure escapism where guests are given permission to be kids again, but with an elegant backdrop of sophistication for sensibility.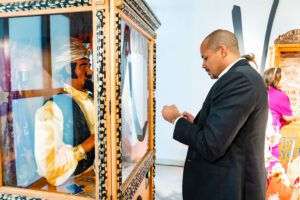 Recall 12-year-old Josh Baskin in the blockbuster film Big (1988, starring Tom Hanks) who's tired of the confines of his age and size and after the embarrassing mishap of being told he was too short to ride the "Super Loops" carnival ride in attempts to impress his crush. He comes across an enchanted antique mechanical fortune teller called Zoltar and wishes to be "big." Zoltar dispenses his fortune that reads "Your wish is granted." (Spoiler: Zoltar was unplugged the whole time!) Young Josh awakens the next morning to find that he's a grown man (Tom Hanks).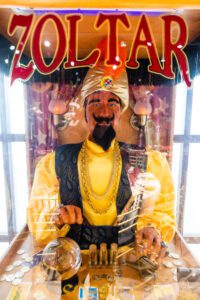 In our case, I wished for my guests to be kids again. Naturally I had to find a Zoltar fortune teller machine. And thanks to Video Amusement in the Bay Area, I did, along with a love tester machine in which I was dubbed "Hot Stuff!"
Setting the ambience was key. My first thought was to build a big red and white striped circus tent and seat guests underneath. I mean, the party is called "Under the Big Top," is it not? But sadly, blocking the overhead fire sprinklers was out of the question. Safety is paramount. Glamourous fix? Floor-to-ceiling, alternating red and white drapes curtaining off the large room with a grand "Carnival" arbor entrance arch in marquee lights in the center to welcome all under the "Big Top!"
It was all hands on deck in getting props built and installed to bring this shindig to life and set the mood. It took me over a week to build the 15-foot illuminated gold Ferris wheel that would act as an anchor against the back wall overlooking the main room.
My dear friend and the general manager/vice president of Neiman Marcus went above and beyond in personally assembling the circus tent cutout backdrops that would adorn the remaining walls. Even his 15-year-old son, Tyler, came out to help his dad with putting together the marquee-lit red carpet center ring stage that would be the main focal point while guests dined around it.
Guests arrived to an hour and a half of cocktails and amusements in the Ring Toss Bar & Lounge where they enjoyed cocktails under a circus cabana specially curated by mixologist extraordinaire, The Rotunda's Julian Velasquez. Drinks included the red velvet espresso martini and Monkey Business (an intoxicatingly refreshing punch of banana liqueur, rum, and pineapple and orange juices). Guests sipped on Henriot Champagne from the chic champagne cart, noshed on lobster "corn dogs," "corn nuts" (equites in masa cups), and caviar potato puffs.
They indulged themselves at the endless caviar bar, featuring The Caviar Co. "white sturgeon" caviar, all while competing at the ring toss game to win the giant stuffed elephants, giraffes, and teddy plushie prizes. For those who dared, the concession stand offered chocolate-dipped soft-serve ice cream cones, strawberry sundaes, cotton candy, and popcorn!
Competition at the ring toss was so intense (in the most thrilling way) that partygoers were hard pressed to adjourn when seating for lunch was announced.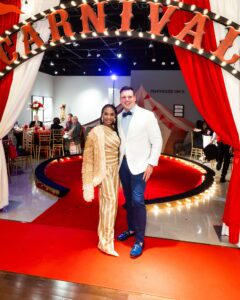 Fashionable guests made their entrance down the red carpet through a grand carnival arch and on to the illuminated circus center ring where they were sat at red and ecru velvet tables with linen hemstitch napkins set with 19th century style, gold-embellished porcelain china and elegant gold flatware. Guests sat under a canopy of glamorous red, yellow, and fuchsia roses with white feather blooms designed by masters of the craft, Bella Fiora Design of San Francisco. Godiva cherry cordials and chic Victorian filigree-style menus created by Lindsey Smith of
Greeting Yours Truly (Etsy.com) announced what to expect.
Carnival-themed menu offerings by Erik Harrelson, the executive chef of the Rotunda, and the Rotunda's general manager, Katrina Parlato, complemented the afternoon beautifully. To begin, fresh-from-the-oven Southern-style cheddar and chive biscuits were served with La Conviette butter flown in from France for the special day and the whimsical "Fish in a Bowl," salmon mousse suspended in mandarin sake gelée served in miniature fishbowls. The second course, "Whack a Duck" (named after the classic carnival activity), was a delightful salad of
house-smoked duck breast, endive, radish, asparagus, and blackberry vinaigrette. The main attraction thrilled guests as much as the namesake itself: "The Ring Toss," a scrumptious, slow-braised beef short rib over creamy potato purée topped with crisp fried onion rings.
And a fan favorite to end the elaborate luncheon and as a precursor to the cake was the "Milk Bottle Knockdown," rich peanut panna cotta with caramelized chocolate sauce served in cute glass milk bottles for guests to pour themselves. Chef was gracious enough to share the recipe with Haute Living, San Francisco's readers below!
As guests dined on their peanut panna cotta, Under the Big Top's very own favorite carny, the "Bearded Lady" played by the ever-so-fabulous Travis Santell Rowland, introduced the afternoon's magician and illusionist Alan Leeds (leedsmagic.com). Leeds took center ring and mesmerized guests with his brilliant and mindboggling magic. Following the magician's fantastic performance, the cake was cut.
Once again, world renowned cake designer BethAnn Goldberg of Studio Cake in Menlo Park created this year's masterpiece. Inspired by circus carnival nostalgia, the 3-foot-tall work of art was mastery in cake design. It Consisted of three tiers featuring a circus tent at the bottom with intricately sculpted carousel horses, topped with a black ringmaster top hat and candy apple.
For guests' amusement, the cake's flavors consisted of two carnival classics: "caramel apple" (layers of apple cider genoise, salted caramel, and toffee filling with caramel buttercream) and "Victorian Polka Dot" (layers of red and white polka dot vanilla genoise, raspberry coulis, sweet cream buttercream—a creative play on the traditional British afternoon tea cake, the Victoria sponge).
San Francisco Mayor London Breed's toasted the birthday boy: "It's so meaningful to be here today, and this theme (carnival) is incredible! … I know we're here to celebrate your birthday, but every time you do anything that brings people together, we feel like you're doing it to celebrate us."
"I am!" I yelled. Mayor Breed continued by humorously thanked the event's host, Aubrey's fiancé, Dr. Edward Winger: "And a special thanks to our corporate sponsor, Ed", garnering laughter from the room.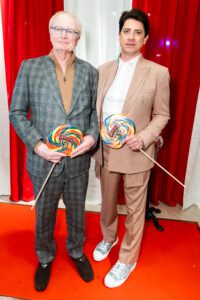 Mark Sullivan, vice president and general market manager of Neiman Marcus San Francisco, said, "How many of you here are on Aubrey and Ed's holiday list? Then you know the planning for the holidays starts in August. We shop through to December 24th. He (Brewster) gives me Christmas Day [as a] reprieve, then we meet to plan his birthday party on the 26th … and the meeting always starts with caviar!"
Guests continued partying late through the afternoon.
Among the afternoon's 70 guests were Brewster's partner, Dr. Edward Winger; San Francisco Mayor London Breed; former Mayor Willie Brown, Jr.; Neiman Marcus San Francisco's general market manager/vice president, Mark Sullivan; Union Square Alliance President Marisa Rodriguez; ABC7's Carolyn Tyler (retired); fashion designer Vasily Vein; philanthropist Navid Armstrong; author Jennifer M. Walske; socialites Daru Kawalkowski, Jorge Maumer, Clara Shayevich, Sonya Molodetskaya, Farah Makras, and Victor Makras; philanthropist Sophie Azouaou; Dr. Carolyn Chang; and luxury real estate agent (and Bravo's "A-List San Francisco") Joel Goodrich.
HAUTE RECIPE | Chef Erik Harrelson's Peanut Panna Cotta with Valrhona Chocolate Sauce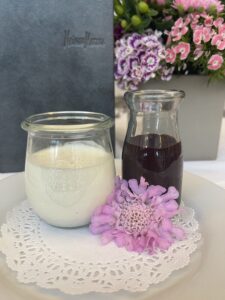 For my "Under the Big Top" birthday party, the Rotunda's executive chef's pièce de resistance to end the meal was his peanut panna cotta (which he created just for the affair) with Valrhona chocolate sauce (chocolate that top chefs worldwide go to) which guests poured over the panna cotta from old-fashioned, miniature glass milk bottles, an homage to the classic carnival amusement that he humorously dubbed the "Milk Bottle Knockdown." This is a refreshing, do-ahead dessert for summer entertaining. Not to state the obvious, but if peanut allergies are an issue, this recipe is not for you.
For best results, Chef Erik suggests the use of a kitchen scale to weight out the ingredients.
Ingredients:
Peanut Panna Cotta
– 300 grams milk
– 300 grams heavy cream
– 100 grams granulated sugar
– 3½ gold gelatin sheets
– ½ vanilla bean, scraped of seeds
– ¼ cup peanut powder (available at gourmet foods stores or on Amazon)

Valrhona Chocolate Sauce:
– ¼ cup sugar
– 1¼ cups Valrhona Manjari 64% dark chocolate, chopped*
– ½ cup water
– ½ teaspoon corn syrup
– ¾ cup heavy cream
– ½ vanilla bean, split
(recipe credit: Valrhona.com)
Instructions:
Peanut Panna Cotta
In a pot over medium heat, bring milk, peanut powder, seeds from vanilla beans, and
sugar to a scald.
While mixture is heating on the stove, soak the gelatin sheets in cold water.
Remove the mixture from the stove, squeeze out the excess water from the gelatin and
add to mix.
Stir with a spatula to make sure everything is well incorporated.
Pour into small bowls, let cool to room temp, then wrap in plastic and store in
refrigerator for at least one hour.
Remove plastic film and serve with Valrhona chocolate sauce on the side.
Makes six 4-ounce servings.
Valrhona Chocolate Sauce
Combine the sugar, water, corn syrup, and cream in a sauce pan. Split the vanilla bean in
half and reserve one half. Scrape the seeds from the other half and place both seeds and
pod into the pot. Bring to a boil.
Melt the chocolate in a microwave-safe bowl in 30 second increments until melted.
Remove the vanilla bean and discard.
Slowly pour the hot mixture over the melted chocolate in several additions, stirring well
before adding more. Once all the liquid is incorporated, finish with a handheld
immersion blender.
Cool slightly before using or chill until ready to serve.
If the chocolate sauce is cold, heat in the microwave in 10 second increments until liquid
but not hot.
(Recipe Credit: Valrhona.com)