California wine country's flagship festival, Festival Napa Valley, returns for its 17th summer season July 8-23 with a rich lineup of one-of-a-kind performances and food and wine events, held at iconic venues surrounded by the incomparable beauty and enchantment of Napa Valley. Celebrating music's unmatched power to uplift and inspire, the Festival's summer season features an incredible diversity of artists and programs from around the world.
Opening Night is always a grand reunion for music lovers, and a chance to meet new friends. The event takes place this year on the Festival Napa Valley stage at the historic Charles Krug Winery on Friday, July 14. Patrons gather in the reserve lounge to toast the season before taking their seats in the beautiful venue. The concert features Spanish guitarist Pablo Sáinz Villegas performing Joaquín Rodrigo's iconic Concierto de Aranjuez, pianist Alexander Malofeev celebrating Rachmaninoff's 150th anniversary with the Piano Concerto No. 2, and this year's Maria Manetti Shrem Daniel Brewbaker Composer Prizewinner, Yang Bao, unveiling a world premiere. Following the concert, patrons will attend an Opening Night dinner at Dario Sattui's magnificent Castello di Amorosa.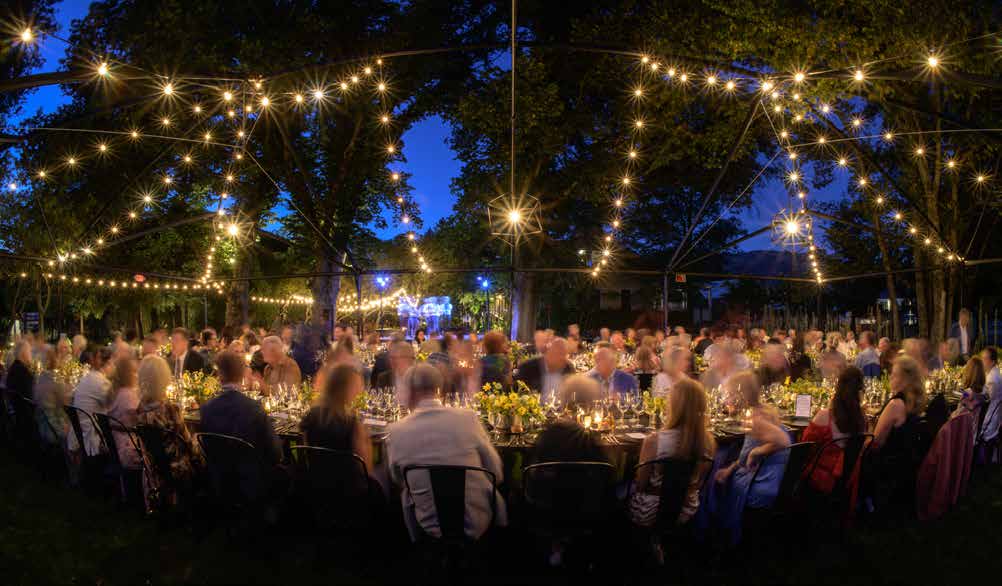 On Saturday, July 15, the Festival's signature celebration of food, wine, and music, Taste of Napa, returns to the central piazza of The Meritage Resort from 11 am – 3 pm. Best in class wines from Napa Valley and around the globe and delectable cuisine from more than 70 participating wineries, breweries, restaurants, and culinary artisans are featured. A reserve tasting salon offers private premium wine tasting and everyone has a chance to win prizes, including international travel, by collecting Taste of Napa passport booklet stamps throughout the day. Music throughout the day includes performances by the Frost Jazz All-Stars and Broadway singer and actress Christina Maxwell.
Crowning opening weekend, eight-time GRAMMY® award- winner Carrie Underwood headlines the Arts for All Gala on Sunday, July 16 at Nickel & Nickel. Benefiting arts education and the Festival's community programs, the gala features an exquisite dinner prepared by Michelin-star chef Charlie Palmer paired with offerings from the Far Niente and Nickel & Nickel family of wines, and a chance to win once-in-a-lifetime luxury travel, wine and performing arts experiences in a fast paced live auction led by Emmy award-winning auctioneer John Curley. One of the nation's premier arts charity events, the Festival's Arts for All Gala has raised over $20 million since its inception to support free and affordable access to world-class performances, public school arts education, and scholarships.
Seasons of Hope on Tuesday, July 18 features the Northern California premiere of Lera Auerbach's Symphony No. 6, Vessels of Light. This inspiring work commemorates the heroism of Chiune Sugihara, the Japanese vice-consul to Lithuania who saved thousands of Jewish refugees during WWII. Their descendants number more than 40,000 people, including the family of renowned cellist Kristina Reiko Cooper, who is performing as soloist. The program also includes Gordon Getty's celebrated cantata Joan and the Bells, inspired by the life and martyrdom of Joan of Arc, who transcended gender roles to become honored as a savior of France. The concert features Festival Orchestra Napa under the baton of Constantine Orbelian, Volti Chorale, and vocalists Ronit Widmann-Levy, Lisa Delan, Lester Lynch and Melody Moore. Expect an evening that transcends time and place and that inspires as only great music can. A patron dinner at Odette Estate Winery follows.
On Saturday, July 22, the Festival presents its 2023 Manetti Shrem Opera, Gaetano Donizetti's beloved Don Pasquale, directed by Jean-Romain Vesperini and starring Lucas Meachem, Alexey Lavrov, Serena Sáenz, and Xabier Anduaga. The production also features participants of the Festival's Manetti Shrem Summer Vocal Conservatory, and Festival Orchestra Napa conducted by Constantine Orbelian. Quintessa hosts a patron dinner following.
Other highlights include a concert of Opera Scenes with the Manetti Shrem Summer Conservatory vocalists on Wednesday, July 19; Jazz @ Charles Krug with the Frost School of Music All-Stars on Thursday, July 20; Italian tenor Pasquale Esposito at Beringer Vineyards also on Thursday, July 20; and a Season Finale concert on Sunday, July 23 with Festival Orchestra Napa led by Kyle Dickson. Also not to be missed is a fashion show luncheon curated by Neiman Marcus at Frank Family Vineyards' stunning new Miller House on Saturday July 22.
Vintner's Luncheons and Patron Dinners take place daily throughout the Festival at leading wineries, resorts and estates. In addition to those already mentioned, 2023 venue and event hosts include ADAMVS, Alpha Omega, B Cellars, Bouchaine Vineyards, Brasswood, Cameo Cinema, Cliff Lede Vineyards, Dana Estates, Darioush, Duckhorn Vineyards, Napa Valley College, ONEHOPE Winery, Stanly Ranch, Trefethen Family Vineyards, the Walther Green Car Barn, Boisset Collection/Wappo Hill, and Wheeler Farms.
Furthering Festival Napa Valley's commitment to making the arts assessable to all, admission to daytime concerts is free, including daily Festival Live! concerts featuring participants from the Frost School of Music at Festival Napa Valley's Blackburn Music Academy; three Bouchaine Young Artist concerts; and the family-friendly Novack Concerts for Kids. These concerts take place in the Jackson Family Wines Amphitheater at The CIA at Copia.
Evening performances are affordably priced at $35. Patron Passes provide access to special events including Vintner's Luncheons, Patron Dinners and the Arts for All Gala. Taste of Napa general admission tickets are $150, and $295 for reserve salon access.
In addition to its summer season, Festival Napa Valley presents international stars and emerging talent at iconic venues year-round, in the Bay Area and beyond, through the Olivia Decker Power of Music series.
With inspiring education programs for youth and seniors, tuition- free academies for vocalists and instrumentalists, and scholarships for talented students, Festival Napa Valley plays a vital part in creating a thriving, healthy, and engaged community, fulfilling its mission to bring the arts to all. A full schedule of events and information on how to purchase tickets or passes is available at www.festivalnapavalley.org.