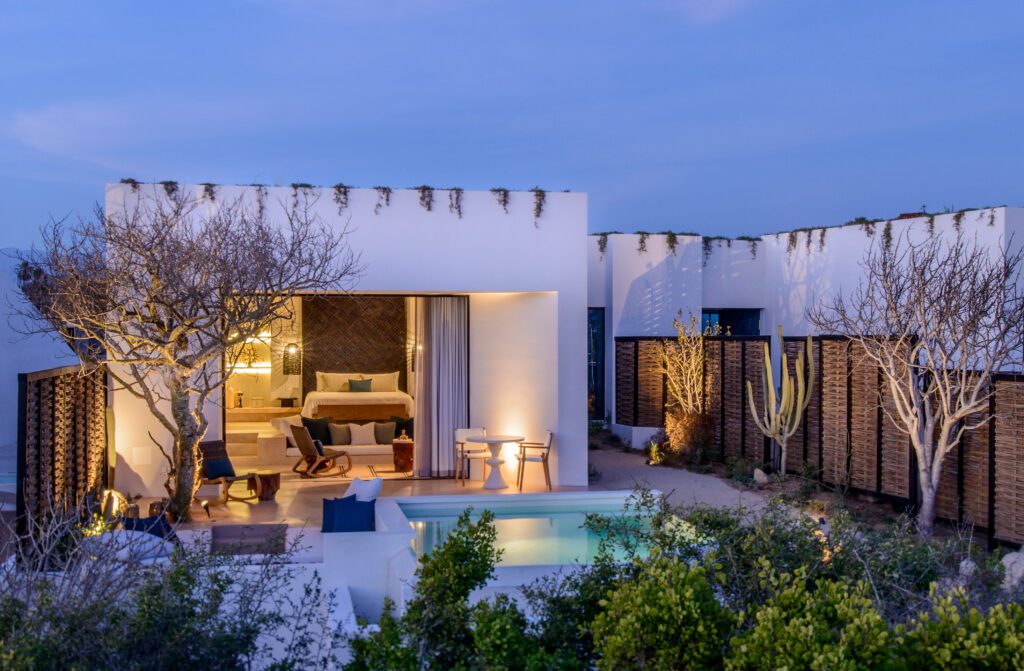 You've heard of forest bathing? That Japanese stress reliever known as shinrin yoku in which one seeks relaxation and tranquility amid a leafy landscape, finding calm amongst the trees, observing nature's sights, sounds and smells as a health boosting route to well being? At Baja's newly retooled and artfully expanded Rancho Pescadero, I experience what I come to think of as Desert Bathing—or maybe even Baja Bathing.
It begins with an arrival to a door set within an unadorned concrete wall ,found down a remote, dusty road near the magical arts haven of Todos Santos. Just as you ponder the possibility of having rolled up to the wrong cacti-peppered desert location, just as you process the wall as something ephemeral like a mirage, somebody in a very fairytale-like fashion, suggests you open the door. When you do, you catch your breath, blinking as an otherworldly realm unveils itself, as sacred as a temple. You enter, with Alice and Wonderland-like astonishment and eagerness, to an al fresco anteroom, colorful with local art, hung with vines, anchored by an altar. "Please feel free to make an intention for your stay," says the person who suggested you open the door—a resort member, who hands you a welcome drink. Entranced by the scene, you whisper your intention: the hope for just a smidgen of tranquility. Then, you take a deep breath. Not yet checked in, you feel something shift. It's the resort's gift—what owner Lisa Harper calls "crossing over."
But that's just the beginning. Next you wend your way across the soft desert sand, barefoot if you wish, toward your suite, where the ocean and a pool come to view. The Sierra Laguna mountains stand watch. As you ramble you'll tread through nine interconnected gardens, abundant with indigenous plants, many displaced during the resort's renovation, but replanted in their original locations to thrive once again. Signs point to places you'll want to visit, like Kahal, the glamorous seaside restaurant, but you're most bedazzled by the immense garden beside you, rife with every imaginable eatable temptation. Pick a tomato and pop it in your mouth—nobody cares. They want you to—in fact, later in your stay, they'll urge you to snip herbs, gather eggs from the henhouse, cut flowers from the flower garden at the spa beside the spa and wander with the chef wielding an immense basket, filling it with manifold ingredients for a hand-picked, garden-to-bowl salad lunch. At last, ensconced in your artful suite, kitted out with folkloric accouterments gathered from across Mexico—including talavera tiles, copper vases, steel headboards accented with leather tassels—you'll rush up the balcony's staircase to find a rooftop terrace and romantic lounger. The view will stop you in your tracks. You'll think you should stay in the room, indulge yourself, never leave—but you've come for Botánica Spa, the resort's 25,000-square-foot-wellness arena, a highlight of Rancho's redo.
When you see Botánica Spa, you're happy you've stepped out of your room. A shaded haven that includes an apothecary, a semi-Olympic-sized lap pool, two yoga shalas, a Pilates studio, a state-of-the-art fitness room, an en plein air relaxation pavilion and a Baja Bathing-worthy garden, abundant with flowers and healing herbs, not to mention undulating paths, the spa might be called Rancho Pescadero's heartbeat or, better said—soul. When the original resort opened in 2009 with 12 rooms, it was known as a chic but earthy hideaway, a bastion of barefoot elegance. The original Rancho exuded spirited disengaging, authentic seeking, and unfettered bliss with an emphasis on well being—defined uniquely by each guest. Now, with 103 keys, it's vastly larger and fancier. But, Rancho's original soul sings—it's everything it ever was but more. And that gravitas is embodied most in its prodigious Botánica Spa—a veritable marvel.
Much like the founders of Rancho Pescadero, I believe that wellness has many mothers, It isn't about deprivation or massage or chanting or veganism—unless you want it to be. Wellness, instead, in my point of view, is an array of healing moments that can be as simple as gazing at a flower in bloom or chatting with the chicken that laid the egg you've selected for your huevos rancheros. Wellness is slowing down, stopping to feel the sand between your toes, hearing the roosters crow and making your own bouquet of flowers from Rancho's garden. Wellness is drinking a Mescalita at the bar with friends, doing yoga on your rooftop terrace and eating Chef Sandro Falbo's farm to plate food—especially if you've walked the garden with him. For those longing for guilt free well being, the sort that feels mystical, customized and hedonistic in turns (if that's what you want), I offer you some of Rancho Pesadero's best wellness immersions.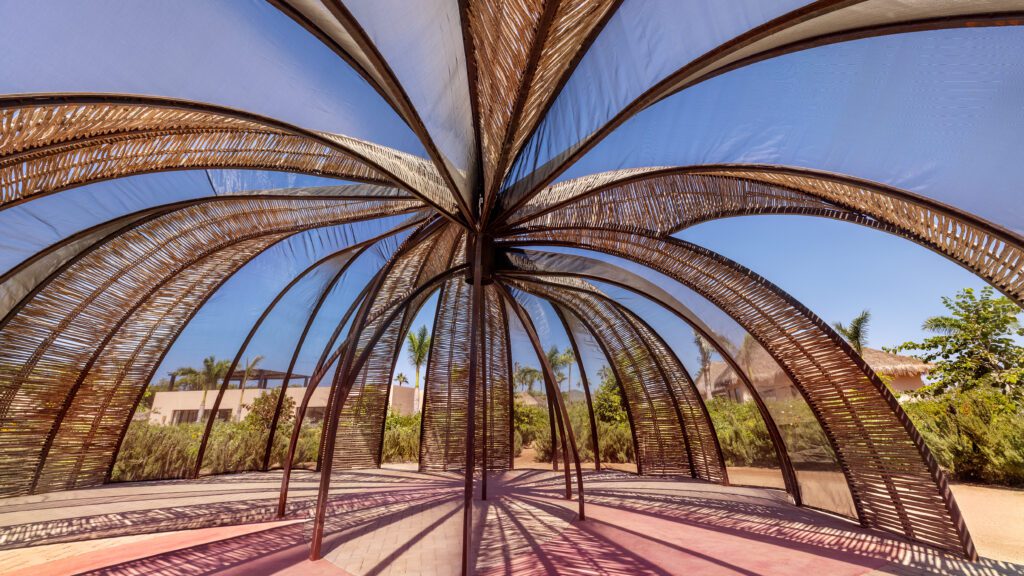 Cacao Ceremony
Originating with the Aztec and Mayan traditions, cacao ceremonies date back thousands of years. A spiritual ritual, it involves sipping small cups of adaptogenic, nutrient rich cacao in a heart-opening, breath-focused, meditative session.
Build your Bouquet
Walk the garden as if it were your own, cutting flowers and herbs to create your own bouquet for your suite.
Albahaca Santa
This rejuvenating, energizing massage uses freshly cut basil leaves from the garden, soaked in warm oil, which ensures the anti-inflammatory and anti-oxidant effects of the herb are deeply absorbed.
Refuerzo Romero
Translating to Rosemary Booster, this immune bolstering massage utilizes rosemary from the garden. Used in aromatherapy for stress relief and to reduce anxiety, rosemary has also been shown to lower cortisol levels. This 50 minute restorative treatment adds hot stones to target problem areas.
Apothecary DIY Tutorials
Under the tutelage of a gardener or a resort team member make your own mists, soaps, lotions, bug repellant, scrubs or other well being products with herbs and botanicals from the garden.
Forage the Garden and Henhouse for Your Meal or Cocktail Class Cocktail
Baja Bathing happens to the maximum degree in the gardens at Rancho. A variety of resort programs support guests in their desire to wander the gardens–most fun with the chef–to pick the ingredients for their salad, meal, or cocktail. In the morning, greet the hens who happily share their eggs for your breakfast.