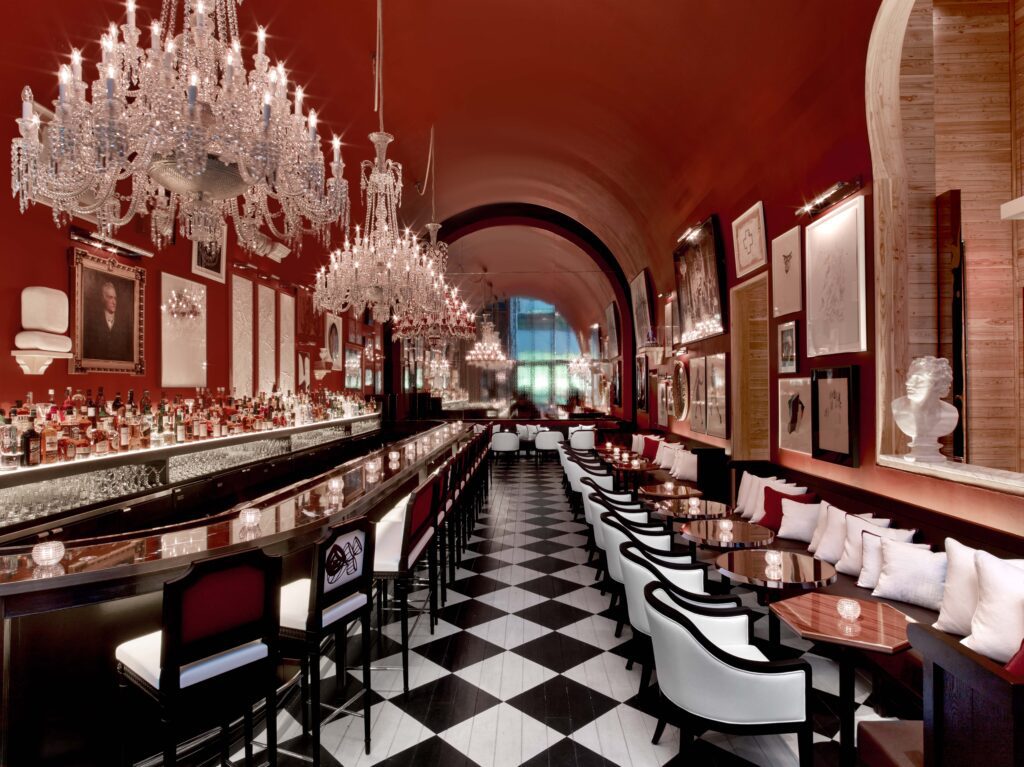 If you've ever attempted an art museum visit with a toddler, you know you have to lower your expectations. Generally, that means seeing one gallery, not 50, in one afternoon—perhaps even fleeing fast when those little hands try to touch the Rembrandt or when the inevitable tantrum strikes. So, it was with some trepidation—plus much joy and a modicum of optimism— that I planned an art-replete, three generation visit to New York's Museum of Modern Art with my daughter and granddaughter, followed by a stay in the spellbinding Baccarat Hotel New York, a verifiably habitable piece of artwork itself.
With the hotel stay as—let's call it dessert—even if time spent at MoMA was cut short (and it was), we'd just scurry across the street to bijoux Baccarat to continue our aesthetic immersion beneath its 17 custom chandeliers, sleeping in its chandelier-embossed jacquard sheets at night, perusing its captivating wall of glasses—a 20-by-25 foot assemblage of more than 2,000 iconic crystal glasses—and enjoying, at a toddler's pace, its museum quality 250 works of beguiling art throughout the hotel. Of course, we'd also sip from 15,000 mixed-and-matched Baccarat crystal stemware, both classic and custom, as one does when the hotel bears the name Baccarat. I'd even imagined us standing among the topiary, Baccarat flutes in hand (no, not the toddler's hand!) at the hotel's Le Jardin Terrace which overlooks MoMA. There, we could reap the fanciful aesthetics of the 250-year-old crystal brand, founded by tastemaker extraordinaire King Louis XV himself, under the cover of its first flagship hotel while being imbued by Magritte and Matisse vibes, artfulness radiating from the museum galleries at MoMA to our artsy safe place, New York's most scintillating, sophisticated, and original hotel.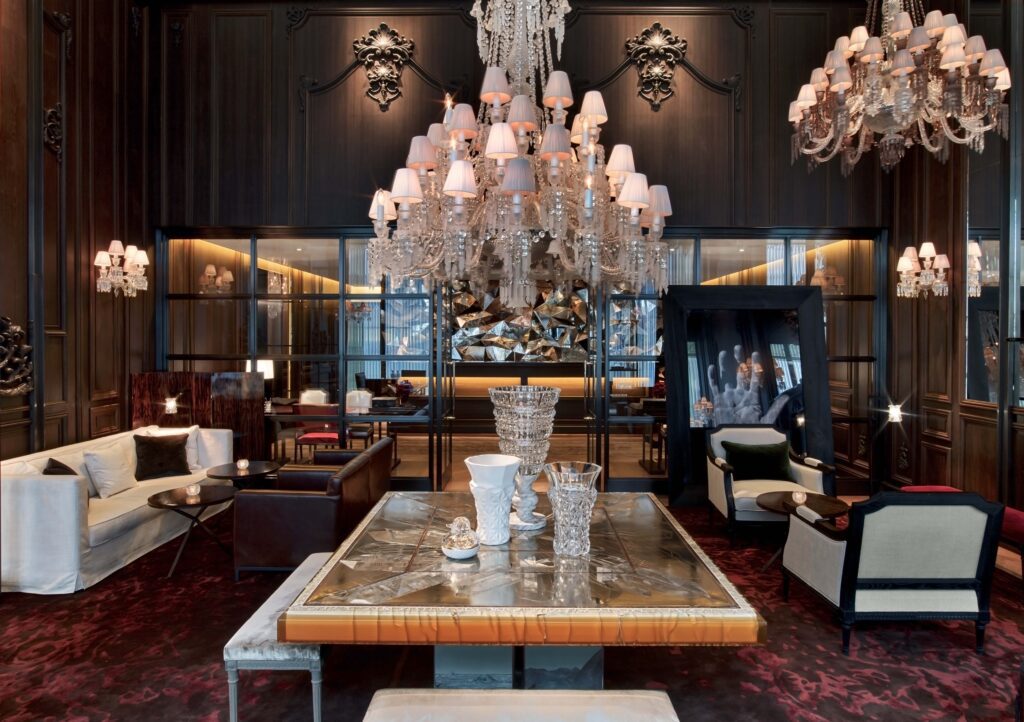 More on the Baccarat Hotel New York
Subtle and understated from the street, the interiors of Baccarat New York shimmer and glow. From the 4-foot fireplace in the entry lobby to the custom designed, red enamel mini bar complete with Baccarat glasses in the suites to the posh Grand Salon with its lush platinum and champagne palette, this hotel has theatrical appeal. Throughout, a French pied-a-terre ambiance prevails, though it's spiced with some Manhattan-fueled buzz. Hand-pleated silk wall coverings, mica-coated ceilings, panoramic windows, silver-leafed boiserie, glittery shimmer everywhere, and service as priceless as the Baccarat chandeliers themselves set the mood. Don't miss the sultry bar with crimson velvet seats and a double barrel vaulted ceiling, a nod to the stables at Château de Versailles, which conjures another time.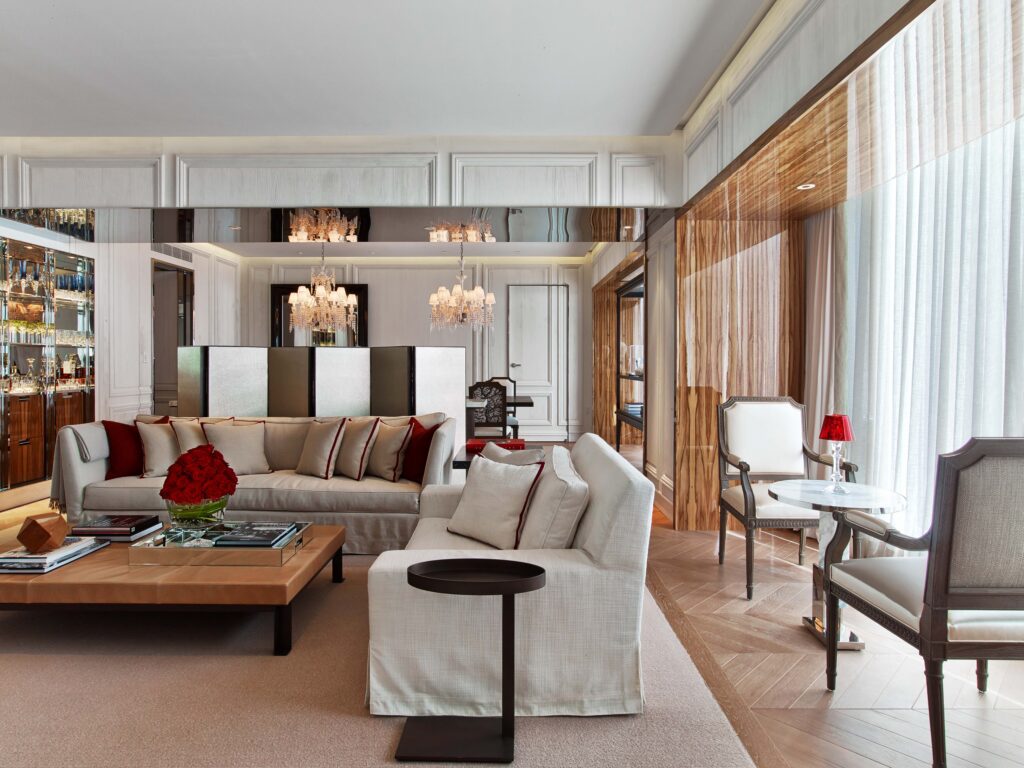 Its clever new cocktail menu, "L' Art du Cocktail," engages epicurean drinkers and art aficionados alike in a poetic romp of wordplay, art interpretation, and drink offerings inspired by the room's most evocative works. For self-care, the serene La Mer Spa, the brand's first in the United States, brings top level treatments. A state-of-the-art fitness center and indoor lap pool, edged by Cote d'Azur-style cabanas, supports fitness regimens. Don't miss gastronomic satiation from two-Michelin-star chef Gabriel Kreuther, who serves as the Baccarat's culinary director. He brings his chic French rustic cooking ethos as inspiration for meals served in the Grand Salon and for in-room dining. We highly recommend pre-museum omelets and berries with whipped cream before attempting your art museum onslaught with a toddler.
More On MoMA
Touted as one of the most immense, definitive, and influential museums of modern art in the world, The Museum of Modern Art sits in Midtown on 53rd Street, just off Fifth Avenue. New exhibits on view through summer 2023 include Francis Bacon, Masters of Popular Painting, and Ornament and Abstraction. While visiting, pay homage to some classic mainstays: Starry Night by Vincent Van Gogh; Campbell's Soup Can by Andy Warhol, Water Lilies by Claude Monet, Self-Portrait with Cropped Hair by Frida Kahlo—among others. moma.org
Four Other Soul-Satisfying Museums for an Art-Filled Foray
New Museum
For modern art and museum lovers who have limited time, the Lower East Side's New Museum offers a refreshing portal to contemporary art on a smaller scale. Take one of the daily, complimentary, docent-led tours, a 45-minute exploration of current exhibitions with riveting artist insights. Like most museums, it has a well-curated gift shop; this one full of hard-to-find books. newmuseum.org
Neue Galerie
Located on the Upper East Side, this small-enough-to-do-in-a-few hours jewel box of a museum displays works by artists of the Austrian Secession movement, such as Gustave Klimt. Designers from the Wiener Werkstatte (Vienna Workshops), a design movement that led to modernism—as well as works by Bauhaus and Expressionists from Schiele to Dix—are also showcased. After perusing the galleries, stop for cake and coffee in the museum's gilded cafe. neuegalerie.org
Frick Collection/Frick Madison
One of the globe's most riveting small museums, the Frick is currently closed for renovations. But travelers in the know can see its collection at a temporary pop-up museum space, Frick Madison. With a permanent cache of glorious Old Master paintings and European decorative and fine art, the museum displays works by Titian, Rembrandt, Goya, Vermeer, and others.
The Met Cloisters
In Upper Manhattan's Washington Heights, The Cloisters sits in Fort Tryon Park, overlooking the Hudson River. A trove of European medieval art and architecture and awash with pieces from the Gothic and Romanesque eras, it can be enjoyed in small bites of time and never overwhelms. Opened in 1938 as a division of the Metropolitan Museum of Art, the galleries are incorporated into unique architecture where five medieval cloisters meld into a contemporary structure and provide passageways between art-filled rooms. metmuseum.org