For those whom 'Indian Cuisine' simply means butter chicken and tikka masala served over Basmati rice with a side of naan, ROOH Palo Alto is a revelation. This progressive Indian restaurant helmed by head chef Apurva Panchal and co-founders Anu and Vikram Bhambri brings a modern version of Indian open-fire cooking to Silicon Valley. ROOH's menu is a 'beyond curry' extravaganza of stuffed flatbreads, fire grilled kebabs, and unexpected (and likely never before experienced) dishes, the inspirations of which Chef Panchal borrows from more traditional recipes from India's various distinct regions.
Translating to "soul," ROOH Palo Alto opened January 2020 on University Ave., admittedly a tough time for the hospitality industry. But its distinctive menu and warm hospitality were emphatically welcomed in this town where quality Indian food was previously somewhat hard to find. A vibrant interior no doubt aided in the restaurant's immediate popularity. To a clientele whose unwelcome adjustment to sheltering became a bit claustrophobic, ROOH's re-creation of a haveli, or historic Indian home, proved, and continues to prove, comforting. Anu worked with San Francisco-based Eaton Hall Architecture to create the high-ceilinged, jewel-toned interior in shades of pastel pinks, greens, reds, and teal. The space, centered by a picturesque backlit bar, is illuminated by red Murano glass chandeliers, which highlight a key element found in all ROOH locations—a colorful signature dining room mural. Local artist Amandalynn created this version of a woman adorned with traditional Indian jewelry. On another wall, red-splashed wallpaper plays background to historic photographs and paintings that date to the early 1900's.
And then the food. ROOH Palo Alto takes diners on a gastronomical journey through the global flavors of contemporary Indian cuisine with a menu rooted in culinary traditions familiar to India, but with a twist. At ROOH, Chef Panchal, who previously served as Chef De Cuisine at The Taj Mahal Palace and Towers, Mumbai, is dedicated to creating a modern version of Indian open-fire cooking with his menu that pays respectful homage to various regions such as Mumbai, Kolkata, Delhi, and Goa, while taking subtle inspiration from the bounty of California. He works with local farms to source hyperlocal ingredients and sustainable seafood from Sacramento to the South Bay. A vast majority of the menu comes from farmers/purveyors within a 50 mile radius.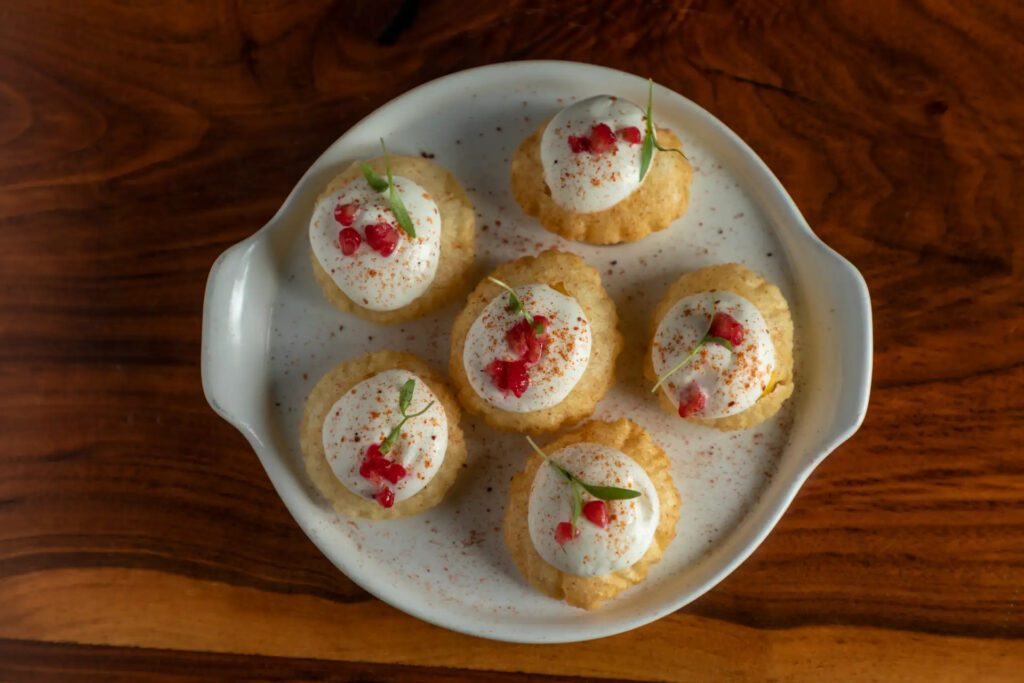 His menu is designed for sharing and offers a variety of dips and pickled vegetables, small plates, kebabs, house-made condiments, large family-style roasts, regional curries, and desserts. Dishes include small plates such as Jackfruit Cutlet with Kasundi mayonnaise and pickled onion, a Mushroom Kebab with goat cheese toum, mint chutney, and crispy cordyceps, and the Brie Pakora with beetroot murabba, and apricot-chili chutney. Large plates include a picturesque Paneer Pinwheel with lababdar sauce, red pepper jam, and butter powder; the pastry topped Lucknawi Goat Biryani, simmered slowly with rice in a small cast iron pot and plated tableside and served with avocado pomegranate raita; and the showstopping Sea Bass Pollichathu, wrapped and cooked in banana leaf and served with a pitcher of malabar curry sauce and Brussels Sprouts foogath. These are flavor-packed dishes, guaranteed to wake-up any sleeping tastebuds. Guests for whom ingredients are unfamiliar need not worry. Patient and attentive waitstaff are happy to provide full descriptions.
While the cuisine is delightfully delicious, it is the creatively crafted cocktails that often end up stealing the show. The menu changes seasonally, and each cocktail represents one of nine different regions in India, and each is inspired by the Ayurvedic rasas of taste: sweet, sour, salty, pungent, bitter, and astringent. The classifications help guests to match their cocktail with the flavors of Chef Panchal's delectable dishes. Several cocktail ingredients come straight from the grill such as smoked pineapple, smoked rasam, and smoked chorizo butter. Cocktail examples include the Whistle Podu with vodka, honey, and smoked rasam, the Kai Po Che with gin, green chickpeas, cucumber, and egg white, and the Khub Bhalo with bourbon, smoked pineapple, and mango ginger. Additionally, ROOH Palo Alto's beverage menu features a selection of beer and wines, inclusive of natural wines.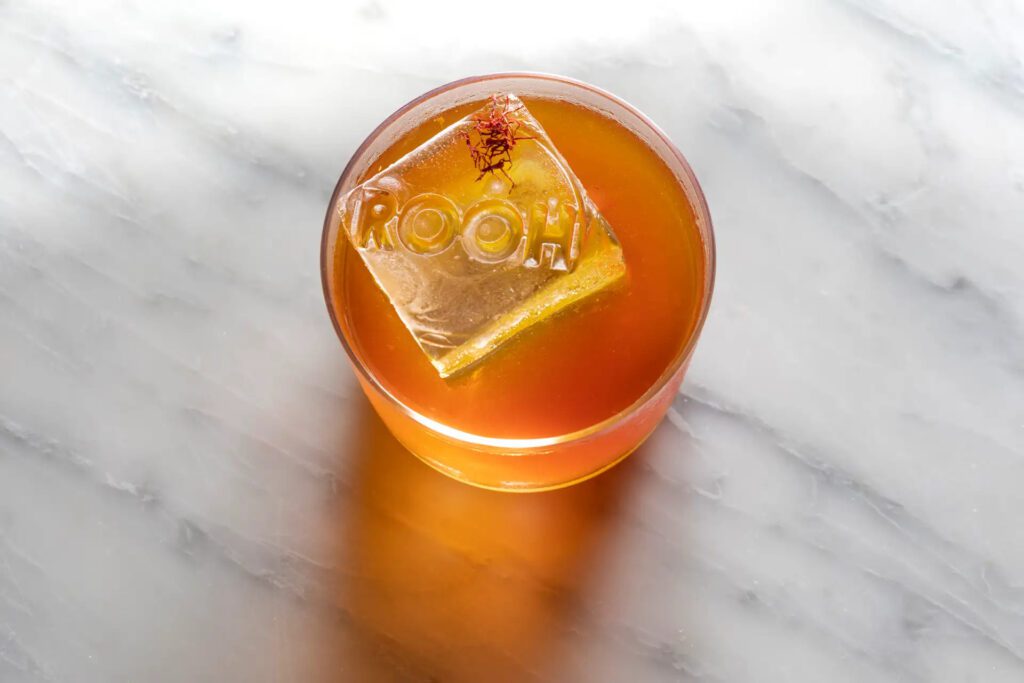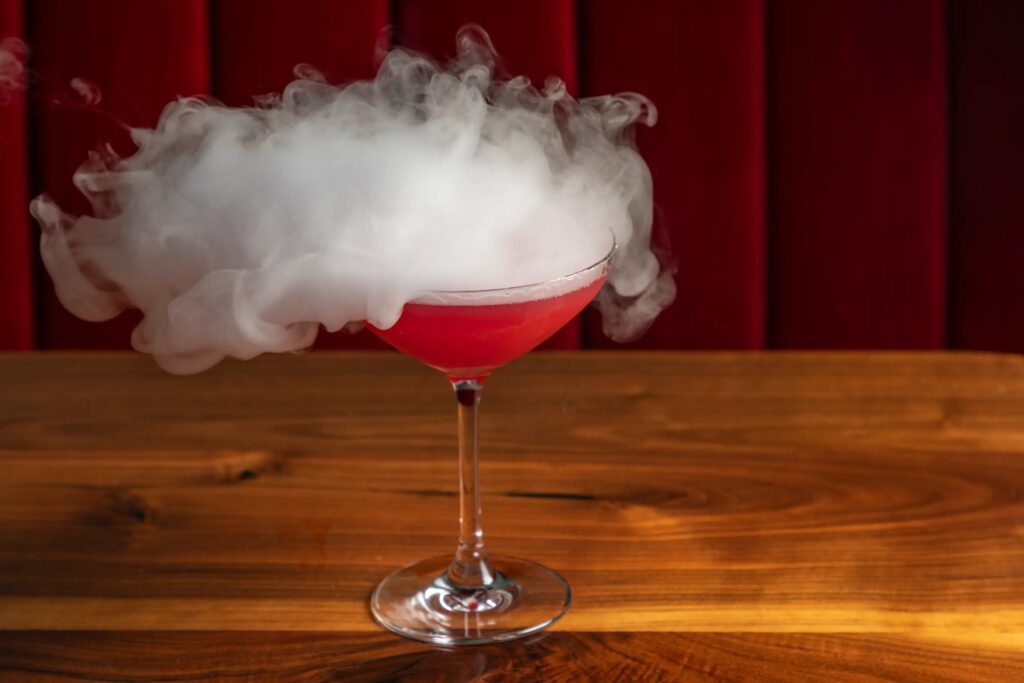 ROOH Palo Alto also offers Anandini Himalayan teas handcrafted and curated exclusively by their dedicated tea sommelier, Anamika Singh. Special blends created by Singh include Indian Bouquet with rose petals, autumn tea, chamomile, rhododendron, lavender, lemongrass, cornflower, and cardamom, and Work it Up with orange peel, hibiscus, and mint.
ROOH Palo Alto, 473 University Ave.
Photos courtesy of ROOH restaurants