An intimate evening with Andrea Bocelli and family
Nestled in a 4-acre, park-like setting in Burlingame is the stunning historic Kohl Mansion, which was the setting for a once-in-a-lifetime evening of music and fine dining with operatic superstar Andrea Bocelli on December 2. The evening benefited the educational programs of Festival Napa Valley and the work of the Andrea Bocelli Foundation, founded in 2011 and through which Bocelli leverages his deep connections and bonds of trust to help some of the world's most disadvantaged people, children, and communities.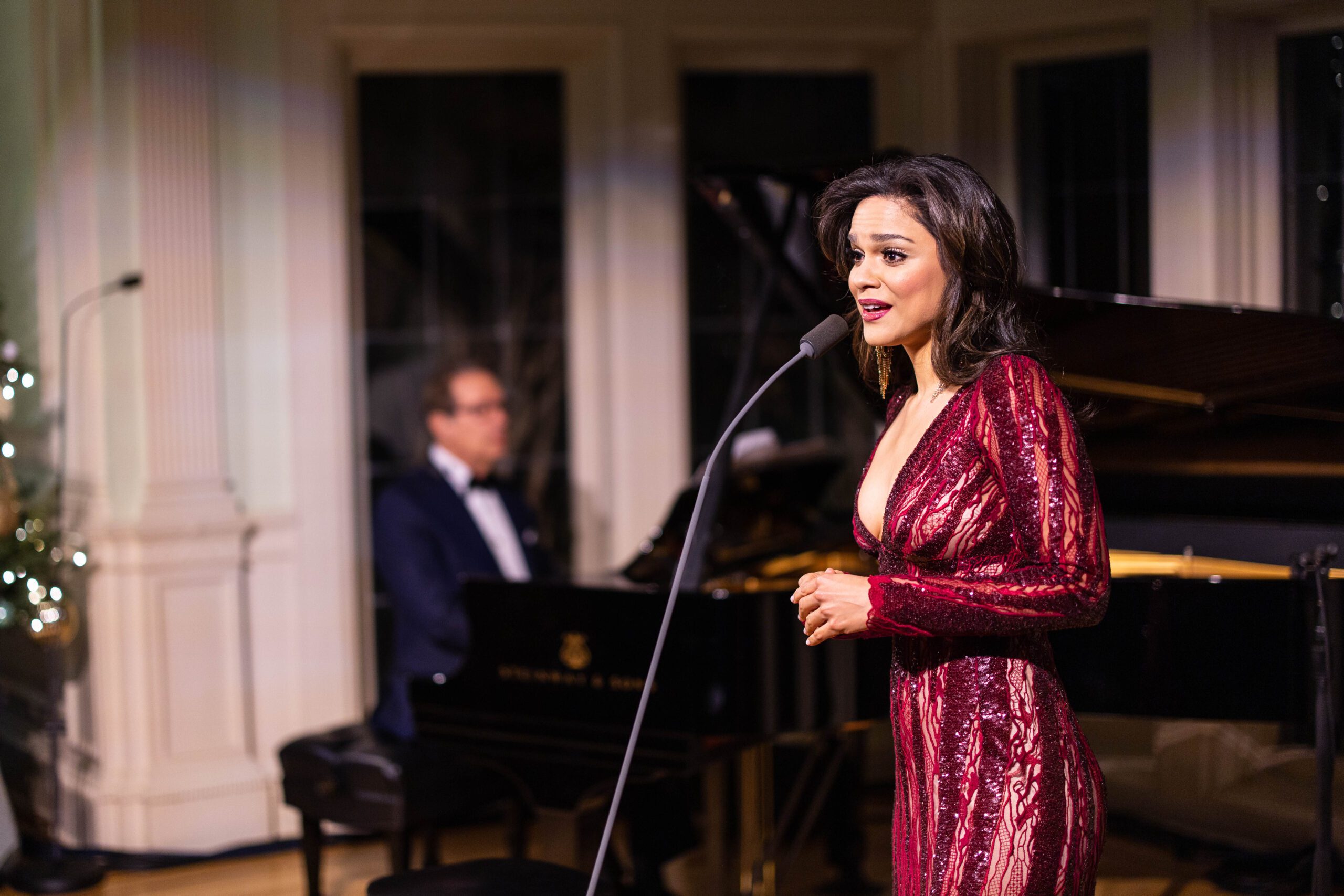 Surrounded by vaulted ceilings and priceless art, 120 guests began their magical night with passed hors d'oeuvres and Taittinger champagne. The esteemed guests donned festive apparel and chatted with Andrea Bocelli, his wife Veronica Berti, and Andrea Bocelli Foundation representatives, making the evening even more spectacular.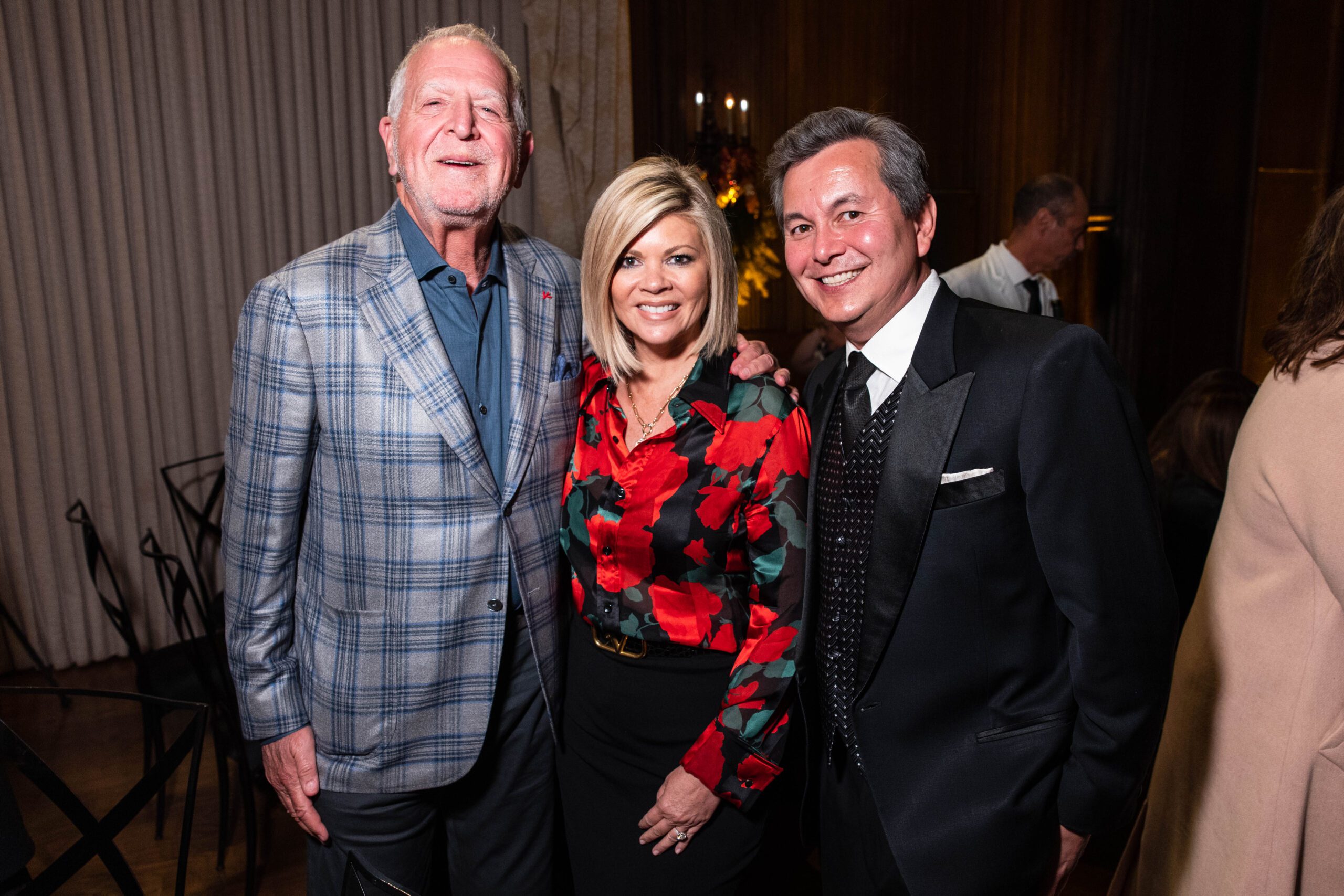 Following the lively cocktail reception, guests were escorted to a glass atrium where the remarkable performance took place. At the piano was conductor Eugene Kohn, who made his Metropolitan Opera conducting debut in 1980. Over the last decade, he has collaborated with Bocelli as music director for operatic events. Kohn can be seen onscreen in Franco Zeffirelli's Callas Forever in which he recreated his real-life role as Maria Callas' accompanist. Soprano Larisa Martínez, a Festival Napa Valley favorite, opened the performance with Broadway songs and an opera aria. She has graced the world's top opera stages including recent appearances at the Kennedy Center, Carnegie Hall, and the Hollywood Bowl. Next, Bocelli performed Italian opera arias then joined Martínez. They swept the audience away with their duets, including the "Drinking Song" from La Traviata.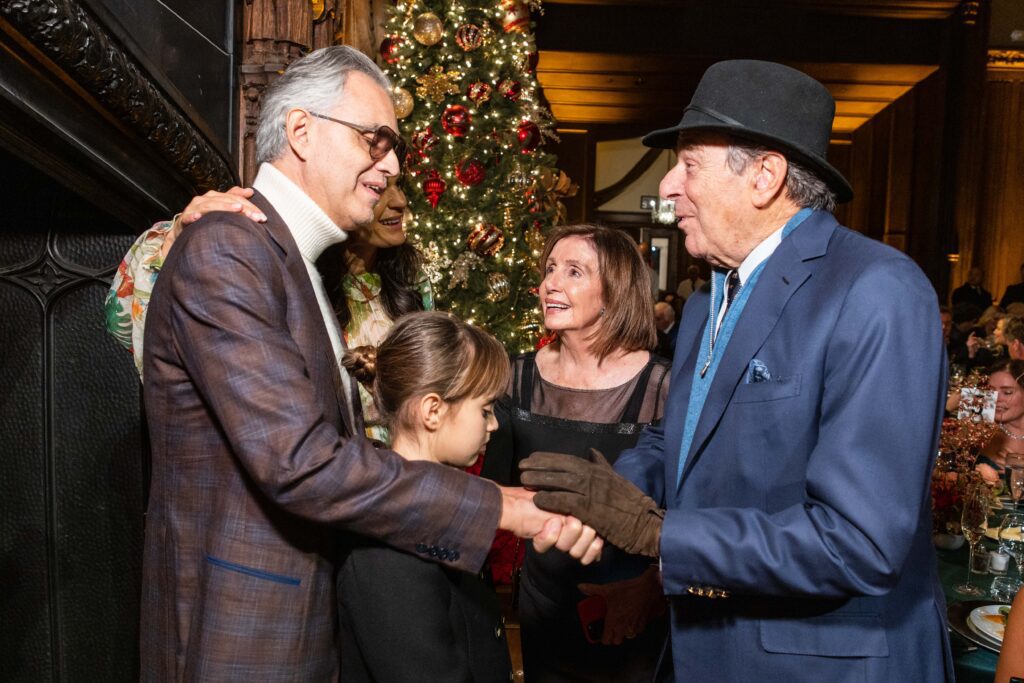 The showstopper was when Bocelli and his 11-year-old daughter, Virginia, sang "Hallelujah" and "Somewhere Over The Rainbow." There was not a dry eye in the mansion. Virginia has just released her debut album, A Family Christmas, with her father and her brother Matteo. The album has been promoted on stage in London, Dublin, Budapest, Sydney, Melbourne, Brisbane, and on The Tonight Show Starring Jimmy Fallon.
Recognized as the greatest living Italian tenor, Bocelli has sold over 90 million records and performed all over the world. His audiences have included four presidents of the United States, three popes, Queen Elizabeth for her Jubilee Celebration, and many heads of state, as well as headlining the ceremonies of the Olympic Games. Hearing his incredible voice in a private, intimate setting like this was a truly magical and unforgettable experience.
After the performance, guests dined in the historic grand hall, which looked like it came from the pages of Harry Potter. Michael and Tara Uytengsu hosted the sumptuous, multi-course dinner by McCalls Catering & Events and paired each course with the Uytengsus' Tusk Estate wines and other wines from their private cellar. During the dinner, Mayor London Breed proclaimed December 2 Andrea Bocelli Foundation Day in the City and County of San Francisco.
Honored guests at La Vita è Bella-An Evening with Andrea Bocelli & Family included Festival Napa Valley Arts for All supporters Speaker Nancy Pelosi and husband Paul; California Lieutenant Governor Eleni Kounalakis and husband Markos; Mayor London Breed; Olivia Decker; Maria Manetti Shrem; president of the Andrea Bocelli Foundation Laura Biancalani; Bocelli Foundation ambassador and mother of Veronica Berti, Elena Brunelli; Bonnie Uytengsu; Michael and Tara Uytengsu; Fred and Kerri Uytengsu; Candice Uytengsu; Mauro and Eva Aprile Zanetti; Maryam and Oran Muduroglu; Alexis Traina and her parents Clarke and Elizabeth Swanson; Barbara Brown; Dick and Pamela Kramlich; Carmen Castro-Franceschi and Greg Franceschi; Charles Johnson and Maddie Chen; and Festival Napa Valley board members Darioush (founding chairman) and Shahpar Khaledi; Timothy (chairman emeritus) and Athena Blackburn; Leslie (Arts for All gala chair) and Rich Frank; Antonio and Rita Castellucci, Ken and Deborah Novack, Maggie and Stephen Oetgen, Romana Bracco, and Sabrina and Timothy Persson; plus dozens of other supporters who each donated $10,000 to attend this special event for a remarkable cause.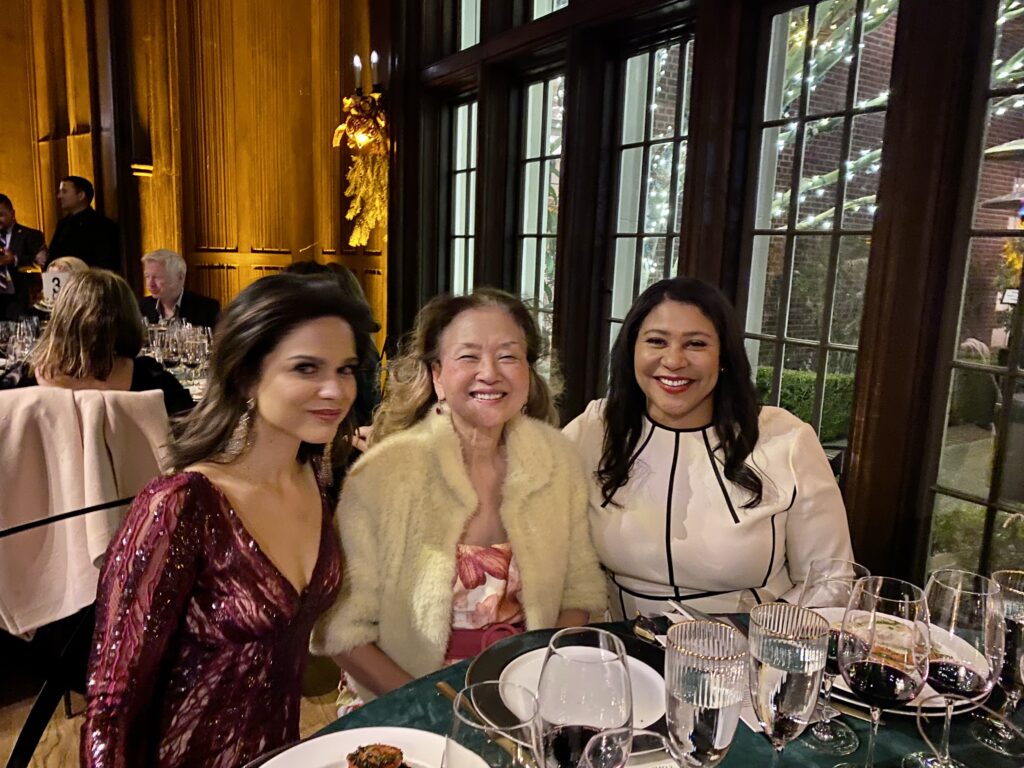 The evening was part of the Olivia Decker Power of Music Series and was made possible by the generous support of Olivia Decker and Maria Manetti Shrem. Rick Walker, president & CEO of Festival Napa Valley, noted that "The Andrea Bocelli Evening was the top lot in our 2022 Arts for All Gala auction, which raised more than $3.9 million for the Festival's charitable initiatives, including a major grant to the Andrea Bocelli Foundation. There is a great affinity between Andrea and his family and the Festival Napa Valley family, and we anticipate more collaborations in the future. We are very grateful to Olivia Decker for her commitment to bringing the Power of Music monthly concerts into our lives, to Maria Manetti Shrem for introducing Festival Napa Valley to the Bocelli family and for her unwavering support, to Mauro Aprile Zanetti for serving as the catalyst in the partnership between the two organizations, to Michael and Tara Uytengsu for hosting the amazing dinner paired with their wines, to Mayor London Breed for proclaiming Andrea Bocelli Foundation Day in San Francisco, and to each and every one who supported this event to bring more beauty to this world through the gift of music."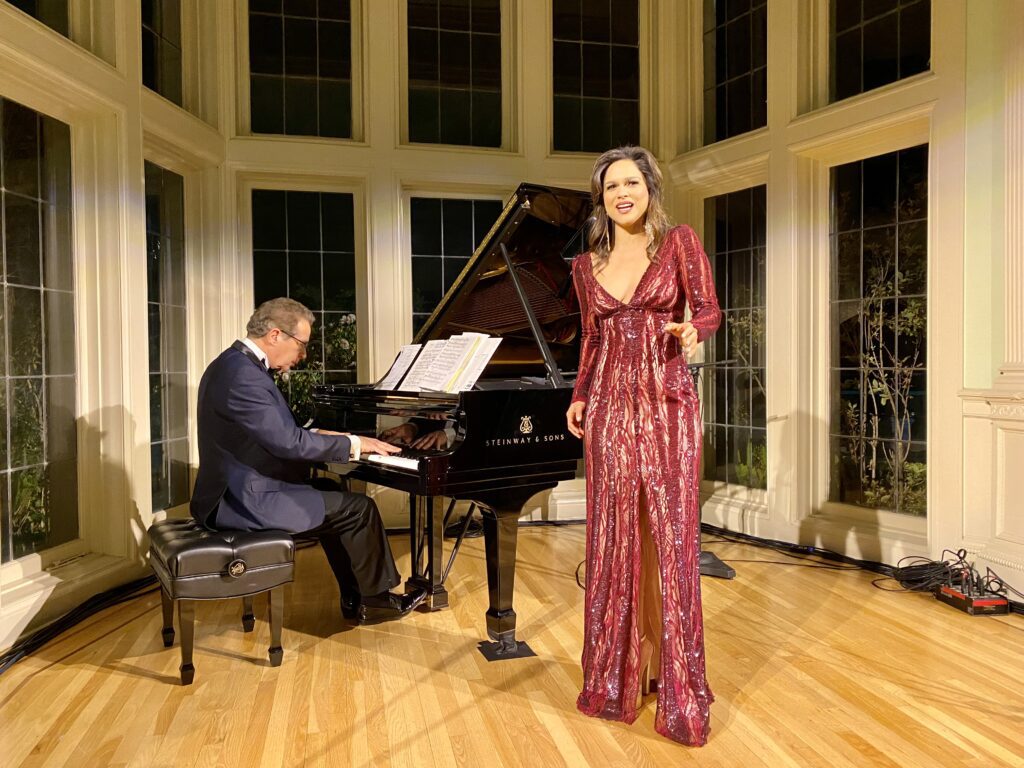 In 2023, Festival Napa Valley is presenting a star-studded lineup of Olivia Decker Power of Music concerts. For up to date information, please visit FestivalNapaValley.org.