A Formula for Happiness, Success, and Less Stress with Sarah E. Brown, Ph.D  
Emerging from the last two years, it's evident that we're in an environment and workforce rife with change. Post-pandemic buzzwords like the "Great Resignation" and "quiet quitting" permeating the news have kickstarted a wave of evaluation and questioning focused not only on happiness and satisfaction in the workplace, but about life in general. Many of us have taken this opportunity to reflect on the work we do and whether it—and its connected culture or environment—best complements our passions, skill sets, personalities, and needs.  
Does it fuel a sense of purpose? This question alone has resulted in a time of reflection for many. There has, perhaps, never in our generation been a greater opportunity to disrupt the status quo for ourselves and to create paths and conditions that better align with what we want. And with a new year ahead, there is no better time to treat yourself to collaboration with an effective coach to help you through the process.  
Many of us have had some experience working with a professional coach: a trained expert who helps guide us through a transition, learning and implementing new habits, and/or identifying and moving toward goals and dreams. Choosing that person can be a challenge. Not all coaches are created equal. Given the fact that most of us wear many hats, we might not have the time or capacity for long-term work. Ideal for me personally, in this year of Covid fallout and with energy levels on a rollercoaster, was finding a partner to help me identify strategies to shift ways of working, strategically channel my energy, pursue a direction of greater impact and purpose in my work, while balancing life as an entrepreneur, mother and daughter to aging parents with unique sets of needs.
Enter Sarah E. Brown, Ph.D. and The Book of You®. I was impressed by Brown's background which includes three decades of designing and implementing change and talent management programs at scale for Fortune 500 companies across a wide range of industries. Her programs have impacted many around the globe, with one training platform being taught in over 100 countries and in 15+ languages. Now retired and armed with a Ph.D. in psycho-educational processes and a toolbox of insights from her expansive career, Brown now devotes herself to empowering others through personalizing self-help advice in the form of her customized book series—The Book of You®—her KTS (Know Thyself) Success Factor® program, books, podcast (focused on women), speaking engagements, and training programs.  
The Book of You®? I was intrigued. Says Brown about her process, "We look specifically at each individual's unique interests, strengths, and motivational needs as a way to inform them about what will make them happy and successful at work as well as minimize their stress in the process. With this self-awareness, they can make small changes in their current job to increase overall satisfaction as well as ensure that their long-range goals are consistent with who they are." 
The combined focus on happiness with stress reduction overall, while taking steps to improve satisfaction in the day-to-day, resonated with me. So how does it work? I received the assessment which I completed and submitted. Within days, I received my digital book entitled The Book of You®: How to Be Happy, Successful, and Understood at Work in 21 Days. What initially struck me was the document's detail and accuracy. It appeared to be a deep dive into all aspects of my personality, including my needs, strengths, and what makes me happy and fulfilled in a work environment. That translated well into all areas of my life. After I took some time to digest the information, I scheduled time to review it with Brown to better understand the process and get started.  
Clarity: Know Thyself   
Brown's process is designed to address specific areas for empowerment and growth: clarity, communication/confidence, and commitment.  
Clarity is key and the foundation of the entire process. As Brown states, "One of the best ways to start this process is to get clear about your interests, your values, and your strengths. When you do this, not only will your personalized goals start to appear, but you will start to build confidence in them, because they are so closely aligned with your capabilities."
My Book of You® was spot-on. Reviewing it with Brown was enlightening and empowering, filled with wonderful experience, anecdotes, insights, and thoughtful explanations. I was really interested to learn the difference between behaviors that I had learned to be successful but which were not necessarily fulfilling my needs. The result was I often felt burned-out due to a lack of balance in my approach to work. I didn't necessarily feel inspired by or connected to my work.  
Communication Creates Confidence    
"Getting clear about yourself and what really makes you happy is the first step," says Brown. "But you cannot do it alone. Very few of us can get really clear about what we want without getting help from others." With this in mind, Brown works a peer coaching process into the program as a second step. While you could engage her as a coach to assist with the process, she believes that tapping someone who knows you well to work through a set of strategically designed questions with you is even more effective. Her rationale is that communication is powerful. When you share candidly with another person what you want, those intentions, goals and dreams provide even greater clarity and possibility and turn into confident action!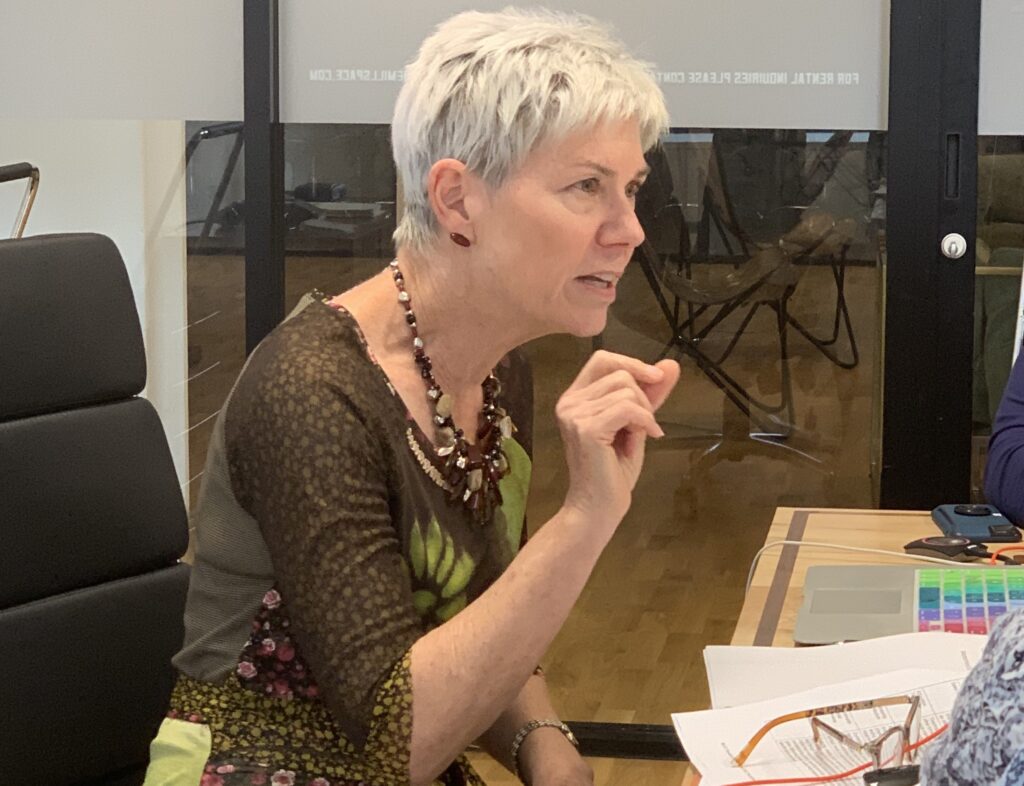 "I learned from Jack Canfield (of Chicken Soup for the Soul fame and with whom she was featured in the book Road to Success) that action is a critical success principle. He encourages individuals to take three to five actions a day toward their goals. But how do you know if you are taking SMART (specific, measurable, attainable, relevant, and time-bound) action—and not just beating your head against the wall?" says Brown. "SMART action not only aligns with your goals, it is also effective action. It often takes another individual to help you see if what you are doing is, in fact, aligned with who you are and your unique goals. And when asked some specific questions, we may see that action is not likely to be effective either."  
Commitment: Know, Test, Go!   
What Brown has done is to create smart action steps you can take to clarify goals that will make you happy and successful and will provide the means for you to create the support system you need to get on track and stay there. This inspires not only confidence, but commitment. Seeing the results you want through clarity and action is motivating and reinforcing. It will keep you moving ahead toward what you want to achieve. She calls this "Know, Test, Go!" Know who you are, test new ways of working and being to achieve greater satisfaction in your environment, and go, or keep moving forward toward deeper commitment and change to achieving your longer-term goals!  
The outcome of working through this process is the clarity, confidence, and commitment to business and career goals that will bring you happiness, success, and less stress. Sounds like an excellent formula for the new year.  
I have begun to see results for myself. Key to my journey is setting myself up for success through meaningful collaboration with others (a need), through more purpose and impact-driven work (a value), and taking on projects that allow me to support others in leadership and storytelling (an interest). It's still a work in progress, but my Book of You® and the process I've been guided through are there for me. My mentors and peer coaches are there for me. It's been an empowering and affirming process.
I noted in my conversation with Brown that she tends to gear her Book of You® and her accompanying KTS Success Factor® program (including her podcast) toward women. When I addressed this with her, she responded, "While I have worked and continue to work with men, I noted in my own corporate world and through my work now that there are many mid-career professional women who are in the wrong jobs and miserable. But, when asked, they had no idea what they wanted, much less the next steps. These women felt stuck, and this feeling also created despondency. Ever since, I have been keenly aware of this phenomenon. And I continue to see a pattern: women often feel stuck just from not knowing what they want. I wanted to help shift that phenomenon."  
Are you ready for your Book of You®? As Aristotle stated, "Knowing yourself is the beginning of all wisdom." Give yourself the gift of optimal wisdom, growth, and happiness in this new year ahead. For more information about the book and process, visit the website. To learn more about Brown and link to her podcast and other resources, click here.  
"Success is getting what you want. Happiness is wanting what you get."

– Dale Carnegie (1888 -1955)