Emerald City and Puget Sound are at the heart of America's vibrant studio glass art movement
Mind blowing
A practiced team of master glass blowers are in constant motion, moving a steel blowpipe from crucible to glory hole to marver to punty in the process of creating a piece at 2,000 degrees Fahrenheit. The big reveal is how rugged the process is to create something so delicate.
Because the glass must be kept a temperature in excess of 1,000 degrees Fahrenheit throughout the process, there is a good deal of fast-paced back and forth to the gas-fed fire (the glory hole) to reheat the glass. Spectators admire the patience, dexterity, and stamina of artists in teams as they play with concepts, scale, colors, and texture to create a finished piece in a fragile medium that's unlike any other.
Hot shop intrigue
For observers, these are key takeaways from "Refract: The Seattle Glass Experience," a four-day October event that provides dozens of opportunities for people to attend gallery exhibitions, to witness live demonstrations, and to personally try their hand at glassblowing. Another takeaway: it's not easy to blow bubbles into heavy chunks of glowing molten glass that's balanced on the end of a long pipe.
Interest in the hot shop has been fired up by the intrigue of the popular Netflix show, Blown Away, as competing artists race against the clock toward a finished product. Visitors attending Refract in Seattle have a front row seat to watch glass artists in action and get the chance to meet internationally recognized talents like Dan Friday, Rob Stern, Debora Moore, and Minhi England.
Glass masterpieces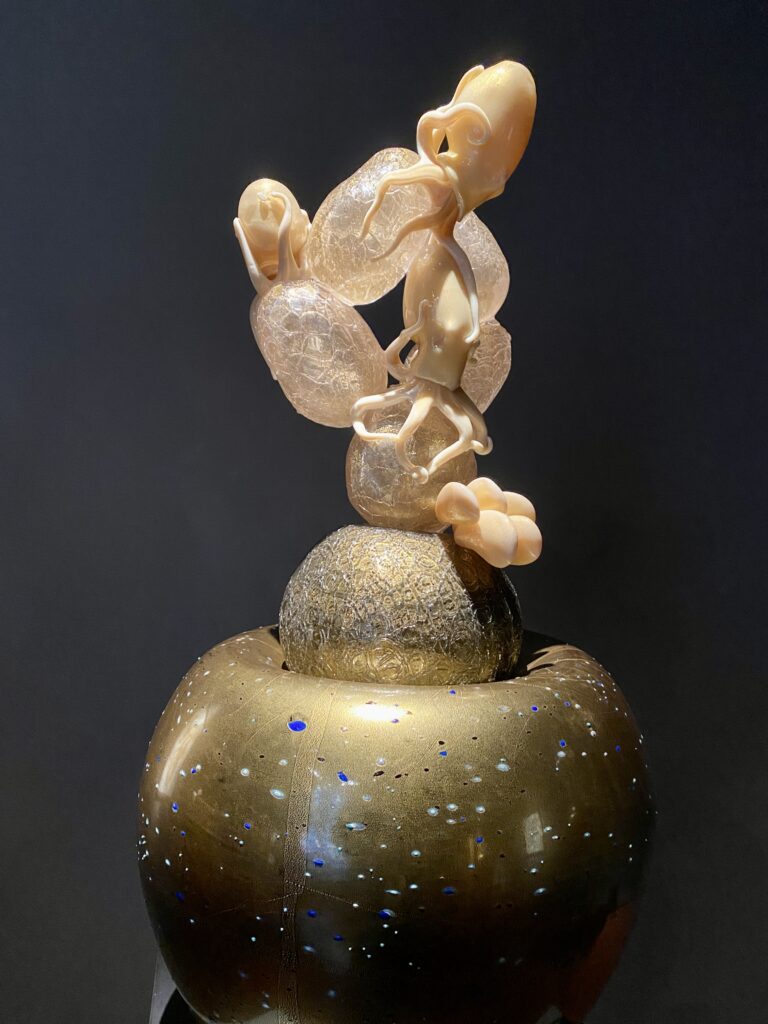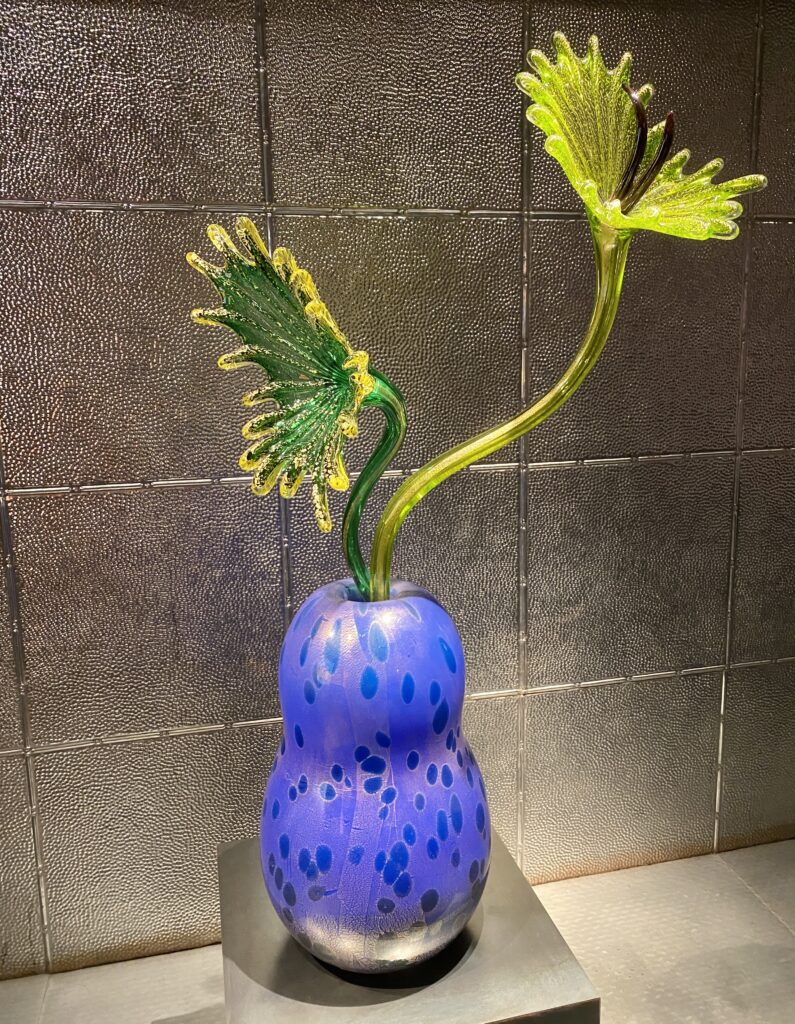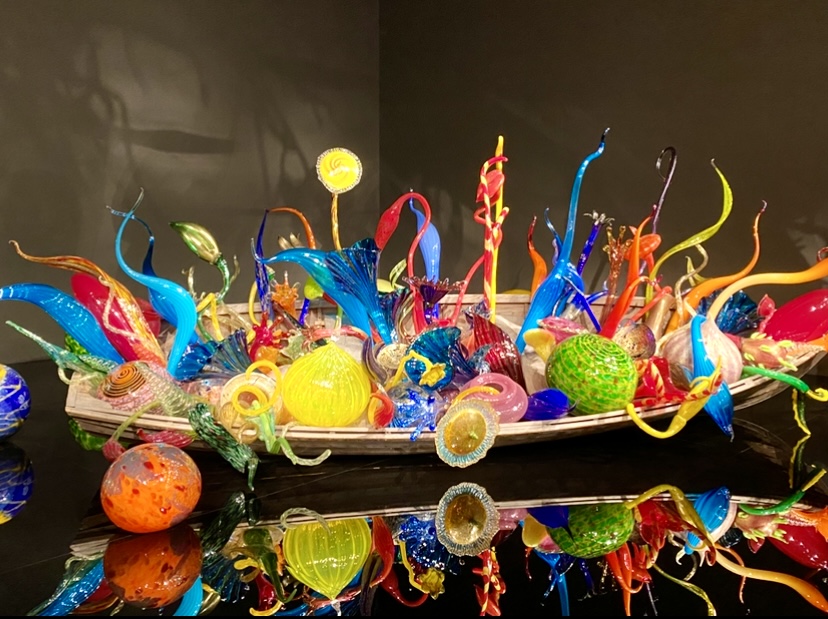 No one is more closely associated with American glassblowing than Dale Chihuly, the prolific artist, entrepreneur, and creative giant in the field. His distinctive color-saturated works are unmistakable in his signature style.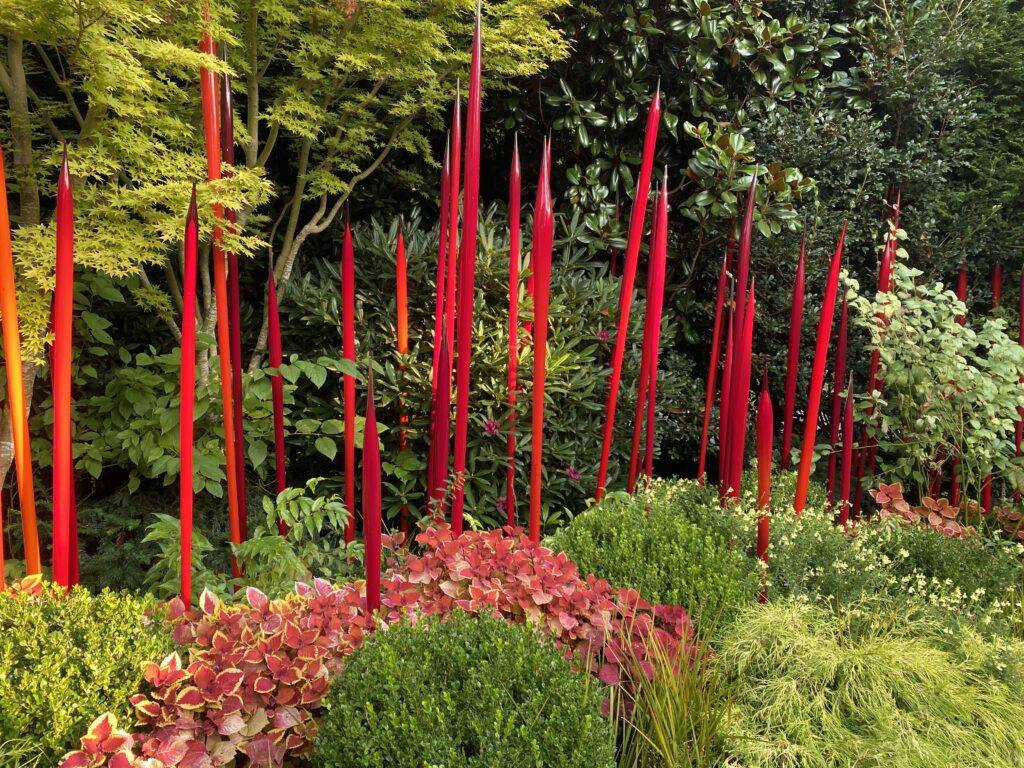 The most important comprehensive showcase of the artist's work is Chihuly Garden and Glass in Seattle, at the base of the Space Needle since opening in 2012. A glasshouse is surrounded by a colorful lush garden where glass pieces are integrated into the seasonal landscaping design. Inside, a series of eight galleries display artwork around Chihuly's glass themes, such as Persian ceiling, chandeliers, sealife, macchia forest, mille fiori, ikebana and float boats.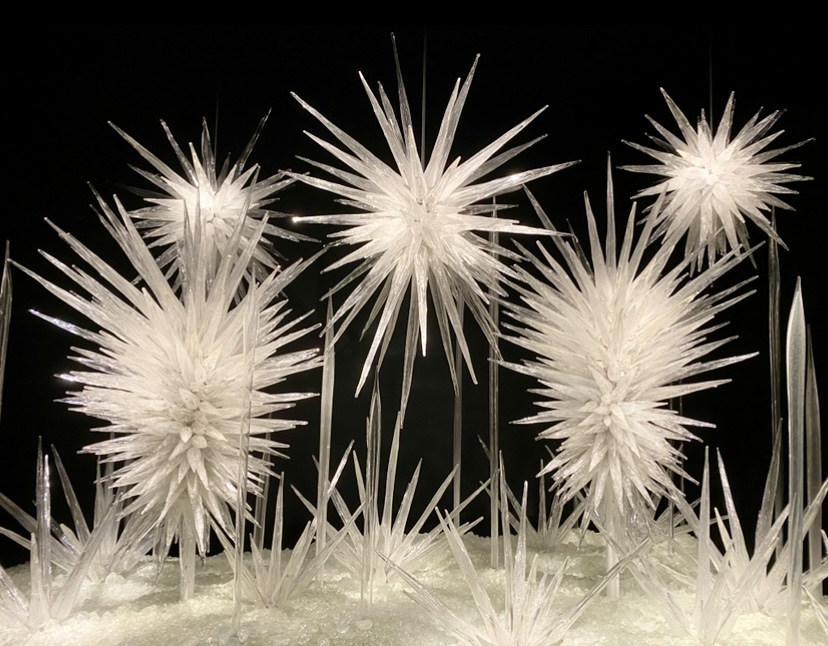 Winter Brilliance is a new gallery at the museum, where hundreds of hand-blown glass icicles form a stunning crystalline sculpture.
Permanent Chihuly pieces are also displayed in 32 states including sculptures at New York's Rockefeller Center, the Museum of Fine Arts in Boston, the Bellagio Hotel in Las Vegas, Maker's Mark Distillery in Kentucky, the University of Wisconsin at Madison, and the Mayo Clinic in Minnesota. In St. Petersburg, Florida, a permanent Chihuly Collection is at the Morean Arts Center. Among his overseas installations, a striking 27-foot-tall ice blue and spring green chandelier hangs prominently in the rotunda of the Victoria & Albert Museum in London.
Incubator for creativity
Seattle is the world center of glass art, with more glass makers in a concentrated area than anywhere else. There are 38 glass art educational institutions in the region, more than 100 glass art studios, and 700-plus glass artists in Washington State—a greater number of studios and artists than the famous Venetian island of Murano, where glass artistry dates back to 1291.
Co-founded by Dale Chihuly in 1971, Pilchuck Glass School is a highly regarded international center for glass art education located on a campus an hour north of Seattle. The glass art community comes together during Refract to benefit the school through an annual auction and gala.
Up close experiences
Stunning by night, Chihuly Garden and Glass is the venue for the opening kickoff during Refract: The Seattle Glass Experience in October. In addition to gallery open houses and a glassblowing demo at Glass Eye Studio— is one of the nation's oldest and largest privately-owned hot shops—many private artist studios are specially open to the public during Refract.
Those inspired to give it a go can book a hands-on experience at Seattle Glassblowing Studio where in-person sessions are available for ages 5 and up. Choose a shape and colors. With no prior experience, 30 minutes is all it takes to make a beautiful glass bowl, a bauble, a paperweight, or a pumpkin. In the same location, the gallery displays finished pieces for sale from Blown Away artists and other makers.
More colors, more glass
To ensure that color blind people (1-in-12 men and 1-in-200 women) can appreciate hues and shades to the fullest, Visit Seattle has has partnered with EnChroma, makers of a wearable groundbreaking lens technology, to provide the most color blind-accessibility arts venues in the world.
Diners seated by the dramatic indoor fire table can raise a glass of local Washington State wine to the chef and the views at Aerlume, a destination restaurant with walls of floor-to-ceiling windows overlooking Elliott Bay, just steps from Pike Place Market.
Visitors choosing to check-in downtown at the Sheraton Grand Seattle can keep the story going, as blown glass Chihuly flowers artwork is on display in the hotel lobby.
To learn more about the glassblowing scene and how this Northwest corner is inspiring the future of the craft, go to the video series at Visit Seattle, State of Art. Meet three of Seattle's new generation of glass artists here and find out where to admire and shop for handmade glass items here.
"Refract:The Seattle Glass Experience" will be held on October 12-15, 2023. The 45th Annual Auction & Gala to benefit Pilchuck is on October 14, 2023.