The Lodge at Bodega Bay celebrates 50 years, and whether 'legacy guest' or first time visitor, the stunning property continues to provide everything one might wish for in a Sonoma Coast getaway.
What began as a small and modest motor lodge has transformed through the years into an elegant shoreline hideaway. But while The Lodge at Bodega Bay's 83 guest rooms and the communal areas continue to keep pace with interior design trends, one aspect remains untouched – the region's natural beauty. The Lodge has always placed emphasis on its bucolic surroundings, and recent fantastic facility upgrades notwithstanding, the views and coastal ambiance continue to be the driving force in its ongoing popularity.
Poised atop a tranquil bluff and cooled by nature's air conditioning, The Lodge at Bodega Bay is an ideally located refuge – surprisingly close to most Bay Area locations, but remote enough to provide an alternative reality, one that is focused on rest, relaxation, and rejuvenation. Each of its  beautifully appointed rooms feature private balconies poised towards a warming sun that sets the sky ablaze during evening sunset. Nearly all rooms feature water views as well as wood-burning fireplaces that provide warmth on the many fog-laden days. No matter the weather, the Lodge proves to be a cozy haven any time of the year, offering a 'warm hug' vibe to all.
All guestrooms are outfitted with luxurious bed toppers complemented by comfortable pillows and cloud-like duvet inserts, and the property's spa-like bathrooms feature LATHER products, made with sustainable materials. Coastal Bodega Rooms offer stone fireplaces, contemporary furniture, along with plush new carpeting and new flooring. (All Bodega Rooms will be fully renovated by Spring 2023.) The Lodge's spacious Ocean Club Suites offer a king bed and queen sofa bed, sea-inspired artwork, granite fireplace, spa-like bathrooms, private patios and soaring vaulted ceilings that lend natural light. The property's largest suite, the 1,200-square-foot Captain's Quarters has been reimagined as a residential sanctuary with a private king bedroom, an airy bathroom, and expansive living area with two pull-down, queen-sized murphy beds. The 600-square-foot wrap-around sundeck has been refreshed with a new firepit.
The Lodge's four acres of landscaped grounds include a dramatic, infinity-edge hot tub with unobstructed water views, heated swimming pool, sauna, and fitness center with coastal views. Snuggle-up by a fire pit, roll a bocce ball, or swing in a tree-hanging hammock. Borrow one of the hotel's complimentary Electra cruiser bikes for an easy ride to the 2-mile stretch Doran Beach. The on-site spa offers an extensive menu of personalized treatments geared toward rejuvenation.
Two distinct restaurant options make the Lodge a dining destination. Signature restaurant Drakes Sonoma Coast offers an authentic culinary experience with locally sourced and sustainably farmed items, including honey from their on-site beehives. Menus change frequently to complement each season's bounty. The Sonoma County-rich wine list is also updated regularly.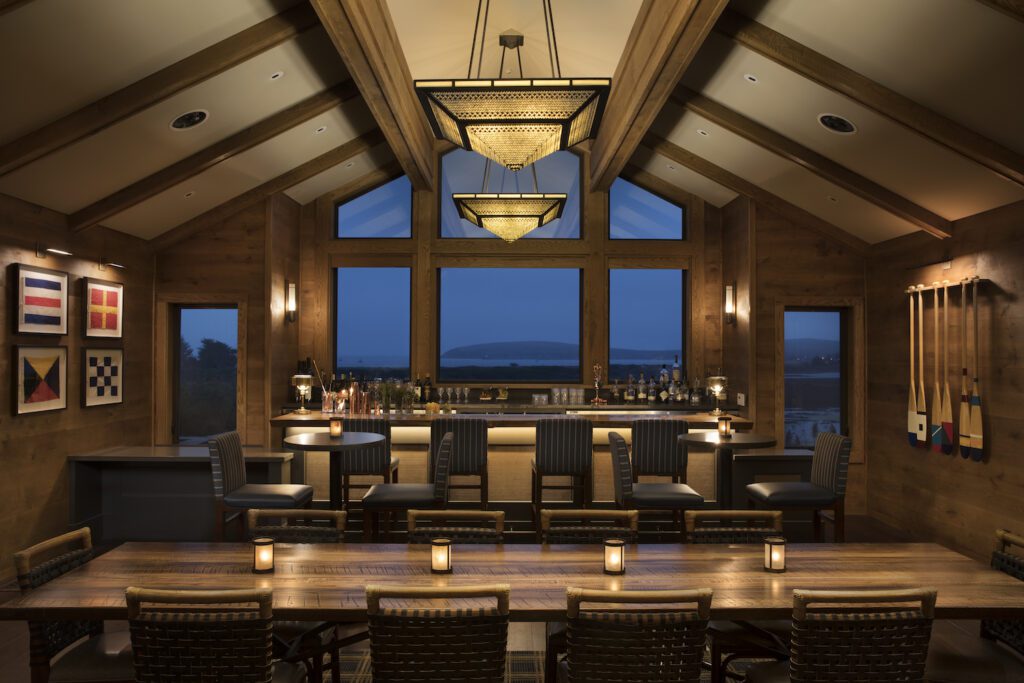 The more casual Drakes Fireside Lounge offers a relaxed dining and bar experience. After a day of adventure, guests can unwind next to the large stone fireplace or 300-year-old elm tree bar or cozy up to the outdoor fire pits in teak rocking chairs. Drakes Fireside Lounge offers expertly crafted cocktails, outstanding beers and Sonoma County wines.
And finally, always in tune with nature, The Lodge at Bodega Bay's green philosophy is a core value that not only protects the local community, but also the surrounding natural environment. The Lodge actively conserves water and participates in energy efficiency as well as recycling efforts. With on-site beehives and owl houses, The Lodge helps defend threatened species by offering them a safe harbor.
Bodega Bay Lodge, 103 Coast Highway 1, Bodega Bay
All photos courtesy of Bodega Bay Lodge