Everybody is aware that wine clubs offer access to limited production, new releases, and first dibs on hard-to-get wines direct to the consumer at a discounted price. Typically, there's no fee to join but there is a commitment to purchase a certain number of bottles of wine (many offer customized selections) shipped out two or more times per year, depending on the tier of membership.
Perks? Yes. Complimentary wine tasting sessions are a popular membership benefit, as well as special pricing on merchandise and winery events. Some wineries can even provide exclusive accommodation on a space available basis. Did someone say "wedding"?
Speaking of which…Sonoma County's Russian River Valley AVA is a stunning destination in the heart of Pinot perfection.
Benovia Winery
Who wouldn't like to live in a vineyard? We mean right in the middle of the grapes, where vines twist around the trellis surrounding the patio's hot tub with as-far-as-you-can-see views from every window. Hummingbirds come to call, but it's otherwise quite private and only a 10-minute walk to the tasting room.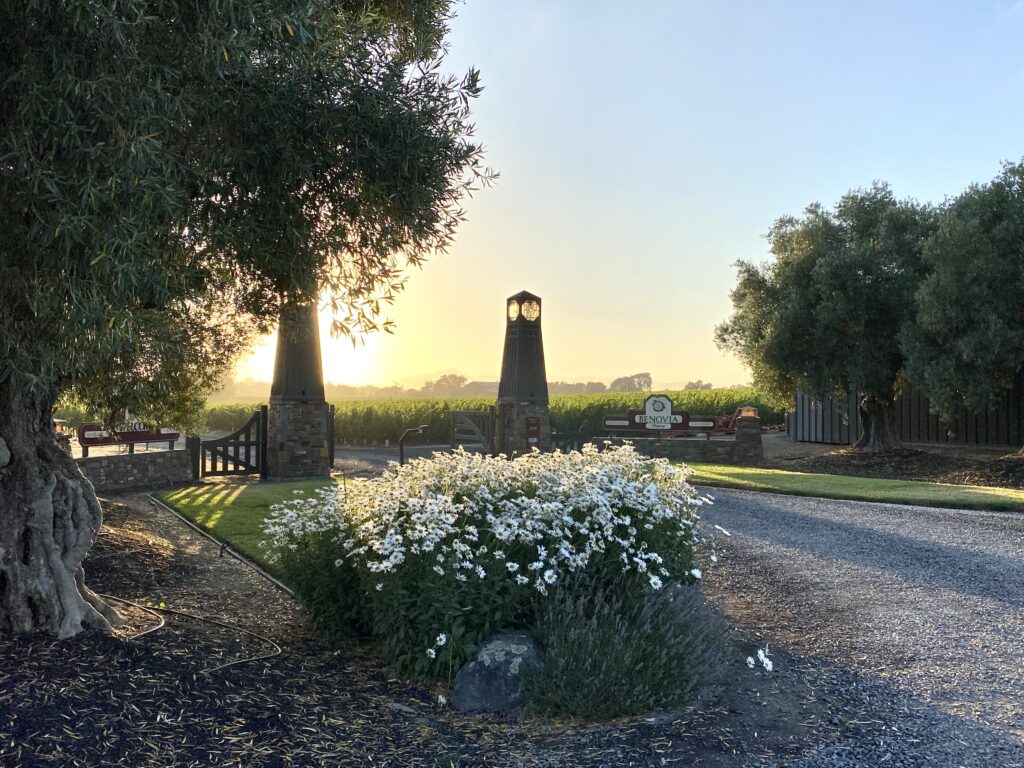 "Be a Benovian," suggests management. This residence is one of the benefits of wine club membership for complimentary two-night stays at Benovia Winery in Santa Rosa. It's a two-bedroom guest house, fully equipped kitchen, spacious dining and living room with a fireplace for the enjoyment of "Top of the Hill" wine club members upon request.
Estate and single vineyard-designate tastings are hosted outdoors at Ranch House Tasting Room with views of the surrounding Martaella Estate Vineyard.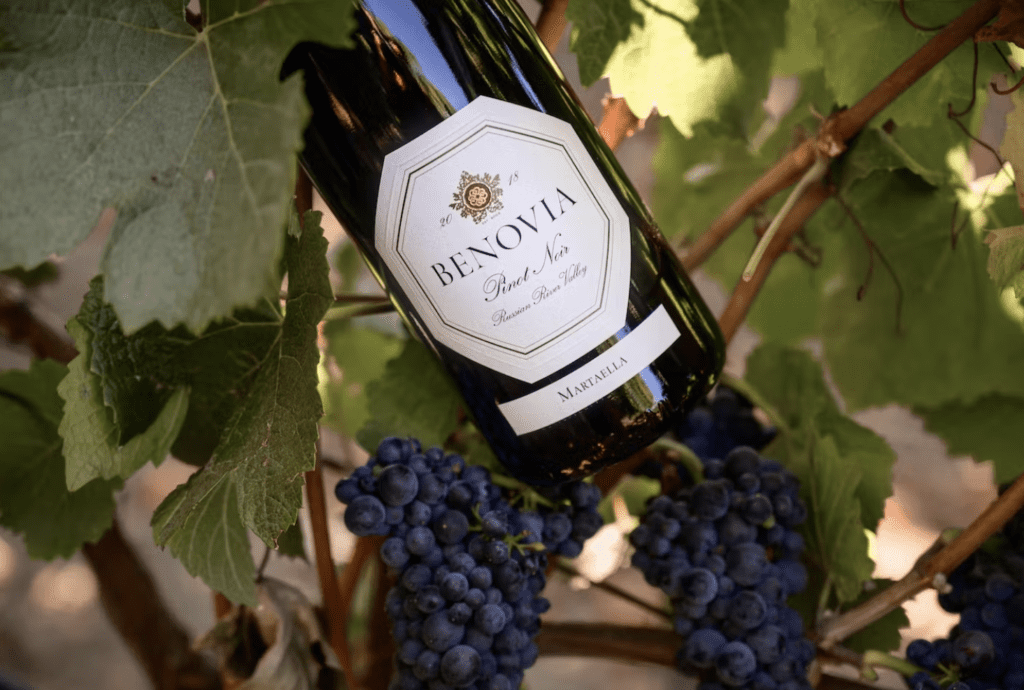 A small production family-owned winery in the heart of the Russian River Valley that specializes in sustainably farmed, single-vineyard Pinot Noir and Chardonnay. Benovia owns and farms three distinctly different vineyards that present several nuanced wines in its portfolio. The wines are allocated directly to wine club members and distributed to select restaurants.
Founded by husband and wife team Joe Anderson and Mary Dewane, Benovia was named after Mary and Joe's fathers, Ben Dewane and Novian Anderson. benoviawinery.com
Bricoleur Vineyards
Wine club members can come say hello to the black swans that call this estate's pond "home" if they pick up wines in person rather than receiving a shipment in February, June, and October. It's the perfect excuse to come stay overnight on-property at this gorgeous destination just south of Healdsburg that feels like a luxury 40-acre farmstead firmly focused on hospitality.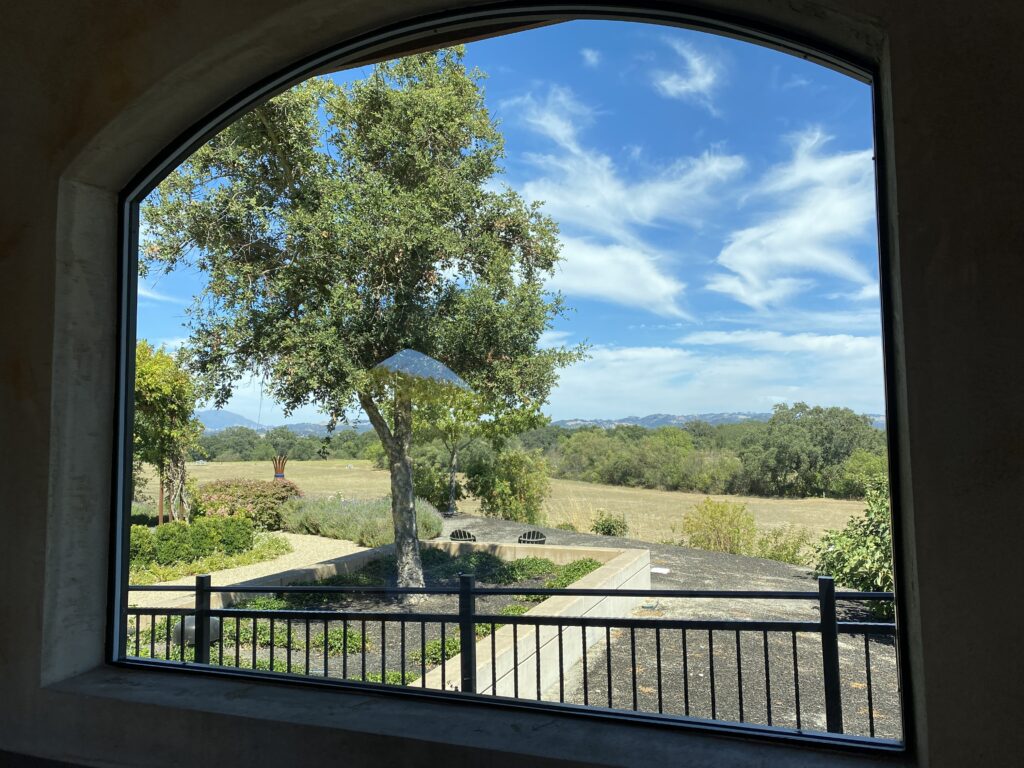 For stays of three nights or longer, Vineyard Residence is a four-bedroom luxury country getaway surrounded by vineyards with views of hot air balloons floating past the wraparound terrace. Wine club members receive a discount and a "Rooted" wine and culinary experience for up to eight people.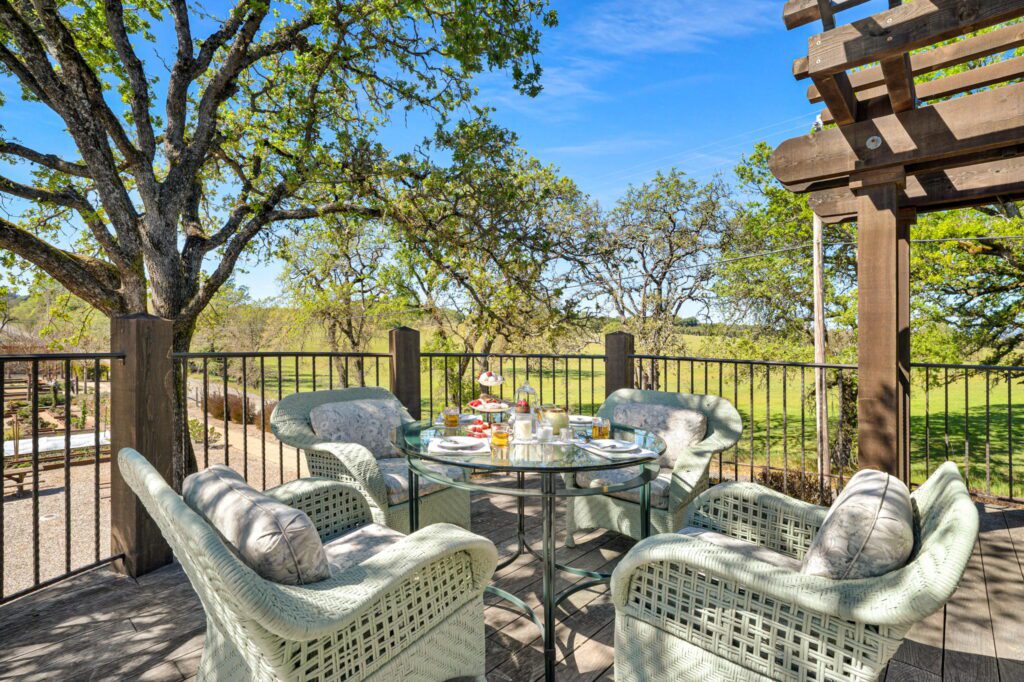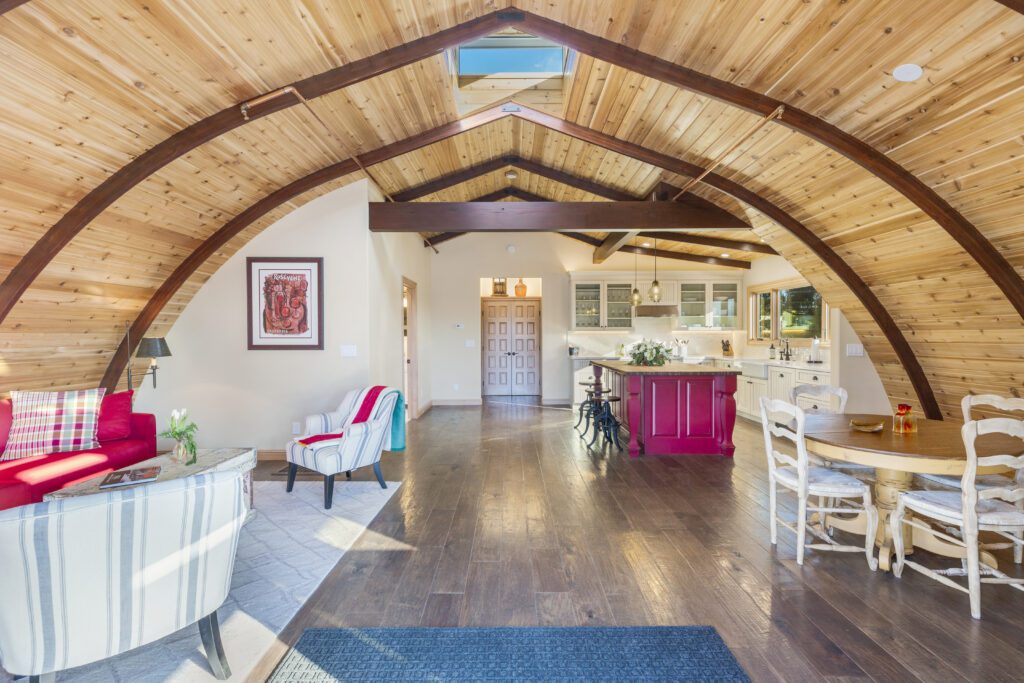 Milk Barn, (seen above) is a residential apartment above a historic refurbished facility, for the exclusive use of wine club members.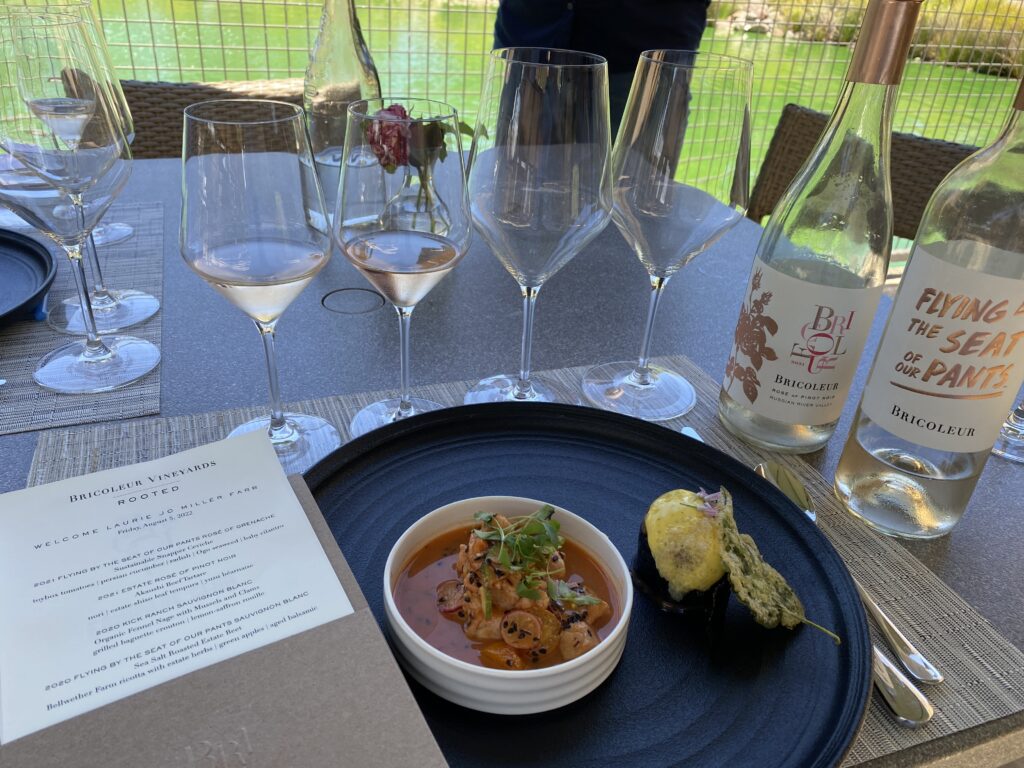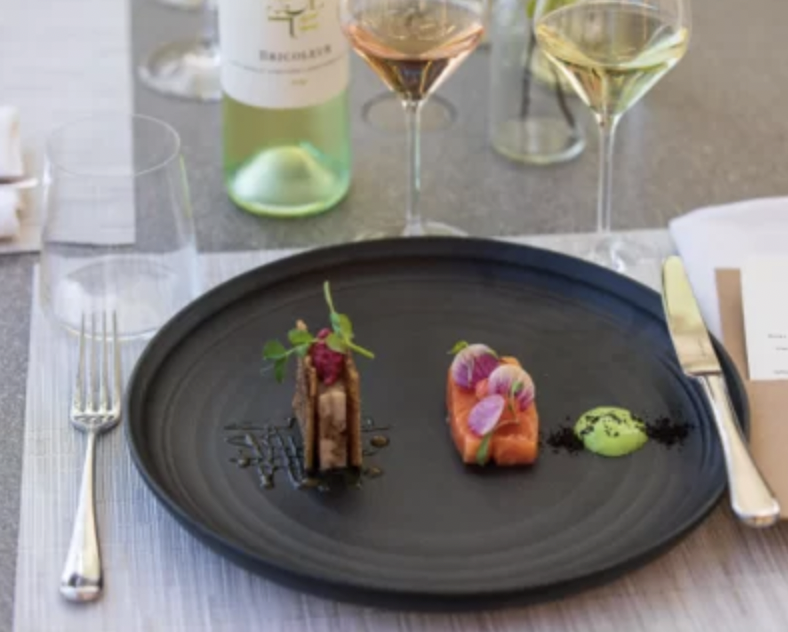 In addition to drinking fabulous wines, one thing's assured at Bricoleur Vineyards — eating well. "Rooted," the winery's exceptional culinary program, thoughtfully pairs elegant wines and fresh, organic foods for a seasonal six-course experience that defines both grape-to-glass and estate-to-plate.
Opened mid-pandemic after five years of planning, the name "bricoleur" is French and refers to "one who starts building something with no clear plan, adding bits here and there, cobbling together a whole while flying by the seat of their pants." While that description is delightful, it's overly modest. bricoleurvineyards.com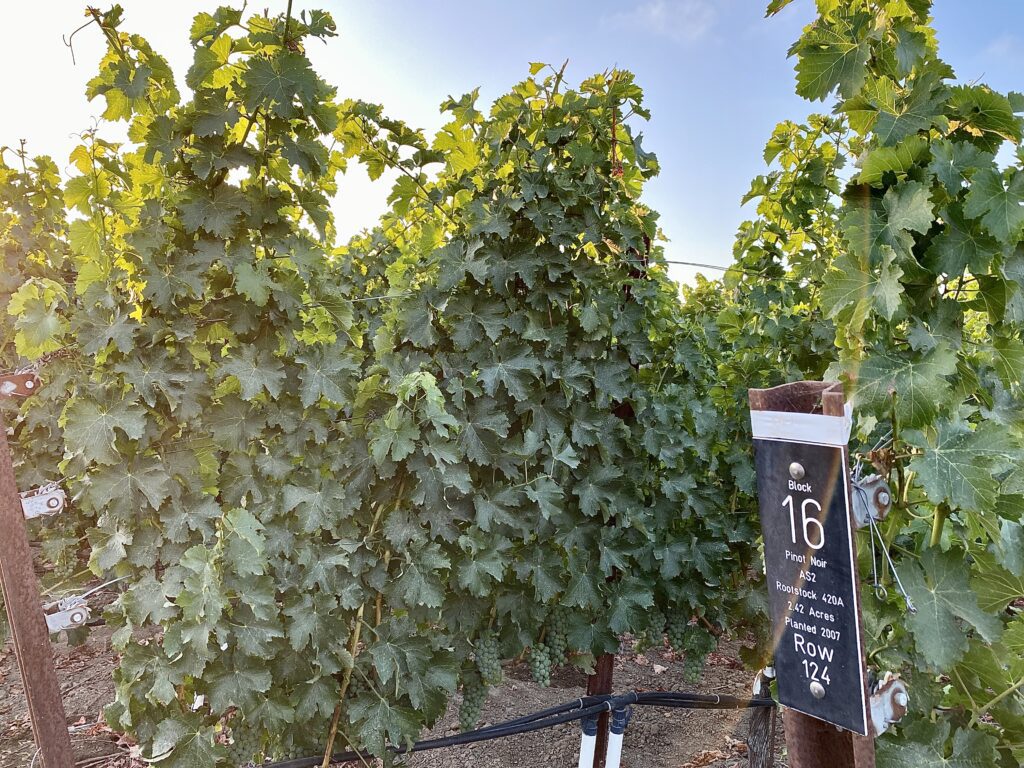 Inman Family Wines
The modesty continues; Kathleen Inman is owner, winemaker, and general manager of Inman Family Wines and on this fine summer day, she also played gracious host.
Firstly, one can never have too much of Endless Crush® Rosé. A leader in the rosé trend since its introduction in 2004, this wine is "beautiful, pale, delicate pink, crisp and refreshing and a favorite in the tasting room year after year."
"Subscribe and Imbibe," is a customized wine club option that makes perfect sense for those with limited wine storage space, since one can choose monthly or quarterly, specify quantities, and hand select the wines. Members are guaranteed access — at a discount — to all Inman Family Pinot Noir and Sparkling wine releases, including the most limited bottling of Chardonnay, Pinot Gris, Old Vine Zinfandel, and more. Tasting fees for four guests are waived as well.
Arriving in a Tesla? The winery has the first privately owned, publicly available station in the region; it is off the grid via connection directly to the winery's solar array. "Eco-ethics" are central to the Inman brand that's housed in a facility made almost entirely of recycled materials, using recycled grey water, and solar-powered. Inmanfamilywines.com
Gary Farrell Vineyards & Winery
Take a seat in The Salon or out on The Terrace for a tasting of five vineyard designate wines paired with five artisan cheeses. Or, sip a flight of sommelier selection library releases direct from the cellar. Or, tack on a tour as well. Experiences are complimentary for wine club members and up to five guests at the Collector level. Two other tiers of wine membership are called Connoisseur and Enthusiast.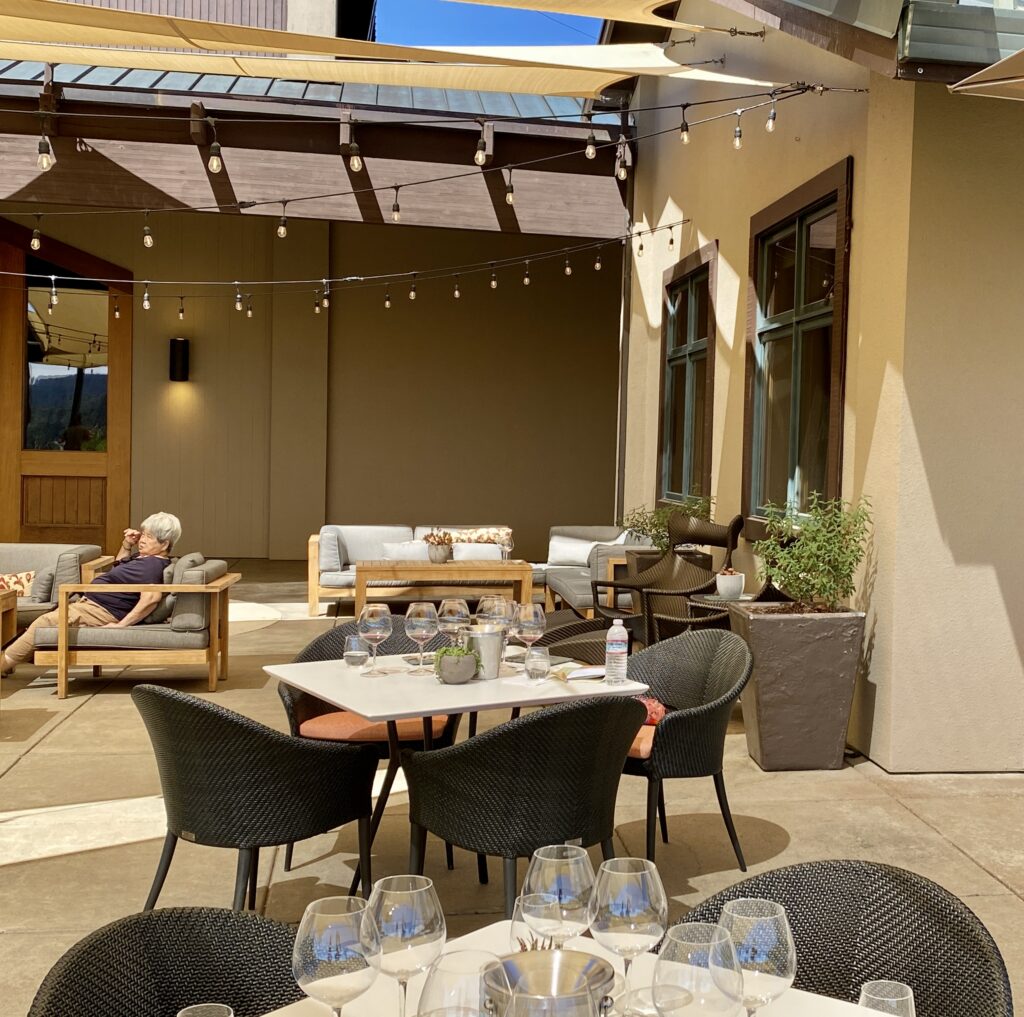 Winemaker Theresa Heredia has been leading the winemaking team since 2012, . making award-winning wines without a vineyard. The formula for success is based on her handshake deals with three dozen trusted growers of high quality grapes to match with her terroir-driven winemaking techniques.
Heredia nurtures the brand's Russian River Valley legacy of producing small lots of Burgundian-style Pinot Noir and Chardonnay that capture the balance and stylistic elegance of some of the finest vineyards in the region.
At this pretty spot atop a ridge above Healdsburg, club membership provides access to limited award-winning small lot wines, including library releases. garyfarrellwinery.com
Jeff Cohn Cellars
Right in Downtown Healdsburg, stop in for a tasting. Jeff's wine is all about Rhône varietals and Zinfandels sourced from legendary California vineyards in Napa, Sonoma, and the Central Coast.
Club members choose from four tiers (six to 28 bottles annually) to receive releases in February and September plus complimentary tastings for parties of up to four in additional to an annual private tasting for four people. A reciprocal with neighboring Ehret Family Winery, also in Downtown Healdsburg, means that member benefits apply for tastings and wine discounts.
Best of all, there's also the free-to-join Rhône Rovers Whine Club. Yappy Hour is on Mondays from 3 p.m. to 5 p.m. when pets are encouraged to bring their humans along. Send a member photo along for the pet gallery. Jeff Cohn Cellars proudly to donates $5 on select merchandise purchases to support the life-saving mission of Humane Society of Sonoma County. jeffcohncellars.com