Dive into the twin island resort where unparalleled luxury awaits both above and below the surface.
It's no secret that the Maldives is one of the ultimate vacation destinations for discerning travelers. From overwater bungalows to gleaming white sand beaches, the island nation is a veritable paradise for jetsetters seeking the ultimate in rest and relaxation. With more than 160 resorts spread across 26 atolls—the majority of which occupy their own islet—there's no shortage of worthy options. While there are many beautiful resorts, Conrad Maldives Rangali Island located in the South Ari Atoll also has heart.
Beyond its undeniable luxury is a true sense of authenticity and passion for hospitality. "It's how you feel when you're here," says general manager Carla Puverel. "We empower our team to interact with our guests in a very understated [and] authentic way." Her sentiment is backed by the resort's 42 percent repeat guest rate—from families staying on the main island, Rangalifinolhu, to honeymooners on the secluded, adults-only Rangali Island. The first international resort brand in the Maldives, the Conrad pioneered the first overwater villas on stilts in the entire country—not to mention the world's first undersea villa. The ultra-deluxe property continues to make a splash following a multimillion-dollar relaunch this past February, just in time to celebrate its quarter century later this year.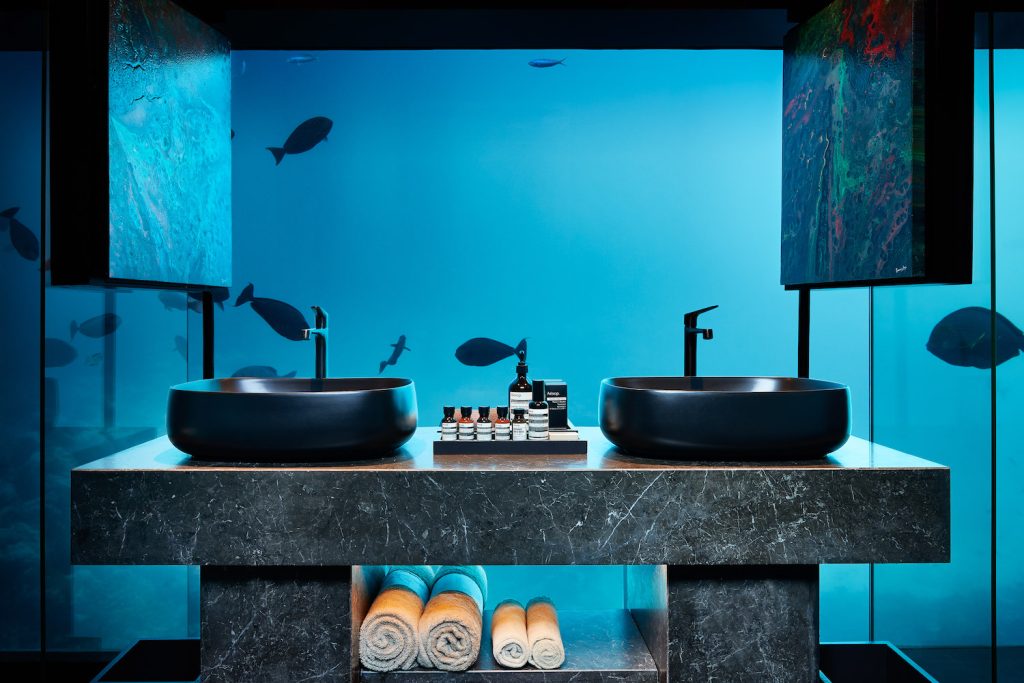 The Conrad Maldives delivers genuine barefoot luxury with 151 luxury overwater and beachfront villas sprawled across two islands, linked by a 3,200-foot suspension bridge where one can often spot manta rays gliding beneath in the evening. The villas have been updated with elegant new interiors and emphasize indoor-outdoor spaces offering unfettered access to the stunning Indian Ocean. Enjoy a floating breakfast from the private pool of your overwater villa with a view of the reef sharks, or snorkel in the house reef teeming with a rainbow assortment of marine life—located just steps from the beach bungalows. The twin island resort is also home to the world's first-ever undersea residence, The Muraka, an ultra-luxurious, 2-level residence with a master bedroom submerged 16 feet in the Indian Ocean. Essentially a one-of-a-kind private underwater aquarium, the bedroom features a 180-degree curved acrylic dome and floor-to-ceiling windows allowing guests to immerse themselves in the brilliant aquatic life.
Not to be outdone, the resort's 12 culinary establishments include Ithaa, the world's first underwater restaurant. The 14-seat restaurant is enveloped by the Maldives' signature blue waters, rays of sunlight streaming by colorful reef fish to curious sharks drifting past. Executive chef Christian Pedersen is the mastermind behind Ithaa's contemporary cuisine, in addition to the resort's other restaurants. Over a sumptuous dish of crisp tortellini—stuffed with sweet Maldivian lobster and served atop a silky saffron and potato cream, grilled sweet corn, and charred leek—he shares his approach. As he speaks passionately about everything from microgreens sourced from a Netherlands specialty plant nursery to working with the produce grown on the resort's hydroponic farm, it becomes abundantly clear that he creates from a sincere, deep appreciation for food and for sharing his discoveries with guests. "He's a dream chef for me," says Nils-Arne Schroeder, the global brand head for Conrad Hotels & Resorts, and vice president of Luxury & Lifestyle for Hilton in Asia Pacific. "It's about the culinary experiences in luxury hotels, and we made a point of hiring a great executive chef."
Chef Pedersen's experience spans from Dubai to the Seychelles, and his curiosity and knack for creatively combining ingredients is certainly invaluable at his new post. Sous vide reef lobster dish with yuzu dressing, a Maldivian fish curry served with chapati, a rich veal cheek tagliatelle with fermented lemon and creamy ricotta, and a supremely tender octopus with chorizo, passion fruit, and a tomato ragout are all on Chef Pedersen's lineup of dishes showcasing quality ingredients executed in a masterful way. Other culinary offerings include the Atoll Market all-day buffet with live cooking stations, Rangali Bar's sand-floor bar and outdoor tables overlooking the lagoon, and Vilu, an open-air restaurant that recently relaunched with an Italian-leaning menu and wood-fired pizzas. The resort even offers an authentic Chinese dining experience—the first in the Maldives—helmed by celebrity chef Jereme Leung, a pioneer of contemporary Chinese cuisine. Integrating elevated culinary experiences into luxury travel is a trend that Schroeder foresees rising even more rapidly in the next decade, putting the Conrad Maldives at the forefront of the movement and in a class of its own.
Part of luxury is also flexibility, and very few islands offer the staggering amount of space that the Conrad Maldives' adjoining islands provide. There are spas unique to each island, one with glass-bottom floors and the other set in a Zen-like hideaway next to the resort's organic restaurant, Mandhoo. The spas themselves also offer a wide range of services, from harmony-restoring chakra color rituals to traditional indigenous Maldivian treatments. As for guest experiences, the resort provides a wealth of activities aimed at creating a connection between guests and the local culture.
While the resort offers the comforts of home—including a subterranean wine cellar stocked with over 15,000 bottles and 800 labels—it also provides guests with opportunities to immerse themselves in Maldivian cooking classes, learning how to play boduberu (drums), and even coral planting. Natalia Souza Samper is the resident marine biologist with Ocean Group which runs the dive center at the resort. Aside from the resort's snorkeling and diving excursions—where you might spot a whale shark, since the South Ari Atoll is famed for sightings of the gentle giants year-round—it offers activities that tie into the resort's conservation efforts. Samper leads the resort's coral planting initiative, where guests can "adopt" coral and assist in planting coral fragments that will help promote reef rejuvenation, receiving an adoption certificate, photographs, and updates on "their" corals' growth every six months.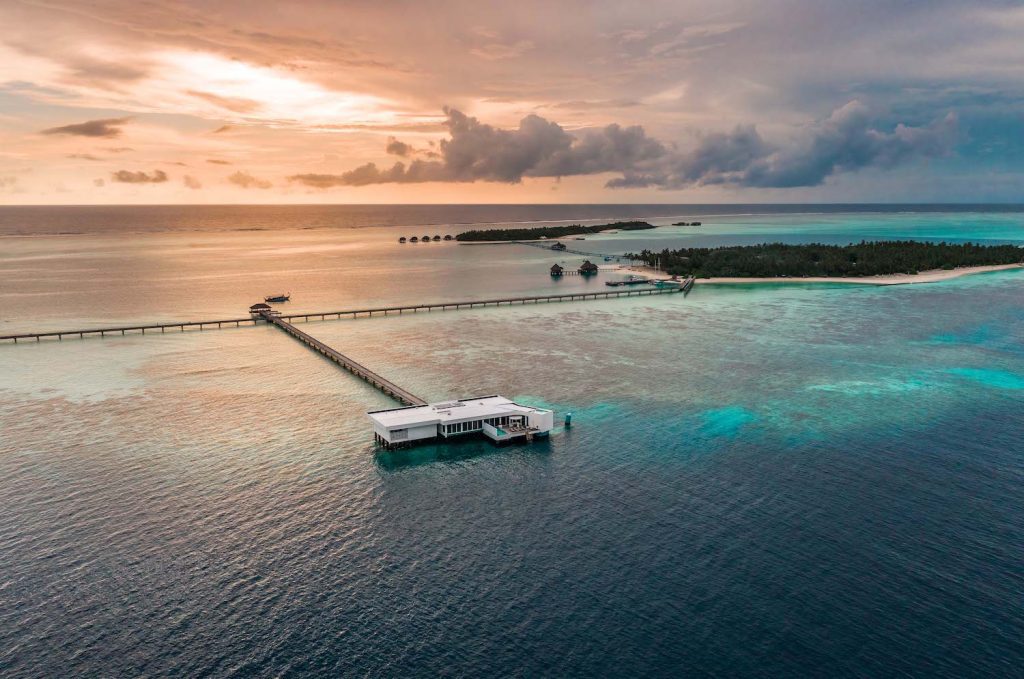 "Of course, this hotel is beautiful, but what really makes a difference is our team members," says Schroeder. "If somebody has a fantastic attitude, if [they're] passionate and love what they do, everything else you can train." I recall Niyaz, my housekeeper, who patiently constructed a beautiful tableau of wildlife on my bedspread daily—from dolphins to deep sea divers—using hand-cut local flora. On my final evening, a farewell gift awaits: a pocket journal with a whale shark etched into the cover. Again, it's Niyaz's delicate handiwork—a fact I don't realize until Puverel shares that she had run into him carving the beautiful covers earlier that day. "That's our hope, always, in our hotels around the world," says Schroeder. "When you meet a passionate team member, you will remember this person. If it's an authentic experience, that is what you will remember." At departure, Chef Pedersen sends me off with a small wooden box filled with passion fruit marshmallows made in-house. As the seaplane prepares to depart, he rides off on his bicycle into a striking lavender sunset. It's a picture-perfect finale to a week spent in paradise—not only beautiful and indulgent, but also meaningful and memorable.