We all have our favorite wine glass, the one we reach for each day. It's as much a part of the happy hour ritual as the wine itself. Some of us choose a glass for how it feels in our hands, for the way it complements the color of our eyes or the living room's decor. True aficionados, however, opt for glasses that enhance the flavors, aromas and hues of the wine itself. Even then, experts disagree and subjectivity rules regarding which glass works best. As Antony Laviron, Sommelier at Royal Champagne Hotel & Spa says: "When it comes to wine tasting, the choice of glass depends on many criteria, above all the wine characteristics and customer preferences—" though he favors crystal glasses to allow for better readability of the wine aromas. Ready to fill your cupboard with some new stemware? These vessels make the grade.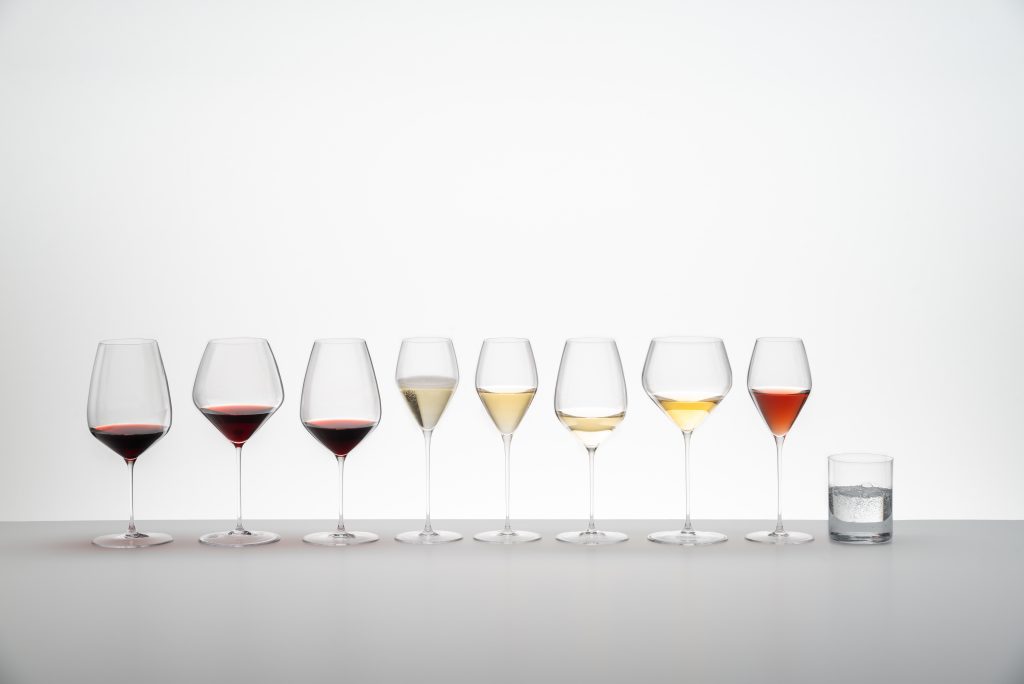 Riedel Veloce Collection
This all new, varietal-specific collection reimagines Riedel's classic angular designs and introduces the thinnest and most lightweight collection of any of Riedel's machine-made pieces. Feeling handmade, the Riedel Veloce offers a taller glass with a thinner stem and finer bowl. Choose The Riedel Veloce Tasting Set, fully dishwasher safe, which consists of a glass each for Cabernet/Merlot, Pinot Noir, Sauvignon Blanc and Chardonnay. Available in sets of two. $79
The One Stemware
Trust Master Sommelier Andrea Robinson. She's a Napa resident, 3-time James Beard Award winner, trained chef and author of four top-selling books on food and wine. Drawing from her vast knowledge, Andrea created a wine glass appropriate for all types or wine. The One has a thin rim with a narrow opening, precise vertical depth to preserve complexity and a sharp angle to enhance aeration when swirled—among other virtues.
$32.95 (two pack) and $52.95, (Four pack)
Shanga Glassware From Tanzania
Handblown on site by local employees with disabilities, gorgeous Shanga wine glasses can be bought at dedicated shop on the grounds of Elewana Arusha Coffee Lodge or online. The purpose-built workshop supports the local community and assists those with disabilities. Shanga reinvests all profits back into the project and uses recycled materials as much as possible. $12 per glass.
Wine Collections from Martha Stewart
Follow the lead of Martha Stewart, the consummate host. Peruse her new online marketplace Martha.com for wine glasses (and other products) personally curated by the superstar. Her direct-to-consumer online platform presents a slew of hard-to resist stemware, including these Chardonnay Wine glasses, inspired by Italian artisanal glassmaking techniques, which are shaped for a decanter effect. (Set of 4, $75). Also, consider the Bee Wine Glasses by La Rochère, which reference the bees Martha keeps at her farm (Set of 4, $48).
A homage to the historical art of glassmaking this new collection from Kurt Josef Zalto includes four stunning wine glass styles: White, Universal, Red and Champagne. Exceptionally thin-walled and light, the handblown, filigree glass creations manage an elegant, elastic quality. $74 per glass.
Wine Ware from Sur La Table
Anyone who's ever been in a Sur La Table store can attest to the inspiration the upscale, but infinitely accessible, kitchen and homeware store provides. Find everything you need to host the ultimate party, without breaking the bank. This Sur La Table Chateau Soft Red Wine Glass has delicate contours and sleek proportions. Sophisticated and fete worthy, it invites peerless pours. $12
Carry It!
Carry your favorite wine glasses with you wherever you go with Fly With WIne's Wine Glass Travel Case, tailor-made for oenophiles.$99.95