It's the end of a hot day in Rome, and I'm sitting with tour guide extraordinaire Lauren Caramico of Davvero Rome in an al fresco cafe in Campo di Fiore. Sipping oversized Aperol spritzes at a sun-dappled table, we alternatively clink glasses, watch the throngs pass by, and wax poetic about Rome and its eternal buzz. Immersed in the great Roman ritual of aperitivo (that state of being that Lauren describes as a "transition between work and play or work and home life"), I feel myself relax into the sweetness of Rome.
"I'd never make it through the summer without these," Lauren says, then laughs and adds: "Or any other season for that matter." She goes on to remind me that unlike happy hour in the United States, aperitivo in Italy calls for specific drinks, such as an Aperol spritz or Campari spritz. "These drinks are both made with bitters," says Lauren. "The purpose is to get your digestive juices flowing. You could almost say that they're medicinal."
I met Lauren through my hotel, Sofitel Rome Villa Borghese, an elegant palazzo, tucked into a quiet nook along the walls of the Borghese Gardens. Supremely situated for tourists, it lies just steps from must-see sites, such as Villa Medici, the Spanish Steps, and the Trevi Fountain. A swankily renovated, neoclassical marvel, the 19th century palace recently received a decorative facelift under the direction of renowned French architect and interior designer Jean-Philippe Nuel. The result: Sofitel Villa Borghese has the intimacy of a home, albeit a glamorous one fit for a baroness.
Adept at pampering guests—its rooftop restaurant, Settimo, rules, and its concierges are bar none—Sofitel Rome Villa Borghese prides itself as well on its ability to get its guests out into the streets of Rome to partake of the city's virtues. To do this, they've partnered with esteemed local experts in fields ranging from fashion to science to architecture to fitness. Offering programs designed to specifically appeal to diverse types of travelers—families, solo travelers, and repeat visitors—the adventures include everything from behind-the-scenes VIP visits with art curators in museums to gladiator lessons for kids to morning running tours across the city's urban landscape.
That's where Lauren comes in. She's Sofitel Rome Villa Borghese's food maven. For small groups or individuals, she designs customized tasting tours, sipping tours, gelato tours, truffle foraging tours—really, anything to do with Rome, its hinterlands, and the region's food and drink. In collaboration with the hotel's concierge and each guest, Lauren draws up bespoke itineraries that take Sofitel's visitors deep into the city's soul. As a veteran traveler to Rome, I appreciate how Lauren takes me only to places she likes to go, not necessarily the venues already incorporated into guidebooks or blogs. Our walk around Trastevere feels like a night out with friends, a chummy way to interact with local restaurant and bar owners, residents, and Lauren herself.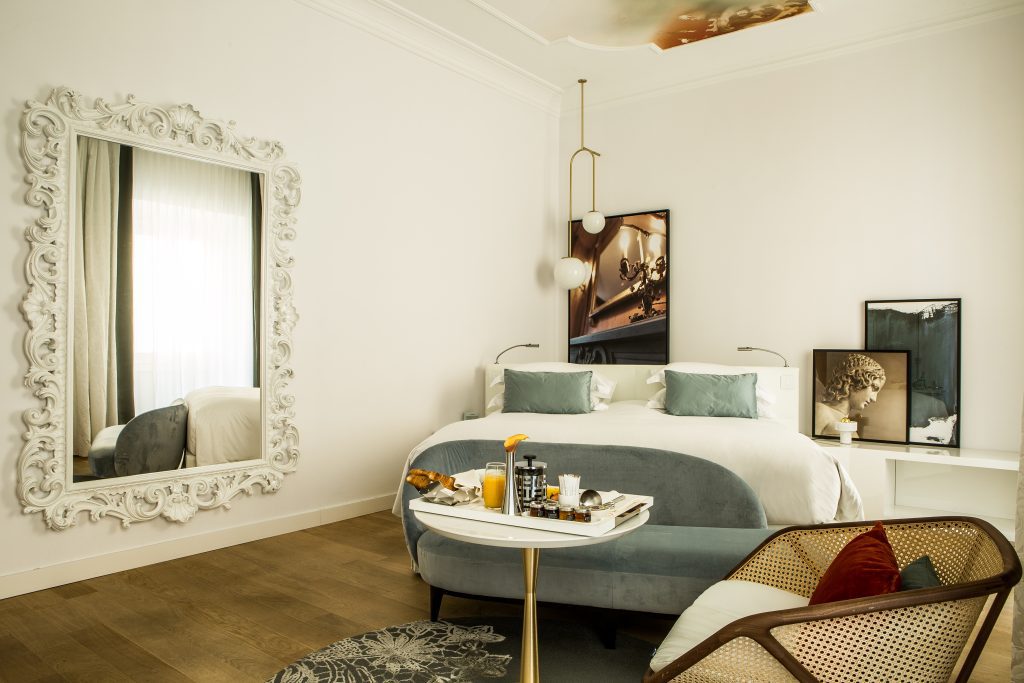 In times when travelers want to embrace sense of place and connect more deeply with locals than ever, luxurious but approachable Sofitel Villa Borghese triumphs.
More About Sofitel Rome Villa Borghese
The Vibe
Impeccably restored, fusing Sofitel's signature French savoir faire with Italy's sleek sprezzatura (the art of looking good without effort), the Sofitel Rome Villa Borghese pays homage to the regal and artistic aspects of Rome. Glamorous and just ornate enough, the modern palazzo reimagined by architect Nuel oozes elegance without being stuffy. Revolving collections of artwork add vibrancy.
The Rooms
Airy suites and rooms boast a design-forward feel. Ceiling paintings (mine was a fluff of dreamy Michelangelo-esque clouds) fascinate; fancy, wall-sized mirrors sport fairytale whimsy; huge windows frame views of Rome's top sites, such as Villa Medici and the Sistine Chapel; and oversized bathrooms coddle. Opt for one of the seven suites to enjoy apartment-sized terraces.
Food and Drink
Drawing locals as well as guests, sexy Settimo sits on Sofitel Villa Borghese's rooftop, presenting nearly 360 degrees of jaw-dropping Roman vistas. With both an outdoor area (lovely for breakfast or apertivo time) and indoor seating, the romantic restaurant excels at modern Italian favorites. The carbonara pasta with black truffle and the fried sea bass with tomato puree and burrata are just two palate-pleasing options.
Multigenerational Family Packages
Families can delve into Rome with Sofitel Rome Villa Borghese's engaging adventures for all ages, including stargazing like a Roman astronomer, gelato workshops, horseback riding down the Appian Way, Italian lessons, or gladiator school.
Solo-Scapes
Solo travelers need not fear loneliness with the hotel's variety of experiences designed to connect them with local Italians. From wardrobe style with a top fashionista to yoga lessons among the ruins to cooking classes with the chef, those traveling alone will have the time of their lives.
Food Tours with Davvero Rome
Join epicurean Lauren Caramico on a customized tasting tour around Rome. From the newest food trends in Rome to the iconic hotspots, she shares her city's culinary secrets with passion. This is ideal for both new and repeat visitors to Rome.
ArcheoRunning with Isa Calidonna
You don't have to be a runner to love this early morning tour of Rome's hidden art and architectural gems. Able to gear her customized tours to any level (walkers are welcome), Isa, an architectural historian and trainer for the Italian National Olympic Committee, combines her talents to guide guests on a fascinating romp around Rome without the crowds.