Many in the Napa Valley wine industry often reminisce about how things 'used to be' in this storied region that first took the world by storm in 1976 with various wins at the historic Judgment of Paris blind wine tasting. At that time, Napa's wineries were small, family owned, and wholly unpretentious. Winemaking was an 'all hands on deck' agrarian undertaking, and not simply a hobby of the very rich. It's surprising these many decades later to find Napa wineries that continue to be family owned and operated – those whose personal stories are woven into the historic fabric of the renowned valley. Baldacci Family Vineyards is one such winery.
Thomas and Brenda Baldacci purchased their Stags Leap property 25 years ago, and for several years, they sold the grapes from their esteemed estate to other famed producers such as Shafer, Clos du Val, and Rombauer. It would be 2003 before they would release their own award-winning bottlings. Today, the Baldacci label is a favorite of wine enthusiasts and small-lot collectors who value the winery's limited production, premium Cabernet Sauvignon. These wines are made from the fruit of Baldacci's 50 estate acres of vines from celebrated Napa Valley appellations, such as Stags Leap District and Calistoga. In addition, the winery sources fruit from vineyards in Oakville, Coombsville, and Howell Mountain, from winegrowers with whom it has longstanding relationships.
Today, Thomas and Brenda's son Michael serves as director of winemaking. A second generation vintner, Michael throughout the years has held a variety of roles within the vineyard and the cellar. He participated in his first harvest in 2012, during which time he fell in love with the vineyards and wine production. "I was lucky to see all the different sides of the business, and while there were moments when the business needed my energy in other places, I was always able to find time for the vineyards and winemaking," said Michael, who became the official winemaker in 2018, taking leadership of the winery's three estate vineyards. He works closely with general manager Kellie Duckhorn, of Duckhorn wine fame.
"Kellie has seen it all in this industry," said Michael. "She has seen the changes and transformations occur, and I think that our story and the things we are trying to accomplish here are exciting for her. In a way, I think Baldacci Family Vineyards makes her reminisce about earlier times in Napa. To work with a family winery and grow something is appealing to her. We are forever grateful and feel so lucky to have her on our team; she is part of the family now.
"Through the wines that we share with our guests, they get to take a journey through Napa and its varied AVAs." Michael Baldacci
"What makes Baldacci unique is our ability to not only tell our personal story in Napa but to tell the story of Napa and what makes it unique through our wines," added Michael, whose favorite bottling is Brenda's Vineyard Cabernet Sauvignon, a wine that derives from the Baldacci ranch on which Michael grew up. "This wine is named after my mother and making it gives me the opportunity to cherry-pick my favorite blocks and favorite barrels; and every year I can honor my mother, who means so much to me."
Baldacci wines tell the story of Napa terroir. "Through the wines that we share with our guests, they get to take a journey through Napa and its varied AVAs," said Michael. "And our friendly hospitality staff are able explain the beauty of each distinct region."
Baldacci's popular Portfolio Tasting is one of the most accessible wine tasting experiences in Napa Valley. For $75, guests begin their tasting with a glass of estate-grown sparkling and then enjoy a seated tasting of four estate-grown wines served with a personal cheese and charcuterie plate, all enjoyed within the winery's newly rebuilt and redesigned property.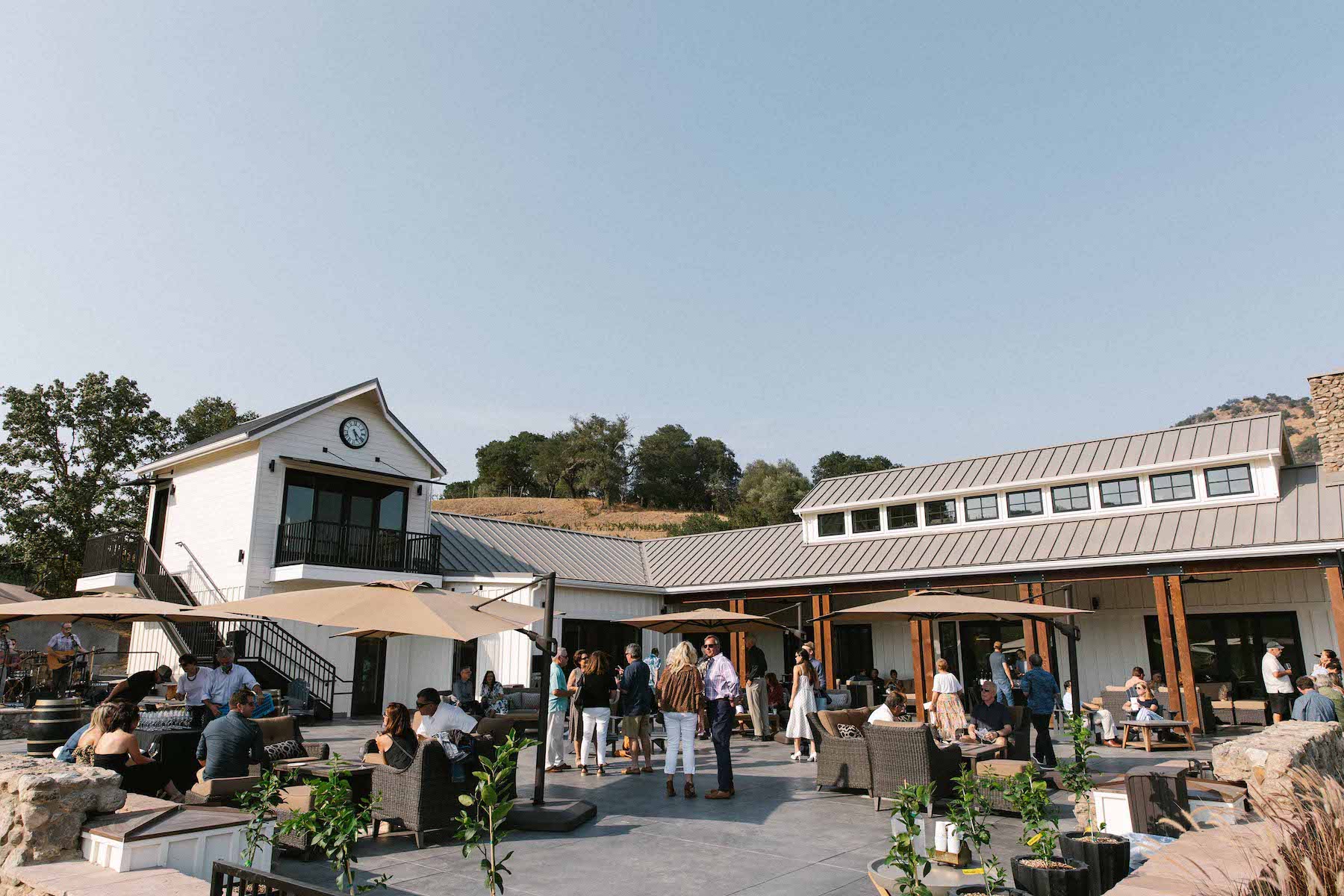 The winery features a stunning interior with comfortable seating, private spaces, and relaxed lounge areas. The exterior boasts an expansive patio with ample, shaded, lounge-style seating overlooking a central fountain and idyllic estate-vineyard views. A 17,000-square foot wine cave features an interior raw rock wall showcasing the region's natural underground geological features. In a visual display of sustainability, the rock that was excavated for the cave construction was broken down and disbursed throughout the estate vineyards and as landscape material on the property.
Baldacci's hospitality team is one of the friendliest in Napa Valley. Each member makes the wine tasting experience enjoyable, accessible, and unpretentious. In addition to the Portfolio Tasting, experiences include:
All Cabernet Tasting with Cave Tour: Enjoy a splash of estate-grown sparkling wine, followed by a 30-minute walking tour of the winemaking facility and cave. Return to the tasting room for a sample of four exclusive Cabernet Sauvignons from four different Napa Valley appellations: Stags Leap District, Oakville, Calistoga, and Coombsville. Includes a seasonal cheese and charcuterie plate. ($120/pp)
Behind the Cellar Door: This educational tour and tasting showcases what happens behind the scenes, from grape to glass. Learn about the technical side of viticulture and enology, and how each plays a role in the resulting wine's quality, complexity, and flavors. Organic versus conventional farming, pruning, ripening, optical sorting, fermentation, and barrels are all topics for discussion in this informative experience. ($150/pp)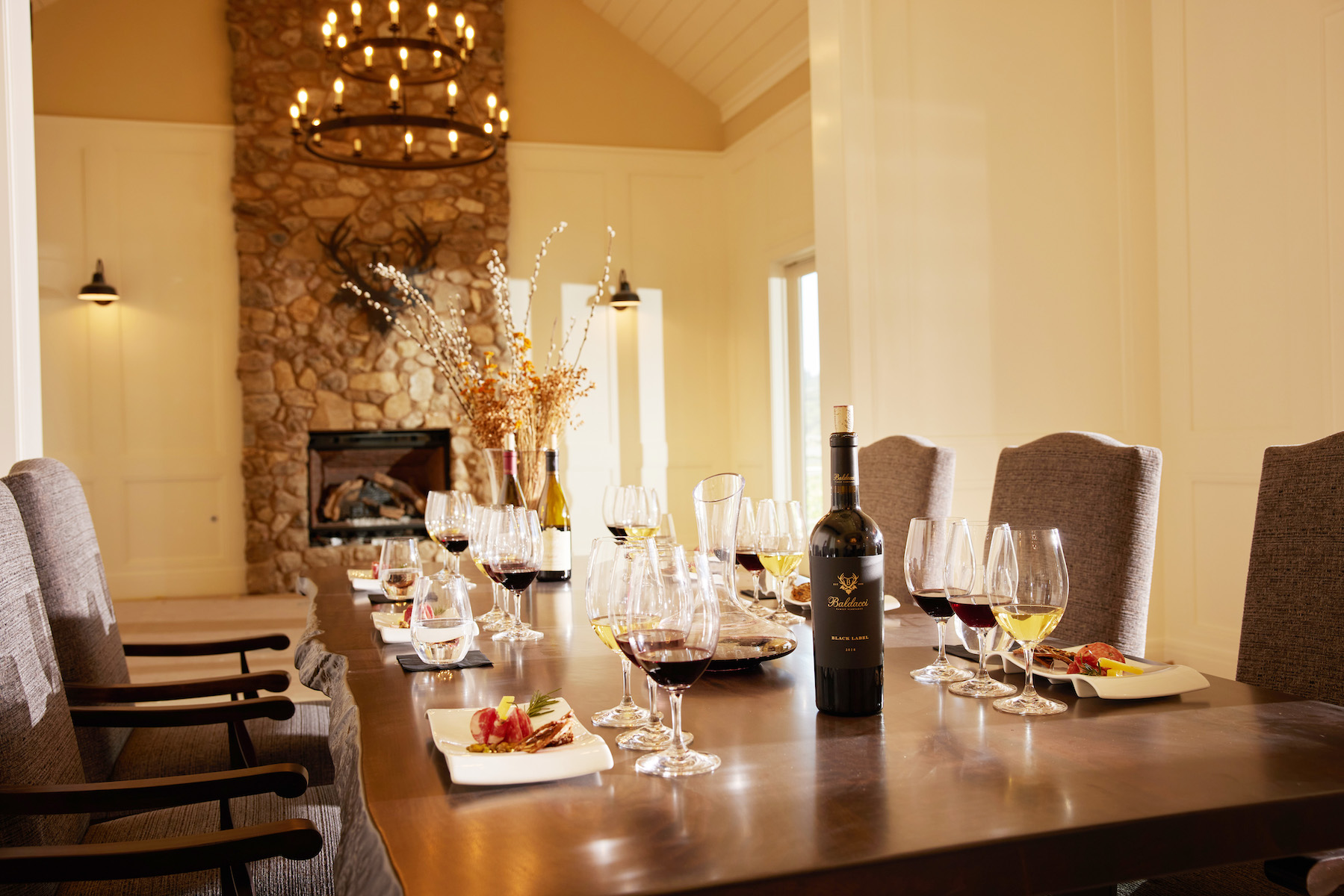 Taste Like a Somm: Follow along as a distinguished wine educator makes wine tasting accessible to all by explaining how to identify wine flavors in an unpretentious way. Explore three different wines through the senses of sight, smell, and taste, and learn the tools, tricks, and tips that professionals use when analyzing and tasting wines. ($150/pp)
"Baldacci provides elevated wine tasting experiences without the pretense," said Michael. "We offer a sense-of-place in this valley – one that is genuine and down-to-earth and resembles what Napa used to be, while still bringing the luxury and modernization of the present."