Say aloha to the perfect multi-generational destination
Everything was still and silent, except for the wooden oars piercing the clear Hawaiian water with a calming "swoosh." It was only 6:30 a.m., but there was a sunrise we were paddling out to greet and honor, so time was of the essence. A Hui Holokai ambassador from Fairmont Orchid, donned with ceremonial puka shells and carrying a sacred conch shell, led us to a calm spot in the ocean, hundreds of yards from the crashing waves. Our wa'a (canoe) gently swayed with the water, and we listened to our host share with us the epic voyages of the Polynesians and the significance of Maunakea to the Hawaiians.
Maunakea is a dormant volcano on the island of Hawai'i. At 13,803 feet above sea level, it is the highest point in the state of Hawai'i and the second-highest peak of any island on Earth. On this extraordinary morning, we watched as the sun rose above Maunakea's dramatic peak and ushered in a new day filled with possibilities. As sunbeams streamed across the volcano down to the ocean and finally on us, our host blew the conch shell and recited an ancient Hawaiian 'oli (chant) welcoming the new day and giving thanks for the opportunity of another rotation around lā (the sun).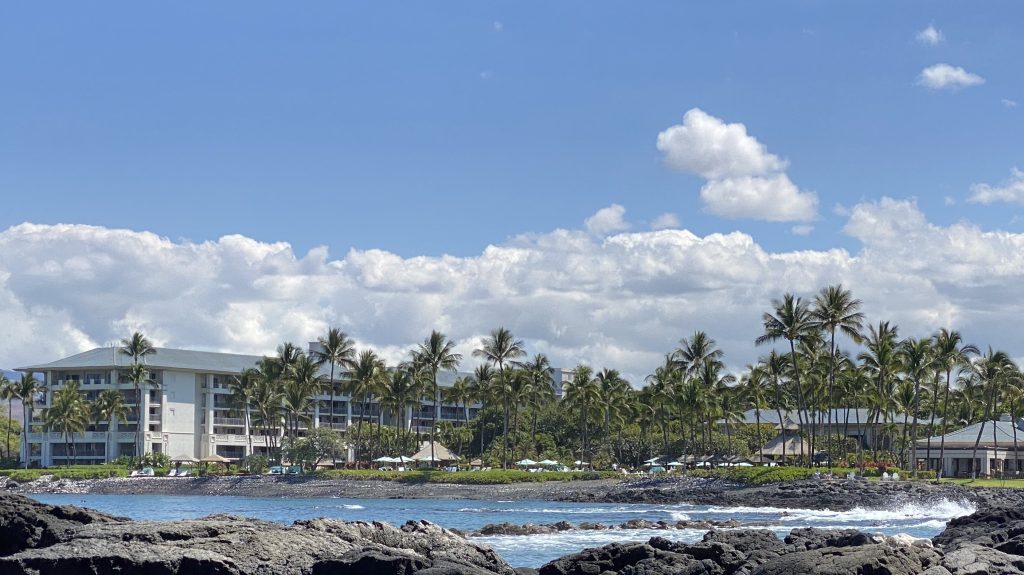 After the profound morning, we paddled back to the sheltered Hui Holokai lagoon at Fairmont Orchid. The crystal clear lagoon is an incredibly special body of water. Shallow, calm, and protected from the ocean's strong waves, it is a perfect place for children to wade and families to snorkel. At the Hui Holokai Beach Shack, you can rent snorkel gear, paddle boards, and cabañas for the day.
Other activities offered include Lei making, fishing, and basket weaving. For the more adventurous families, they have archeological hikes to the nearby petroglyph fields, through ancient lava shelter caves, and man-made fish ponds stocked with seafood once restricted only to the ali'i (Hawaiian royalty). They also offer daily tours of the black volcanic tidal pools where you learn about the fragile ecosystem and the animals who live in it.
If you want to connect with the 'āina (land) and listen to stories of the plants and people that make Hawai'i Island special, then sign up for the Ulu Pono Garden Experience. The property's director of Hawaiian culture, Kaʻiulani Blankenfeld, guides you to the chef's garden, a lush landscape filled with native plants and trees. There, you get to harvest fruits, vegetables, and herbs, while tasting hand- picked delicacies and learning about the importance of particular plants in the Hawaiian culture and the culinary world. You also receive a special gift from the chef after your experience.
After a fun-filled day of swimming and adventure, nothing could be better than an early evening of champagne and caviar. Why not indulge in expertly crafted caviar bites paired with specialty Collet champagne cocktails at the Pau Hana Champagne Bar? Pau Hana's dedicated al fresco lounge space, perched along the knoll just above Pauoa Bay, treats you a spectacular, front row seat to panoramic ocean vistas. Sip signature cocktails featuring Collet champagne, paired with a delicious selection of smoked trout and paddlefish roe, and watch the sun slip over the Kohala Coast. Two popular signature cocktails include the Queen Bee, which is infused with a rare kiawe honey made on-site, and the Bellini in Bloom, made with seasonal farmers' market fruit puree. Pau Hana Champagne Bar is open every Thursday, Friday, and Saturday night from 5 p.m. through sunset.
If your idea of paradise includes relaxing body treatments, you will fall in love with their award-winning Spa Without Walls. The spa is hidden behind a peaceful tropical island setting with babbling streams and relaxing waterfalls. You will find balance and bliss with the calming sounds of water, exotic floral aromas, and refreshing ocean breeze. Hawaiians believe the 'āina (land) has a powerful mana (energy). They tap into that mana, traditional wisdom, and age-old Hawaiian healing arts. You may choose from outdoor or indoor venues, including in-spa dining. Ocean winds and lapping waves set the tone for the signature ali'i (royal) offering.
The treatment combines a detoxifying body treatment with a neck and shoulder massage. Soothe and moisturize with a restorative wrap of algae, lavender, and organic aloe vera. Get a dewy glow with their papaya enzyme body mask, release tension with professional reflexology, or treat yourself to a facial, manicure, or pedicure. They source local products with antioxidant-rich botanicals, such as passionfruit, coconut oil, Kona coffee, matcha green tea, Hawaiian sea salt, and volcanic lava rocks.
To top off a perfect day, enjoy dinner at Brown's Beach House. Fairmont Orchid's AAA 4-diamond restaurant is famous for unrivaled regional Hawaiian regional cuisine and a spectacular oceanfront setting. Their innovative dishes draw from the simple, pure flavors of locally grown produce and a diverse variety of fresh seafood. Some favorites include the Kona prawns with Waimea tomatoes, citrus, garlic, cilantro, grilled house ciabatta, and the miso sake clams served with pork belly and shimeji mushroom, bok choy, and crispy garlic.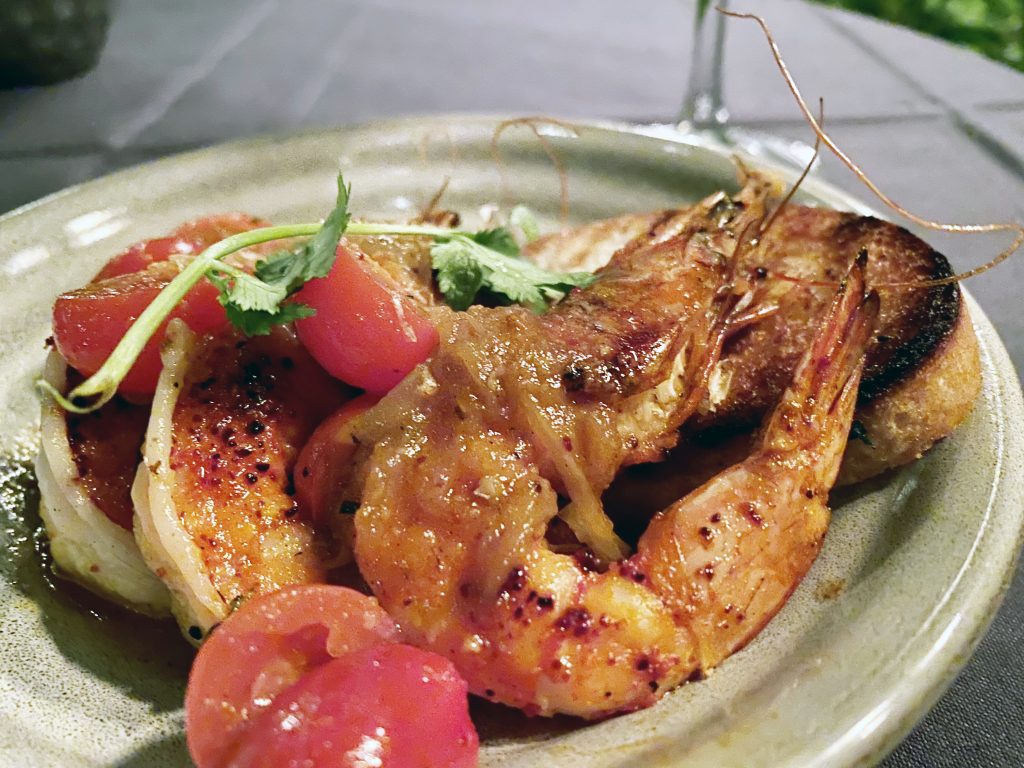 Every night, live Hawaiian music fills the warm night air, serenading your dinner at Brown's.
Fairmont Orchid resort is the ideal destination for multifamily vacations with 32 oceanfront acres of lush tropical gardens filled with fragrant plumeria, gardenia, and pikake; cascading waterfalls; and a tranquil white sand beach and lagoon.
There is truly something for everyone. The kiddos will stay active at the 10,000-square-foot oceanfront pool.
With poolside service, no one will go hungry. In addition, their six restaurants provide a plethora of dining options serving top- notch global cuisine. Also on the property is world class golf, a fitness center, and a 10-court tennis pavilion.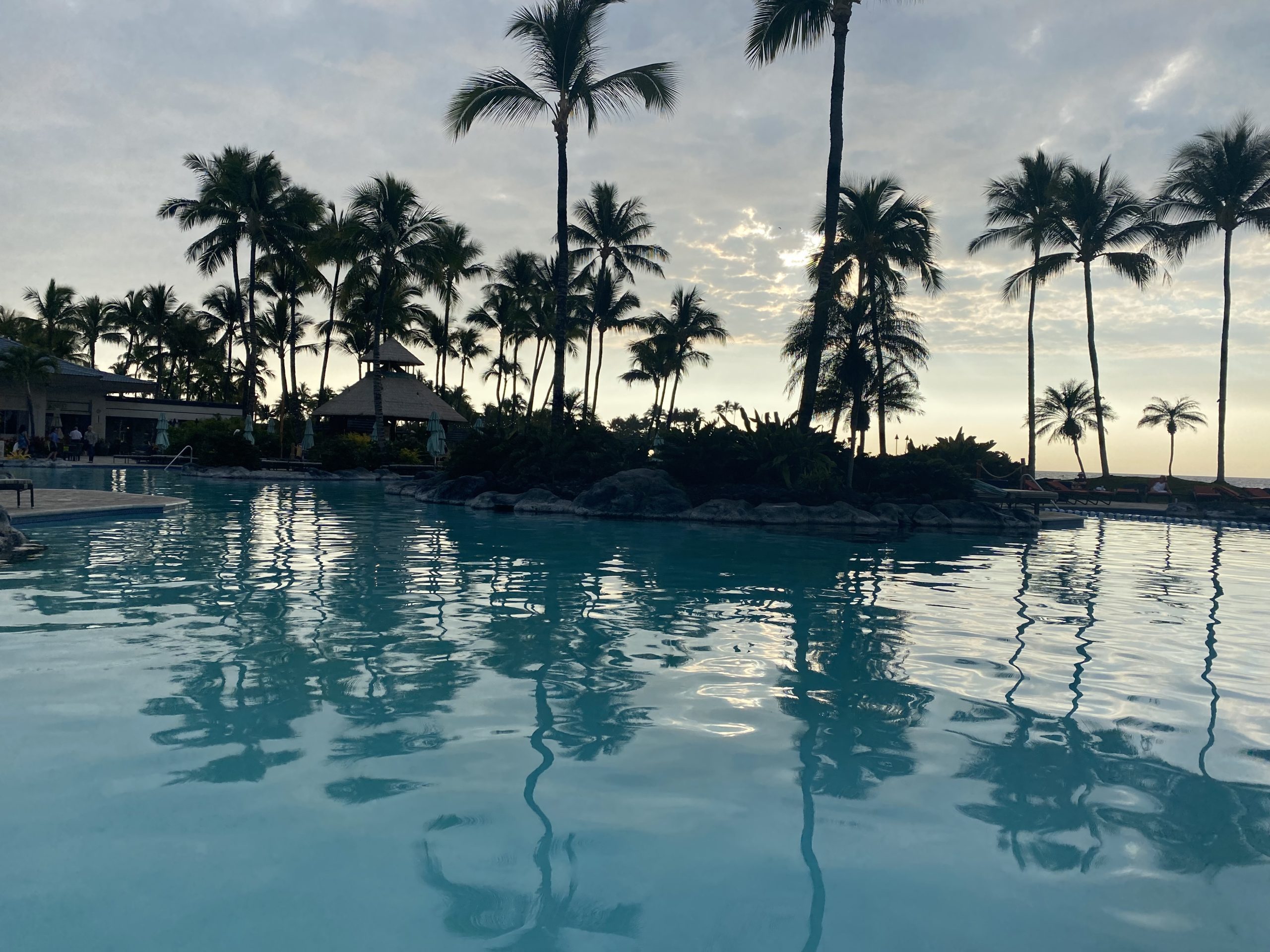 It can be tricky to find a place that the whole family will enjoy, but that's what makes Fairmont Orchid so unique. It caters to all types of families and their multitude of needs. So, Dad can play golf, Mom can enjoy a day at the spa, and the kids can splash around the pools or in the lagoon while Grandma reads a juicy novel and sips piña coladas. When night falls, the family can meet at one of the many restaurants or enjoy room service.
The options are truly endless.
1 North Kaniku Drive Kohala Coast, Hawaii – Hawaii 96743, United States
PHOTOS COURTESY OF FAIRMONT ORCHID