His life, loves, and legacy
It was a sultry night at Jean-Charles Boisset's home atop Wappo Hill in Napa. Gliding throughout the expansive space, friendly, well-dressed staff poured a selection of John Legend's LVE wines paired with delicious amuse-bouche. The celebratory evening brought together leaders in the realms of wine, music, and technology, specifically the culmination of the years Boisset and Legend have worked together to create Legend's LVE, a premier wine collection.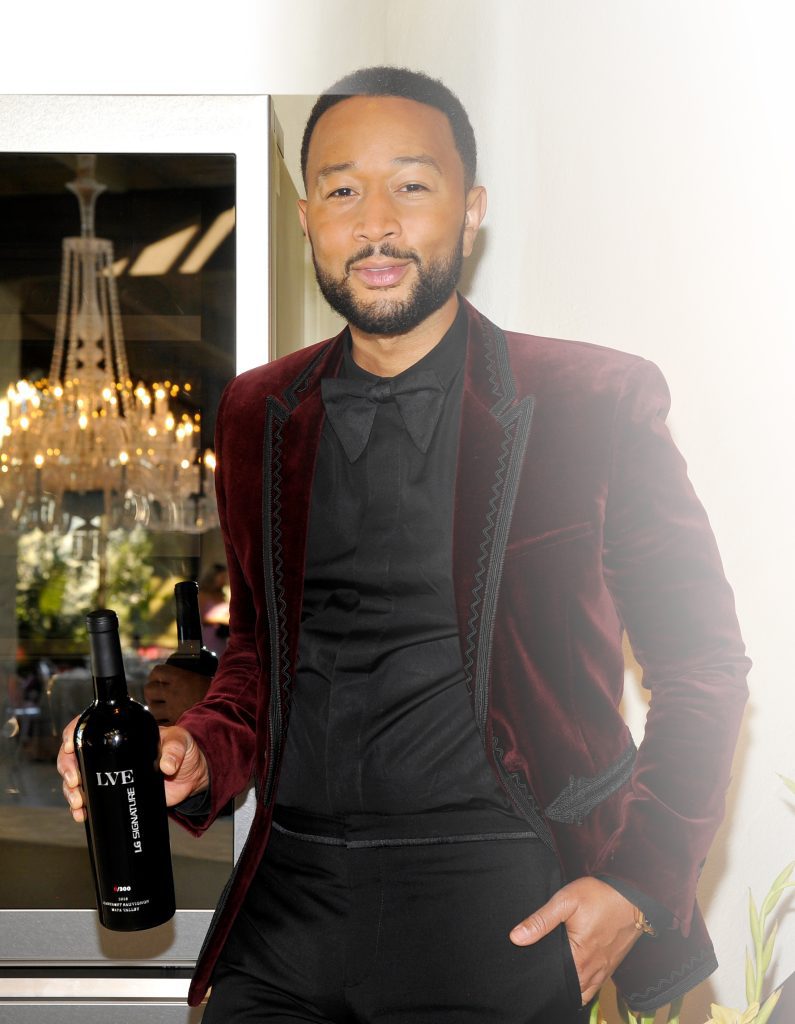 Legend Vineyard Exclusive was a dream long in the making for the musician. As with his music, Legend searched for the right collaborator, a vineyard whose pursuit of the perfect blend and standards of excellence equaled his own. Raymond Vineyards was the perfect match with roots deep in the Napa Valley and award-winning wines known for beautiful balance, finesse, and power.
Along with making award-winning wines, Boisset and Legend work as brand ambassadors with LG Signature in creating the perfect wine cellar to store their fine wines. It might seem off-brand for a mega-star and international wine czar to partner with an appliance company, but knowing both men's drive for excellence, it all made sense. The LG Signature Wine Cellar was created to mimic wine caves.
Wine caves, usually carved from the earth, provide the ideal environment for the critical process of aging wine. In the caves, the air has the perfect amount of moisture, the space is very still, and the temperature is always constant. To create an environment like that was a challenging task. With humidity control, minimal vibration, and UV light protection, the LG Wine Cellar captured the needs both men saw as vital to wine storage. For John Legend, this technology was one way he could expand his influence in the wine industry.
Throughout his life, Legend has excelled at many things beyond music. Born and raised in Springfield, Ohio, John is the eldest of four children. Music was always a big part of his childhood. His father was a drummer. His mother sang and directed the church choir while his grandmother played the organ. Dedicated to education, his mother home-schooled her children through grammar school.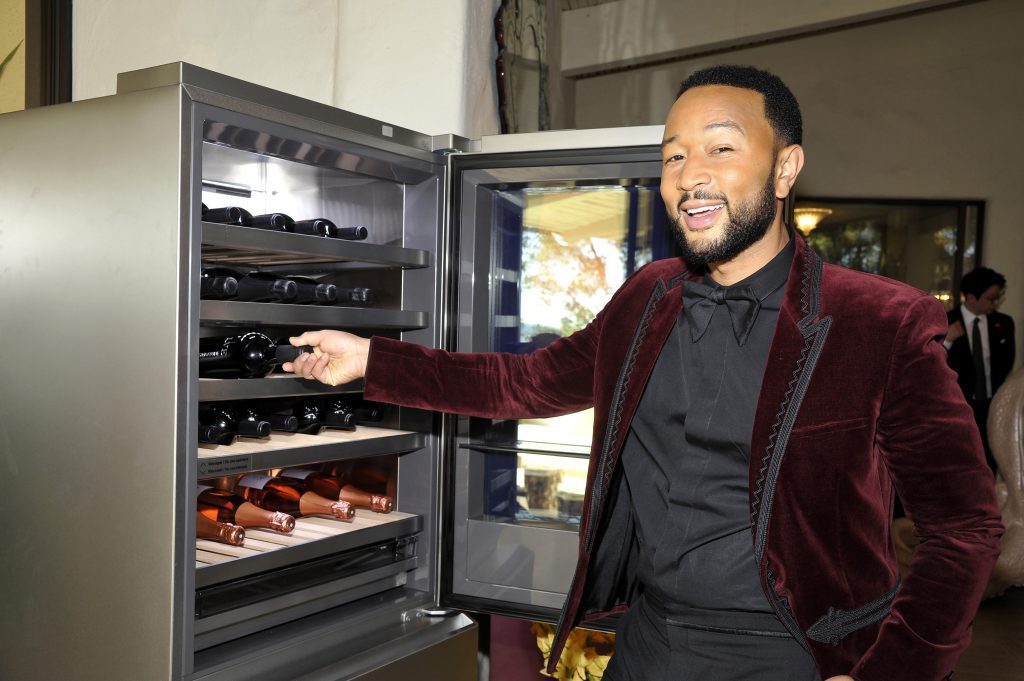 With focus and singularity of propose, John Legend won a Black History Month essay competition titled "How Do You Intend to Make Black History?" He wrote that he intended to become a successful musician. Legend was offered admittance into Harvard University and scholarships to Georgetown University and Morehouse College. While all those appealed, Legend chose to attend the University of Pennsylvania.
He was the president and musical director of the a cappella group, the Counterparts, at university. He received critical acclaim for his lead vocals on their recording of Joan Osborne's "One of Us." The song made it on the track list of 1998 Best of Collegiate a Cappella compilation CD. In addition, Legend's academic achievements garnered his membership with the Onyx Senior Honor Society and the Sphinx Senior Society. He was introduced to Lauryn Hill during this time, and Hill hired him to play piano on "Everything Is Everything." In 1999, he graduated magna cum laude with a bachelor's degree in English with an emphasis on African American literature.
While becoming a musician was his top priority, after graduating Legend worked as a management consultant at the Boston Consulting Group (BCG). At the time, Boston Consulting Group was considered one of the "Big Three" of the world's three most prominent and prestigious management consulting firms. The other two were Bain & Company and McKinsey & Company. His appointment as a management consultant for such a prestigious firm showcases Legend's abilities and commitment to excellence.
During his time as a management consultant, Legend produced and recorded his own music. A year later, he released two independent albums: his self-titled demo (2000) and Live at Jimmy's Uptown (2001). In 2001, Legend was introduced to Kanye West. However, the Def poet J. Ivy christened Legend with his stage name. John Legend was born December 28, 1978, as John Roger Stephens. In 2009, the New York Times reported that J. Ivy stated, "I heard your music, and it reminds me of that music from the old school. You sound like one of the legends. As a matter of fact, that's what I'm going to call you from now on! I'm going to call you John Legend." After J. Ivy continued to call him by the new moniker of "John Legend," others quickly caught on, including Kanye West. Despite his reluctance to adopt a stage name, the young singer-songwriter eventually announced his new stage name as John Legend.
As guests mingled around Boisett's massive indoor pool, Legend and I stepped outside, where we chatted about his loves, life, and legacy. His broad smile surprised me, and his genuine interest in our conversation was incredibly refreshing. I could feel his thoughtfulness in every word he spoke. True to his nature, John is indeed a legend.
HL: When did you know that you wanted to play the piano?
JL: I started playing when I was three. We had a piano in our house. My grandmother was our church organist and pianist. And so, I grew up around many people who made music, and I loved it and wanted to do it as soon as anybody would let me, as soon as my little fingers would be big enough to stretch along the keys.
HL: How did you know that you wanted to make wine?
JL: It started to develop over time. You know, I had my own personal love for wine. As I started to travel the world as an artist and have these amazing experiences, wine was such an integral part of so many of them. Whether it was musical experiences, romantic experiences, travel, and culinary experiences, wine was an important part. And then I started to learn from my fans how integral my music and wine were to each other, so I realized that, you know, there's a connection here: let's do something to make the connection more explicit. So, we started talking about it.
HL: How did you find the right team to make your wines?
JL: I was looking into collaborating with a winemaker with whom we could do something together as a joint venture. We were introduced to Jean-Charles Boisset and the team at Raymond Vineyards and Boisset Wines. We hit it off immediately, came up to his house, went to the Raymond Vineyards, and spent a lot of time with them. We decided we should create something new together, so we created LVE. We've done it all together. We blended the wines together with their team. We created the branding, everything together, and it's been such a fun, collaborative process. I've learned so much. I realize how much I loved the process of blending wines trying to create these beautiful experiences for people, and it's become a real passion project for me.
HL: How would you describe the process?
JL: I love the whole process idea of writing incredible music and creating wine. I think winemaking and music-making are both very collaborative for me. So, for me, they're both all about finding good partners to work with. I found that in my music career, and I found that with, of course, Jean-Charles on the team here at Boisset. And then I think it's very iterative, and it's about balance. So, when I'm thinking about making music, we talk about a lot of back and forth: "Is there too much of this, too much of that? How do we find that perfect balance for everything to blend together?" The chef is trying to find that umami feeling, and then the winemakers are trying to find that similar feeling in the music. We're trying to find that feeling where everything feels like it's in balance: not too much of this, not too much of that. And you realize it's a tasting and blending process and iterative process. Then we use that for all my loves, whether it's music, wine, or making good food. And I love it.
HL: Let's talk about your legacy. What would you want to be remembered for?
JL: The wine, the music, the life. I want to be remembered for making life more beautiful and more loving. And you notice a lot of what I do makes things more beautiful. We talk about love, and I talk about it when I speak at graduations, and, yeah, it's in the name of my wine. It's in the name of a lot of my music. I feel like if we make the world more loving and beautiful, it's a good legacy to have.
HL: If you could give some sage advice to others trying to figure out their legacy, what would you tell them?
JL: I think everyone has to discover their passions, what is authentic to themselves, what's true to them. And if they're an artist, I believe that the most effective art is the art that beautifully communicates that truth. And so, you know, I'm on The Voice, and I coach new artists all the time. And I talk to them about, first of all, figuring out who they are and who they want to be in the world, what they want to say and what unique perspective they have to offer. Then they dig into that and to try to be the best that they can be. I love that.
HL: There are many winery winemakers and people in the industry. Why is Jean-Charles Boisset?
JL: We just hit it off, you know. John-Charles is amazing and, of course, he has all these highly rated wines. He's extremely well connected in the business. He grew up making wine, and he's married to a Titan of Napa winemaking. He is the epitome of someone who knows what's going on and how to make great wine. He has all the relationships to get the best grapes around the world. And, you know, what better partner could we have?
HL: On a personal level, is there a book that influenced your life?
JL: You know, thinking about how to make the world a better place, books like Just Mercy by Bryan Stevenson. I care a lot about criminal justice reform. So, I've read a lot about that kind of thing. And, yeah, I think Just Mercy would be a good one.
HL: What specific charities or foundations you have put your heart into that you would love to share?
JL: Well, we have our own work that we do, so I have an organization called Human Level, which is all about empowering people in their local communities to make a change in their local communities through local government. We do a lot of other work helping kids have access to better schools, making sure that voting rights and women's rights are being protected, so there's all sorts of things that I donate to and support. I'm also on the NAACP Legal Defense Fund board, which is all about fighting for the rights of marginalized people, particularly minority groups.
HL: Any regrets?
JL: [Laughing.] Not really. I mean, I'm really grateful for my life. I'm really grateful for my career and for my personal life. I don't really spend much time thinking about regrets.
Photos by Alex Rubin and Anderson with permission from LG and Boisset