Men and women discover natural, alchemical skin care
From work outdoors to weekends at the beach, the blazing sun and harsh elements take a toll on the skin. While women are more likely to understand it's essential to care for their skin, more and more men are discovering the need to follow a skincare regimen. But with most skincare products and brands geared towards women, where do men go to find products that meet their needs? Luckily, Reålea Skincare offers elegant and highly effective, therapeutic skin care products formulated for men as well as women. Founded by a historian with a background in centuries-old of systems of medicine and healing, Reålea combines ancient alchemical secrets and processes with modern science and technology to create truly unique artisan products.
While their products are designed to be unisex—as much about health and wellness as about beauty and cosmetics—Reålea takes into consideration the particular skin dynamics of men and gears their formulas accordingly. They employ the sophisticated methods of spagyric alchemy to isolate and refine each plant's bioactive components to maximize benefits to the skin using traditional laboratory practices. Each product is handcrafted and stored in small batches using a series of proprietary processes that ensure freshness and efficacy over time. As proof, every product comes with a signed seal indicating batch number, product number, and date of production. The result is Reålea's current product line called "The Flagship Five."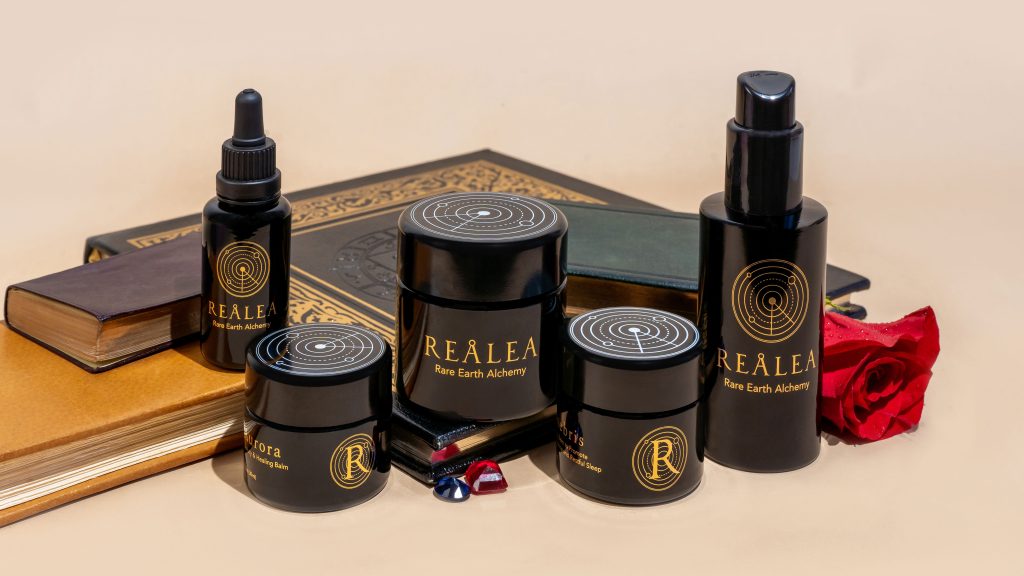 Aurora is a profoundly healing and transformative beauty balm. A rich golden concentrate of nature's best sources of nourishment for skin, it provides a base that gives your skin all the building blocks it needs to regenerate and express its natural health. Ingredients include egg yolk oil (a natural source of retinol), calendula, frankincense, sea buckthorn, rose, sal butter, tamanu oil, and alchemical preparations of gold and zinc.
Meridiem is a long-lasting, whipped butter for the whole body, using a unique blend of luxurious oils that absorb easily to provide a shield of nourishing, tonifying, and calming botanicals. Its unique and uplifting fragrance acts upon the mind and the body while promoting the health of your skin. Ingredients include sal butter, egg yolk oil, rosehip seed oil, geranium, and galbanum, potentiated with the alchemical oil of gold.
Tenebris is a flowering alpine forest of wild medicinal herbs in a jar. Verdant and mysterious, it gently penetrates deeply into muscles and connective tissue to soothe aches, reduce inflammation, ease tension, and stimulate circulation and healing. Ingredients include black cumin seed oil, gotu kola, camphor, lemon balm, and alchemical oil of silver.
Astrum is a light yet potent facial serum. Nutrient-dense and fast-absorbing for a soft dewy complexion, it's excellent for sensitive skin. It's formulated with an extraordinary blend of some of the most prized and precious ingredients in the skincare canon—prickly pear cactus seed oil, red raspberry seed oil, carrot seed oil, squalane, helichrysum, and champak—with an enlightening and sophisticated floral-forward fragrance.
Imber is a tonifying and uplifting facial mist containing hydrosols distilled from fresh lemon balm, neroli, and the highest grades of frankincense and myrrh. It is potentiated with the alchemical oil of gold and colloidal silver.
Later this year, Reålea will expand their current product line by adding a couple of new unisex products: a facial cleanser using the proprietary alchemical technology perfected during the development of the Flagship Five and an all-natural, fragrance-neutral balm for daily nourishment and deep repair. They will also release the first of their products formulated specifically for use by men, which will be a regal beard butter that nourishes and conditions facial hair and the underlying skin, with a fragrance inspired by ancient temple rites.
To learn more about Reålea Skincare and their unique line of alchemical skincare products, visit https://realea.com.
Photos by Robert B Richards and Birdhill Studio