Sonoma County is one of California's most diverse regions. Within a short drive, one can pass through vineyard covered hillsides, redwood forests, and riverbeds while headed to the crashing surf of the Pacific Ocean. Just as the geography is sundry, so too are the region's hospitality choices. Hotels, inns, and B&Bs range from rustic to refined. For those seeking options on the refined end of the spectrum, Forestville's Farmhouse Inn checks all of the boxes for a casually elegant and indulgent Sonoma County stay.
Surrounded by big name wineries and tasting rooms, the small bohemian enclave of Forestville is an ideal location for exploration of the region. But in staying at Farmhouse Inn, you'll not be faulted if an active itinerary is set aside in favor of simply 'staying put.' With daily afternoon wine tastings featuring the region's best labels, a destination worthy restaurant, on-site spa and swimming pool, the best of Sonoma County can be found perfectly packaged in this one bucolic place.
Forestville natives and Farmhouse Inn proprietors Joe Bartolomei and his sister Catherine purchased the premises (on which their grandfather once lived) in 2001. At the time, the property was known primarily for its restaurant flanked by a mere six guest rooms. The siblings immediately refined and refurbished the Inn portion, and reimagined the restaurant. What exists today is a six-acre hospitality gem featuring 25 country-chic rooms set amongst garden paths lined with water features, flowering rose bushes, espaliered fruit trees, and vegetable-filled raised beds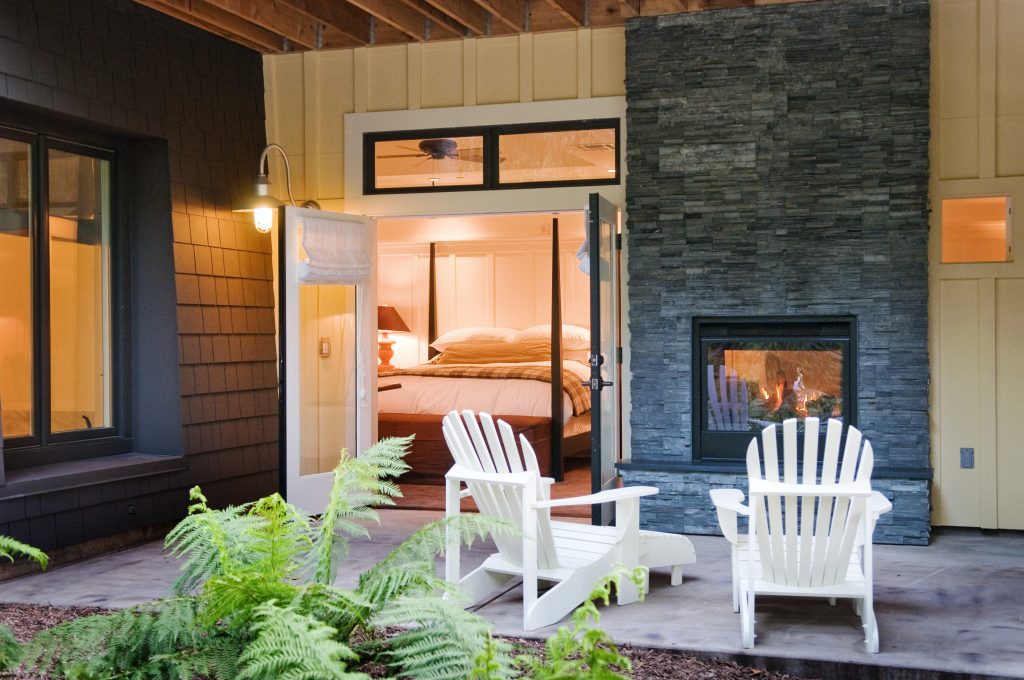 From cozy Farmhouse rooms atop the property's original building to charming cottages (three of which are newly renovated) to sumptuously large Barn one-Bedroom Suites with separate, barn door-divided sitting area, each of the rooms is designed with posh, country-chic flair, including fresh flowers and a personalized chalkboard welcome. Each features gas or wood-burning fireplaces, several of which are double-sided for both interior and patio enjoyment. The remodeled cottages include two spacious Cottage Petite Suites (a new category for the inn), one of which includes a connecting option to a Cottage room for those seeking additional beds. Designers Gina Gattuso and Lisa North of Myra Hoefer Design were inspired by classic old farm estates in styling the cottages; materials are historically accurate to a farmhouse, yet with clean lines for modern appeal.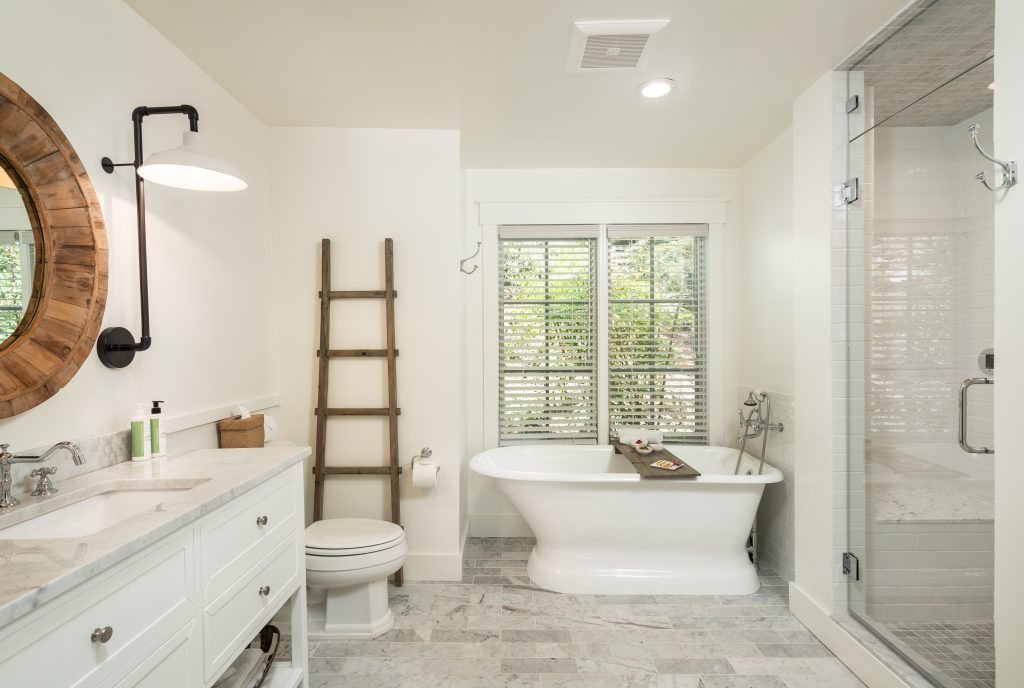 Bathrooms at Farmhouse Inn are reason alone for a stay. Large soaking tubs overlook oak tree-studded hillsides. Steam showers ease aching muscles, and even on the warmest California day, heated floors are a more than welcome indulgence. Make sure to visit the serve-yourself bath bar, located in the reception lobby, where a selection of amenities (brown sugar scrub, bath salts, and large blocks of organic soap from which to cut a slice) are offered to further enhance your bath experience.
Rooms include complimentary snacks (i.e. popcorn and assorted nuts), sodas and sparkling water, as well as a variety of Sonoma County wines for purchase. Also gratis are the makings for gourmet S'mores, set out each evening next to the poolside fire pits. But if your sweet tooth persists, it is easily satiated by the gluten-free, fresh baked chocolate chip cookies provided at turndown.
Enhance your stay further with a spa treatment at the on-site Wellness Barn, where spa director Irisha Steele has created a menu of rejuvenating treatments that utilize Sumbody and McEvoy Ranch custom-blended products. Choose the "Spirit Path" to realign physical and energetic bodies via hypnotic sound therapy, or "Forest Bathing" where mindfulness and mediation techniques are utilized in opening the senses. "The Antidote" offers traditional massage with warm compresses and is tailored to individual need. The Wellness Barn is also a great spot to pick-up wine country gifts for those at home.
No Farmhouse Inn stay is truly complete without dinner at the restaurant, which, for more than 20 years, has served as a Sonoma County 'must.' The ever-changing menu relies on that which is fresh and seasonal, many of the ingredients coming directly from nearby Bartolomei ranches or from local Sonoma County sources, such as a Spring Salad of Arugula with ripe strawberries, rhubarb, and roasted hazelnuts. Chef Jackson Clark works his culinary magic within the six course tasting menu that features varied options such as an unforgettable Truffle Brioche with Chioggia beets, caramelized onion, and Meyer Lemon emulsion. Local Rack of Lamb features glazed baby carrots, pearl onions, and minted pea puree. And a Pea Ricotta Tortellini with Morel mushrooms and lemon cream will leave vegetarians weak at the knees. Make your meal even more memorable by ordering the wine pairings, for which the sommelier has made delicious local as well as International selections.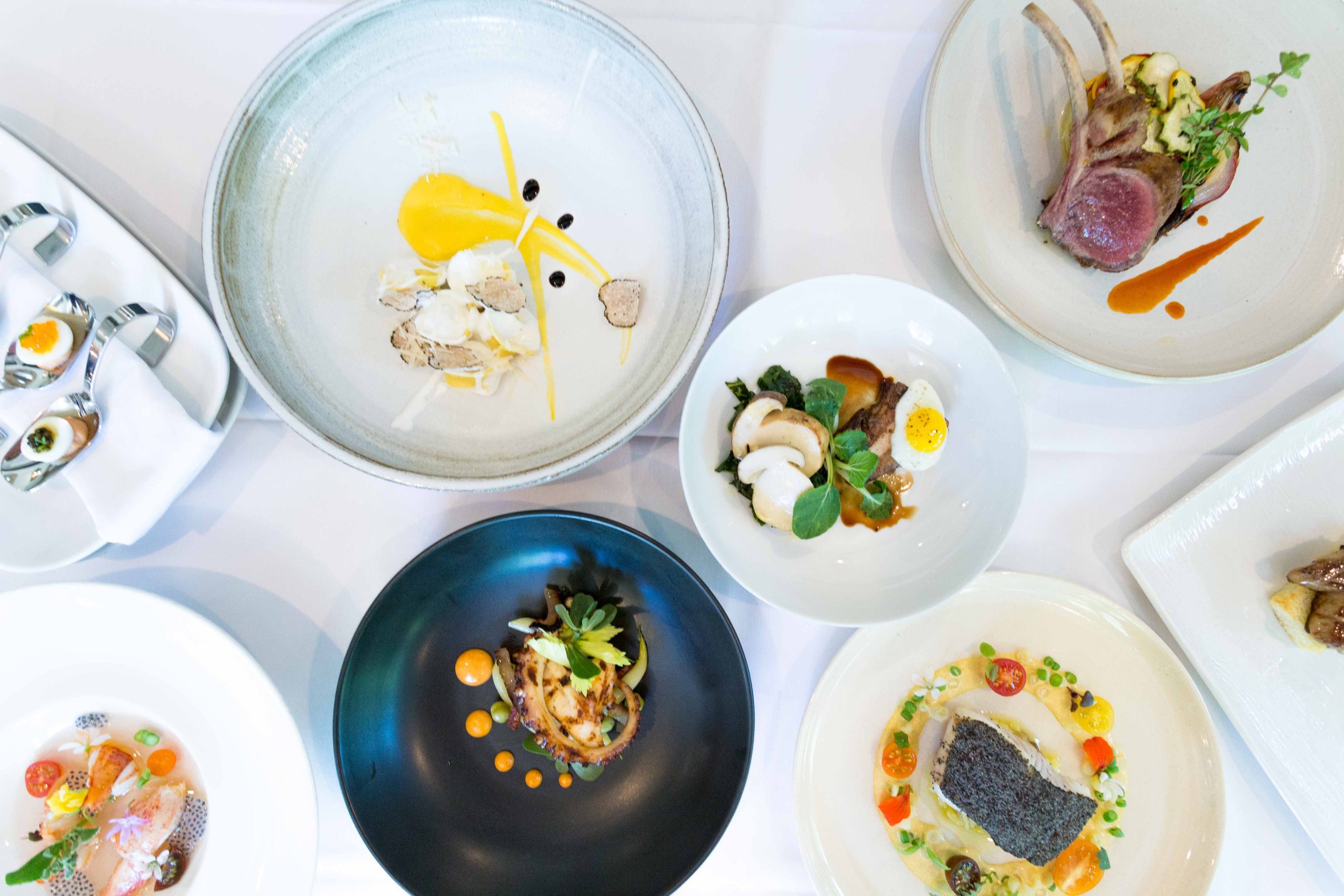 The more casual FARMSTAND, overseen by Chef Trevor Anderson, stands ready for breakfast, lunch, and dinner service out of its food-truck-esque kitchen. Try the bakery basket in the morning and hope that scones are on the schedule, and later in the day, don't miss the simple and simply tasty wood-fired pizzas. For additional restaurant suggestions, ask the front desk. Like Joe and Catherine, the concierge staff is local; they know the area well and have forged strong relationships with nearby restaurants and wineries, meaning a stay at Farmhouse Inn affords insider access.
Farmhouse Inn and Restaurant: 7871 River Road, Forestville
Photos courtesy of Farmhouse Inn