Encompassing verdant valleys, fertile forests, and craggy coastline, Sonoma County is one of California's most eclectic regions. So it stands to reason that its vinous output is equally eclectic. More than 60 grape varieties are grown within the county's 1500 square miles of variable terrain, within which 18 American Viticultural Areas (AVA) are denoted. Yet, Chardonnay is the most abundant varietal. And the variations in expression are as sundry as the region's topographical diversity. It is no stretch to claim that Sonoma County is helping to expand the definition of what a great Chardonnay can and should be. Here are some of our current favorites: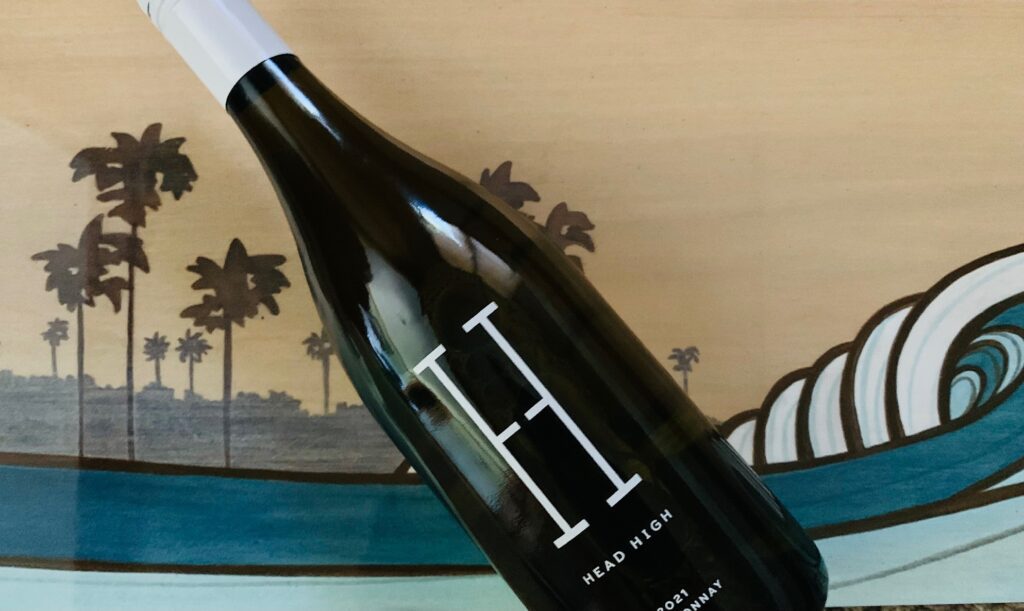 Head High 2021 Sonoma County Chardonnay ($22)
Head High (a surfing term to describe the perfect wave) specializes in Pinot Noir and Chardonnay from top vineyards in Sonoma County. Winemaker Britt Richards formerly worked with Phillip Titus on Coho and with the renowned Philippe Melka. She was also previously the enologist for Peter Michael Winery and Keller Estate. Her winemaking approach is minimalistic; she focuses on showcasing the purity of fruit character in her wines. She prizes the Chardonnay grape for its "deliciousness" and loves its bright acidity and lemony, honeysuckle, and tropical fruit flavors – so much so, that she uses no oak or malolactic fermentation for the Head High Chardonnay, which offers bright tropical floral notes on the front, with a lush body on the palate, finishing on a beautifully clean note. Bonus: Head High donates proceeds from sales to environmental non-profits.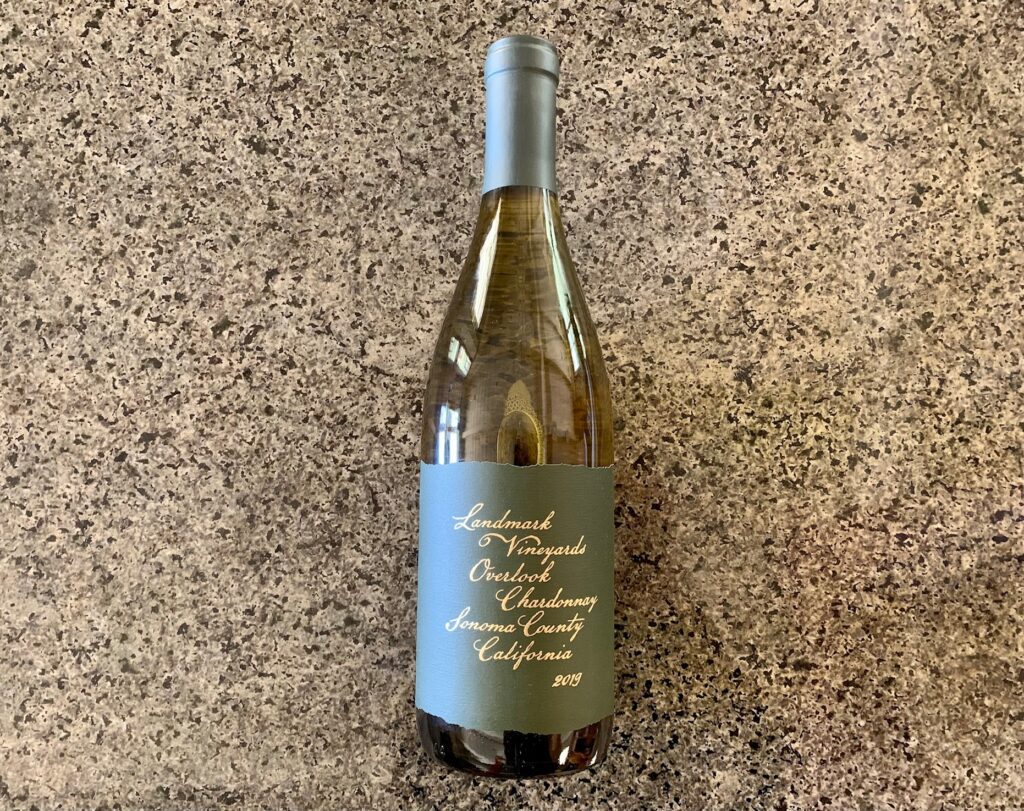 Landmark Vineyards 2019 Overlook Chardonnay ($27)
Crafted from 42 separate blocks of grapes sourced from Landmark's premium growing partners within  prestigious Sonoma County appellations such as the Petaluma Gap, Sonoma Carneros and the Russian River Valley, this is the winery's flagship wine. This Chardonnay is made with the highest quality fruit for a rich and complex wine with attractive toasted barrel elements and a balanced freshness; it is living proof of the legacy that Landmark founder Damaris Deere Ford hoped to achieve when creating the first Overlook Chardonnay vintage in 1990. Featuring aromas of ripe lemon, white peach, yellow apple, kiwi, oak, chamomile, flan, and baking spice, this wine pairs beautifully with flavorful foods like a crab risotto with oyster mushrooms, or a grilled salmon filet with garlic and chive butter.
Landmark Vineyards 2019 Overlook Chardonnay is living proof of the legacy that Landmark founder Damaris Deere Ford hoped to achieve when creating the first Overlook Chardonnay vintage in 1990.
Anaba 2018 Chardonnay, Sonoma Coast ($40)
Named for the Anabatic winds that sweep over Sonoma's Carneros region, Anaba Wines was founded by Chicago born John Sweazey who desired to craft the sort of Rhône-style blends and graceful Chardonnays and Pinot Noirs that had once captivated him during a European sojourn long ago. Anaba's wines are made from grapes sourced from the Anaba estate as well as from exclusive preferred vineyard partners. Meticulously-farmed rootstocks and grape clones are carefully selected based on each vineyard's soil to assure each variety is suited to its environment, yielding exceptional fruit. Anaba's Sonoma Coast Chardonnay is an artistic blend sourced from distinct areas within the vast Sonoma Coast AVA. Each of the vineyard locations contribute to the balance and beauty of this wine. Aromas of vanilla and warm brioche mingle with hints of baking spices and apple blossom. Granny smith apple and white peach reveal themselves on the palate, with smooth yet integrated oak tannins leading to a lush finish.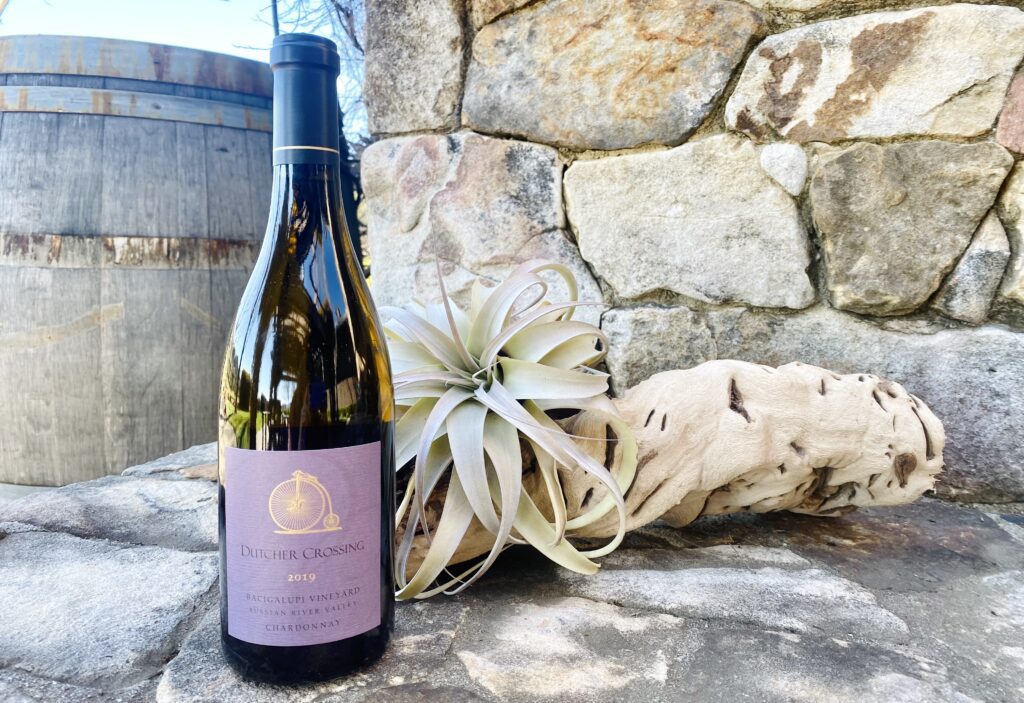 Dutcher Crossing 2019 Bacigalupi Vineyard Chardonnay ($44)
In 2007, Debra Mathy became the first single woman to own a winery in Sonoma County's Dry Creek Valley, sparking the beginning of her course to empower and lead the next generation of women. Proprietor of Dutcher Crossing Winery, Mathy was inspired by her mom and dad to believe that hard work, ethics, and self-confidence – rather than gender – determine a person's ability to get a job done. At Dutcher Crossing she and her team produce more than 30 handcrafted small-lot wines from Sonoma, Mendocino, and Napa counties. This 2019 Vineyard Chardonnay from Sonoma County's Bacigalupi Vineyard, (renowned for its part in the 1976 Judgment of Paris) features aromas that jump from the glass. The palate is bright and bursting with lemons, green apples, and citrus flowers. This wine pairs beautifully with goat cheese, ricotta, and fresh herb-filled ravioli, finished in a brown butter sauce. Open now, or hold for several years.
Fort Ross 2018 Chardonnay, Fort Ross Vineyard, Fort Ross-Seaview ($48)
From its mountain vineyard that overlooks the Sonoma Coast in the Fort Ross-Seaview American Viticultural Area, Fort Ross Vineyard & Winery produces limited quantities of single vineyard, estate grown, cool-climate Pinot Noir, Chardonnay, and Pinotage. The vineyard is divided into 32 separate blocks, one-half to two acres in size, that range in elevation from 1700 down to 1200 feet above sea level. Owners, Lester and Linda Schwartz began preparing the 52 acre vineyard in 1994. It took them four years of preparation before they could begin planting. Their first vintage was in 2000. This Chardonnay's hazy yellow hue is evidence of subtle stirring of the lees and bottling without fining or filtration. The rounded, rich mouthfeel is intertwined with the crisp acidity and stony minerality that is an expression of the high elevation and cool coastal climate. Pretty floral aromas of lemon blossom, chamomile and honeysuckle are balanced by hints of toasted hazelnut and honeycomb. This Chardonnay will continue to evolve for many years.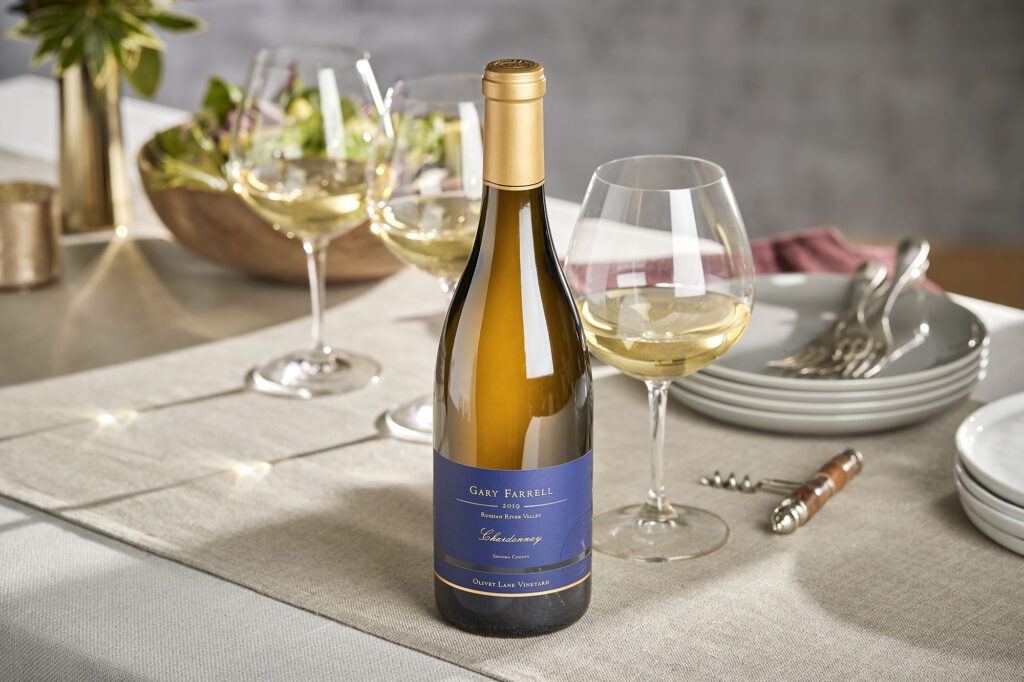 Gary Farrell 2019 Olivet Lane Chardonnay ($50)
Since the late 1970's, Gary Farrell Winery has specialized in Pinot Noir and Chardonnay from some of the top vineyards in the Russian River Valley. Today, the winery team's immense knowledge of this picturesque, redwood-studded wine region 55 miles north of San Francisco is illustrated in the wide variety of labels, each from a different vineyard, and each displaying subtle differences reflective of their acreage of origin. This Chardonnay is from the Pellegrini Olivet Lane Vineyard, planted in 1975 on 65 acres of sloping benchland in the Santa Rosa Plain, in between the warmer Westside Road region and the cooler Green Valley. The combination of low temperatures, regular fog intrusion, and well-drained loam, clay soils create an excellent environment for growing Chardonnay. Incredibly fresh and energetic, this wine features a complex bouquet of Meyer lemon, stone fruit, graphite, honeysuckle, lemongrass, and baked pear tart. The first sip is succulent and tangy, while the mid-palate is zesty with lots of verve. It finishes with a silky pop of acidity.
Incredibly fresh and energetic, Gary Farrell 2019 Olivet Lane Chardonnay features a complex bouquet of Meyer lemon, stone fruit, graphite, honeysuckle, lemongrass, and baked pear tart.
Medlock Ames 2019 Lower Slope Chardonnay ($48)
Medlock Ames Winery was formed in 1998 by college friends Chris Medlock James and Ames Morison, who set out to produce award-winning wines from Bell Mountain Ranch at the intersection of the Russian River Valley and Alexander Valley's southeast corner. On the lower slope of Bell Mountain lies a small block of Chardonnay grapes that benefit from cooler night temps and lingering morning fog, providing fruit that is crisp and ripe with a broad spectrum of Chardonnay flavor. Two favored lots are blended to form the foundation of this special, highly regarded wine – a nod to white Burgundy, with California appeal. This is an aromatic Chardonnay with a rich essence of ripe pear, stewed apricot, toasted cardamom, honeycomb, and brioche.
Lynmar Estate 2018 Quail Hill Vineyard Chardonnay ($63)
Lynmar Estate is a preeminent producer of Pinot Noir and Chardonnay in Northern California's Russian River Valley appellation. Featuring a luxury portfolio of small-lot wines, the winery is a place of abundant natural beauty, bordering the western edge of the Laguna de Santa Rosa, the largest tributary of the Russian River, and Sonoma County's richest wildlife preserve. Situated just 12 miles from the Pacific Ocean, Lynmar Estate benefits from the influences of a maritime climate. Its 45-acre Quail Hill Vineyard contains five distinct blocks of Chardonnay. Block 8 was planted to the Rued Chardonnay clone, known for stunning floral notes and fresh acidity. A golden green hue in the glass, the Quail Hill Chardonnay emits bright aromatics of jasmine, honeysuckle, lemon rind and fresh fennel. A soft and plush entry on the palate, framed by lively acidity, leads to flavors of orange cream, wet stone, and warm spice.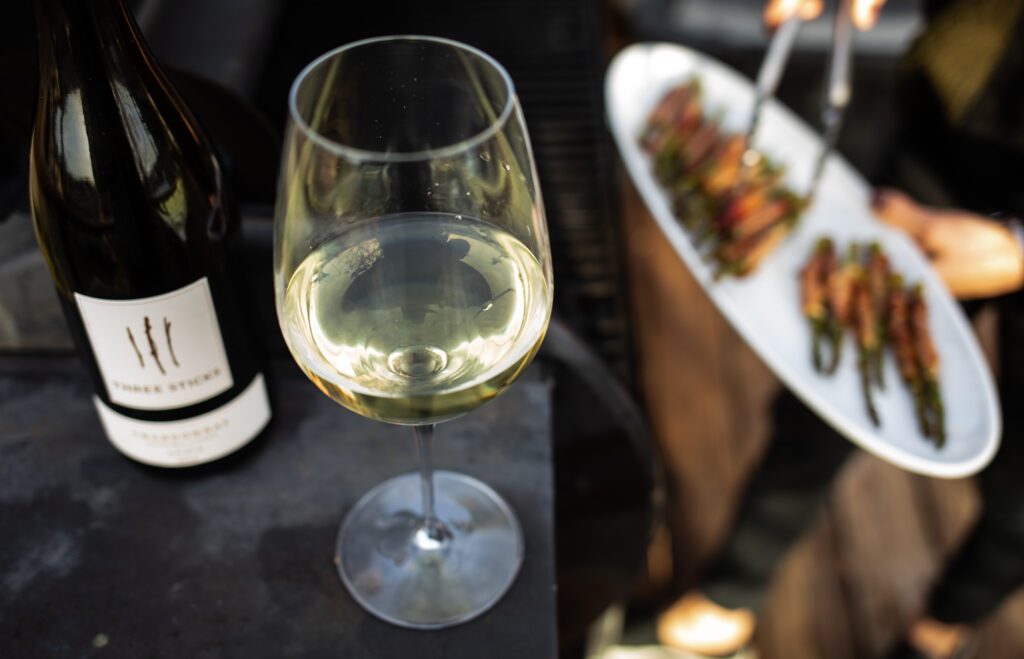 Three Sticks 2019 Durell Vineyard Chardonnay ($65)
Recognized for world class Pinot Noir and Chardonnay, made from exceptional estate vineyard grapes, Three Sticks' sincere approach to viticulture and winemaking is evidenced in its beloved winetasting home, adjacent to Sonoma Plaza. The historic Vallejo-Casteñada Adobe, built in 1842, serves as the heart of this popular winery. Here, varied curated tasting experiences are offered in the posh, Ken Fulk-designed interior. Whether opting for a flight or a food/wine pairing, Three Sticks promises a memorable experience. Don't miss this luscious Durell Vineyard Chardonnay, a staple of the winery's portfolio, bursting with flavors of lemon zest, golden apple, and ruby red grapefruit. Hints of honeysuckle, Marcona almond, and a touch of toasty oak further complement this bottle's strong backbone and remarkable depth.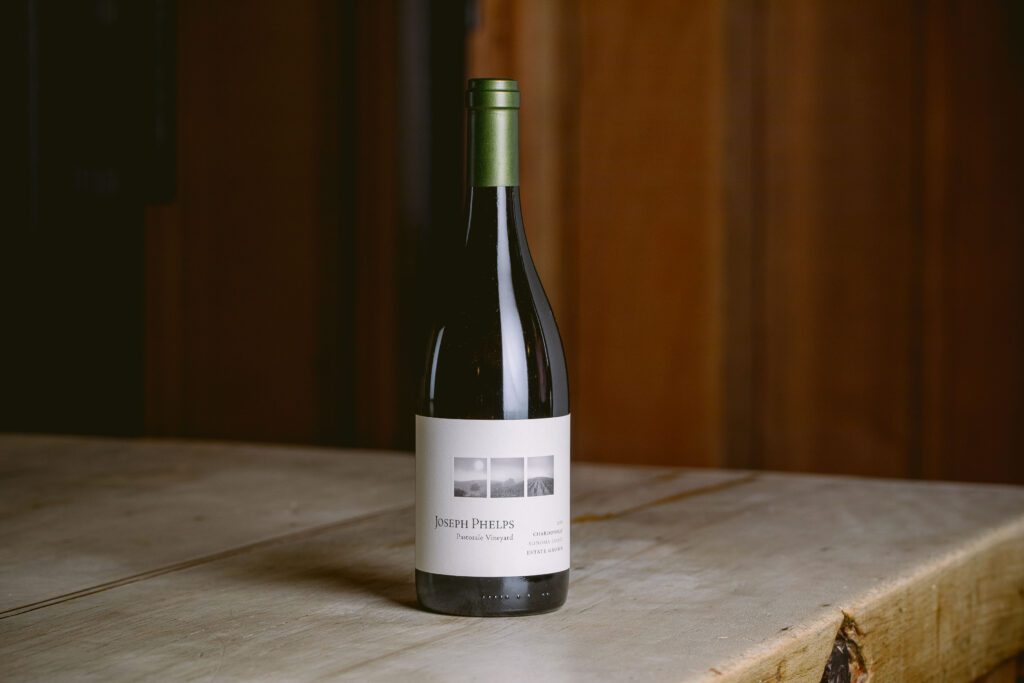 Joseph Phelps 2019 Pastorale Vineyard Chardonnay ($90)
Though located in Napa Valley's St. Helena, this iconic family-owned winery crafts its delicious Chardonnay from Sonoma County grown grapes. Known widely for its premium Napa derived Cabernet Sauvignon 'Insignia,' the winery started developing vineyards along the cooler Sonoma Coast in 1999 with the goal of crafting Pinot Noir and Burgundian style Chardonnay. This wine is sourced from the Sonoma based Pastorale Vineyard and is a blend of two Chardonnay blocks that feature Old and New Calera, Maro, clone 76, Mt. Eden, Montrachet and Old Wente. Recognized by Robert Parker Wine Advocate (95 points), Antonio Galloni Vinous (93 points), Wine Enthusiast (95 points), Wine Spectator (93 points), Jeb Dunnuck (94 points), and James Suckling (97 points), this Chardonnay is refined and nuanced with fragrant aromatics of key lime, white flower, jasmine, and toasted brioche. 
Awarded 93+ points by Robert Parker Wine Advocate, Antonio Galloni Vinous, Wine Enthusiast, Wine Spectator, Jeb Dunnuck, and James Suckling, Joseph Phelps 2019 Pastorale Vineyard Chardonnay envelopes the senses with

fragrant aromatics of key lime, white flower, jasmine, and toasted brioche. 
AXR Napa Valley Ritchie Vineyard Chardonnay 2018, Russian River Valley ($90)
Another Napa Valley winery venturing into Sonoma County for Chardonnay grapes, AXR is a partnership between the 'Fab 4' – highly regarded winemaker Jean Hoefliger, and founders Don Van Laeken, Kelly Trevethan and Mark Schratz. Named for the rootstock (Aramond x Rupestris) that was integral for California's grape growing success, AXR uses modern and innovative techniques in the cellar to extract the soul of its chosen vineyards. This Ritchie Vineyard Chardonnay is derived from beautiful old vines nestled on a rolling northwest-facing hillside in the heart of Sonoma County's Russian River Valley. Bright and shiny yellow gold, this Chardonnay features characteristics of toasted brioche, apricot, crème brulee, canned pineapple, and lemon blossom.