Rediscover Napa Valley, and living in the moment, with a visit to the charming town of Yountville
If there's one scene that could capture my visit to Yountville, it would be this: a flaxen sun hat perched delicately on the corner of a wrought iron chair. In front of it, a tangerine cloth is draped atop a table and top of that, a ceramic bowl holding a perfect stack of persimmons. Their plump, shiny skins glint with the last rays of the late afternoon sun. Handwritten signs offer up the produce for sale, with instructions to knock on the front door accompanied by a charming doodle.
This is Yountville: a picture-perfect and unpretentious place to savor each moment. Despite its small-town charm, it still remains a luxury destination with upscale tasting rooms and Michelin-starred eateries that line its mile-long main street. It's the culinary heart of Napa Valley, and an idyllic setting for both relaxation and indulgence just an hour north of San Francisco. Just off of St. Helena Highway—Yountville's main street lies parallel to the highway rather than having it run through the town—it's a supremely walkable town of endless things to discover. Of course, there's Thomas Keller's landmark restaurant The French Laundry, but there's an abundance of other eateries as well as outstanding art, small production wine tasting rooms, and upscale spas and hotels.
STAY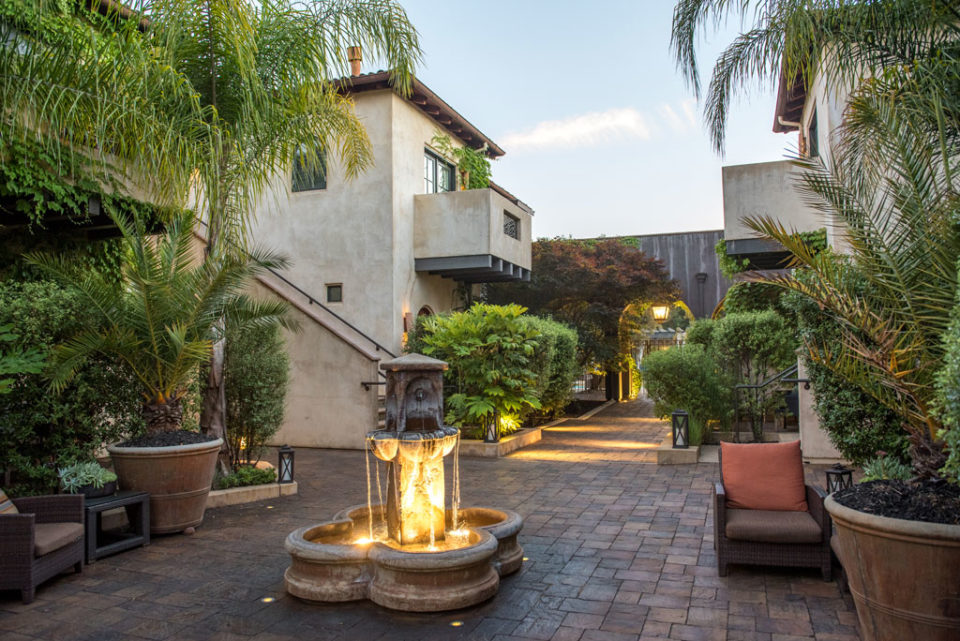 Gazing out of the window in my second-floor suite, I feel as if I've been transported to Tuscany. The sound of a bubbling water fountain drifts into the room, past the gauzy curtains fluttering in the slight breeze. I clasp a glass of rosé in one hand—a selection of wine is available to guests any time at the front desk, beginning with a welcome glass upon arrival. My guest room, one of twenty at the elegant North Block Hotel, is framed by swaying palms and lush ferns that overlook a cobblestone courtyard. The space itself is understated luxury—Old World charm combined with modern amenities—and unlike many hotels, I instantly feel at home. It's spacious yet cozy and intimate, thanks to ambient lighting and quirky fixtures that lend character and charm. The well-appointed bathrooms are softly lit, and a custom blend of Pacific sea salt and locally-grown organic ingredients such as lavandia flower, rosemary, and Meyer lemon, sits invitingly by the deep soaking tub. All rooms have a patio or balcony for guests to enjoy, some with fireplaces—for that extra touch of hygge. Located at the north end of town, North Block Hotel beckons guests from the entrance with citrus trees and hand-painted tile. Towards the back of the property, guests can lounge around or take a dip in the 24-hour heated pool and hot tub. The hotel's spa provides a variety of treatments informed and inspired by the Napa Valley, such as "Un-Corked," a combination massage and exfoliation that utilizes freshly ground grape seeds.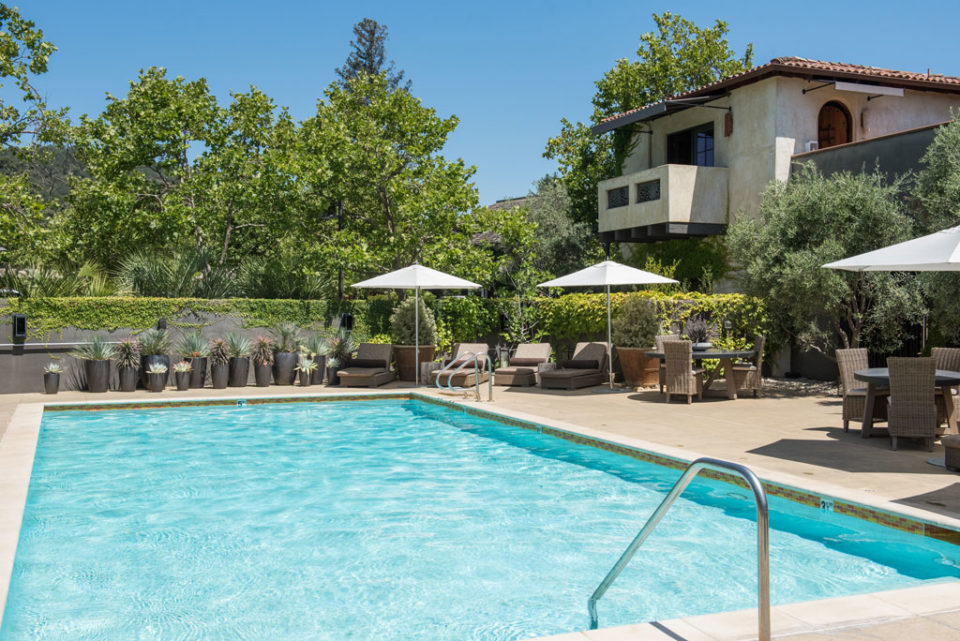 EAT
Despite its tranquil setting, North Block Hotel is only a short stroll from some of Yountville's finest restaurants. From hearty beef bourguignon at the classic French Bistro Jeanty to a crisp avocado toast topped with feta cheese and ground ancho chile at Southside, and everything in between, there's a reason Yountville is known as the culinary center of the Napa Valley.
Dinner at Bottega Napa Valley begins with an irresistible Parmesan dip that clears the bread basket swiftly. It's difficult to choose just one antipasti to order, with a variety of enticing options: shaved Brussels sprouts with Meyer lemon dressing, Marcona almonds, sieved egg, and Pecorino Romano; or creamy Gioia burrata with rosemary scented tangerines, pistachio pesto, pomegranate syrup "caviar," and crispy sunchokes. Hamachi topped with crisped basil, garlic, and orange zest served on a Himalayan salt block is creamy yet bright, while arborio rice-crusted Monterey squid is served with a grilled Meyer lemon and squid ink aioli is smoky in all the right ways. For entrées, there's classics such as Tomahawk ribeye, herb-crusted branzino, and Calabrian marinated chicken, but the Raviolo—a potato pasta filled with silky farm hen egg yolk, ricotta, and Swiss chard tossed with truffled brown butter and sage—is one dish that's not to be missed. Wash it all down with a bittersweet negroni (choose from one of several made with different varieties of gin), or perhaps an Italian Gin & Tonic that incorporates spiced lemon tonic, limoncello, juniper berries, red pepper, and rosemary. Closer to home (for the weekend) is North Block Restaurant, where Chef Nick Tamburo, previously of NYC's Momofuku, has put together an intriguing menu of dishes with imaginative flavors and locally-grown ingredients. In addition to naturally-leavened, wood-fired sourdough pizzas (with equally tempting options for both meat and vegetarian), there's a variety of dry aged meats including liberty duck, Duroc pork chop, and bone-in ribeye dishes. Even if you're a sworn carnivore, the seasonal vegetable dishes are prepared so inventively that you'd be remiss not to order several to share—for example, the crisp golden squash fritters with honeynut mousse, nori, and trout roe.
Meanwhile the Regiis Ova Caviar & Champagne Lounge, Thomas Keller's caviar pop-up, offers the ultimate in indulgence inside a sultry space designed by Ken Fulk. Think luxe Italian marble and artisanal leather seating, ideal for lounging for pre- or post-dinner snacks and bubbles. Despite its high-end concept, the creative menu offers approachable dishes such as an addictive french onion dip topped with sweet, briny caviar and served with crisp kettle-fried potato chips. Another small bite—photogenic as it is flavorful—is the Caviar & Eggs, along with crème fraîche and chopped chives served neatly cradled in the squares of a Belgian waffle strip. Guests are also encouraged to order caviar by the gram and sample the Supreme, Ossetra, Royal, Hybrid, and Siberian varieties. The beverage program highlights premium bubbles from Dom Pérignon, Krug, and Ruinart champagnes, as well as Californian and European wines.
DRINK
The beauty of Yountville is being able to explore at a leisurely place, which leads to discovering gems such as Cornerstone Cellars. Tucked into the JCB Village on Washington Street, inside the historic Yountville train station, the boutique winery was founded 30 years ago by two Memphis doctors who considered wine to be part of a healthy lifestyle. Its combination of small production wines—focusing on Napa Valley reds, with some wines made from grapes in Santa Barbara and Sonoma—and warm Southern hospitality make for a great place to stop and sip. Be sure to pick up their Fiddlestix Vineyard Pinot Noir for a great pairing with a dry-rubbed salmon, or the bold Oakville Station Cabernet that partners perfectly with smoked short rib. Next door, JCB Wine Bar & Lounge is a feast for the senses conceptualized by prominent Napa vintner Jean-Charles Boisset. Taste the rich No. 76 Chardonnay—named not only after the year of the Judgment of Paris but also the year a young Boisset had his first taste of Chardonnay—and the No. 3 Pinot Noir, which comes with the charming backstory about a first date that eventually led to marriage (and unity of two wine empires).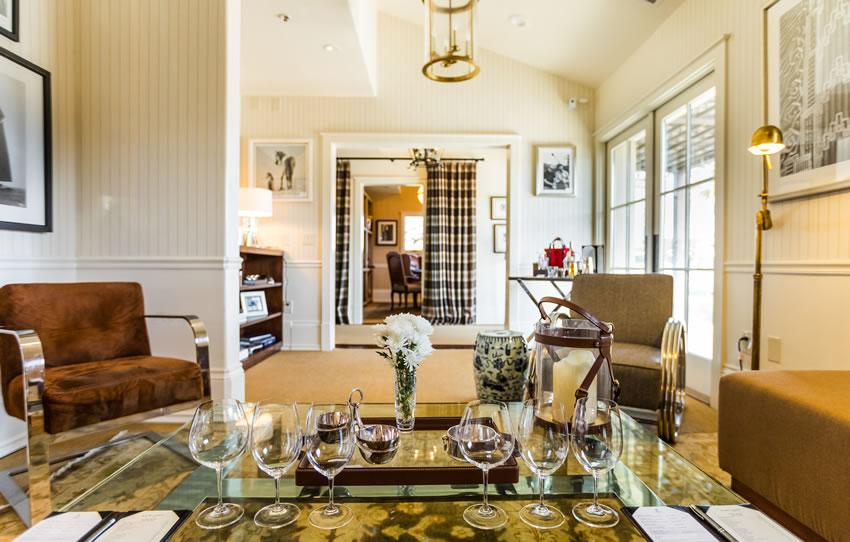 For something a little different, stop into Silver Trident Winery just a block south of Cornerstone. It's clear they don't take themselves too seriously here: the fact that their official wine dog is named Keith Richards, and his owner/Silver Trident Winery General Manager Shane Soldinger plays in a rock band—The Silverado Pickups, slated to perform at BottleRock Napa Valley this May—should tell you all you need to know. Silver Trident's tasting home—yes, home—is furnished with items from the Ralph Lauren Home Collection, and is designed to feel like an intimate private residence with plush leather chairs, crystal goblets, and comely artwork. While Silver Trident has a classic tasting, it also offers the whimsical "Potato Chip Extravaganza," a new tasting experience that pairs five wines with artisanal potato chips. Guests are instructed to "sip, chip, sip" their way through a variety of unique flavors such as Voodoo, a sweet and smoky salt and vinegar blend with barbecue. A few pairings to look out for: sour cream and chive with the Symphony No. 9 Sauvignon Blanc, which brings out its minerality and stone fruit flavors, and the Benevolent Dictator Pinot Noir with Cajun Dill chips, which teases out the umami flavor and robustness of the wine.
PLAY
One of the most wonderful things about Yountville is its appreciation and incorporation of art—all up and down the main street are sculptures and installations, some permanent and others newly planted. The city even offers a printable map and audio for a self-guided tour, the Yountville Art Walk which explores this rotating outdoor sculpture gallery (though a docent-led tour for lovely behind-the-scenes tidbits comes highly recommended). Founded 12 years ago, the outdoor gallery features both local and world-renowned artists, and aims to decorate Yountville with art that complements this special town. Visitors can shop the Art Walk and take home a souvenir, with prices in the catalog currently ranging from $4,900 to $45,000. Picnic at the benches alongside Lorenzo Mills' "The Chef" or admire the magnitude of the towering "Chaos Pamplona" by Jedd Novat, two of eight permanent works in the collection. I can attest to its therapeutic powers after just a short half hour strolling among nature-inspired pieces, geometrically inventive sculptures, and one-of-a-kind creations. The Napa Valley Museum is also a hidden gem, a destination of amusement for all ages. Exhibiting in its main gallery is "Dangerous Games: Treacherous Toys We Loved As Kids," a comedic and cultural blast from the past that runs through April 10, 2022. Below in the spotlight gallery is "Kitchen Gizmos & Gadgets from the Kathleen Thompson Hill Culinary Collection," a look into quirky (and some astonishing) kitchen tools from eras past that runs through March 20, 2022.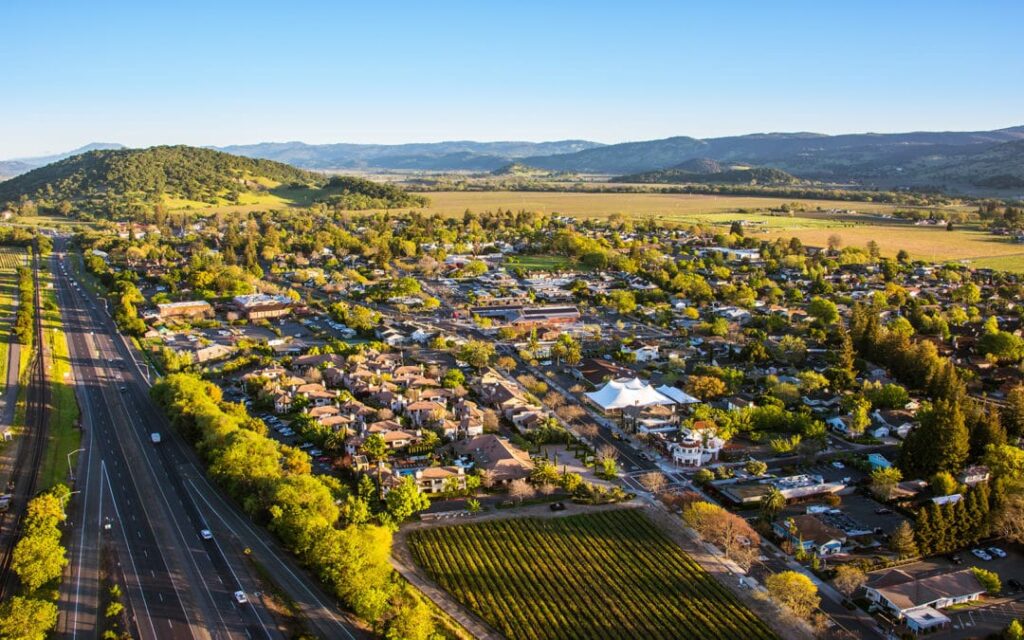 Though living in the Bay Area is a blessing, sometimes you crave somewhere you can simply go and explore without worrying about traffic, parking, and crowds. When that calling comes, Yountville is the place to go. Aside from being a culinary mecca, it's a destination for oenophiles to taste top-notch wines from all over the region, and there's plenty of complimentary parking and free-use areas so you're not only limited to indoor tasting rooms and restaurants. Whether it's for a romantic vacation or a long weekend getaway, Yountville is the perfect wine country escape: a safe haven to stop and smell the roses—or wine.