Marimar Torres' Slice of Spain in Sonoma County
Nestled in the beautiful Green Valley AVA of Sonoma County between Firestone and Occidental lies a stunning property evocative of Catalonia, Spain, transporting you well beyond the Russian River Valley. And with good reason: you have reached the vineyards and estate property of Barcelona-born Marimar Torres, fourth generation member of the Torres Spanish winemaking dynasty and, since 1986, founder and CEO of her eponymous Marimar Estate Winery & Vineyards.
As a member of the Torres family, it is no surprise that Marimar got her start in the wine industry promoting her family's brand, Bodegas Torres, a company founded in 1870. She traveled extensively throughout Europe and beyond as a key saleswoman and ambassador. In 1975, she moved to California, where she continued to work as the export director and greatest ambassador for her family's enterprise, successfully growing the company's business volume and market share in the U.S.
But Marimar was drawn to winemaking, which at the time in Spain was not considered a path suitable for women and one of which her father disapproved for her. Marimar and her father ultimately reached an agreement, and he helped invest in a property in Sonoma County. That property became what is now an award-winning winery and home to Marimar and her daughter, Cristina, representing the fifth generation of the Torres winemaking family. Cristina joined Marimar Estate as Director of Sales & Marketing in 2020, working alongside her mother. This plan is noteworthy, given that within the Torres family, the business has traditionally been handed down from father to son for five generations. This will be the first time in the family's history that the business has passed from mother to daughter.
We talked to Marimar and Cristina about the winery's evolution, the Spanish hospitality at the very heart of the business, and several exciting plans ahead.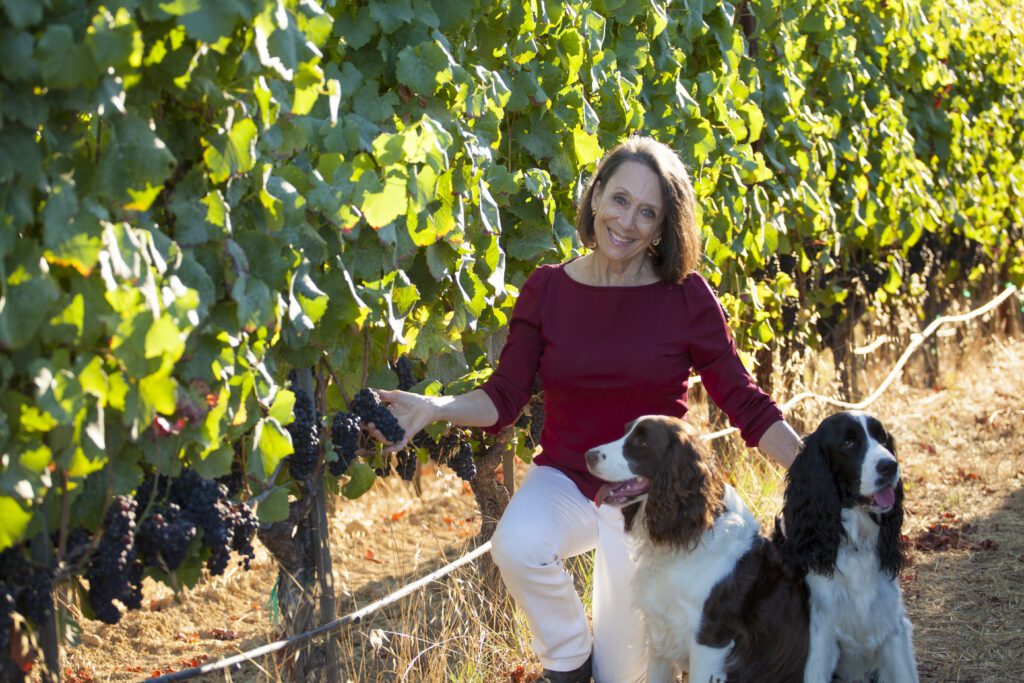 HL: Marimar, tell us about your start. How did you land in Sonoma County from Spain, specifically the Green Valley AVA for your estate property? It wasn't a known or established grape-growing region at that time.
MT: When I decided to start looking for a property, I looked all the way up north and south in California. I didn't have a huge budget. My father had agreed to help with a certain investment. After a year and a half of searching, I zeroed in on two properties within my budget: 10 acres in Napa Valley and 56 acres in Green Valley, a sub-appellation of the Russian River Valley, Sonoma County. On the latter, there were no vineyards nearby. I recall my brother (my dear mentor) asking me if there were any vineyards around. When I responded no, his question was, "Well, how do you know if this is going to work?" My response was, "Well, it's such a beautiful place!" And that it was and still is and has been a wonderful place to grow grapes and produce wines.
HL: You had excellent instincts! How did you get things off the ground?
MT: Well, I bought the piece of land in Green Valley, and I had no idea what I was doing. In my world, winemaking, vineyard management, and the production side was for men. I could sell and market wine anywhere, but making decisions about planting vineyards was new to me. I asked my brother, Miguel, to come over and help. At the time, I think he wasn't quite sure if I was serious and didn't come immediately. When I decided to go ahead and plant and my brother saw that I was moving ahead, he came to help. In 1986, we began planting the Don Miguel Vineyard, an 81-acre site planted with 30 acres of Chardonnay and 30 acres of Pinot Noir. I later planted 20 acres of a 180-acre property with Pinot Noir, between Freestone and Occidental in the Sonoma Coast appellation. Late in the early 2000s, I began bringing Spanish varieties into the mix, planting Albariño and Tempranillo. All vineyards are planted in a high-density European style and are certified sustainable.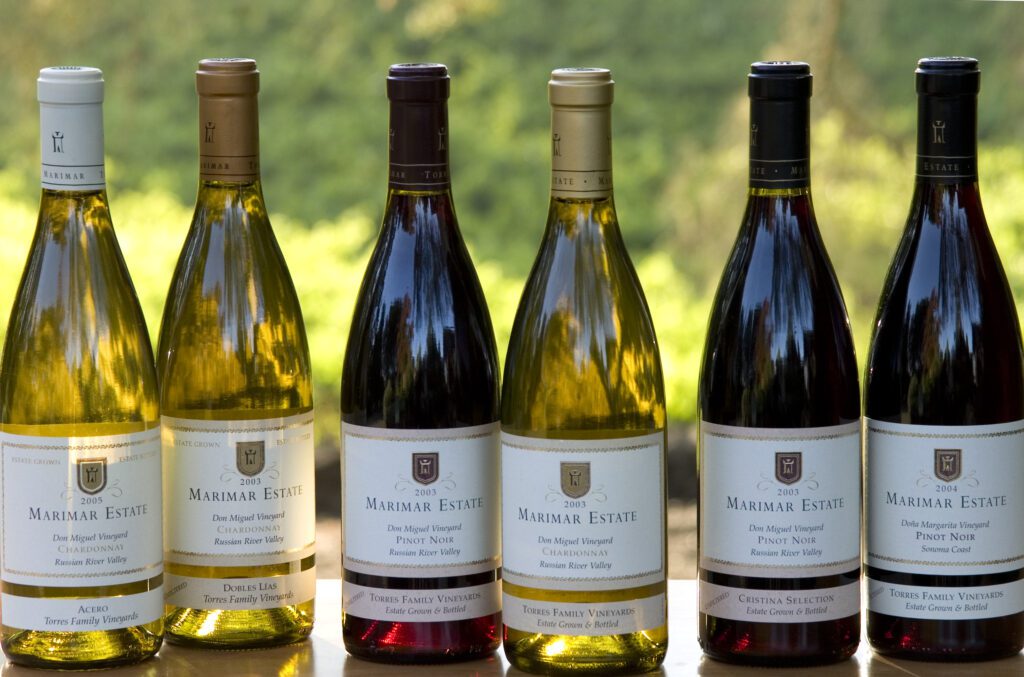 HL: With your home and winery, you've created a distinctly Catalonian ambiance and experience. Tell us more.
MT: Yes, guests will find an absolutely Spanish influence and sense of culture at my winery and estate property, especially Catalonian, as that is my home. All decorative elements and furniture in the winery and in my home on the estate are from Spain. I had an interior designer I know very well come from Spain to help me. He actually designed my debutante party in Spain. He came over, took notes, and sent a container from Spain filled with items for the winery. Later, I sent him details about my home, and he sent over items from Catalonia: bed, bedcovers, cabinets, tables. I have loved being able to bring my Spanish heritage here to my California winery and home. This is also why I wrote several books about Catalonian food, wine, and culture.
HL: What can visitors to Marimar Estate expect from their experience? Is there a uniquely Marimar experience?
CT: Yes, there absolutely is, and I would really describe that experience in two parts. First, walking into Spain. My mother described the physical environment, which is very Spanish, but that's just a part of the experience. We share traditional tapas and food pairings from my mother's cookbooks; we share the warmth of hospitality for which Spain is known. The second part of the experience is being welcomed into a family home. Family has always been at the heart of our lives and business. We want our guests to feel the sense of familiar warmth of a welcoming home, with Spanish inspiration, an oasis from which to enjoy the food and wine of Spain.
HL: What lies ahead for Marimar Estate? What are some exciting developments?
MT: One of the most exciting developments for me was having Cristina join me full-time in 2020. She has worked toward this for many years. After completing her undergraduate degree at Princeton and finishing her MBA at The Wharton School, she gained tremendous experience working at Jackson Family Wines. Now she is here by my side working as our director of sales and marketing. She is leading us much more deeply in the direction of impact and sustainability.
Our Torres family has always been very focused on climate change and our own footprint. We are solar powered and certified sustainable here at Marimar Estate. But through her leadership, Cristina is helping us take further steps through her involvement in the establishment of a global, industry-wide group called IWCA (International Wineries for Climate Action), dedicated to lowering the carbon footprint of the wine production industry, now with members across the globe from Yealands Estate in New Zealand to Symington in Portugal. We are proud to be members of a greater community doing our part to reduce carbon emissions and generate positive impact.
Related to our wines, we are building on our portfolio of Spanish wines. We've been successfully producing Albariño, Tempranillo, and as of last year, Godello, which is so beautiful! In addition, we have a very special project in the works in collaboration with my family in Spain. My brother, Miguel, President of Bodegas Familia Torres, launched a program to recuperate and restore pre-phylloxera varieties which we are calling ancestral varieties. He selected eight varieties to plant and produce. We brought three here to California. Stay tuned for more, but this is something very special and exciting for us!
CT: It's been a challenging stretch of time for us all. I'm personally excited to work alongside my mother to grow the business and legacy she has created. We are beginning to slowly get back to intimate events for wine club members and visitors. We are focusing on new pairings and experiences at the winery, and we are doing exciting things out in the vineyards and cellar with a new production and cellar master who just joined us. We're excited about this new year!
For more information about Marimar Estate Winery & Vineyards, visit online or follow the estate on social media: on Facebook (now Meta) and Instagram at @MarimarEstate, and on Twitter at @marimartorres.