During this season of giving, these leaders share their inspiration
Philanthropy comes in many forms. While the word itself brings to mind monetary giving, philanthropy may also refer to other charitable acts, such as the donation of time, expertise, stewardship, and advocacy. The philanthropists gathered here run the gamut in their "giving." Among them, their varied efforts to effect positive change benefit not only their own communities, but the Bay Area—and even the nation—at large. Selfless, compassionate, and exceedingly generous, their altruism serves a greater good, and their actions make our world a kinder and gentler place.
All-Star Assist: Kristen and Buster Posey
A mother's personal story led Kristen and Buster Posey to what has become their philanthropic focus. The plight of Melissa Wiggins, whose son was diagnosed with cancer at age two, inspired the couple. With two-year-old twins of their own at the time, the Poseys were deeply touched by the Wiggins' experience and their various struggles with finances and treatment options.
"Reading about Melissa, I realized at that moment that this was something that could use our attention," said Kristen, who with her All-Star husband and the help of the San Francisco Giants organization created the BP28 Foundation to support pediatric patients and their families receiving treatment at local Bay Area hospitals. "We got involved. We listened to the stories of families whose children have undergone treatment. We felt their fear and grief and their anxiety in figuring out this new world of hospitals and doctors. And we were moved by their unwavering hope."
Launched in spring 2016 and named in honor of Buster's San Francisco Giants jersey number, the organization seeks to improve outcomes for children with pediatric cancer by raising awareness and funds for pioneering research and treatment. Initially, the Posey's outreach entailed visits to children at Bay Area hospitals—something they continue with regularity. Their efforts have grown to include an annual fundraising event held at Oracle Park, the proceeds of which are donated to UCSF. To date, they have raised more than $4 million. They have developed personal relationships with doctors and researchers, and they find continued motivation from those who dedicate their lives to finding a cure and more effective protocols for devastating illnesses.
"Initially, we were shocked to discover that only about four percent of cancer funds raised in the United States go to pediatric research," said Kristen. "Yet as we've gotten more deeply involved, we've been heartened by the tremendous progress being made through the pioneering efforts of many brilliant physician-scientists around the country."
The couple, who met as high school students in Georgia, now have four kids of their own, 10-year-old and one-year-old twins. "We try to teach our children about empathy and consideration for others," said Kristen. "While most people only know Buster as a baseball player, he is one of the kindest and most generous people I know. He is always thinking of others. Baseball has provided us with this unique platform to help, yet this is not about us; we are not looking for a pat on the back. Most rewarding for us is that the funds we've helped raise could possibly create better options for these young patients or perhaps save a child's life. And it's always special to see young faces light up when they meet Buster."
'Tis Better to Give Than to Receive: Dario Sattui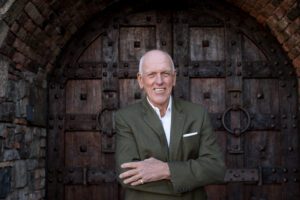 Dario Sattui would much rather give than receive. At a time when his own business was most in need, the Napa Valley vintner rejected the federal funding allowed his Glass Fire-destroyed Castello di Amorosa as he continued to support his community with admirable levels of generosity. Recent donations include more than $2 million to UCSF and its affiliate for heart disease research and $1 million to build a preschool in Calistoga, the town in which he lives. He is a significant, longtime supporter of Napa Valley Hospice, Hands Across the Valley, the Napa Valley Land Trust, Jameson Animal Rescue Ranch, Napa Wildlife Rescue, and Festival Napa Valley. He is also a consistent donor to the University of California Berkeley where he earned his Master of Business Administration, and San Jose State where he received a Bachelor of Science in accounting and finance. Yet of the support he provides, he is most proud of his work with The Boys & Girls Clubs of St. Helena and Calistoga.
"Dario came to us when we were in desperate need of afterschool program space for the youth in Calistoga," said Trent Yaconelli, the club's executive director. "He listened to our needs and told us the story of his own childhood and how he wanted to honor his parents and help kids in circumstances to which he empathized. Not only did he jump in with a huge donation to get us moving toward construction of a 14,500-square-foot building, but he also attended our fundraisers, reached out to other donors, and donated stays at his castle in Italy for our auction."
Sattui has long supported the organization. He made his initial modest gift to them about the same time he opened St. Helena's V. Sattui Winery in 1975, when he had about $8,000 to his name, lived in a van, and often slept on the winery floor. At that time, most of his philanthropic donations were in the form of wine. "The Boys & Girls Club was the recipient of one of my first monetary donations," said Sattui. "I believe that education and formative habits start at a really young age, and I believe in the difference that the Boys & Girls Clubs makes in a child's life."
Sattui was born in San Francisco and raised in Marin County. He honors his family's Italian heritage (his great-grandfather Vittorio Sattui was an Italian immigrant who founded V. Sattui Winery in 1885) by supporting San Francisco's Museo Italo Americano. "I've come a long way, and I've done fairly well, and it feels really good to be able to help my community," said Sattui.
When asked what his legacy might be, he mused, "I suppose I'd like to be known and remembered as a decent human being with high standards, good morals, and good character." Yaconelli highly endorses such traits: "Dario is incredibly generous and heartfelt in his love of this valley and the people who make it such a beautiful place to live. Generations of kids will be affected by his gift for years and years to come."
A Means to an End: Darryl Bell
Darryl Bell learned the value of giving back at an early age. As a child, Bell (now the chef de cuisine at St. Helena's PRESS Restaurant) often accompanied his mother when she volunteered at the local soup kitchen in his hometown of Kansas City, MO. The experience resonated deeply with Bell, who since that time has continued to give back, no matter his own circumstance. From culinary school graduate to young up-start chef climbing the culinary ladder in Kansas City to positions in some of the most celebrated restaurants in the nation such as 3-Michelin-starred Alinea in Chicago, Thomas Keller's Bouchon Bistro, and now PRESS, Bell has always supported those in need. For the past decade he has been a regular contributor to No Kid Hungry, a national nonprofit campaign that seeks to solve problems of hunger and poverty in the United States and around the world.
In an effort to make a larger financial impact, Bell launched his own line of barbecue sauces with the intent to donate a portion of the proceeds to the organization. "I brainstormed for several months, deciding what product would be unique specifically to me and my upbringing that I could produce in order to generate money and continue donating funds," said Bell. "I drew from my Kansas City roots and the rich barbecue culture there and combined my Michelin restaurant training." Named Stateline Road for the major thoroughfare that divides Kansas City, MO and Kansas City, KS, the line includes Black Truffle BBQ Sauce, a dry rub, a brine kit, and his initial product, 816 BBQ Sauce, christened the "Mercedes-Benz of barbecue sauces" by one Napa Valley vintner. Thomas Keller took one taste and put it on his menus now served aboard all Seabourn luxury cruise ships.
Bell first began seriously refining his barbecue sauce while working at Bouchon Bistro. When the staff began eagerly looking forward to it, Bell knew he had something special on his hands. Accolades aside, the product is a means to an end for Bell. Sales of the products have allowed him to contribute to No Kid Hungry at a greater level.
"No Kid Hungry is a great organization that takes an out-of-the-box approach to donations," said Bell.  "As a chef, I have the ability to volunteer in different ways: providing meals at fundraisers, participating in their annual Chef Cycle event, and also through direct donations. Being able to directly provide a meal to a kid is humbling, rewarding, and causes a great deal of reflection."
Accidental Activist: Kerrin Laz
When Kerrin Laz joined DEAN & DELUCA in 2003 as wine buyer for the retailer's Washington, DC store, she had little experience in the field of wine. When she initiated her Inspire Napa Valley (INV) campaign in support of Alzheimer's awareness in 2014, she had little experience in fundraising. Today, Laz oversees an eponymous Napa Valley tasting room and is one of the most trusted consultants in the wine business. She's also the face of one of the most profitable annual events benefiting the Alzheimer's Association.
Every new winery hoping to make an impact in the industry courts this California wine authority. Laz's clients include many of the country's top CEOs, celebrities, athletes, and other influencers who place their trust in her and who show up in force annually to support the consultant and vintner (her eponymous LAZ wines are on the lists at The French Laundry, Morimoto, PRESS, and Mustards Grill) in her efforts to raise awareness and critical funds for Napa residents living with Alzheimer's.
Laz founded the INV event after her mother was diagnosed with the disease. Through INV, Laz is committed to supporting the Alzheimer's Association's mission of advancing research while enhancing care for those living with the disease. The inaugural INV wine weekend took place in May 2018 and brought together wine enthusiasts, philanthropists, industry leaders, acclaimed vintners, and winemakers as only Laz could gather. (Renowned wine critic Antonio Galloni and executive wine editor Ray Isle of Food & Wine and Travel & Leisure are on her honorary committee and actively participate each year.)
The event included a wine tasting of 45 of Napa Valley's most sought-after cult wines, followed by a seated dinner, live auction, and paddle raise. The fundraising model proved effective, and INV has since become an anticipated annual event, with this year's winter INV Food & Wine Fête taking place December 11 and the annual INV wine weekend scheduled for April 29-31, 2022. To date, Laz and her vast network have raised more than $2.5 million.
"Every time I think about what we have done so far and where we are heading with Inspire, I am almost in disbelief that it's a reality," said Laz. "I knew our community was special, but I didn't realize how supportive wineries, guests, local restaurants, and purveyors would be to me and my cause. My goal for INV is to continue to raise funds to support research and local resources that are helping those with Alzheimer's as well as their families and loved ones. I also think the more we can talk about Alzheimer's, the less of a stigma there will be for those affected by it."
A Giving Legacy "Insured": Matthew and Jason Goldman
As fifth generation stewards of Sigmund Stern Grove, twins Matthew and Jason Goldman emulate the generosity of their great-great grandmother, Rosalie Meyer Stern, who gifted the grove to the city in 1931 in honor of her husband, Sigmund Stern. Rosalie's gift included music, in the form of free public concerts that have continued to this day. The annual Stern Grove Summer Festival—84 years strong—is one of the longest running, free music festivals in the nation.
In 2019, Matthew and Jason assumed from their father, Doug Goldman, the Stern Grove reins and its nonprofit foundation, established in 1938. The duo now serve as chairperson (Matthew) and vice-chairperson (Jason) of the Stern Grove Festival Board of Directors, lending their vibrance and ingenuity to the beloved summer concert series, which, since their appointment, has met unique challenges: the festival was canceled in 2020 due to the pandemic, and this summer at the tail end of the concert series, a broken water main flooded the grove, causing cancelation of its biggest fundraiser of the year. Yet the duo remain undeterred in their mission to bring joy to Bay Area music lovers.
"This summer at the grove was really special," said Matthew. "There was a different feeling, in that people were able to come back together and once again gather in pursuit of something uplifting. The concerts provided a sense of community when we most needed something like this."
Principals and co-CEOs of San Francisco insurance services firm G2, the brothers are third generation insurance brokers, building not only on the legacy of their grandfather, Richard Goldman, but also on their family's six generations of philanthropic generosity. In addition to their work with the Stern Grove Festival Association, Matthew sits on the boards of the Lisa and Douglas Goldman Fund and is a board member at the UC Berkeley's Haas School of Business. Jason also serves on the board of the Lisa and Douglas Goldman Fund and is an advisory board member at the Goldman School of Public Policy at UC Berkeley.
"Philanthropy is in our jeans [and] genes," said Matthew. "For the past six generations, giving back has simply been a family value. Jason and I have lofty goals on ways we can give back and make an impact beyond ourselves. Whether it is the work we do in our insurance brokerage firm, G2 to manage the risk of non-profit organizations, or the non-profits and foundations where we volunteer our time, this work is incredibly rewarding and meaningful."
Living Legend: Matthew Chaney
Matthew Chaney has lived with Amyotrophic Lateral Sclerosis (ALS) for more than 20 years, but despite the physical decline associated with the debilitating neurodegenerative disease, he has stayed active. After diagnosis, he retired from a successful career in the chemical industry to become a stay-at-home parent, volunteering his time at local schools and youth sports programs. From 1999 to 2008, he served on the Little League Executive Board in Lafayette, CA where a community baseball field is named in his honor. Well known for his typed tagline "Typed by toe on an iPad," Chaney has developed devices to provide independence for his daily life and participated for many years in sports ranging from skydiving to bocce ball (played with his feet).
Also upon diagnosis, Chaney participated in research studies and drug trials focused on ALS and potential methods for diagnosing, halting, and possibly curing the disease. By 2004, having outlived the typical ALS patient longevity, he no longer qualified for most studies and trials. He then directed his efforts to raising awareness for the ALS Association (ALSA) Golden West Chapter where, for the past 10 years, he has been an active spokesperson, addressing service groups, schools, fundraising events, and the crowds at sporting events such as San Francisco Giants games.
"It's been very rewarding to help others who have been newly diagnosed, as well as their families and friends, by sharing my experiences," said Chaney, a resident of Lafayette. He served on the chapter's Board of Directors from 2010 to 2015 and continues to serve as an Advisory Trustee. He has also served as co-chair for the Napa Valley Ride/Walk to Defeat ALS (2011-2015) and honorary chair for all seven of the Northern California Walk to "Defeet" ALS events in 2004. He has personally raised more than $700,000 for the chapter.
"I met Matt at the 2015 Napa Valley Ride to Defeat ALS," said Miles McConnell, also diagnosed with ALS and now co-chair of the event. "I look back on that first encounter and realize he was opening a door for me to experience the gratification one gets from working toward a common goal. Without Matt's gentle guidance, I doubt I'd be involved with the single largest 1-day ALS fundraiser in the nation."
When asked what he'd like his legacy to be, Chaney said, "I had my 60th birthday last year during COVID. In lieu of a gathering, my sneaky wife put together a video collage of greetings from family and friends. My two sons, Dylan and Brian, wrote a touching and humorous poem and ended with a quote from Oscar Wilde: 'You didn't teach me to live, you live and let me watch you do it.' Living my life in a manner my sons respect is a legacy with which I am content."
The Gift of Music: Mike Dickey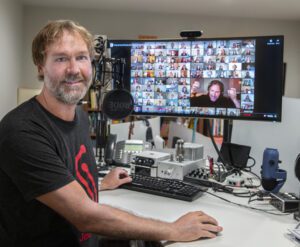 Mike Dickey was simply trying to help his son find a way to continue singing with his boys' choir during the pandemic when the Silicon Valley entrepreneur ended up creating a revolutionary shareware platform that has transformed the music industry. Dickey partnered with Stanford University to adapt its JackTrip technology (once only available to technophiles with access to extensive hardware) to the cloud. The result? JackTrip Virtual Studio, a user-friendly platform that allows anyone to eliminate the Zoom lag time that made singing "Happy Birthday" a cacophonous mess. It enables musicians and singers to harmonize together in real-time over basic internet connections.
"JackTrip stood out both in terms of audio quality and its ability to scale for larger groups, but it was a bit difficult to use," said Dickey, a Palo Alto resident whose ingenuity led to a new job as co-founder and CEO of JackTrip Labs. "So, I built a service that allowed anyone to create their own (JackTrip powered) 'virtual studio' with just a few clicks in their favorite web browser."  Dickey then took that technology and created the nonprofit JackTrip Foundation. He has since provided free access to the Virtual Studio platform and donated more than 80,000 hours of use to musicians, helping to support the industry during the pandemic.
The foundation has now spun out a public benefit corporation, JackTrip Labs, which has launched in more than 50 markets worldwide, partnering with Amazon to provide digital hubs. Thousands of musicians in orchestras, bands, choirs, schools, private music coaches, and other groups have discovered uses for the technology, allowing each to continue making music together while miles apart. Grammy Award-winning conductor and composer Eric Whitacre champions the technology.
"JackTrip is amazing; it's a game-changer," said Whitacre, widely considered to be the pioneer of virtual choirs. "Musicians want to come together to create something beautiful, and now JackTrip Virtual Studio provides them the tool to do so, dissolving the technological barriers that kept them apart. It allows groups to make music over the internet with almost undetected latency. It's as if I'm standing in a room with the singers I'm working with. I'm very excited about what JackTrip is doing."
Added Dickey, "The past year has been one of the most rewarding in my life. When I started working on this, I never imagined this would impact so many people. It's those individual stories that continue to drive and inspire me. Going forward, I hope that we can help more people make more music together, more frequently."
Community Connector: Norman Chen
A healthcare entrepreneur and investor who has helped to build leading life sciences companies in both the United States and Asia, Norman Chen was first exposed to philanthropy and the concept of social entrepreneurship as a student at Stanford's Graduate School of Business. "I was very impressed by the passion, commitment, and altruism of the students and faculty to apply business skills to create positive social change," said Chen, who received his undergraduate degree at MIT. "My career in healthcare and venture capital has been inspired by this desire to operate and invest in a socially impactful way."
One of the organizations he supported early on was the Children's Medical Foundation of Hong Kong which established neonatal centers in rural areas of China to provide care, training, and resources for the treatment of newborn babies. Chen, who grew up on the East Coast, worked in Hong Kong for 20 years and now lives and works in the South Bay, currently serves as an advisor or board member with several nonprofit organizations, including The Nature Conservancy (CA), the Children's Medical Foundation (HK/China), Marine Science Institute, and Positive Coaching Alliance. But it is his work with LAAUNCH (Leading Asian Americans to Unite for Change) of which he is most proud.
The mission of LAAUNCH is to engage and empower the Asian American community to fight racism, increase representation, and share community resources. The nonprofit seeks to eradicate classic Asian-American stereotypes like the "model minority" and the "perpetual foreigner." Now serving as LAAUNCH's CEO, Chen and a group of long-time friends founded the organization a year ago in the midst of anti-Asian American attacks and rhetoric. Their most significant initiative thus far has been the first national study in more than 20 years of American attitudes towards Asian Americans.
"Our report, called the STAATUS (Social Tracking of Asian Americans in the United States) Index, received broad coverage in more than 100 articles and 1.6 million views on traditional media," said Chen. "By surveying 2,766 adult Americans throughout the country, we were able to identify and quantify toxic stereotypes and misperceptions that have led to the alarming increase in anti-Asian American hatred and recommend specific actions to create a better future for our community. I am proud of the impact that we have created through the STAATUS Index report."
Said fellow LAAUNCH board member Eric Toda, global head of social marketing at Facebook, "Norman is one of the most thoughtful philanthropic leaders I've ever worked with. He is committed to connecting communities, some of which have oftentimes been insular. He is a true leader committed to breaking down barriers, finding common ground, and pushing for progress."
Preservationist + Conservationist: Suzanne Deal Booth
When Suzanne Deal Booth acquired Rutherford's Bella Oaks vineyard in 2010, she felt that she had an opportunity for preservation and conservation—of agriculture, land management, and, of course, wine. She conducted extensive research on the site, consulting with local historians on its early history and interviewing dozens of well-known winemakers, chefs, and community members who had formative relationships with Bella Oaks' previous owners. Her approach echoed that of her life's work, the recognition and preservation of cultural heritage, a focus fostered in her early twenties when she worked at Rice University under the tutelage of Dominique de Menil, humanist, art collector, and philanthropist.
"Dominique showed me there can be a shared, communal celebration inherent in creating and preserving beauty: both in objects and in shared cultural experiences," said Deal Booth, a native of Texas who splits her time between Napa and Austin. "That example remains a voice in my head and heart."
In 1998, Deal Booth founded The Friends of Heritage Preservation, which has fostered more than 70 preservation and conservation projects across five continents in the last 20 years. In 2001, she and her family established the Suzanne Deal Booth Rome Prize for Historic Preservation and Conservation at the American Academy in Rome. In 2016, she established what is now the Suzanne Deal Booth/FLAG Art Foundation Prize at The Contemporary Austin, an unrestricted award of $200,000 given to an artist selected every two years. In 2020, the Suzanne Deal Booth Welcome House opened – a nondenominational, completive space at Houston's Rothko Chapel. Her most meaningful project to date has been the 2012 construction of James Turrell's Twilight Epiphany Skyspace at the Suzanne Deal Booth Centennial Pavilion at Rice University.
"I intentionally served on Rice University's Board of Trustees where I worked with the president of the university to commission, create, and endow this special space that sits in the very center of campus and is walking distance to the renowned Houston Medical Center," said Deal Booth. "The Skyspace is a vibrant part of campus life, and it was important to me to integrate art in students' everyday life." The Skyspace also serves as a transformative and meditative place for families seeing loved ones through challenging health situations. "I continue to receive letters of appreciation from people who have celebrated and healed there, which touch me deeply."
Deal Booth firmly believes great results can come from seemingly small acts. "I'd like to be remembered as a person who always saw the sublimity of beauty and the potential of universal benefits to be had through the creation and preservation of objects, places, and cultural experiences that provide that beauty. In today's world, the importance of these actions can get lost or shouted out amid louder demands. The legacy I want to leave is to make sure these quieter voices and gestures can stand their ground and enrich the beauty of the world for generations to come."