The name says it all: Mira. Its inspiration is the Latin root of "miracle," and this family owned, 16‑acre, under-the-radar estate in the heart of the Napa Valley is filled with small miracles. Guided by the perfect proportions of the "Golden Ratio," Mira Winery uses 100% Napa Valley fruit in its single-vineyard, single-varietal wines, each of which reveals itself as a pure voice of Napa. Explore the entire Mira line-up at the winery's luxurious new Hospitality House in Yountville, an easy day trip from San Francisco.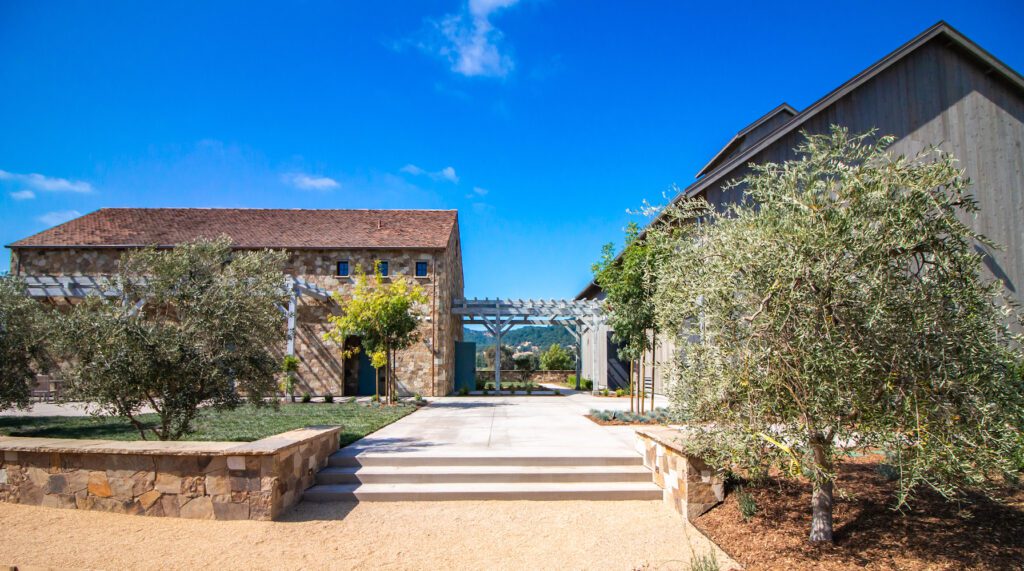 Mira's winemaker Gustavo Gonzalez knows grapes, and he knows wine. In the past 25 years, the former head red wine winemaker at Robert Mondavi Winery has overseen vineyards in many of the world's most renowned winegrowing regions, from Burgundy, to Tuscany, to Mendoza, and nearly every corner of Sonoma and Napa Valley – the region in which he has overseen close to 3,000 acres, planting 15 different grape varieties. From the heights of Howell Mountain and Atlas Peak, to the depths of Oakville, Rutherford, and Stags Leap on the valley floor, Gonzalez's approach is informed through his ability to comprehend differing soil profiles. His relationships and reputation have earned Mira access to fruit from two of Napa's most coveted, internationally renowned vineyards, Schweizer and Hyde.
At Mira, he shapes small blocks of sought-after Cabernet Sauvignon and other Bordeaux varieties, Pinot Noir, Syrah, and even the rare Sauvignon Gris, into limited allocations of single-vineyard, single-varietal Napa Valley wines.
The idea for Mira began one spring evening in 2005, when Gonzalez and entrepreneur Jim 'Bear' Dyke, Jr. met randomly (or miraculously) at Off the Record bar at Washington DC's Hay Adams hotel. "I had just finished hosting a winemaker dinner," recalls Gonzalez. "I was having a beer and talking with the bartender when Bear walked in and we struck up a conversation." As Gustavo discussed with Bear his fascination with mathematics, in particular the perfect beauty of the Golden Ratio and its relationship to the Fibonnacci sequence (a mathematical concept used at least since the ancient Greeks and Egyptians that is expressed in nature, architecture, art, and even the stock market), the two discovered a shared love of wine.
While Gonzalez at the time was happy at Robert Mondavi Winery, he dreamt of a side project to call his own. He explained to Bear how it doesn't take infrastructure or a big investment to get started, just relationships that give you access to high quality fruit and a nearby custom crush facility.
"I had heard plenty of stories about how difficult the wine business can be, so Gustavo's perspective was surprising to me," says Bear. "And Gustavo is such a deep talent, so real and passionate, that it left me wondering if this could be something special."
A few hours later, the new friends parted with the idea of someday starting a winery together. Their dream was realized in 2009 with the serendipitous (or miraculous) purchase of coveted fruit from Hyde Vineyard in Carneros, soon followed by Cabernet Sauvignon from the venerable, 100+ year-old Schweizer Vineyard in Stag's Leap District. In 2016, the Dyke family purchased a 16-acre plot of land in Yountville that was first planted to wine grapes in 1885. There they built Mira Winery and Hospitality House, with the Golden Ratio's perfect proportions incorporated into everything, from the design of the buildings and landscaping to the size of barrels and tanks. A particularly stunning example is embodied in the gleaming wooden egg-shaped fermenter called Ovum. Tonnellerie Taransaud makes only two of these works of art per year and of the 12 in existence, Mira is the only winery in the Americas to receive one.
"We believe that exceptional wine requires a partnership between soil and sun, grapes and process, and people working together toward a common goal," said Gonzalez. "By farming sustainably, using 100% Napa Valley fruit, and making sure the winemaking techniques we use elevate rather than overpower the fruit, we feel gives these wines a kind of purity, a clear voice of Napa."
Mira's diverse barrel program serves this goal. Gonzalez takes a single grape variety from a single vineyard and puts the wine into 100% French oak barrels of different grain, shape, age, and toast. This emphasizes different aspects of the wine, which is then be blended before bottling, making a more interesting wine. Yet, every great bottle starts in the vineyard, and Mira sources from some of the best, such as:
Schweizer Vineyard: One of the oldest in Napa Valley, Schweizer, owned by the Schweizer family since 1956, has been producing grapes for fine wines for more than 100 years. This small, 40-acre vineyard in the heart of Stags Leap District brings together some of the best soils and the perfect microclimate for growing Cabernet Sauvignon. Mira's Schweizer Cabernet perfectly reflects the unique characteristics of the Stags Leap District and represents the first time the Schweizer family has ever permitted a winery to designate the Schweizer Vineyard on the label. "We like to refer to it as the most famous vineyard you've never heard of, until now," said Gonzalez.
Planted to grapes in the 1800s, the Stags Leap District AVA's renaissance took place in the 1960s when Cabernet Sauvignon grapes were planted. Not recognized formally as a sub-AVA within the Napa Valley until 1989, the region shot onto the world stage when one of its Cabernet Sauvignons bested French wines in the 1976 Judgment of Paris blind tasting. The region was formally recognized when it became the first United States AVA to be established based on its distinct soil composition. This, the smallest sub-appellation in the Napa Valley, remains a leader in the production of Cabernet Sauvignon.
The superstar of the Los Carneros region of Napa Valley, Hyde Vineyard was planted by Larry Hyde in 1979. Recognizing the ideal conditions of east-facing slopes, sun exposure and coastal influence, Hyde's experiments with vine row orientation, rootstalk, and clonal selection resulted in a vineyard that produces not only some of the finest Chardonnay and Pinot Noir grapes, but also stellar Syrah and other less common Napa Valley varieties. Mira is proud to produce more varietals from Hyde Vineyard than any other producer.
Though the southernmost sub-AVA within Napa Valley, the Los Carneros AVA also features some of the coolest temperatures in the valley as a result of its proximity to the San Pablo Bay and the fog cover that arrives nearly every morning, burning off slowly through the day. This climate and the clay-dominated soils that prevent deep rooting result in lower yields with more concentrated characteristics.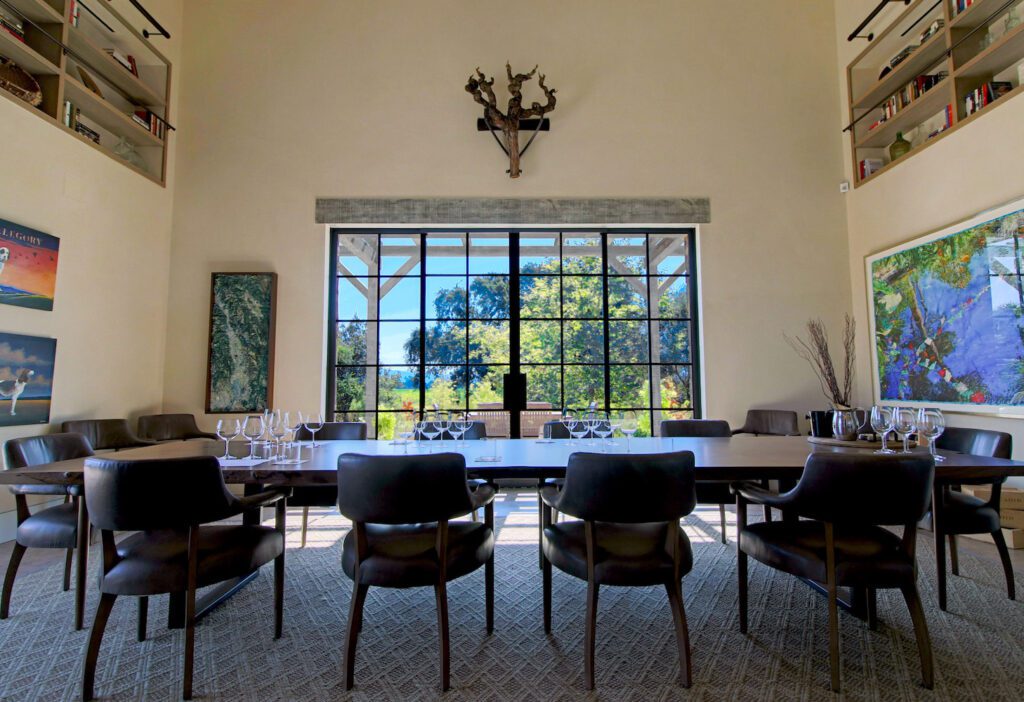 Mira Winery and Hospitality House welcomes visitors by appointment to its Yountville estate for 90 minute tastings. $150 per person, waived for every three bottles purchased. To make a reservation, call (707) 945-0881 or visit miranapa.com/visit-napa.
Mira also offers customizable virtual tastings. Focus on technical aspects of winemaking, an overview of the unique place that is the Napa Valley, or just a fun, informal discussion with friends or colleagues. Check out Mira's special three-bottle wine packages and book a virtual tasting at miranapa.com/wines/virtual-tastings.