If you haven't spent time in Downtown Napa lately, you'll be pleasantly surprised at all that's new at wine country's front door. Transformed into a happening place, it's a singular destination of its own.
During a breakfast conversation with the owner of The George (see below 'Where to Stay'), she said, "The revitalization downtown has been a renaissance for Napa. We used to leave town for the things that we have right here now."
Start Here
At the center of downtown, First Street Napa is bounded by Franklin Street, Clay Street, and Coombs Street; it's a mini-district anchored by the Archer Hotel and the Andaz Napa built around promenades and an open air plaza surrounded by boutique shopping, dining and tasting rooms.
A recent addition here is the new Napa Valley Welcome Center, open daily, where the friendly staff is armed with insider tips and the shelves display local goods and gifts for sale.
Urban Tasting Rooms
Fancy walkable urban wineries without ever leaving downtown? Don't miss Compline, a combination full wine bar, restaurant, and wine retail shop with occasional events that spill out onto the plaza. "Appealingly hearty food," says the Michelin Guide — think "juicy half-pound burgers on brioche…especially when layered with Gruyère and mushrooms."
With 40 downtown tasting rooms—the wine never stops flowing—you're spoiled for choice. Vineyard 29 is new to the downtown lineup in a gorgeous interior-designed space where their 100-point Cabernet Sauvignon is a do-not-miss. Mayacamas Vineyards pours current and library vintage wines paired with local cheeses. JaM Cellars is a popular spot serving a handful of approachable wines, a state-of-the-art sound system, classic vinyl collection and live music happy hours.
As the weather is almost always perfect, there are plenty of options for taking a seat outdoors to watch the world go by as you enjoy, like at these sidewalk tables at Alpha Omega Collective, an 2019 addition to the Downtown Napa scene.
The newest and most innovatively designed tasting room in town is Mia Carta, home to a collective of six family-owned and operated ultra-premium, small lot Napa Valley wineries: Art House Wines, Essere Napa, Ilsley Vineyards, RARECAT Wines, Redmon Wines and Sciandri Family Vineyards.
Zinfandel lovers will head for Brown Estate Tasting Room, barbeque and beer can chicken fans will head for Bounty Hunter, historians will head for Napa's oldest building, the Vintner's collective, a luxury tasting room where 18 of Napa's quality family-owned wine brands are found under one roof.
Napa is more than wine, of course…
California Brandy House
Opened in late 2020, California Brandy House is the first stand-alone tasting room dedicated solely to luxury California brandies. Discover local labels through leading brandy portfolios such as Germain-Robin and Argonaut, partake in guided tasting flights, and try limited offerings and single-barrel samples not available anywhere else.
Be Bubbly
Looking for something on the fizzier side? Be Bubbly, Napa Valley's first and only dedicated Champagne & sparkling wine lounge is right downtown. Sip a sparkling Chenin Blanc or Rosé from France, a bubbly Lambrusco from Italy, an exclusive Prosecco on tap or try Californian favorites, such as Schramsberg and Iron Horse. There's an array of tasty bites from local partners such as Cowgirl Creamery's Mt. Tam cheese, Tarla hummus, Chef Thomas Keller's Regiis Ova caviar, and on Saturdays, sliders from Cochon Volant in Sonoma. Live music gigs? Of course.
Oxbow Public Market
Along the Napa River, the 40,000-square-foot indoor marketplace catapulted onto the local scene 10 years ago, a big draw ever since. At Oxbow Public Market, there are two dozen local and regional artisan food, wine, and beer vendors and restaurants.
In addition to longtime favorites such as Hog Island Oyster Co., the newest additions are El Porteño offers savory and sweet empanadas and alfajores. Bar Lucia features a variety of local rosés, sparkling wines and a menu of seasonal light bites, sourced locally.
Napa Art Walk
It's easy to minimize your carbon footprint while enjoying Downtown Napa. In addition to the 40 tasting rooms, there are 80 eateries, 60 boutiques and shops and a variety of lively art displays all within walking distance of one another. Napa Art Walk is a self-guided walk of juried outdoor sculptures created by Western U.S. artists, enhancing the Downtown Napa experience. Ten artworks remain on view for 24 months, during which community members and visitors are encouraged to vote on a People's Choice Award. 
Napa Valley Wine Train
When you're ready for vistas of sweeping landscapes, rolling hills and verdant vineyards—not to mention the wine tasting—there's no need to drive. While it's not new, the Napa Valley Wine Train is newly back in service after a pandemic-related interruption. Board the historic train at the depot beside Oxbow Public Market and enjoy gourmet dining and vista dome views. Travel slowly past legacy wineries with famous names. Stop for tours and tastings at beautiful wineries such as Grgich Hills, Charles Krug and V. Sattui.
And for the intrepid traveler, 'who-done-it?' evenings on board are professionally orchestrated by The Murder Mystery Company. Among the outings on the menu are five dates in October for the thrill of participating in Harry Potter "Wizards and Witches."

Staying at The George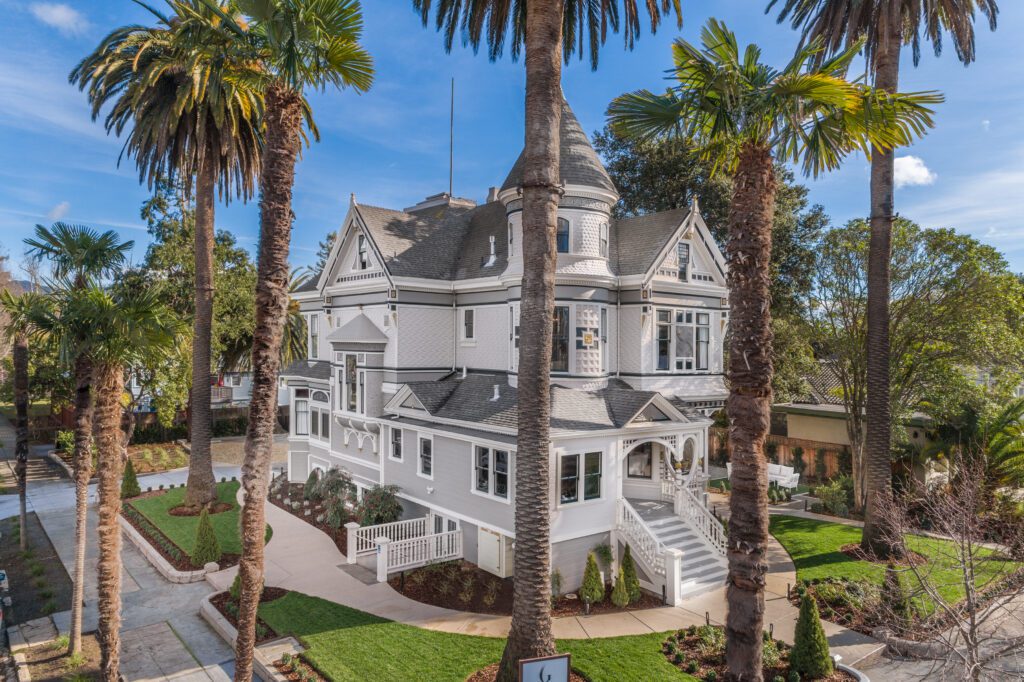 An elegant Queen Anne 1891 mansion, the handsomest house in town, is now meticulously restored as a nine-room luxury B&B inn with all the comfort touches imaginable. Situated on a quiet residential street less than 10 minutes' walk from downtown, The George provides exceptional accommodation and gracious hospitality, a tasteful mix of contemporary and vintage furnishings.
It's all in the details: Suite 201 has a sitting area with fireplace, heated floors and a double rain shower in the large bathroom. Suite 303 has a cozy dining nook with chandelier fitted into the windowed turret.
Do not miss Chef Alex Spinoza's made-to-order breakfast (love all the fresh herbs and eggs Benedict with English muffins from Model Bakery). There's free parking, free WiFi, air conditioning and access to a pretty landscaped garden with plush outdoor seating.
Fun fact? The gorgeous peacock mural in the dining room pays homage to the Victorians' beloved birds that are just too loud to have wandering around the property…although to be honest, the thought did cross the owners' minds.
Images (where not stated otherwise): Augustine Agency