Gourmands, wine aficionados, and auto enthusiasts know that the annual Lexus Culinary Classic, held at Sausalito's Cavallo Point, is never to be missed. The three-day celebration – at which guests are immersed in the luxury for which the iconic car brand is so well-known – more than delivers on the auto manufacturer's motto: Experience Amazing. Featuring cuisine prepared by Lexus Hotel Partner Chefs, varietals poured by varied Napa Valley Vintners, and the full Lexus fleet, lined-up and ready for exhilarating test drives through the scenic Marin Headlands, this year's event, the sixth annual, provided a much-welcomed and convivial bay front escape.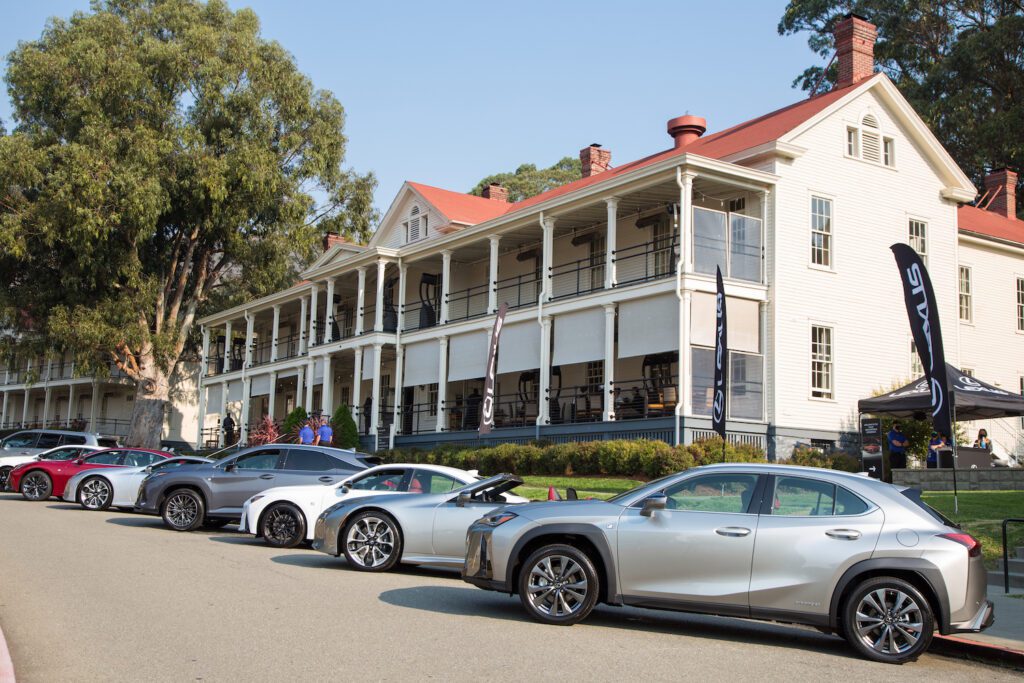 Located in the shadows of the Golden Gate Bridge, Cavallo Point and its bucolic surroundings proved once again the perfect host to nationwide Lexus talent and attendees who gathered for a multitude of bespoke events within the resort's varied venues. Throughout the weekend, Lexus and its ambassadors proved that the company is so much more than an auto manufacturer; it's a lifestyle, one in which both Lexus owners and non-Lexus owners can indulge.
Host Cavallo Point is one of Lexus' 14 hotel partners located throughout the nation, where guests are treated not only to the best in hospitality, but are also invited to experience varied Lexus models via test drives and chauffeured outings. At the Lexus Culinary Classic, the executive chefs of Lexus hospitality/hotel partners are flown in to prepare their signature dishes during the weekend's eight distinctive experiences at which guests are offered all-access pass and a la cart options.
Typically held in April, but pushed this year to August, this is an event for which to mark your 2022 calendar. Lexus driver, guests need not be, but the brand's distinctive and warm hospitality is likely to earn fans. And a 30-minute, pace car-led test drive in the chic and sporty Lexus LC 500 convertible all but ensures allegiance.
This year's events included an opening night four-course dining experience overseen by Lexus Culinary Master Stephanie Izard and Lexus Hotel Partner Chefs Anthony Cole (Chatham Bars Inn) and Jim Leiken (Bardessono), paired with wines selected by Lexus Culinary Master Sommelier Carlton McCoy of Napa's Heitz Cellars. Dishes included Terraine of Liberty Farm Duck with Bardessono orchard figs, Grass Fed Beef Tartare with smoked onion and oyster emulsion, and a Thai-style Sea Bass with smoked blueberry.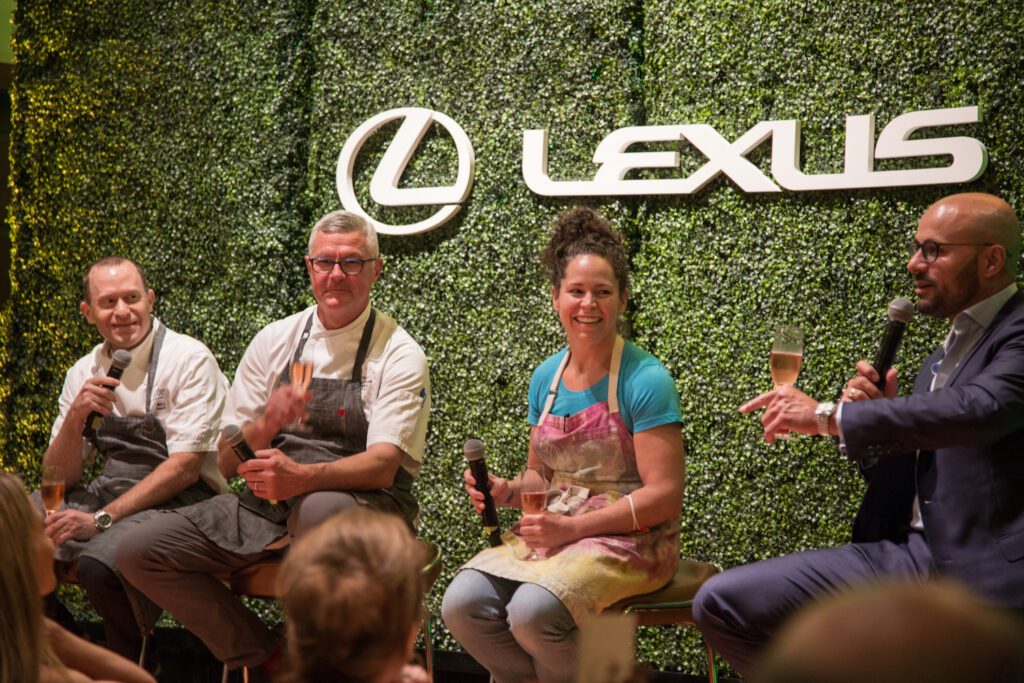 Saturday event options included The Lexus Oyster Experience – a lunchtime spread of lobster roll, Hamachi, and an endless supply of oysters and their classic accompaniments. Chefs Tony Adams (Cavallo Point), Anthony Cole (Chatham Bars Inn), and Pablo Mellin (Pebble Beach) provided oyster shucking instruction. Later in the day, race car driver and Lexus ambassador Scott Pruett of Pruett Vineyard led a vertical tasting of his Syrahs, and that evening, the ultra-exclusive Summit Skywalker Ranch in Lucas Valley served as host for a gala dinner prepared by Chefs Sebastien Archambault (Rosewood Mansion), Bernard Ibarra (Terranea Resort), and Ryan Rupp (Summit Skywalker Ranch), the Basque-inspired menu of which included Crabe en Gelee a la Biscayenne, Braised Oxtail in Piquillo Peppers, and Skywalker Wagyu Eye of Ribeye. After dinner, guests were granted access to George Lucas' personal art museum and his collection of Norman Rockwells, Wyeths, and campy Star Wars tribute works.
The weekend finished with a spectacular Lexus Grand Tasting of ten signature food presentations prepared by ten Lexus Hotel Partner chefs, each paired with wines presented by Napa Valley and Marin County vintners. Additional event options throughout the weekend included art instruction via a Wine and Watercolors Class, a Bourbon Tasting, and hands-on cooking demonstrations and meals.
Not to be lost within these vinous and gastronomic offerings are the resort's inherent assets. Nestled within what was once the Fort Baker military base, Cavallo Point affords unparalleled San Francisco Bay views, and places its guests steps from hiking and biking trails. The hotel honors its roots by fully utilizing its 24 Colonial Revival buildings, each of which was built between 1901 and 1915. These buildings now house the Lodge's two restaurants, administrative offices, and meeting rooms. Former officer's quarters serve as the resort's historic rooms and suites, each featuring expansive foyers, fireplaces, and front porches. The sleek contemporary rooms and suites feature large picture windows that further emphasize the stunning views.
Lexus' 13 other hotel partners offer equal indulgence, each exuding a distinct sense of place:
XV Beacon, Boston, MA
Bardessono, Yountville, CA
Blackberry Farm, Walland, TN
Blackberry Mountain, Walland, TN
Chatham Bars Inn, Chatham, MA
Hotel Jerome, Aspen, CO
Lake Placid Lodge, Lake Placid, NY
The Resort at Paws Up, Greenough, MT
Pebble Beach Resorts, Pebble Beach, CA
Post Ranch Inn, Big Sur, CA
Rosewood Mansion on Turtle Creek, Dallas, TX
Terranea Resort, Rancho Palos Verdes, CA
Thompson Chicago, Chicago, IL
Lexus Culinary Classic tickets ranged from $85 to $299 per event. All-access weekend passes started at $795. Lexus owners received 15% off all tickets.  
For tickets and more information about next year's event, visit lexusculinaryclassic.com.
Photos courtesy of Lexus