For most people the thought of Vail, one of Colorado's premier ski towns, conjures images of snowy slopes, puffy jackets, and ice bars in winter. True outdoor enthusiasts revere it equally for its summer activities: biking, hiking, fly fishing, and river rafting. But what should be trumpeted just as loudly is Vail's solid, unrivaled commitment to the visual arts. Step into Vail Village (and environs) to be regaled instantly by a powerful public art collection. Comprising more than 60 works, the trove takes in a range of mediums, including murals, paintings, sculptures, site-integrated art, and playground components. Some 30 pieces (and growing) represent the work of Coloradans. Positioned aesthetically to balance both with the region's majestic nature and the town's Dolomites-inspired, alpine architecture, the artwork adds layers to Vail's already well painted, metaphorical, visual canvas.
I first discovered the pleasing largesse of Vail's indoor and outdoor galleries in 2018, while on an art walk with savvy Molly Eppard, Vail's Art in Public Places Coordinator and former New York art dealer. I'd gone to see the magical Patrick Dougherty "stickwork" sculpture (now disassembled), and Molly was leading me on one of her signature, art-centric walking tours.
"I like to call this our museum without walls," she says, gesturing expansively, her movements incorporating the entirety of the mountain hamlet. Essentially the town's official curator, Molly has found her dream job in Vail, where she sources and installs the growing collection in partnership with Art in Public Places' (AIPP) esteemed board. "Not every work will please every person," she says. "With that in mind, variety is key to having an overall appealing public art collection and program here."
The "museum's" scope embraces a realm of diversity wide enough to include conceptual artist Lawrence Weiner and sculptor Claes Oldenburg, among many others, as well as works as different from one another as a bronzed skier and playground-sited, living art installations. Both emerging and well-established artists are displayed in permanent and temporary exhibits. Though a nature-based theme dominates, the unifying motif seems more intuitive—it's about establishing harmony between art, people, the town's sophisticated vibe, and the ambient wilderness. The "museum" fuses the past with the present, links the seasons, and honors the landscape. Relishing their task, Molly and the AIPP board annually attract new artists and acquire unique works to enrich the collection's gravitas for public enjoyment.
In season, join Molly for her once-a-week, free walking tour of the art exhibits. Exuding contagious enthusiasm, she'll explicate and celebrate the pieces, as well as relate enlightening snippets from Vail's history. Year round, experience the Art Walk as an interactive, self-guided walking tour. Pick up maps at the Vail Village and Lionshead Welcome Centers or download them online. Have children? Consider doing a scavenger hunt. They'll love the artist-designed playgrounds, story tiles, and water-jet-cut stainless steel forms, among other pieces. "Don't miss the 10th Mountain Division Memorial," says Molly, who adds that she's seen it stop people in their tracks.

A Few New Additions to the Collection
BEN ROTH
"Knee-high to a Grasshopper"
Stephens Park Playground, West Vail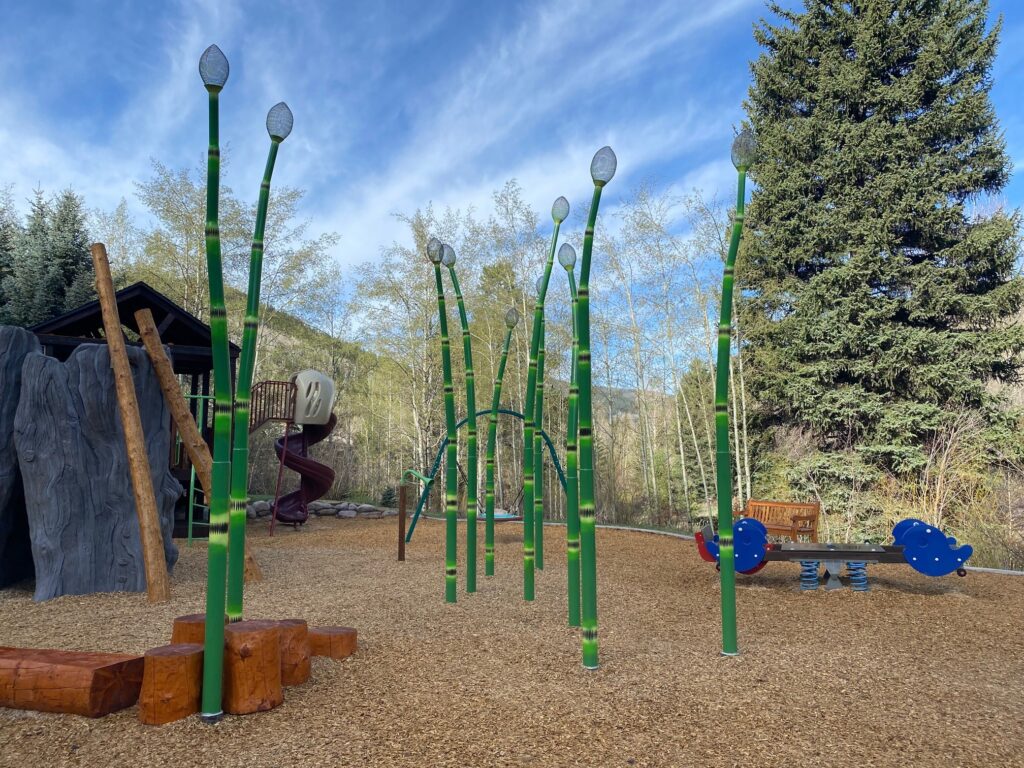 This permanent, interactive, play-based piece uses 20 verdant horsetail grass plants created in steel, thoughtfully installed in the playground landscape. Roth's goal was a "supersized riparian environment" to give kids the viewpoint shared by all tiny creatures. Stephens Park is the tenth playground built by the Town of Vail Design Team in collaboration with an artist, which creates a unique play environment.
OLIVE MOYA
"Mrs. Charles in the Sun (Ice Bar at Mid-Vail late 1960s)"
Vail Village Transportation Center P3 by La Cantina
This installation peeks into the past and reinterprets it. Moya, a Denver-based artist, combines a wheat pasting application with her signature bold palette in this large interior mural. She takes a new riff on a candid, vintage photo found in the Colorado Snowports Museum, which shows a woman sunning herself at a famous ice bar from past. She juxtaposes the photo with a slick promotional image of the resort. Moya's deliberate mark in vibrant colors showcases what might be otherwise unseen. 
PEDRO BARRIOS & JAIME MOLINA
Five ventilation stacks west of Dobson Ice Arena
These five, large, transformed, cylindrical vents are new this year. The artistic team of Barrios and Molina complement one another's styles by combining the figurative and infused abstract forms. They've been collaborating on mural painting since 2012. They're known for their vibrant color palette and storytelling skills. 
After Art Snacking 
Finish your Art Walk with a curated picnic packed by Vail's own Picnic Vail. They'll set up a glamorous spread in a fetching spot along Gore Creek, near the Betty Ford Alpine Gardens or amid the Vail Nature Center.