The tony hamlet of Yountville is often described as Napa Valley's 'adult Disneyland,' where gourmet restaurants and wine tasting rooms star as featured attractions. Row upon row of charming, porch-lined cottages dot a landscape that seems tailor made for a Hollywood backdrop, and public art is found on every sparkling clean street corner and within tiny, bench-lined parklets filled with fragrant roses. At the center of all of this bliss is Bardessono, the town's crown jewel of hospitality.
While a handful of other Yountville hotels vie for attention, Bardessono checks all of the wine country boxes, and then some: fine food, fine wine, sumptuous spa services, an indulgent rooftop pool with cabanas, complimentary bikes, pet-friendly, lush gardens, an eco-centric ethos, and art…lots of art, provided in partnership with the Andrea Schwartz Gallery of San Francisco. Sculptures rise out of flowing water features; communal hallways are lined with works that provide a nod to pop culture; and an entire villa wall is lined with a massive, textural, Diebenkorn-esque oil painting. (The gallery updates the collection annually and as pieces are sold.) For those who tend to discount art as crucial to a cultivated and elegant lifestyle, a Bardessono tour will surely alter such a viewpoint.
And though it's likely that many guests select Bardessono for its stellar central location rather than for its art or its commitment to sustainability, there is no denying the gratification derived from knowing that a visit creates but a small footprint. The LEED platinum certified property (one of only 28 in the world) is proof that a hotel can provide unmatched luxury while maintaining energy and environmental efficiency. Utilizing salvaged tree wood, natural linens and bath products, and 'smart' technology for heating, cooling and water systems, Bardessono wraps its guests in 'green' grandeur and graciousness. Guest rooms are constructed to minimize solar heat gain with wide overhangs and motor-controlled venetian exterior blinds. Large expanses of glass allow winter sunrays to naturally warm rooms while windows and doors open onto private patios to provide secure nature ventilation. Drought-resistant landscaping prevails, serviced by an efficient drip irrigation system.
Yet such conscientiousness never detracts from the extravagance. A variety of garden water features accent four building structures that house 62 stylish suites in five layouts, each with large outdoor patios and balconies. Amenities include Fili D'oro linens, REN bath products, motion-controlled exterior shuttering systems, virtual surround sound speaker systems and media hubs. For a grand respite, reserve one of the three spectacular Maple Grove Villas, each a private haven of refinement, or enjoyed together, a personal compound. Each boasts a stately living room, king bedroom, spa bathrooms, plunge pool, and courtyard; the center villas offer a spacious dining room for entertaining. Reserve all three and enjoy access to the Bardessono Lexus fleet featuring the luxury brand's newest models.
Or cozy-up in one of the king or queen Spa Suites – each equally as indulgent on a smaller scale. No matter your suite choice, each includes a spacious 'spa' bathroom featuring a large soaking tub, separate shower, and space for personal, in-suite spa therapies provided by a 'spa butler' who prepares the space, lights candles, and draws the shades in preparation for a variety of treatment options.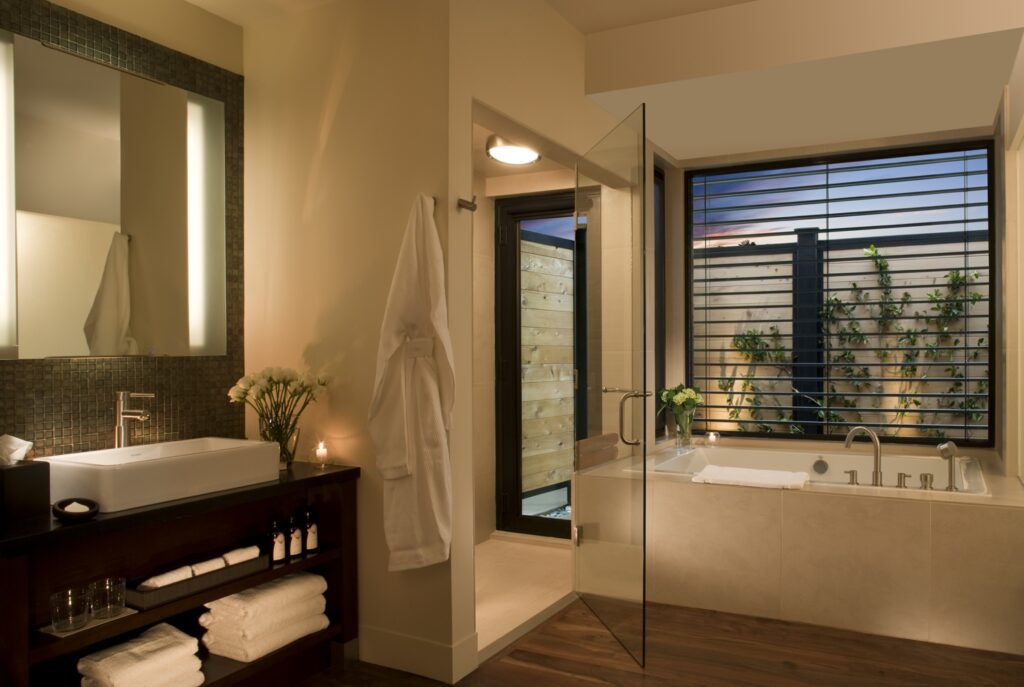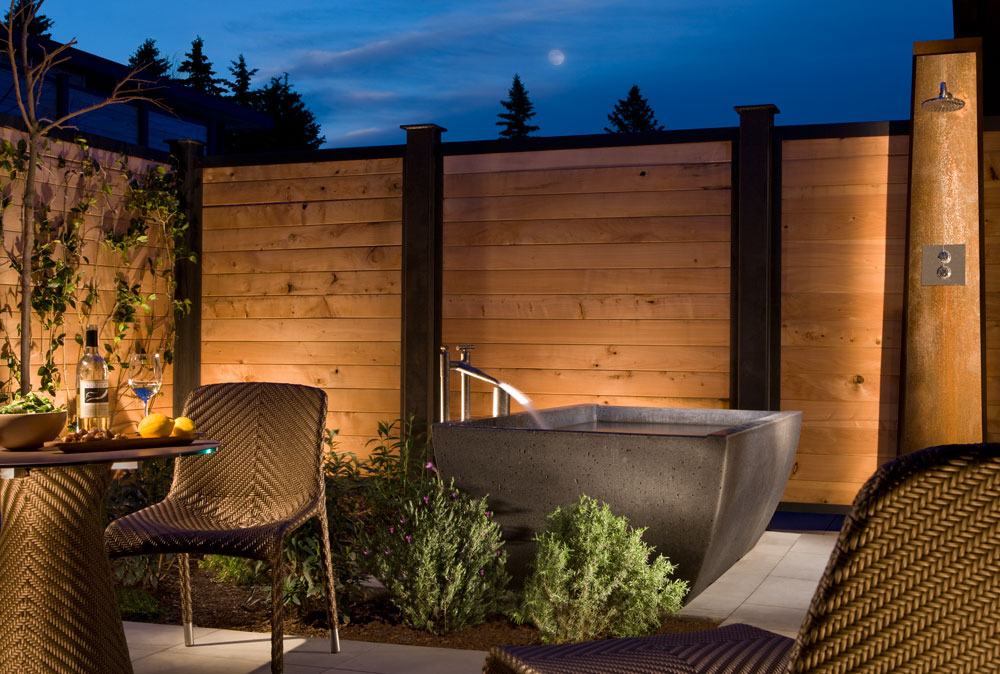 For those who prefer their pampering take place within the acclaimed Spa at Bardessono, a full menu of services is offered, such as full-body massages, couples' treatments, facials, wraps, and body polishes. Indulge in setting a wellness intention and creating a personal scented oil at the Well Bar, in partnership with TARA Wellness. Select among seven wellness formulas such as Sleep, Energy, Balance, Love, Stress, Detox, and Muscle.
Additional R&R can be found at the rooftop lap pool, lined with shade cabanas, and with views of the surrounding Mayacamas and Vaca Mountain ranges. Fitness options include 9am Saturday yoga held on the pool deck, and a small fitness center, also perched above, is equipped with a Peloton bike. If real cycling is preferred, check-out a bike from the hotel's fleet and cruise the 12.5-mile Vine Trail.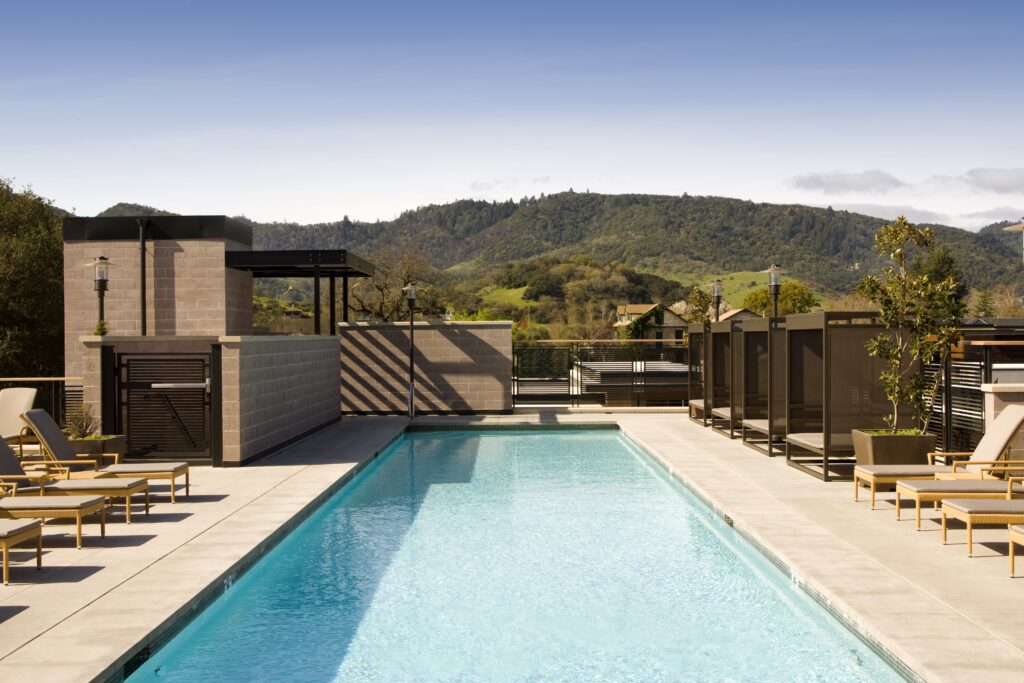 And finally, food and wine – the reason many travel to Napa. Bardessono is home to the lauded Lucy Restaurant & Bar where Executive Chef Jim Leiken uses locally-sourced ingredients within his menu of soul-satisfying, seasonal dishes such as summer corn and lobster risotto, herb marinated lamb chops, port-glazed figs, and roasted baby beets. Leiken and his culinary team source from farms and purveyors within a 110-mile radius of the restaurant in order to create distinct Yountville flavors. Mere steps from the restaurant kitchen (serving breakfast, lunch, and dinner) is also Lucy's onsite, certified organic garden from which fresh herbs and garnishes are picked to create hand-crafted libations. And the Lucy wine list presents a beautiful selection of local wines, natch.
Bonus: Bardessono presents guests the opportunity to be a part of its commitment to provide the most sustainable, luxurious, Napa Valley experience. The hotel will plant an herb in the onsite, certified organic culinary garden for each guest who opts out of housecleaning. The effects of a single plant in the garden help improve air quality by offsetting harmful byproducts and help in the execution of Lucy restaurant's signature deep green eco-spirit motivated by culinary ethics. The herbs planted in the garden yield inspiration and ingredients to Lucy bar and restaurant's inspired cuisine and hand-crafted libations.
All photos courtesy of Bardessono