Sherene Melania unites storytelling and social justice at Presidio Dance Theatre
Dancing in toe shoes is a balancing act—just like the mission of San Francisco's Presidio Dance Theatre, committed to the arts and humanitarian work. As a former ballet dancer with a degree in social justice, its executive and artistic director, Sherene Melania, is uniquely positioned to keep the nonprofit en pointe while also extending its reach.
The company is an offshoot of the Presidio Performing Arts Foundation, co-founded in 1998 by Melania's late mother, Judy Bretschneider, to offer after-school dance classes, known as Dance Out!, to public school students. Melania studied at the Kirov Academy, earned a teaching certificate at St. Petersburg State University in Russia and danced in Europe before returning home in the early 2000s, not realizing she'd be following in her mother's pioneering footsteps.
An internationalist at heart, fluent in French and Russian, and of Assyrian heritage, Melania found the repertoire in the US less appealing than in Europe, where diverse fare might combine ballet with Persian dance. But an experience while apprenticing with the Mariinsky Theater in St. Petersburg showed her the arts could be used for entertainment as well as for social good. On her way to school one day, Melania saw a girl in a tattered sweater, standing barefoot in the snow outside an orphanage. Determined not to ignore it, she enlisted classmates in a benefit concert that raised enough to buy cold weather necessities for every child at the institution.
"At 17 years old," writes Melania on presidiodance.org, "I realized that I could utilize dance, not only as a form of entertainment, but as a tool to tangibly help others and unite peoples."
In 2005, that transformative spark was rekindled and Presidio Dance Theatre was born.
True to her goals, the company, with six full-time adult dancers, embraces artists from conflict-ridden countries like Palestine, Syria, and Iraq. Its multimedia and multi-genre productions (with dancing, acting, and singing) take inspiration from the traditional dances of Russia, China, Mexico, and other nations. The company's costumes are out of the ordinary, too, made at the Mariinsky Theater atelier, thanks to Melania's connections.
Presidio Dance Theatre's youth company trains students from first through twelfth grades in a range of demographics across the city, some paying up to $7,000 a year for full tuition while others receive scholarships. Some have gone on to dance professionally, like Ixchel Cuellar, who toured in the musical Finding Neverland and performed in Mean Girls on Broadway. LeVander Moore, who joined Dance Out! in third grade at Bret Harte Elementary in Bayview-Hunters Point, went on to San Jose State University on a football scholarship. He's now a conditioning and strength-training coach for students and hopes to be a role model, noting, "I wanted to come back and show what the Presidio Performing Arts Foundation did for me."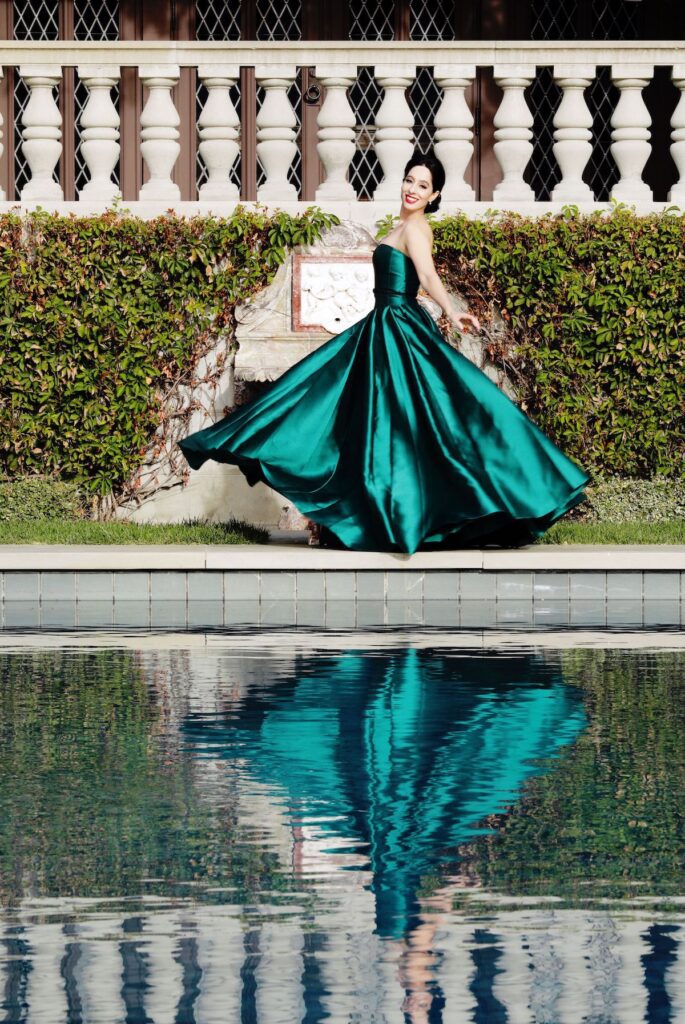 Melania's savoir faire—as a UNESCO-appointed director of dance, a former San Francisco arts commissioner, and a cultural leader of the Assyrian diaspora—has sparked many global exchanges. The company's Young Ambassadors program has gone on seven international tours and raised money for books for school children in Iraq and donated coats and cold weather supplies for Assyrian refugees in Greece, among other projects. One such ambassador, Georgia Gardner, who danced in the youth company from age 10 to 18, took part in a performance for diplomats at the European Parliament in Brussels in 2015. "This passion I felt for cultural diplomacy … has only grown since," says Gardner, now pursuing a double major in international relations and history at Stanford University.
Public school pupils, meanwhile, are familiar with the company's annual Children's Day at the War Memorial Opera House, an annual show for 6,000 kids. (Last year's performance went virtual over Zoom, with clips from 2019 and dance lessons from international choreographers urging kids to dance along at home.) "For a lot of children, it's the only live performing arts show they'll see, their only trip to the Opera House," Melania says. "Besides seeing professional dancers on stage, they see their peers performing. It's inspiring for them and they say, 'I want to be up there next year.'"
As an administrator who dances with the company, teaches three days a week, and launched lunchtime fitness classes for adults via Zoom during the pandemic, Melania is busy putting her heart and her specialized knowledge to work. She earned a degree in performing arts and social justice from the University of San Francisco in 2005 and a master's in art in education from Harvard in 2011.
Although the Dance Out! program has downsized from 32 schools to just a handful in recent years, for reasons related to logistics, finances, and the pandemic, a new partnership with the nonprofit Bayview Alliance (founded by philanthropist Cissie Swig with an assist from YMCA President Emeritus Chuck Collins, a dance theatre advisory board member) aims to bring more dance to Bayview-Hunters Point.
Amid last summer's Black Lives Matter movement, the dance company held teach-ins on issues of race with panelists including Shauna Marshall, former academic dean at UC Hastings Law School. Melania also choreographed an individual dance called "We Stand" for UNESCO's World Dance Congress, calling on other arts organizations to join the movement.
A spring gala is slated for June 6, to be co-chaired by Farah Makras and Sonya Molodetskaya (at press time, details were yet to be determined). The fundraiser will support the nonprofit's annual $450,000 operating budget and Melania's creation of a new ballet about an Assyrian warrior queen, The Legend of Shamiram, to premiere in 2022.
Makras is a believer in the harmony the dance group promotes, thanks to the confidence it gave to her daughter, Lilah, 17, who needed extra attention for learning and social differences as a child. "When you go to the center, you feel the warmth," Makras said. "They always had a part for her everywhere, every day. She would come home so happy to have been included."
Photography by @Cory Weaver / Courtesy of Presidio Dance Theatre