Wading up to my thighs in Tasmania's Great Oyster Bay, I approached a dining table as it was assembled and set with white linens. Our small group was prepared for a dining experience designed to be enjoyed standing up.
The dress code: Fly 'n Dry rubber waders, the kind fishermen wear. The scene was like an artist's brushstroke, with the blue of the bay and the murky, cloud-covered sky interrupted only by a few sun-bleached driftwood branches washed ashore on the marsh's tawny palette of golds and reds.
This unique tasting takes place at the Freycinet Marine Farm, owned and operated by Julia and Giles Fisher. The Fishers hope to educate the general public about marine and wetlands ecology and offer this bay-to-table experience exclusively to guests of Saffire Freycinet. It's one of the only spots in the world where you can walk straight into a pristine saltwater bay to taste Pacific oysters harvested that minute.
The theme on this crisp afternoon aimed to replicate the type of repast once considered a status symbol by the upper class during the Greek and Roman empires (8th BCE-5th AD). Guests tossed down two delicacies simultaneously and in generous amounts: oysters and wine.
At first, I thought my attention on this island state of Australia would be focused on the cleanest air and water in the world. I already knew its cleansing winds drift from the Andes Mountains without passing over a single land mass until it reaches Tasmania. When our small group of diners stood expectantly in the bay where the oysters are farmed and where we received a lesson on how to shuck the oysters, my focus shifted. Captivated by this immersive dining experience, I wasn't alone. Soon, the harmonious sounds of happy, rubber-clad people slurping bivalves and washing them down with a local, elegant wine filled the air. These firm, pillowy, briny oysters were paired with the most eloquent Tassie sparkling, Lake Barrington Alexandra Vintage Sparkling Wine, which I hadn't known existed. The combination of tastes, setting, and company made this "full immersion" meal a memory for a lifetime.
Naked Truth of Oysters
It all began with Aphrodite, the famed Greek goddess of beauty, love, and desire, who was often depicted as arising fully grown from within an oyster shell. Rumors of how this briny and flavorful mollusk acts as an aphrodisiac might be true.
Ample science backs that claim. Oysters are chock full of zinc, almost 75 milligrams in three ounces, which provides a possible lift in libido (especially in men). Eating oysters is great for weight loss efforts, thanks to the protein that fills you up. They also boast omega-3 fatty acids, lots of vitamin B12, and copper. And they may reduce the risk of heart disease in people with type 2 diabetes, as they can also help control blood sugar levels.
Last, but not least, oysters are a boon for the oceans' ecosystem, filtering out pollutants in the water, which provides a cleaner habitat for other species, like mussels and clams.
Sparkling Wines of Tasmania
The remarkable combination of intensity and delicacy in Tasmania's sparkling wines is attributable to its far southern latitude and cool climate. Take the case of the above-mentioned Lake Barrington Alexandra Vintage Sparkling Wine. Crafted from noble grape varieties sourced from exceptional cold climate vineyards on the island and produced in the méthode traditionnelle, this wine presents the kind of power and vibrancy you'd expect from any world class sparkling wine with seldom-achieved texture and complexity. The aromas and flavors represent Tasmanian Chardonnay and Pinot Noir grapes and present a toasty, brioche-like expression underpinned by tight, linear notes of Granny Smith apple, melon, and citrus flavors.
It's no surprise Tassie sparkling wines now compete head–on with the champagnes of France. One label took the first place spot for sparkling in the world last year, as published in Decanter magazine: House of Arras 2004 E.J. Carr Late Disgorged. This vintage may soon be available for sale in the US. (If you can't wait, it's available shipped from the UK for about $150.)
Saffire Freycinet
Perhaps no other food and wine experience is as custom-designed for guests as the dining-in-the-bay option booked exclusively through Saffire Freycinet. The resort, a slice of luxury set in the coastal bushland of Freycinet National Park, is a few hours' drive from Tasmania's capital city, Hobart. Hobart is best known for its history as a former penal colony. In the early 1800s, Great Britain banished its most hardened criminals and reprobates to far away Hobart.
But I digress.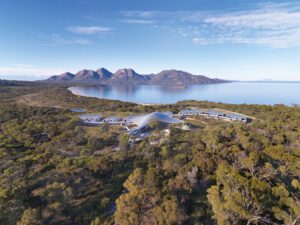 Saffire Freycinet is perched on the banks of a bay that hugs a 400-million-year-old peninsula. The architecturally astounding luxury resort was built in the shape of a manta ray. Its lobby—a kaleidoscope of materials from wood to glass to leather to locally-mined pink granite—offers awe-inspiring views of the Hazards Mountains, also the source of the pink granite. A short hike leads to picturesque Coles Bay and Wineglass Bay. Adjacent to the resort is a Tasmanian Devil rehabilitation facility, worth a visit if only to hear the cartoonish sounds of the devils and to learn that their preferred source of food is roadkill—a free and indigenous highway cleanup crew!
When it was time for my return to Hobart, a stop for an al fresco lunch at Freycinet Marine Farm had me swooning over an ambrosial plate of baked oysters topped with melty Brie cheese and smoked salmon. I asked for the recipe and was rewarded. Shuck, yeah!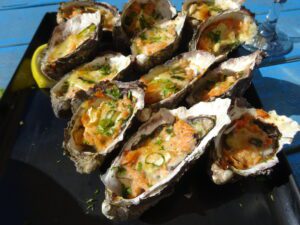 Oysters with Smoked Salmon and Brie
Courtesy of Chris Lucas, Freycinet Marine Farm, Coles Bay, Tasmania
Ingredients:
9

ounces

best quality smoked salmon

9 oysters, shucked, in the shell

3

ounces

Brie

1 scallion, chopped fine

1 Himalayan salt brick if available, or 1

pound

rock salt
Create a bed of rock salt on a rimmed metal baking pan. Nestle each oyster into the salt and top each with a thin wedge of Brie. Bake in a 400° Fahrenheit oven for about 8 minutes or until the cheese starts to bubble and the very edge of the oyster begins to peel away from the shell. Remove from the oven. At that point, carefully place one ounce of smoked salmon atop the melted cheese, layer with one more paper-thin wedge of Brie, and sprinkle the scallions on top. Serve immediately.
Serves 3