A Fusion of Modern Luxury and Time-Honored, Handcrafted Tradition from Chile
American interior designer Nate Berkus has said that "your home should tell a story of who you are and be a collection of what you love." If there was ever a time to surround yourself with items that soothe your soul, create a beautiful, comforting ambience, and transport you to places and events that hold deep meaning and connections, it is now.
For Chile native and Sonoma County resident Catalina Marin, it's the exquisite, traditional, handwoven designs of the women of Chiloé Island, a remote island off the southern coast of Chile, that bring her inspiration and speak to her heart. From countless visits to Chiloé as a child and young woman, Marin was taken with the work of its artisans, whose tradition of knitting, weaving, and dyeing using the wool of the island's native Chilota sheep and its natural color resources dates back to the 16th century. Her passion for the island and its incredibly luxurious wool creations led her to create Treko (meaning "yarn of wool" in native dialect), a line of handcrafted, contemporary designs inspired by tradition. Through Treko, Marin is able to introduce truly unique, beautifully crafted, artisanal wool designs to homes in the US, while helping to preserve time-honored traditions and support the livelihoods of the craftswomen who keep this traditional weaving method alive. With more people interested in art and designs with authentic stories and a connection to a sense of place, Treko's gorgeous pillows, throws, rugs, wall hangings, and recent tabletop designs and woven sculpture baskets have found their way into many hearts and
homes in the greater Bay Area and beyond. We had the opportunity to chat with Marin about her connection to Chiloé, her journey to founding Treko, the importance of supporting and sustaining the work of artisans, and what's new in her collection.
HL: Tell us about your connection to Chiloé and this rich community of artisans? What was your introduction?
CM: I have always loved the outdoors. I grew up doing a lot of backpacking and hiking around Chile and beyond—and Chiloé is a beloved destination for outdoor enthusiasts, famous for its breathtaking trails and protected parks and beaches. The island is super-remote and you can only reach it by boat. It is incredibly culturally rich, with many traditions around food, weaving, woodwork, fishing and with many festivities, especially during the summer months. It was during summer backpacking trips as a teenager that I fell in love with the island; its colors, the people, its rich history, and the beautiful architecture and church monuments, which are protected UNESCO world heritage sites. My family is very artistic, full of architects and designers. While I chose to study business, I was influenced by that artistic perspective and aesthetic and looked at the island and its artisans through that lens. But I never expected to create a business from that inspiration!
HL: When did that inspiration and passion evolve into Treko?
CM: It wasn't a direct path. After getting my Master's Degree in marketing in Santiago, I worked for a number of years at home, including in marketing with Coca-Cola and then at L'Oreal as Director of Marketing for Chile. When my husband's work in the wine industry brought us to Sonoma County, I wanted to continue to work, but it was challenging to find work at or near the level which I was working at. We also had young children at the time, so that was definitely a focus for me. One day, my sister called me from Chiloé where she was visiting. She told me about the beautiful work she was seeing from the women we knew and sent me a photo of the most gorgeous throw. And that was it. I decided I was going to create my own path. I put her to work gathering samples, collecting names and contact information. As soon as I received that, I began organizing focus groups with designers and small, select consumer groups. I know what I like, but it isn't the same for all! We started in 2016 and have been expanding since. We began selling through designers and select retailers and are now working on special projects with boutique hotels. Our line has grown. We started with pillows and throws and now offer rugs, wall décor, everything for the table, and sculptural baskets.
HL: Why only fabrics and designs from Chiloé and not from other regions in Chile?
CM: Chile is a long and diverse country, one very much defined by geography and geographic extremes. We have the coast (north and south), mountains, desert, vineyards, lush agricultural areas, and island clusters like Chiloé with colors, materials, and clothing traditions specific to each area. When I moved to the US, I noticed so many wonderful things from other places—Mexico, Peru, Guatemala—but not Chile, so that was definitely a priority for me as a Chilean. I also wanted to tell a deeper story beyond that of one country and broader culture.
It was important for me to embrace a specific region and honor the uniqueness of the craftsmanship and artisans of that region. Chiloé has held a special place in my heart and life, and its traditions are so very unique to the island. They use natural wools from native sheep; they craft dyes from their natural environment—leaves, mosses, clay, avocado pits—they weave using their own traditional looms. There is a truly authentic sense of place in these creations and, through Treko, we can highlight these beautiful masterpieces and their origins. What these women are crafting are pieces of art. To be clear, I may suggest specific ideas and bring these items to the market, but Treko really is the craftswomen at the heart of each piece.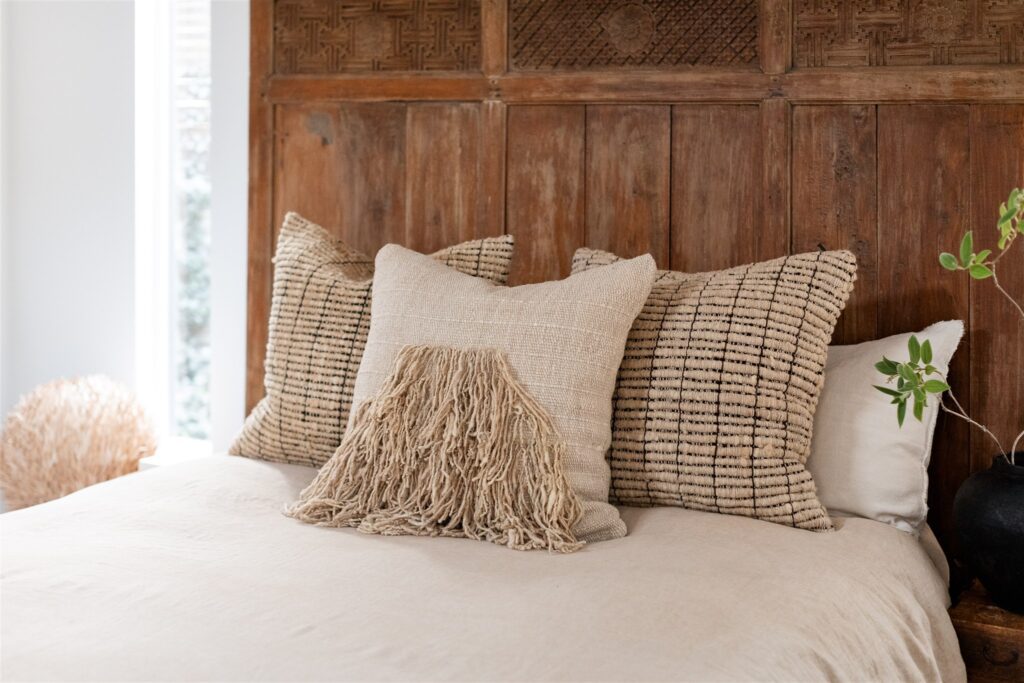 HL: How has this challenging past year impacted your business, and what have you learned?
CM: It was definitely stressful in the beginning. From one day to the next, it seemed as if everything stopped: events and shows were canceled; travel stopped; many retail stores didn't have an online presence and were scrambling to catch up. Two months of nothing meant that I couldn't keep my craftswomen busy—and this is their livelihood. I had two choices: just stop and put things on hold or use the time to keep creating. Those two months were critical for my business.
I called the island and said that we would continue to innovate, create new collections, and expand the line. During this time, we created sculptural baskets, samples for our first table line, two completely new collections, and produced stock for those collections. It was a big risk. We worked hard and everything felt like a challenge. We had to move the weaving looms to each woman's house. The shipping process was upside down and the delays were crazy, but we were able to get so much accomplished. I was able to use the time to create and update lifestyle photography and offer imagery to my retail clients as a service to help them build their online content. I would say that Treko has done well during this pandemic, especially after those first difficult months of adjusting and pivoting.
For me, personally, the space offered by these times has allowed me to innovate and think outside the box. I've been able to put 100 percent of my mind into creation, curation, and working on the business of the business. I've become more thoughtful. My sources of inspiration have shifted. Traditionally, I found inspiration through museums, galleries, historic sites, and travel. I worked with my artisans in person at least once or twice a year. When this pandemic started, I initially felt trapped, then I began to explore. I found sources of inspiration and delight in the tiny details of nature during hikes with my kids and visits to the Sonoma coast, from tones of color—greens, rusts, yellows—and the shapes of leaves and mosses. It's been amazing to see how the mind shifts and grows in the toughest moments. Staying in one place can inspire you, as well. You never stop surprising yourself!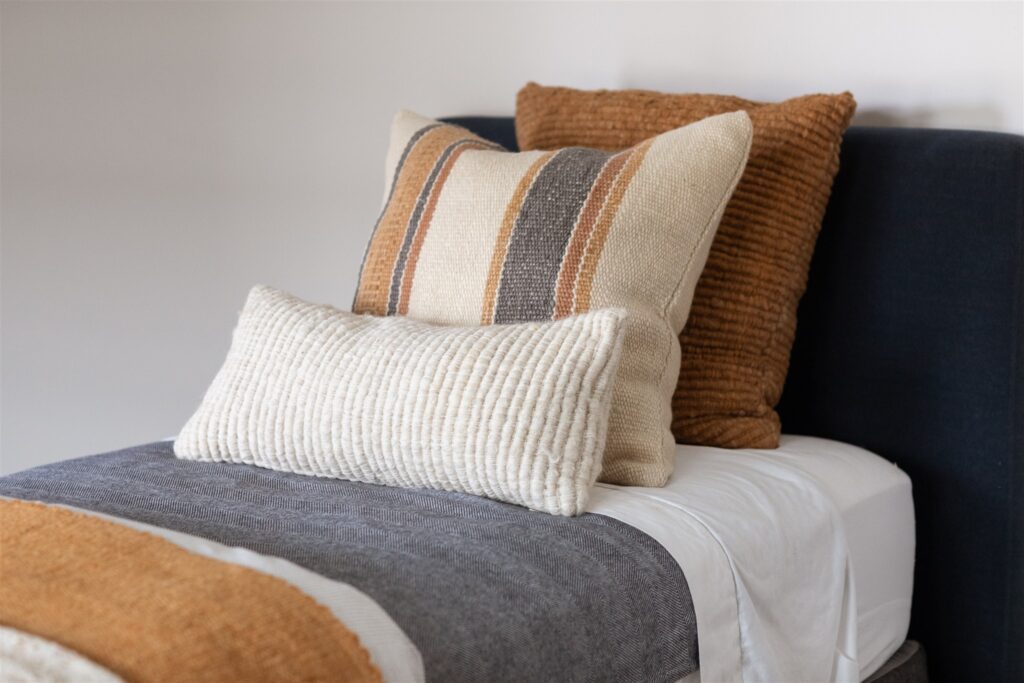 HL: Has there been a change in how your clients decorate, what items they ask for or choose?
CM: The concept of home has changed for us all, and I see that with my clients. Many of the people I work with have two houses and, in these times, both houses matter. They want every corner to feel special. We're all spending much more time within our four walls, so there's an even deeper level of thoughtfulness about how those walls and spaces look and feel. And I think we all want meaning and comfort!
HL: Do you have a favorite item or design within your collection right now?
CM: That's tough—a little like naming a favorite child! But I'm really loving one of our newest designs that we launched during COVID: our sculptural baskets. We wanted to use the beautiful wicker weaving techniques from the island, not to create typical baskets. The end result is gorgeous, nature-inspired sculptural forms like trees, tree trunks, and other natural shapes. These truly are pieces of art!
HL: How do you like to decorate your home?
CM: I really love simple, comfortable lines and prefer noble materials, staying true to natural elements. This includes wool, of course! I love having wool everywhere. It takes me back to my roots and reminds me of home: it smells and feels like Chiloé, a place so dear to my heart. And it reminds me of the women I work with and who have learned their craft from generations of women artisans before them. There is such beauty in that.
HL: What can we expect to see ahead from Treko?
CM: We are working on innovative shapes and designs in our textures: more colors and vine-like textures. We are also looking at wrapping in different natural materials from the island, mixing wicker and wool, perhaps copper, which Chile makes. We are always creating and thinking about how to add the unique Chiloé stamp on our pieces.
HL: How can we find Treko designs?
CM: We are featured through select retail home stores and designers. For that list and more information, please visit us at http://trekochile.com/buy. You can also find us on Instagram at @treko_wool.