The wildly popular handbag brand, established locally by Coral Chung, has found a worldwide audience, with many a celebrity sporting its styles.
SENREVE is a San Francisco based company, yet my introduction to the luxury handbag brand took place in New York City. As a guest at Four Seasons Hotel New York Downtown, I took notice of the beautifully crafted bags that were exhibited in display cases by the elevator bank and within the hotel's Health & Wellness Floor boutique. Structured yet feminine, compact yet roomy, the bags intrigued me, and I was surprised to learn that the company's home base was in my own backyard. I needed details, which were provided by the hotel's Tara Cruz, senior director of spa and wellness.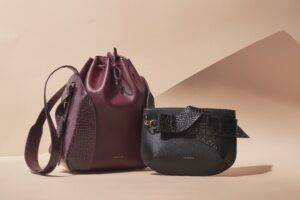 "As a New Yorker, I'm often inspired by fashion seen on the city streets," said Cruz, who, in addition to overseeing all health and wellness programming at the iconic Tribeca hotel, selects and sources all items sold in the third-floor boutique. "I noticed a woman on the subway wearing the gorgeous SENREVE Maestra bag and asked her what it was. I travel between different Four Seasons properties and commute with my laptop, and recognized this bag as a chic, convenient way to transport my necessities and my electronics. I immediately contacted the company to see how we could begin a partnership. For me, the bag screams everything women like myself and our clients seek – functionality, versatility, fine craftsmanship, and fashion. It doesn't hurt that the business is female owned and the creators are very much involved in placement, direct to consumer usually, and are quite the visionaries. And, I adore Coral!"
Coral is Coral Chung, SENREVE's founder and CEO. Cruz's endorsement led me to seek out the San Francisco resident, who, in 2016, founded her handbag company out of sheer necessity. The former strategy consultant, retail marketing specialist, and technology executive became frustrated with the choices available for smart and stylish transport of her personal belongings, so, she created her own perfect bag. The result? SENREVE's bestselling Maestra – both fashionable and functional, featuring eight interior compartments including a padded laptop sleeve. It can be worn a multitude of ways, a hallmark feature of each of Senreve's varying styles.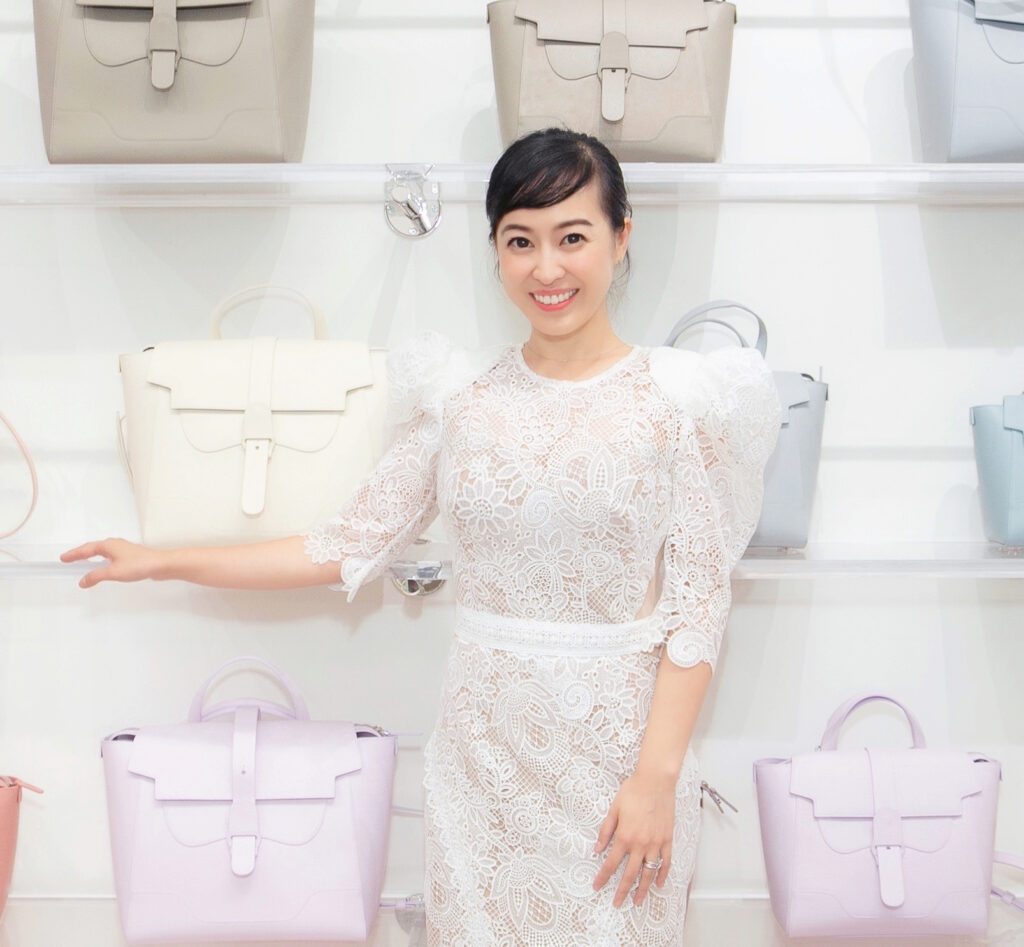 Chung also forged her own path with the production and marketing of her product. SENREVE bags are meticulously handcrafted in Italy and Spain by artisans sought-out personally by Chung. Rather than partner with a larger retailer, Chung chose a direct to consumer route, collaborating with high impact influencers and small boutique vendors such as the Four Seasons. SENREVE products can also be found at select Neiman Marcus locations, as well as pop-ups in Hong Kong, Beijing, and Shanghai. The brand's San Francisco flagship is located on Jackson St., where the entire colorful line can be previewed by appointment.
It was my pleasure to connect with Chung, who took time out of her very busy schedule to answer my additional queries:
HL: What was the process for choosing your brand name?
CC: On a short flight from LAX to SFO, SENREVE came to me on a notebook in which I was scribbling. I was playing with different word combinations because I wanted to create something that represented coexisting dichotomies and all the different facets of a modern woman's lifestyle. It was also original and sounded elegant, so it became our brand name. I do some of my best thinking on a plane (or in the shower)!
HL: You created SENREVE out of a personal desire for a better, more functional handbag. What were/are the characteristics most important to you when designing a Senreve bag?
CC: We have five brand pillars that underpin everything that we do from a design and product perspective: Wit, Innovation, Freedom, Empowerment, and Elegance. The acronym is WIFEE. These characteristics are tied closely with all the different features, nuances and details of our products. For example, our products can be worn in many ways that give women the freedom to choose and the freedom to be hands-free. We are constantly innovating and putting forward new products that were never before in the market, like the Maestra family of products, which really created the new luxury convertible bag category.
"The ambition is for SENREVE to become an iconic global next-generation luxury brand. We have introduced several new product categories that are high quality, versatile, and beautiful including cashmere, shearling slippers, and candles." Coral Chung
HL: Your whimsical logo is an octopus, symbolizing diversity, intelligence, insight, complexity, vision, and versatility, characteristics emulated by the typical SENREVE customer. How is that logo utilized in your branding?
CC: The Octopi is a big part of our identity and is featured in many ways. We have the Octopi logo embossed subtly in gold or silver on many of our leather goods. We also have Octopi hardware, for example, on our new 100% shearling slippers. It's a very distinctive part of our overall branding. We also recently launched our loyalty program called the Octopi Club with different status tiers ranging from "Rockstar," to "Legend," to "Icon."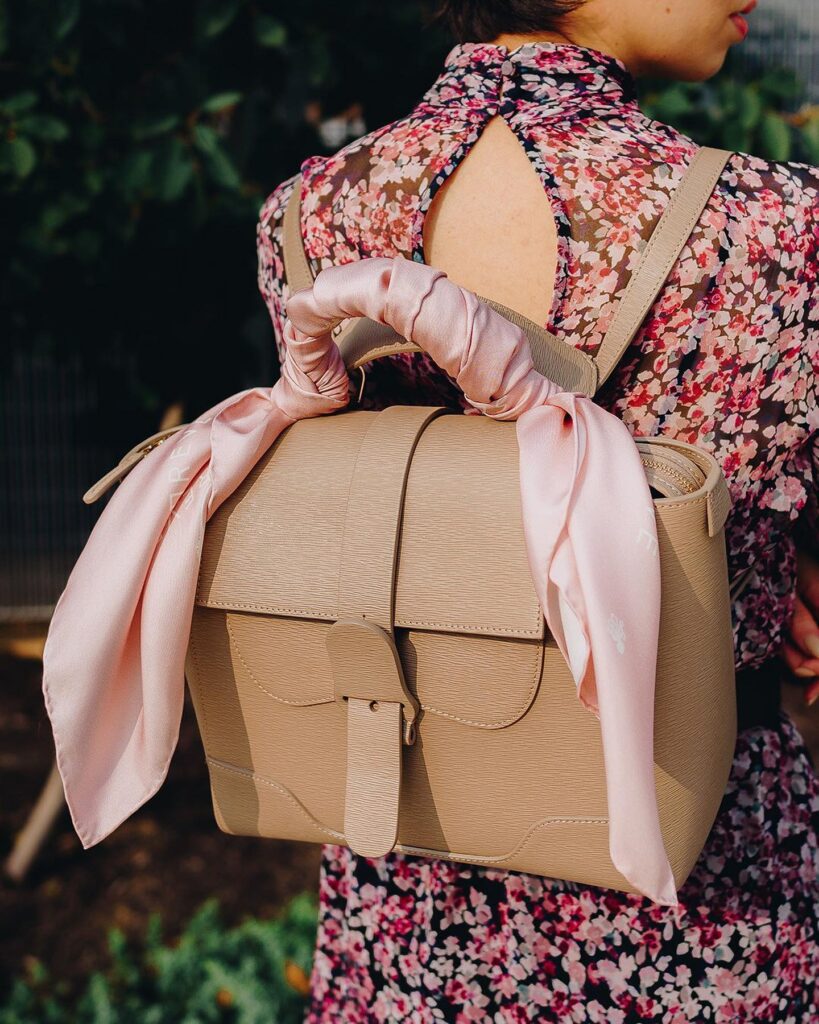 HL: How did you conduct your search for the Florentine artisans who make your bags?
CC: Prior to the pandemic, I traveled to Italy almost every other month. It took many months of searching around the globe to identify the perfect partner for us. I really fell in love with Florence because it's such an inspiring place for art and western culture, the birthplace of the Renaissance. The artisans with whom we work are typically trained through apprenticeships and are proud masters of their craft. That really shows through in the quality of all of our handbags.
HL: How do you decide with whom to work in partnerships such as The Four Seasons Hotel New York Downtown?
CC: Since our launch, NYC has been an important place for us. It's our largest market in the US and the heart of the fashion community. We love the Four Seasons branding and their focus on customer experience which attracts clientele that's very much aligned with the SENREVE community. We also love the passionate and talented team at the Four Seasons in Tribeca NYC!
HL: Where is Senreve most popular and what is your theory as to why?
CC: San Francisco is an important home base for us because the Bay Area has a wonderfully diverse and supportive entrepreneurial community. Since our launch, we've expanded our presence globally and some of our biggest markets are outside of the US ranging from Singapore to London to Vancouver. SENREVE is popular in big cities around the world where women life busy, multi-faceted lifestyles, but they also have a great appreciation for luxury, quality, and unique design.
HL: Senreve bags are frequently spotted on the arms of many celebrities. Can you name names?
CC: There are so many celebrities who love our products, but I'm especially proud of having Lady Gaga share our tagline "Don't be a rockstar, be a legend" on her social media right around when she organized the global concert for COVID-19 relief. Some of our earliest celebrity brand ambassadors include Selma Blair, Sarah Michelle Gellar, Gabrielle Union, Brie Larsen, Jessica Alba, Anna Kendrick and Angelina Jolie. Many of them are authentically SENREVE in the sense that not only are they are beautiful actresses, they are also activists, young moms, and more. One story involved a celebrity getting a little impatient about being on our waitlist for so long because our iconic Maestra bag was sold out – I won't divulge who that was.
HL: Do you have plans to take the brand beyond handbags?  
CC: Yes, the ambition is for SENREVE to become an iconic global next-generation luxury brand. We have introduced several new product categories that are high quality, versatile, and beautiful including cashmere, shearling slippers, and candles.
HL: Which Senreve style are you currently carrying?
CC: I love the new Mini Alunna, I have that in the pebbled Chestnut. It's really versatile and fits all my daily essentials. I wear it mostly as a crossbody, but sometimes wear it as a backpack as well!
HL: You could live anywhere in the world. Why do you choose San Francisco as your home? 
CC: I love San Francisco because of the American entrepreneurial spirit, the many neighborhoods with European architecture, the unique history of the city, and the people.
HL: What are some of your favorite San Francisco restaurants, stores, and boutiques?
CC: I really love the restaurants in SF, Saison and Angler being my two favorites. I also love Boba Guys and Anthony's Cookies – best chocolate chip cookies ever. Jackson St. where SENREVE is located has a lot of great stores and boutiques like Aesop, Anine Bing, Isabel Marant and Zimmerman.
HL: Describe your typical San Francisco weekend day.
CC: If the weather is nice, I love going to Golden Gate Park or the Palace of Fine Arts in the morning. Brunch at Foreign Cinema is my favorite or dim sum in Chinatown. I think shopping in Jackson Square, Pacific Heights, or Union Square is fun as well. Coffee at Reveille, Sightglass, or Mazarine. My husband and daughter obsess over the Giants so usually catching a ballgame during baseball season at Oracle Park is a must as well. Some of my favorite dinner places are actually in the Jackson Square area as well – Kokkari and Cotogna.
Photos courtesy of SENREVE unless otherwise noted.