If you watch Bling Empire, the newest Netflix reality series focused on socialite Asian Angelenos, you might spot a cameo appearance by Andréa Bernholtz in a birthday party scene. Hardly an emerging ingenue, Bernholtz is the co-founder of Rock & Republic, a luxury denim fashion line that's become a celebrity favorite. She's also CEO of Titan Industries, where she developed a line of high-fashion footwear line.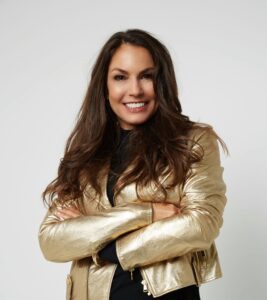 Bernholtz's busy career turned a corner when she started a family. Almost a decade ago, her focus shifted to seek a better work-life balance between raising her daughter and commuting between two homes in California and a home in Hawaii. She sold Rock & Republic and began to focus on homeschooling her daughter and building on her lifelong passion for improving our planet's climate health. It was up to her to set a good example as a parent, so this "mom-preneur" was soon back in business, this time concentrating on post-consumer plastics used in, of all things, swimsuits. The new venture is called Swiminista. If you haven't heard of it yet, you will soon.
The fabric for this durable line of "problem-solving" swimwear, aimed at post-30 women but ridiculously flattering for all ages, is made from recycled plastic water bottles woven into ultra-strong nylon.
Recycled polyester is easier to create than one would assume. The simple process begins with collecting post-consumer waste, or recycled bottles. The bottles are shredded, material dried, and transformed into reusable material, courtesy of a heated extruder. The long fibers are forced through tiny holes and then torn apart to use as material.
When you consider plastic bottles can take as much as 20 years to biodegrade, you'll get a sense of just how hardy these swimsuits are; no disintegrating after one season like other brands. Even the boxes they're packed in are compostable and recycled. Brilliant!
The inspiration for Swiminista occurred while Bernholtz was on vacation with female friends who complained their swimsuits fit poorly, fell apart, or were uncomfortable. Bernholtz knew they were right.
"When you're in your 20s, a little bit of 'pop out' isn't a big deal," she said. "But when you're older, proper fit really matters."
Bernholtz thought she had made a complete break from the clothing industry, so when a friend suggested she try her hand at designing swimwear, she insisted she was retired.
"I was really sucked back in 'cause I wanna create," she said. "So I just started Frankenstein-ing my existing swimsuits and coming up with things and bringing them to seamstresses."
"I've got girls who are only 20 wearing it, and I've got women who are in their fifties and sixties wearing it," she said. "It's all about confidence and self-love."
From her days designing jeans at Rock & Republic, Bernholtz had knowledge of how to tweak a pattern to accomplish optimum fit. Could she transfer that know-how to better fitting swimwear? She began by tying elements within the fabric in a way that would flatter the figure.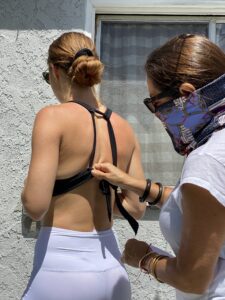 Originally, Swiminista suits were designed for women in their thirties and forties, but Bernholtz soon realized the fit's appeal for consumers both younger and older.
The powerful, recycled nylon mesh used to create a one-piece bathing suit was only the beginning. She added adjustable pushup bra cups and clever tweaks like adding seams in the front and back that act as support while being visually slimming.
Not a fan of halter-top swimsuits that need to be tied so tightly they cause neck pain and headaches, Bernholtz created tops that adjust under the rib cage and crisscross over shoulders. It can also adjust to even out tan lines or for wearing a coverup. Another part of the problem-solving solutions inherent in Swiminista suits is eliminating the dreaded "side boob" and adjusting a look to work with various body types.
"I want to avoid the look like you're wearing a sports bra or granny panties or something," she said. "I wanted to keep it sexy; I want to keep it chic and feminine. As your body changes from day-to-day and week-to-week, these suits can change with you."
Every innovation built into a Swiminista swimsuit is based on hundreds of hours spent in swimwear shops interviewing women about what they like and need in a bathing suit.
In 2020, Bernholtz's Swiminista designs, sold online, caught the eye of Paris fashion house Christian Lacroix, and soon a collaboration was born.
Bernholtz had met the Lacroix team at a Paris fashion show during her Rock & Republic days and had astutely stayed in touch with them.
"I dig their prints," she says. "They're so cool, you know, and there's just something timeless about them."
Then she heard an industry tip; the company had begun to invite collaborations with designers. Bernholtz soon found herself booking a flight to Paris during Fashion Week and reached out to Lacroix CEO Nicolas Topiol, securing a meeting to present her ideas. She came out with a contract.
Speaking on behalf of The House of Christian Lacroix, Topiol said, "Partnering with Andréa and Swiminista on an upscale beachwear collection was a natural choice for us. Our relationship with her extends back to her innovative work on the Rock & Republic line. Now, her unique approach to swimwear with Swiminista provides a wonderful opportunity to combine her inclusive shapes with our rich prints."
Bernholtz went home with a catalogue of Lacroix prints and found narrowing down her choices was almost overwhelming. Eventually, she selected a floral print, adding a single vertical seam to create a pleated effect.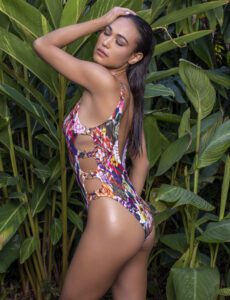 "Vertical lines elongate you," she explains, "so, suddenly they make you look better."
The same is true for zigzagging, so Bernholtz searched the Lacroix catalog for prints that could be scaled properly, came in complementary colors, and would look good while swimming. Back in Paris, the Lacroix team was receptive.
"I'm super grateful to work with them, because their fabric prints on our nylon suits bring a whole new beautiful life to both their collection and our swimwear," she said. "We took our bestselling suits and made them in a House of Christian Lacroix print."
The collaborative collection is trending.
"My goal was to have a halter-looking top, for example, or halter-looking bathing suit which is so flattering to most women—but not have it tie around your neck" in a way to provoke pain. Plus, she says, "I like to adjust it for tan lines or for wearing a coverup underneath it."
As a proponent for the elimination of "side boob" and call for adjusting to different body types, Andréa is all about problem solving.
And she loves the fact that the material holds up well in all elements. Bernholtz admits to tossing her swimwear into the washer and dryer, typically a no-no. "I've been doing it with my leopard print suit and it still looks brand new—very durable."
In homage to her daughter, Bernholtz recently launched a collection of Mommy & Me swimwear for children that includes her favorite leopard print design. The House of Christian Lacroix collection will soon follow.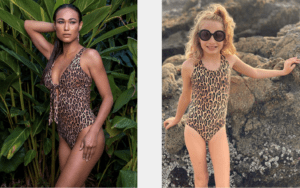 When she isn't working on new designs for Swiminista, Bernholtz volunteers for a variety of organizations working to protect the environment, such as Heal the Bay, Oceania, and The Galapagos Conservancy. She's teaching her daughter her eco-conscious ways as well: the two often participate in beach cleanups, and at home they use cloth wipes instead of paper towels.
"You can use it like 150 times," she boasts. "Every little bit helps."