Whee! Ka-Pow! celebrants Around thhe globe ring in the new year with various customs and traditions, feeling thankful for the year ending and looking forward with new hopes and dreams for the one starting. Did you know that there are 26 different New Year's Days in the world? Most calendars are based either on the solar or lunar cycles. Used by most of the world, the Gregorian calendar is a solar
dating system where the New Year is always January 1. The second highest utilized calendar is based on moon cycles, so that explains why the Lunar New Year falls on different dates: February 12 in 2021, two days away from Valentine's Day! No matter which calendar you observe, the fondest memories are made gathered around the table. To kick off the New Year with a big bang, we have East meets West in Haute Kitchen with two incredible talents who can't wait to share their love and goodies with you! Happy New Year and Gung Hay Fat Choy and Happy Valentine's Day to you all! Enjoy.
Michelin Star Chefs Hubert Keller with Claude Le Tohic
CLAUDE LE TOHIC
Chef-partner, a conceptual visionary of ONE65, Claude Le Tohic was born in France and attended culinary school in Vannes. Upon graduation, Claude joined Les Hortensias, a Michelin 1-star restaurant. Two years later, he arrived at acclaimed chef Ghislaine Arabian's Michelin 2-star restaurant in Lille, France. One year later, Claude became chef de cuisine, working alongside Joël Robuchon at Jamin, a Michelin 3-star restaurant in Paris. In 2004, in the presence of France's president, he received the highly revered, peer juried Meilleur Ouvrier de France award for his efforts in preserving, advancing, and perpetuating the tradition of French cuisine. Le Tohic is the only active chef in the U.S. who has been honored with this prestigious award. In 2005, Le Tohic moved to the United States, where he earned the restaurant Joël Robuchon at the MGM Grand, the only Michelin 3-star rating in Las Vegas. Claude Le Tohic has garnered numerous awards to recognize his skills, including the James Beard Foundation Award of Best Chefs in America 2010 and induction as a member of Master Chefs of France. For more information on Chef Claude's newest venture, please visit: www.one65sf.com/home.
"Sometimes, less is better. You cannot cheat. –Claude Le Tohic
Q&A
HAUTE LIVING X CLAUDE LE TOHIC
HL: So, for January and February, I'm a lucky gal who gets to celebrate both Western and Eastern New Years' plus Valentine's Day. Let's talk about love! At a gala I chaired, I knew you snagged a good one when I first met your wife, Mabelle. She is not only beautiful, but I enjoyed her company as well. How did Mabelle catch your eye, and what smooth move did you make to get her on a date?
CLT: Mabelle and I met in Brazil, which is where she is from. I thought she was such a beautiful woman. I don't share much about our relationship, but I remember our first kiss from the start. The tree that we had our first kiss under was on the street outside of a mall. You wouldn't believe it, but a few years ago, they decided to redo the whole square and tore out everything from that space, except for that tree. It's still there after all these years!
HL: What are your Valentine's Day plans with your wife? Will you be cooking? If so, please tell how you will be wooing her—your menu amongst other things
CLT: You know, as a chef, you spend Valentine's Day in the kitchen. It's one of the busiest days of the year. But I don't wait until Valentine's Day to send love to my wife, I try to show it year-round.
HL: You were born into a restaurant family. Who and how did that inspire you to continue the family tradition? Will your children also follow in your footsteps as you did with your parent(s)?
CLT: always liked working in the kitchen, I grew up like that, and I think the hospitality lifestyle, in general, is what I've always been in love with. Not only cooking but hospitality and making people happy. Because of my parents, I grew up with a good sense of hospitality. My children are very educated on food and love eating, but they don't love cooking
HL: Chef, it is truly an accomplishment to hold a combined 12 Michelin stars thus far in your career! My goodness! Some chefs can only dream of this. You are still young. What are your hopes and dreams for the future?
CTL: To continue to make people happy. To keep giving service excellence, because I grew up in the environment of excellence of cooking, of hospitality, and I hope to continue that and even get better, so that I can provide the best of the best.
HL: Many of us would love to be the proverbial fly on the wall in your restaurants. Any memorable moments?
CTL: A man came in with his girlfriend one night to dine, and halfway through the meal, his wife showed up. She put on a show! She grabbed the other woman by the hair—the other woman had very long hair—and started wrestling her. The other woman started running through the restaurant with the wife chasing her.
The wife then grabbed her husband's ring and threw it across the restaurant. The man came back the next day looking for his ring, so we all had to get down on our hands and knees looking for his ring. It was a show!
HL: That is so funny! What is your quote or motto?
CTL: Sometimes, less is better. You cannot cheat. For example, sometimes you go to a restaurant and they put a lot of flavor and a lot of ingredients in a dish so that, in the end, you don't know what you're eating.
Sometimes when you make a simple dish, you can't cheat because it only has three to four ingredients. So, it has to be perfect. Simplicity can be the most challenging thing to do. Like a white wall, you see marks easily.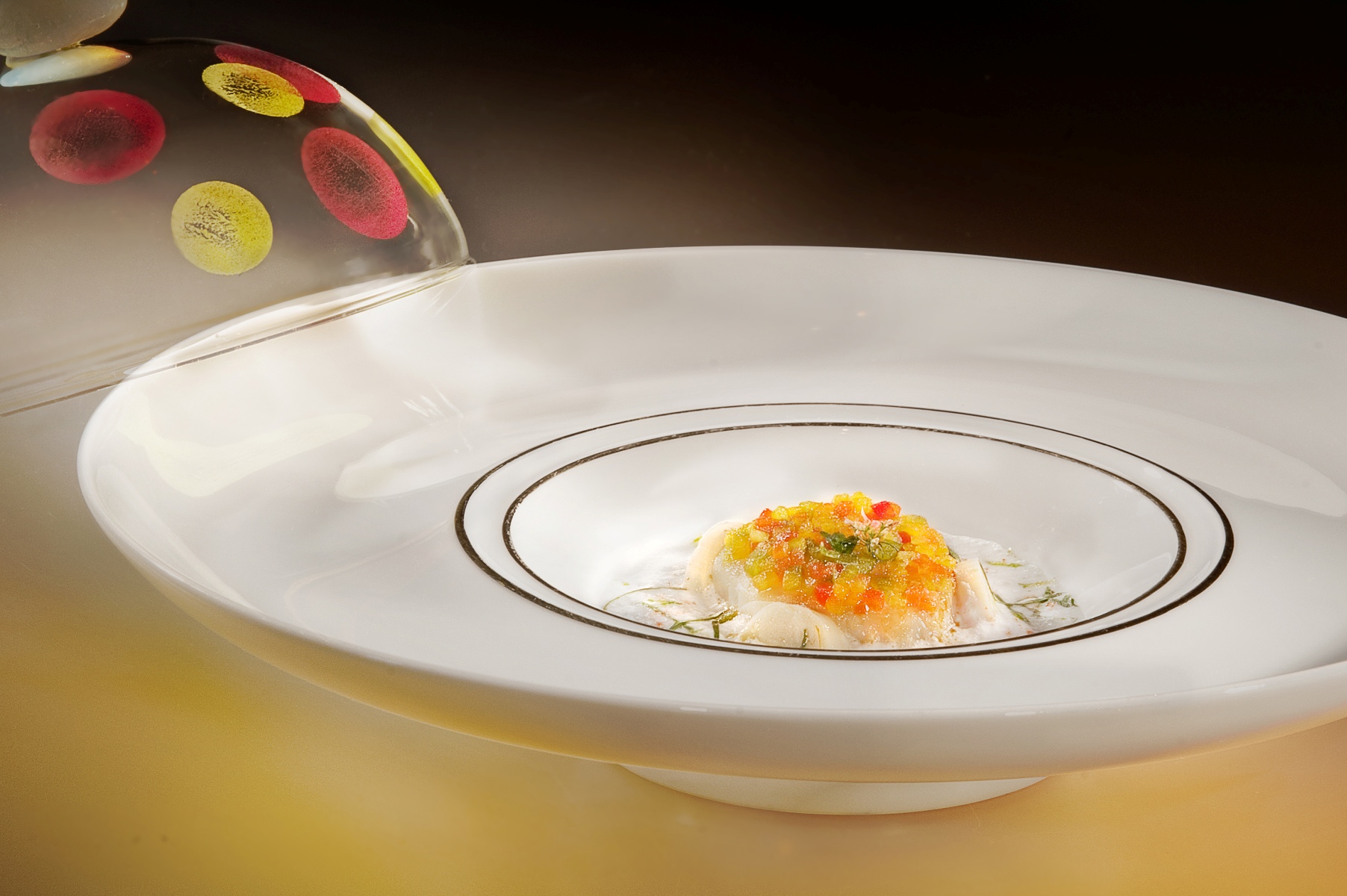 Black Cod and Clam Jus, with Coconut Milk & Coriander
Ingredients
Sauce:
• 5 ounces (150 grams) clam ju
• ¼ (10 grams) of each: red, green, and yellow bell peppers
• 2 tablespoons (40 grams) coconut milk
• 1 whole lime• Olive oil
• ½ cup finely chopped (50 grams) fresh coriander
• Tabasco
Garnish
• ½ of each color of bell pepper (20 grams) bell pepper, each color, cut into small dices
• 2 tablespoons (10 grams) chopped ginger
• 1½ teaspoons (20 grams) olive oil
• Salt
• Espelette pepper
INSTRUCTIONS
For the sauce:
1.Cut the bell peppers in small pieces and cook in olive oil for 2 minutes over low heat.
2. Add clam jus, bring to a boil, and simmer for 2 minutes.
3. Strain the bell peppers from the sauce and put them to the side. (The strained bell peppers will be used for another preparation.)
4. Add to the sauce the coconut milk, lime zest, lime juice (a full lime's worth), and a dash of tabasco. Put in a blender and blend.
5. Add fresh coriander and set aside.
For the garnish:
Dice the strained bell peppers. Cook slowly over low heat for about 2 minutes in olive oil, along with ginger, salt, and Espelette pepper.
METHOD TO COOK FISH AND PLATING:
Season two pieces of black cod fillet, 5 ounces (150 grams) each, sear lightly in olive oil over low heat until the fish is cooked.
Add the garnish on the top of the fish. Plate each fish into a deep plate and pour the sauce around each.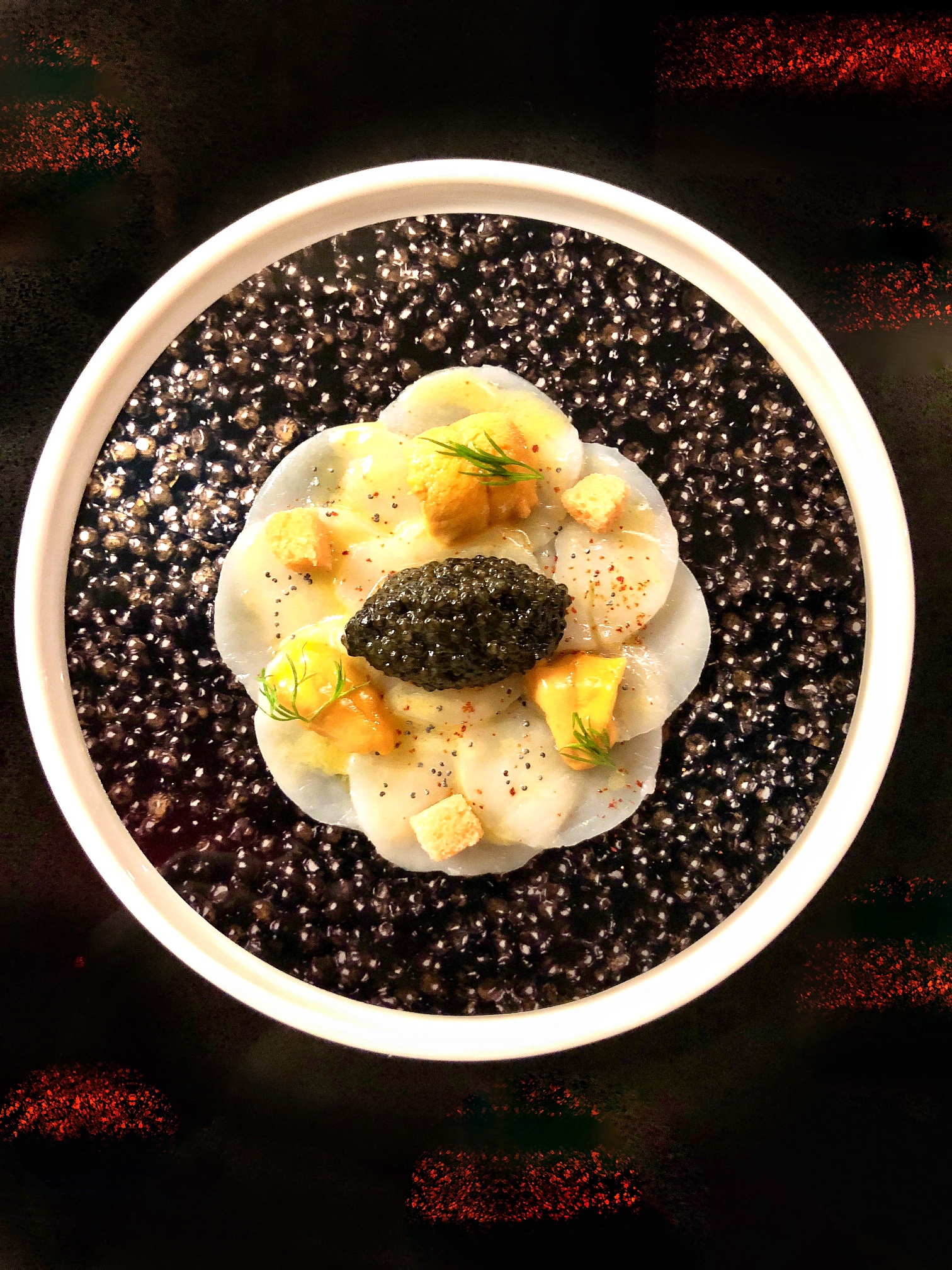 Carpaccio of Fresh Scallops, with Sea Urchin & Caviar
(Serves 2)
Ingredients
• 5 fresh scallops
• 6 sea urchin tongues or uni
• 1 ounce of caviar
• Poppy seeds• Fresh dill
• Lime
• Espelette pepper
• 1 slice of brioche bread (for croutons)
• Butter
• Salt
• Pepper
• Fleur de sel
• Olive oil
Instructions
1. Put your scallops in the freezer for an hour to make them little firm.
2. Slice the scallops thinly and arrange them onto two plates to resemble a rosette on each plate.
3. Juice the limes and mix with 2 ounces (50 grams) olive oil, salt, and Espelette pepper.
4. Brush the lime mixture on the scallops.
5. Add poppy seeds and fleur de sel to taste.
6. For the croutons, dice brioche, sauté with butter in a pan until toasted. Drain the butter and set the croutons aside. Keep at room temperature.
7. Gently place 3 uni pieces on top of each scallop rosette, along with a half-ounce of caviar on each plate.
8. Finish the dish with a small piece of fresh dill on the rosette and 3 pieces of toasted croutons on each plate.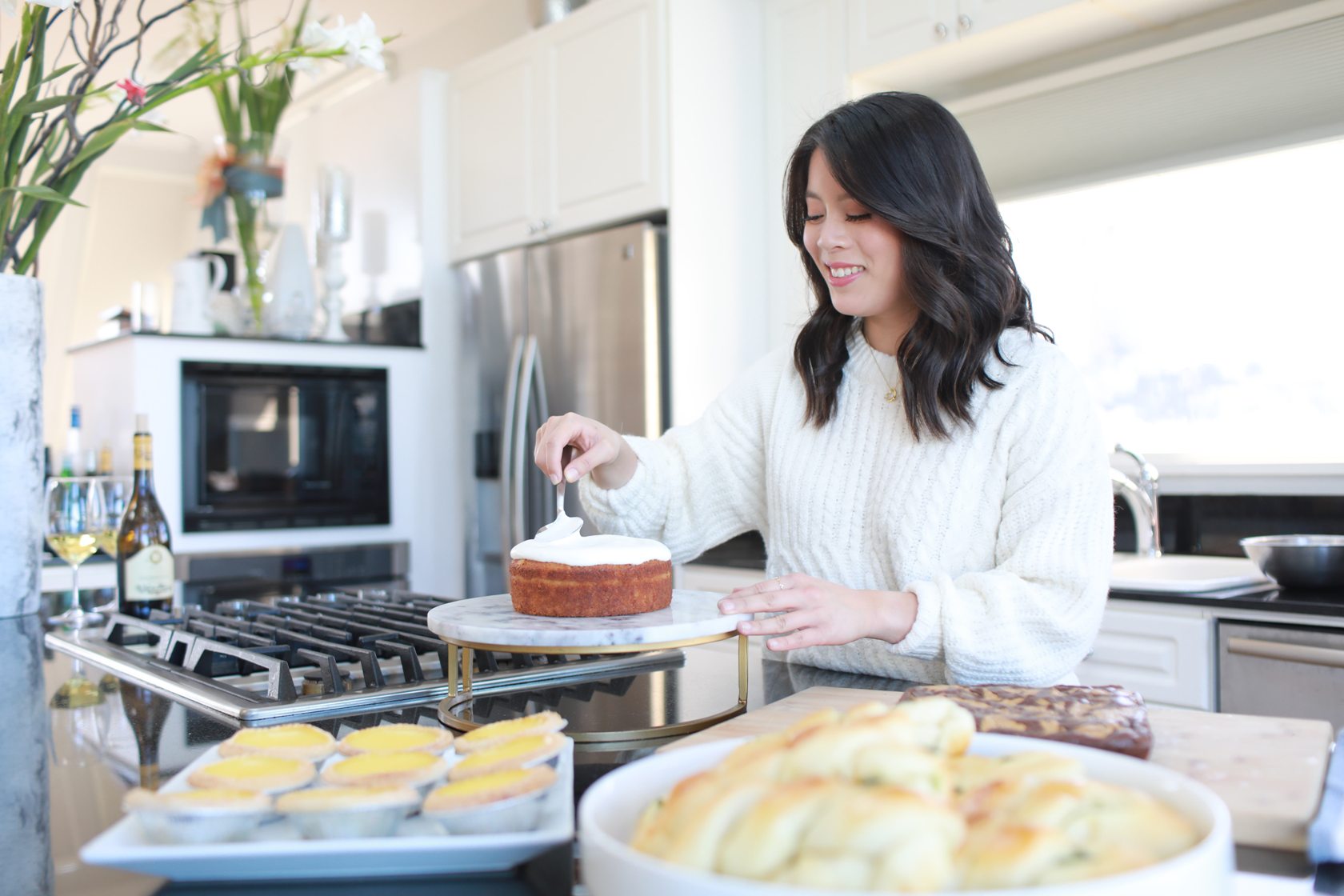 MARISSA SETO
A third-generation San Franciscan, Marissa Seto, is all about The City. She attended local schools at Hamlin and Lick Wilmerding and was also a SF debutante. Ms. Seto is the writer and photographer behind the Asian-inspired food blog Delicious Kinship. Although she's a newbie blogger, she's no novice when it comes to food.
A daughter of serial entrepreneurs who also own restaurants as a passion, Marissa grew up in the culinary world. At seven years old, each afternoon, she and her siblings were supposed to do homework in the upstairs office of a Japanese restaurant her family owned in North Beach. But the sounds and smells were too alluring for her to ignore.
"Teriyaki chicken," Marissa recalls. "I loved painting the chicken with the sticky glaze and just staring at them in the oven as the skins sizzled under the hot broiler." To this day, teriyaki chicken always reminds her of that little sushi shop on Green Street.
According to Marissa, "food is the gateway to memories." "Food brings us back to specific places or reminds us of certain people. Food is nostalgic and sentimental because it's a conduit for conversation and meaningful experiences."
As Marissa grew older, her passion grew stronger. She baked her way through high school and learned to cook many of her family's traditional Cantonese dishes. On Sundays at college, Marissa relished hosting dinner parties for her closest friends, a tradition she adopted from Sunday dinners with her family. After graduating from the University of Pennsylvania, Marissa pursued a career in asset management and real estate finance. She had business in her blood, but longed for more time in the kitchen. With the start of a new decade, Marissa decided to pursue her life-long dream of writing a food blog, sharing dishes inspired by her Asian-American roots and hoping to bring more people together over food. To see more of Marissa's fun recipes, head to deliciouskinship.com or check out @deliciouskinship on Instagram!
Food is the gateway to memories.-Marissa Seto
Q&A
HAUTE LIVING X MARISSA SETO
HL: What was food around the family table like growing up? Who inspired you in the kitchen?
MS: My Pou Pou was a kitchen goddess. In addition to the weekly parties she held for about 75 to 100 people, she'd feed the family 33 people every Sunday like it was no big deal. One thousand percent, she's the reason I started to cook. Food was abundant and, as Asian-Americans, really delicious. Most days, we had platters of stir-fried veggies with saucy meat dishes over heaps of white rice. Sometimes we'd have "American" foods like fried chicken or spaghetti Bolognese, but always with an Asian riff.
HL: You majored in business and graduated from the University of Pennsylvania with a successful career in asset management independent of your family business for many years. What inspired you to switch gears, focusing on food?
MS: had a satisfying career in finance, but it was unfulfilling and, to be honest, kind of boring! My soul craved something fun and creative. In college, I wrote a blog while I ate through Philadelphia's 50 best BYO brunch spots. I think I got through more than 30 restaurant reviews before I graduated and moved away. I deactivated the site, but always looked back and wondered why I didn't continue blogging. With this new decade I decided it was time to blog again and live with no regrets.
HL: It's exciting to see you sharing your love for food by launching a blog and a business! Tell us about it.
MS: Delicious Kinship (DK) is an Asian-inspired food blog with a mission to connect people through food.
On the one hand, DK is a recipe blog featuring my favorite Asian-American takes on classic Asian flavors: recipes like miso macaroni and cheese or Dutch apple pie baos. I write my recipes with extra instructional details, ingredient tips, and technique tricks, so everyone can feel confident in the kitchen. I want my readers, including inexperienced cooks, to make these recipes so that they can enjoy them with the people they love. On the other hand, DK is the home of my bake sales. Check it out for yummy homemade treats! Plus, I've committed to donating a portion of any bake sale proceeds to the SF Marin Food Bank. That way, by supporting DK, you are also supporting families in our community!
HL: For me, it seems that chefs cook savories and pastry chefs whip up desserts. What is your preference, if any: cooking or baking?
MS: Baking, hands down. It's super scientific and systematic, so you can drop into a recipe and just focus on the task—very meditative. When you have an idea, you can experiment and know exactly what you changed and how it affected the end result. That's where all the fun and creativity come in.
HL: Chinese New Year is a 2-week festival, and I understand you had four generations of family who participated in this tradition, not to mention the entire network of extended family and friends. How was that? What were your favorite memories during this celebration? And what part of this tradition is your favorite?
MS: Chinese New Year is lively and vibrant for our family. Some of the most important values around this holiday are "coming home" and "family togetherness," which we take so seriously that it's represented in our food. Traditionally, it is only when each member is actually seated together at the table and after my Gung Gung says, " Yet Chai Sek Fon" (meaning "eat together") can we start our meal.
Foods like whole chicken and whole fish are eaten this time of year because, eaten whole, they symbolize togetherness. Dumplings are also common, because they require the entire family to wrap the dumplings! That's probably my favorite tradition: sitting around the table folding dumplings together—oh, and the stacks of red envelopes!
HL: What are your favorite dishes during Lunar New Year, and why?
MS: Cantonese roasted duck is my all-time favorite Chinese food. And since it's symbolic of having whole poultry during this holiday, I get to eat it in abundance. Ha ha! I also really love chow nian gao, which are stir-fried rice cakes. They've got a unique chewy texture, like mochi, but are served savory alongside veggies and often slivers of pork.
HL: Growing up, you were surrounded by three generations with 33 family members. You all ate two to three times weekly at the dinner table flowing with dishes your Pou Pou would whip up in her wok. What would be your ultimate Chinese New Year banquet menu for the family if you cooked it?
MS: Oh! I'd definitely shake things up a bit and serve non-traditional dishes alongside traditional ones. Since the number eight is an auspicious and lucky number, we always have Eight Course Chinese New Year dinners:
1. Two classic dumplings: wontons in a spicy sesame sauce and crab and pork soup dumplings.
2. My riff on stir-fried rice cakes (chow nian gao) with spicy Italian sausage and broccoli rabe.
3. Classic Peking duck and steamed buns with hoisin sauce and sliced scallions. But I'd swap out the Peking duck for Cantonese roast duck, because the Cantonese version is meatier and way more flavorful.
4. My take on whole chicken—extra-crispy, boneless, pan-seared whole chicken with yuzu glaze.
5. Classic stir-fried yu choy sum with oyster sauce.
6. My take on steamed Dungeness crab with a browned butter soy dipping sauce.
7. Classic long-life noodles with mushrooms.
8. My take on orange and ginger olive oil cake with fresh whipped cream.Check Out these recipes at deliciouskinship.com.
Charlotte Parsons and Marissa Seto
Pork Wontons in Spicy Sesame Sauce
Makes 2 main servings or 4 side servings(about 32 dumplings)
Ingredients
Pork Wonton Filling
• 8 ounces ground pork
• 1 scallion, finely chopped
• ¾ teaspoon sesame oil
• 1¼ teaspoon soy sauce
• 2½ teaspoons Shaoxing wine
• ½ teaspoon sugar
• 1 tablespoon vegetable oil
• ¼ teaspoon fresh ground white pepper
• 1 package of wonton wrappers
Spicy Sesame Sauc
1 tablespoon vegetable or olive oil
• 2 cloves garlic, finely minced
• 1-2 tablespoon tahini or smooth peanut butter, depending on your preference
• 1 tablespoon chili oil from a jar of chili crisp (plus 2 teaspoons of the chilis for extra spice)
• 2 tablespoon soy sauce
• 2 tablespoon toasted sesame oil
• 1 tablespoon Chinese black vinegar (or red wine vinegar)
• 1 teaspoon sugar
• ½ teaspoon ground white pepper
• 2 tablespoons water
Garnish
• 1 scallion, green parts only, thinly sliced or 1 tablespoon of roughly chopped cilantro
• Black or white sesame seeds
Instructions
1. Line a baking sheet with parchment paper and fill a small bowl with a little water.
2. In a medium bowl, combine the wonton filling ingredients in a bowl. Mix well.
3. Take a wonton wrapper, then place about a teaspoon of filling in the center (it's better to underfill than overfill, or they risk exploding when boiled). Use your index finger to paint a little water along two consecutive edges. Fold the wontons in half, pressing along the edges to enclose the filling into a triangle. Dab a little water on one of the corners, then bring the two corners together and press to hold its shape (see photo for more details). Place finished wontons on the parchment paper and continue folding until all the filling is used.
4. Start a pot of water to a boil. Meanwhile, heat a small skillet over medium heat with the vegetable oil and garlic. Once the garlic smells fragrant, turn off the heat before it browns, then add 1 tablespoon of peanut butter or tahini and the rest of the sauce ingredients. Mix to combine. Taste and adjust peanut butter or tahini per your preference.
5. Once the water is boiling, carefully lower in 8 – 12 dumplings into the water. (Work in batches to ensure you don't overcrowd the pot.) Keep an eye on the water as it comes back up to a gentle boil. The key is to cook the wontons in a gentle boil (a hard boil will break the dumplings).
6. When the wontons float, use a slotted spoon to transfer them to a serving bowl or plates, draining well.
7. Drizzle spicy sesame sauce over the wontons, then garnish with scallions or cilantro and a sprinkle of sesame seeds
Orange Ginger Olive Oil Cake
Makes one 6-inch round cake
Ingredients
Cake
• 1 cup (125 grams) all-purpose flour
• ¾ cup plus 2 tablespoons (175 grams) sugar
• ½ teaspoon salt
• ¼ teaspoon baking soda
• ¼ teaspoon baking powder
• ½ cup plus 2 tablespoons (140 grams) extra-virgin olive oil
• ½ cup plus 2 tablespoons (150 grams) whole milk
• 2 large eggs• Zest from 2 oranges
• 1-inch piece of fresh ginger root, grated
• 2 tablespoons (30 grams) fresh orange juice
• 2 tablespoons (26 grams) Grand Marnier
• Whipped Cream
• 1 cup heavy whipping cream, cold
• 2 tablespoons powdered sugar
• ½ teaspoon five-spice powder, optional
Instructions
1. Pre-heat the oven to 350°F. Line the bottom and sides of a 6-inch cake pan with parchment paper (one circular piece and a long strip of paper to make a collar for the sides).
2. In a medium-sized bowl, stir together the flour, sugar, baking soda, baking powder, and salt. In a separate bowl, whisk together olive oil, milk, eggs, orange juice, orange zest, grated ginger, and Grand Marnier.
3. Pour the dry ingredients into the wet ingredients, then mix until the flour just disappears. (Don't mix past this point or your cake will be tough!) Pour the batter into the lined cake pan, then bake.
4. Starting around 50 minutes, check the cake's doneness with a toothpick every 5 minutes. It's ready when the toothpick comes out clean and the top of the cake has browned. (This could take up to 65 minutes, depending on your particular oven.)
5. Let cool for 10 minutes in the pan, then carefully loosen the sides of the cake from the pan with a knife and invert onto a wire rack. Allow the cake to cool completely on the wire rack for at least an hour.
6. Before you serve the cake, combine the heavy cream, powdered sugar, and five spice powder. Whisk just until the cream holds its shape. (Be careful not to over-mix or it'll turn into butter.) Dollop the whipped cream onto the cake, then spread with the back of a spoon.