A Conversation With Steven Spurrier
May 24, 1976: In the Room Where It Happened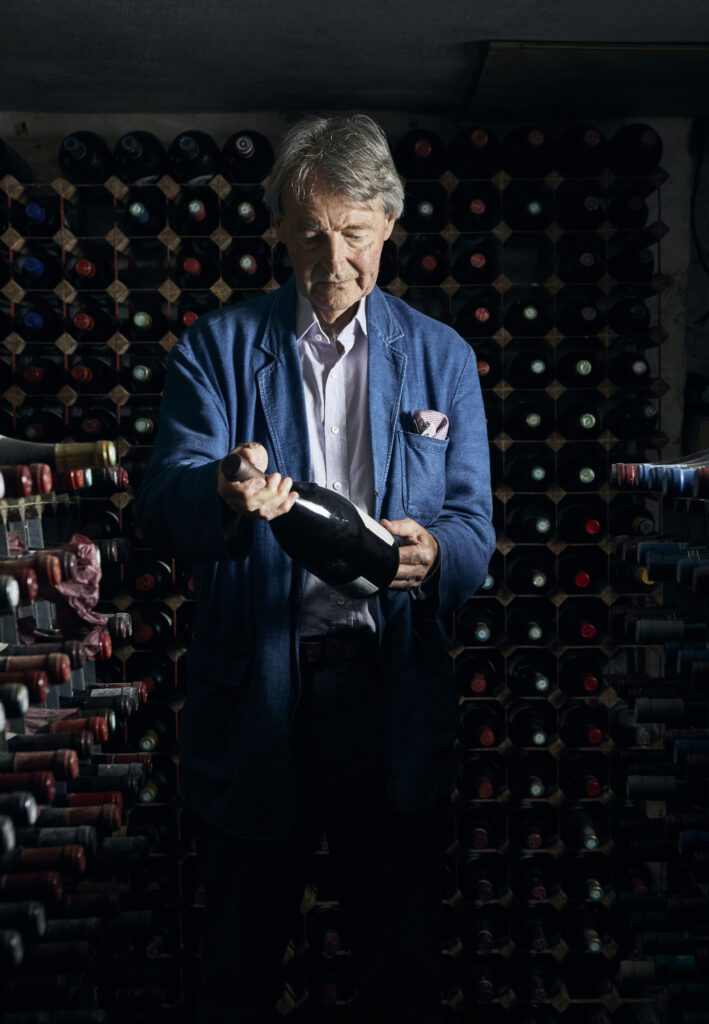 On a spring afternoon in Paris 45 years ago, the world of California wines changed forever. It wasn't designed to happen that way…not intentionally. On the eve of America's bicentennial, British wine merchant and educator Steven Spurrier, and his colleague Patricia Gallagher, organized a blind tasting as a way to showcase the quality coming from California upstarts such as Stag's Leap Wine Cellars and Château Montelena.
It turned out to be a dramatic event. Observers have called it "a Declaration of Independence from French supremacy," and "a lightning rod to the budding wine scene in California."
The room where it happened was a conference room at the InterContinental Hotel in Paris. Fortunately for all, a lone reporter, George Taber, was there to cover the event which he later dubbed "Judgment of Paris" for a TIME magazine feature. Bella Spurrier captured photos of the nine-member French judging panel. And the rest is history.
On the eve of the 45th anniversary of the Judgment of Paris, we talked to Steven Spurrier at home in Dorset, England. We also touched on the upcoming Judgment of Napa, a first-ever tribute and blind tasting created and curated by Angela Duerr of Cultured Vine, planned for May 24, 2021 at The Culinary Institute of America at Greystone, and on tour in several U.S. cities thereafter.
HAUTE LIVING X STEVEN SPURRIER
HL: Looking back on that spring day nearly 45 years ago in Paris, is there one special moment that stands out in your mind above all others?
SS: It was indeed an occasion to remember and to savour. Patricia Gallagher and I had to make sure it ran like clockwork, and it did, except we ran over time with the reds and the InterContinental Hotel wasn't that happy as the room was pre-booked for a cocktail party at 6 p.m. The tasters/judges were not expecting there to be French wines as well, nor that it was going to be a blind tasting, but when I announced this, they accepted with interest.
The pouring order was random, the names of the wines written on bits of paper, placed into a hat and the order the secretary drew them out was the order of service. There was concentration on the table and George Taber writes about the confusion of the judges. For the whites, six voted for Ch. Montelena and three for Chalone (my choice), which was significant.
The results were met with surprise; the quality of the California Chardonnays being solidly recognised. The whites were cleared away and the reds began to be served and I had the impression that certain tasters did not want the same result, some wines that were plainly not French getting lower marks out of 20 than their quality merited.
I think the freshness and clarity of fruit on the Stag's Leap 1973 stood out, the 1970 and 1971 clarets were pretty tannic and that is possibly why it got the most votes on the numbers. For Bordeaux, Mouton was next and it always showed best of the clarets in the 1986 and 2006 tastings. Of course, the thing that really stood out after the results were announced was Madame Odette Khan, publisher of La Revue du Vin de France, demanding her notes back. She had put Stag's Leap top and knew EXACTLY what would happen. I replied that she had agreed to take part in the blind tasting and as such, her notes belonged with everyone else's. She was furious, stormed and subsequently published an article in the RVF stating that the tasting had been rigged.
HL: Absolutely amazing. One feels they were in the room where it happened, to coin a phrase, as you recall it. How much of a role do you think Judgment of Paris played in launching New World wines beyond California?
SS: A very big role indeed. It's not that the New World wines were unknown, but Australia was only known in the UK. South Africa was under Apartheid and didn't export, New Zealand really came on the scene in the early 1980s with Sauvignon Blanc, Chile and Argentina were virtually unknown outside their own borders.
I have always said that the lasting value of the 1976 Tasting was not what it did for California, but the fact that the tasting created a TEMPLATE whereby lesser-known wines of quality could be compared blind to well-known wines of quality and if the tasting was properly organised and the judges themselves of quality, then their opinions would be respected. You only have to think of Eduardo Chadwick's Berlin Tasting in 2004, which he then took on the road for ten years to prove consistency, and you have the prime example.
HL: Tell us about Bride Valley in Dorset and the sparkling you're doing there.
SS: When my wife bought The Court House in the little village of Litton Cheney, she needed more land than just a garden and ended up buying a 200-acre farm on the edge of the village which is in a single big bowl facing southeast, south, and southwest from which we can see the English Channel four miles away as the crow flies. There is a lot of chalk on the farm, in fact the soil is basically chalk under a 12" cut of loam and we are about 25 miles from Kimmeridge, after which the chalk of Champagne is named. The upper slopes are too steep and too windy to plant and when I presented a dossier to the Boisset family at Vinexpo Bordeaux 2007, they got very excited and wanted to do a joint venture with 30+ hectares, but after lots of research the results were that 10 or so hectares were plantable, more too risky, so we did this ourselves. Boisset recommended we get the vines from Pepinieres Guillaume, suppliers to Bollinger, Roederer, DRC, etc., take the grapes to Ian Edwards (UK winemaker of the year 2012) at Furleigh not far from us north of Bridport and if all went well, they would buy the wine. All has gone very well from the quality point of view, but very small crops until 2018 and 2019 and like many startup ventures of this kind we are 100% over budget. From 2018 we began to make some still wine – Chardonnay, Pinot Noir, Pinot Noir Rose – and these go well, probably 15% of our production.
HL: What conclusions have you made, if any, about the future of winegrapes in the UK?
SS: Everyone is very, very optimistic and in my view, there is too much planting going on. Before — due to local demand — there was more demand than supply. From 2018, this will be reversed and some of the big boys and newcomers will cut prices to get market share. We won't do this and have formed the Bride Valley Club to concentrate on selling directly to the consumer.
HL: Tell us about the book you're writing, "A Life in Wine."
SS: "A Life in Wine" is the second edition of my memoirs published in 2017 under the title "Wine, a Way of Life." It has been tightly edited, a final chapter added to bring it up to date, particularly with the creation of the Academie du Vin Wine Library in April 2019. With the re-issue of Michael Broadbent's Wine Tasting on its 50th anniversary and with my book we now have eight [titles] in publication with the aim to re-create the Literature of Wine. There are also a few more photos and a much needed index. It is my life in wine from 1964 to 2020, so lots of places, people and of course the product. I am both pleased and proud of it.
HL: Can you name a few winemakers you follow and why?
SS: The winemakers I follow are all friends and I guess they have become friends because they make wine I like, so I visit them whenever I can. Too many to mention.
HL: Thinking about Napa and the upcoming Judgment of Napa, do you have any crystal ball thoughts about what Napa Valley wineries might be up to in another 45 years?
SS: Forty-five years is two generations, so it is impossible to predict what might happen. It is plain that if wineries wish to survive and prosper, they need owners with vision and deep pockets. Icon wines (i.e., $150+++) are here to stay.
HL: What excites you most about the Judgment of Napa and how do you feel about the tribute it is creating?
SS: Angela Duerr seems to be turning it much more into a celebration of what Patricia and I did by creating the event and George Taber being there to record it for the public, first in Time Magazine and then in his excellent book. This is a great honour.
HL: How would you like Napa — and the world — to remember your legacy?
SS: The legacy will, of course, be the Judgment of Paris and that has always been a "win-win" event, despite what the French thought at the time. As Aubert de Villaine said, it was "a much-needed kick in the pants for French wine."
If I had to use one word to describe my life in wine, almost right from the start once proper knowledge had been acquired, it would be as a COMMUNICATOR. That's how I would like to be remembered.
Photo credits: Lucy Pope