The Seven Coves of Spindrift Where Ocean, Earth, Forest and Stone Rejuvenate You – BY OLIVIA DECKER
As the eventful and stressful year of 2020 Ends, We searched for an ideal place to renew, recharge, and reset in the more optimistic forward year of 2021. In doing so we rediscovered the Seven Coves of Spindrift compound with its extraordinary ocean frontage and petite sea coves, centuries-old cypress forests, dry-stacked stone cottages and amazing Lodge.
I first visited owner Gary Vickers over five years ago while he was building the Cottages and developing the gardens and grounds. Subsequently, going back just over two years now, he acquired the adjacent 12,300 sf Lodge to complete this heavenly, 5-home sanctuary set amidst 4.25 acres of cryptically beautiful Cypress forest, well-kept gardens, dramatic sea-cliffs and ocean coves.
Mr. Vickers developed the wherewithal to purchase this lovely stretch of the coast after he founded and built a proprietary software business that broadly served the global energy sector. He fell in love with the scenic seaside retreat of Carmel as a child. Caddying for his father and uncle at the Bing Crosby National Pro-Amateur golf tournament at Pebble Beach each February. His family also often traveled south down scenic Highway 1, where he came to admire the rocky coastline with its sea etched coves and the giant redwoods as they traveled down to Big Sur. "I loved the rustically wild beauty of it," he said. "It had a big impression on me." Vickers began assembling the site in 2008, building the four cottages from scratch. Each featuring monolithic stone fireplaces with huge hand selected character stones imported from the mossy sandstone fields of Montana. Several of these stones weighing in at over 12,000 pounds. The stone laden Cottages are super sensual and cozy, yet dramatic, as they look down from the elevated cliff sides onto a series of petite Sea-Coves, which express ever changing moods and colors from the still glassy aqua-emeralds of the calm low tides, to the furious charcoal grey tempers of the Sea. Throughout the property the elevation changes range from 50 feet to over 200 feet above the crashing waves.
Adding a final phase to his project, Vickers bought the main Lodge just over two years ago. He called buying the Lodge "the last stroke of the paintbrush." Comparing the project to a historic Adirondacks camp, Vickers commented he'd been missing a vital piece of the puzzle in the form of a main Lodge where guests could congregate and where he could have space for amenities like a fitness center, a spa, a pool, and a commercial scale kitchen and renown wine collection.He and his invited guests continued to stay in the Cottages and assemble in the Lodge when it came time to entertain. The Lodge has a 2-story library with a domed ceiling formerly used by Fossett to house his book collection, some dating back to the 15th Century. Together, all five properties comprise 14 bedrooms, 13 bathrooms, and more than 18,000 square feet of living space on 4.25 acres and an unprecedented 1,000 linear feet of Pacific Ocean frontage.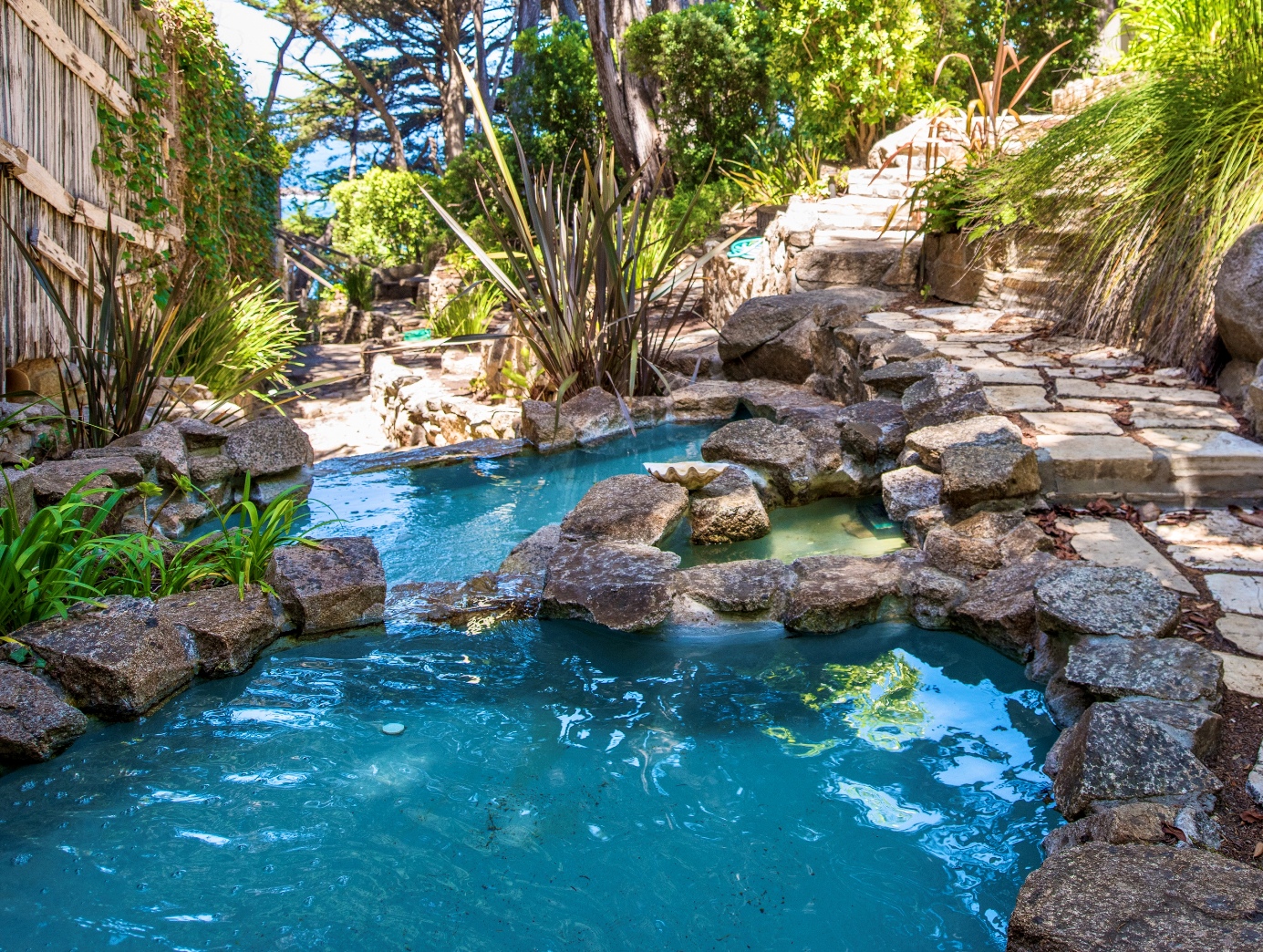 The Vickers family enjoys and is dedicated to supporting local causes in the community. Knowing that their resort like property is reminiscent and in keeping with the rustically wild beauty of Big Sur, they have staged and contributed to numerous charitable events at Seven Coves. In 2016-2017, when a large span of the Pfeiffer Canyon Bridge gave way; followed by the Mud Creek slide, the third largest in California history, the community was cut off from traffic and tourism causing severe hardship for private businesses and the work force. Vickers, along with numerous other leaders from the Big Sur community, were very active in hosting charitable events and silent auctions that raised money to support causes and people that assisted with the Big Sur community getting back on its feet. Notably, a couple of events hosted at Seven Coves brought in highly decorated Michelin star chefs Daniel Bouland, (Restaurant Daniel, New York City) and Charles Phan (from the Slanted Doorin San Francisco), as well up and coming local Chef Justin Cogley, who anchors the only Michelin star rated restaurant (Aubergine of Carmel) in Monterey County. And in a addition to visiting Chefs, Seven Coves also offers its own delectable gourmet experience for its guest with the assistance of Chef Tim Wood. In the popular local newspaper, the Monterey Weekly, Chef Tim has held the # 1 position of Best Chef in Monterey County numerous times over the last several years.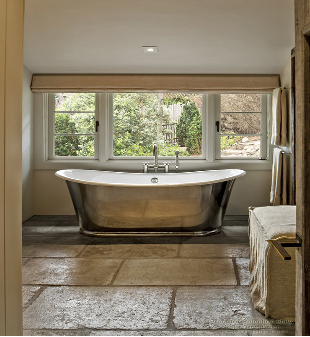 The Lodge at Seven Coves is equipped with a full commercial scale fitness facility to complement the outdoor pool, three hot tubs, sauna, steam room, and spa. This is not a typical, in-home gym: this is a commercial grade effort to produce a very inviting workout area thoroughly equipped with light weights, yoga mats and stretching and workout equipment, including Pre-Core™ ellipticals machines, recumbent bikes, treadmills, Stairmaster® step machines, and rowing machines. The gym also has high-resolution televisions and video facilities for those who like to watch TV or movies when working out. However, we highly recommend that you put the remote controls away, because the gym is strategically located in the expansive views of Point Lobos to the south and Fossett Point to the north. The highlight of these commercial-grade exercise facilities is that they are set up in front of a large window with breathtaking ocean views. A contiguous private masseur's room with an extremely efficient, aromatic steam room and a separate room with a full sauna complement the exercise routines.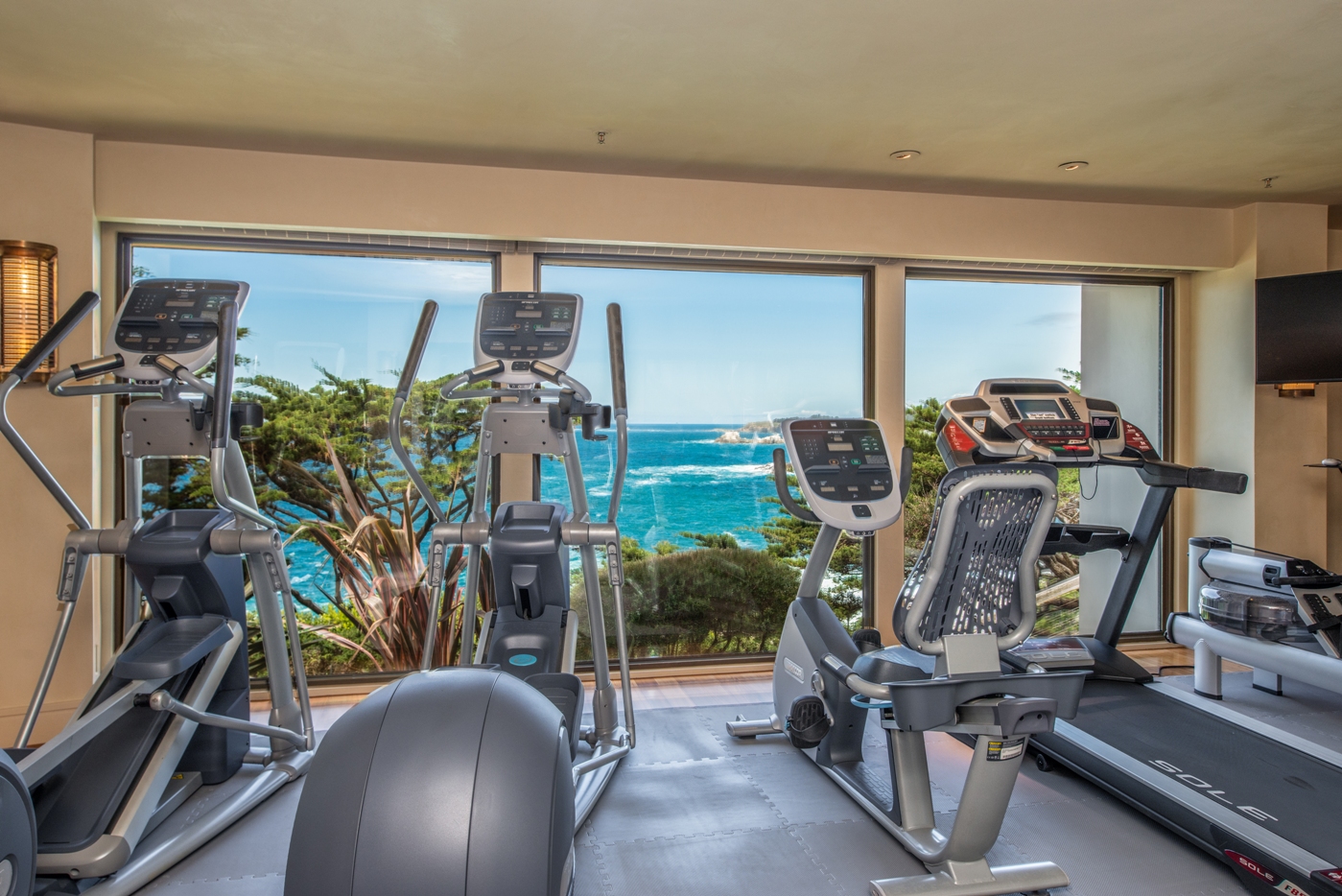 "Less than one mile from the mysterious beauty of Point Lobos State Park, where oil painter, Francis McComas, famously proclaimed that he had discovered; "God's greatest meeting of land and sea."
Rustic elegance at its best with sojourns of the soul and manifest destiny to the west
A Quintessential COVID Getaway
When the first wave of pandemic hit and COVID shut downs were imposed in the Spring of 2020, Seven Coves became an idyllic sanctuary between the major demographic centers of San Francisco and Los Angeles for those seeking a safe and serene environment to sequester.
The unique compound with its 200 yards of dry stacked stone security walls, offers a very private and safe place and once patrons get behind the gates, they enter into a mystically beautiful fairytale land that leads to an immediate connection with nature and relaxation from the tension of the world. The cryptically beautiful cypress forest that pervades the property and surrounds many of its structures, serves to soften the light refracting off the sea, lulling the unsuspecting guest into a state of relaxation as if exposed to a mythical opiate. The awe-inspiring natural landscape and trails (pathways) entice one to meander through the grounds and the properties eight distinct gardens and orchid laden greenhouse. Grandly scaled and rustic fireplaces represent the project's primary bohemian signature: each of the six fireplaces is as unique and artful as the next. Master masons toiled tirelessly to give each stone its purposeful place, and the ethos of their work is palpable and present to all who take it in. The natural elements of earth, water, wood, fire and stone, meticulously blend with the surrounds and bring each visitor back to the basic element of nature.
The cottages and lodge expertly pair the modern and traditional, putting wall-to-wall glass next to hand-built stone fireplaces.
Dry stacked stone work of the North Cottage living room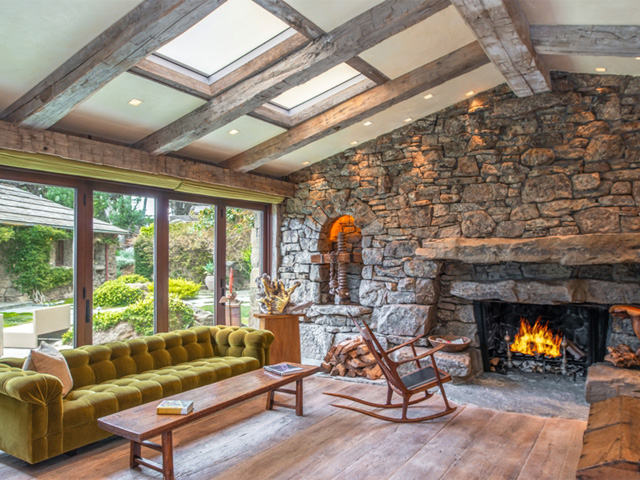 Modern design with rustic materials invite the outdoors in
Earthen tones and ochre stones frame the fire
Customers seeking a peaceful nature sanctuary started flocking to Seven Coves, many for longer-term stays; including several of Silicon Valley's most successful venture capitalist and software entrepreneurs, a notable Saudi Prince who is also a noted poet that relishes the Big Sur coast and wanted to distance himself from the summer riots in Los Angeles, a world renowned Physicist who tutored under Einstein at the Copenhagen School of Physics, a famous financier who eloped to Seven Coves after his wedding plans at the Amangiri Hotel in Utah were abruptly curtailed, a business retreat for the Aspen Institute's Crown Fellowship which included such patrons as the current President of Boeing International, former SVP of Cisco Systems, one of Google's most senior executives, and the former Chief of Staff for Warren Buffett … just to name a few. The site has also captured the attention and become a favorite respite for numerous Hollywood A-listers and Super-Agents. There was even a global recognized musical superstar that chose to produce the entirety of their last album at the property.
Seven Coves Cottages also served as a prominent location for the second season of the HBO series Big Little Lies where Madeline (Reese Witherspoon) and her on screen husband Ed (Adam Scott) appeared in the scenes shot at the Seven Coves Writers Cottage. The main Lodge was the location for the 1992 hit movie Basic Instinct. It served as the home of Sharon Stone's character, Catherine Tramell, a crime writer who becomes a suspect in the murder of a rock star. In the film, detective Nick Curran, played by Michael Douglas, makes a visit to the property to question her as she sits nonchalantly in a deck chair by the ocean at the Lodge.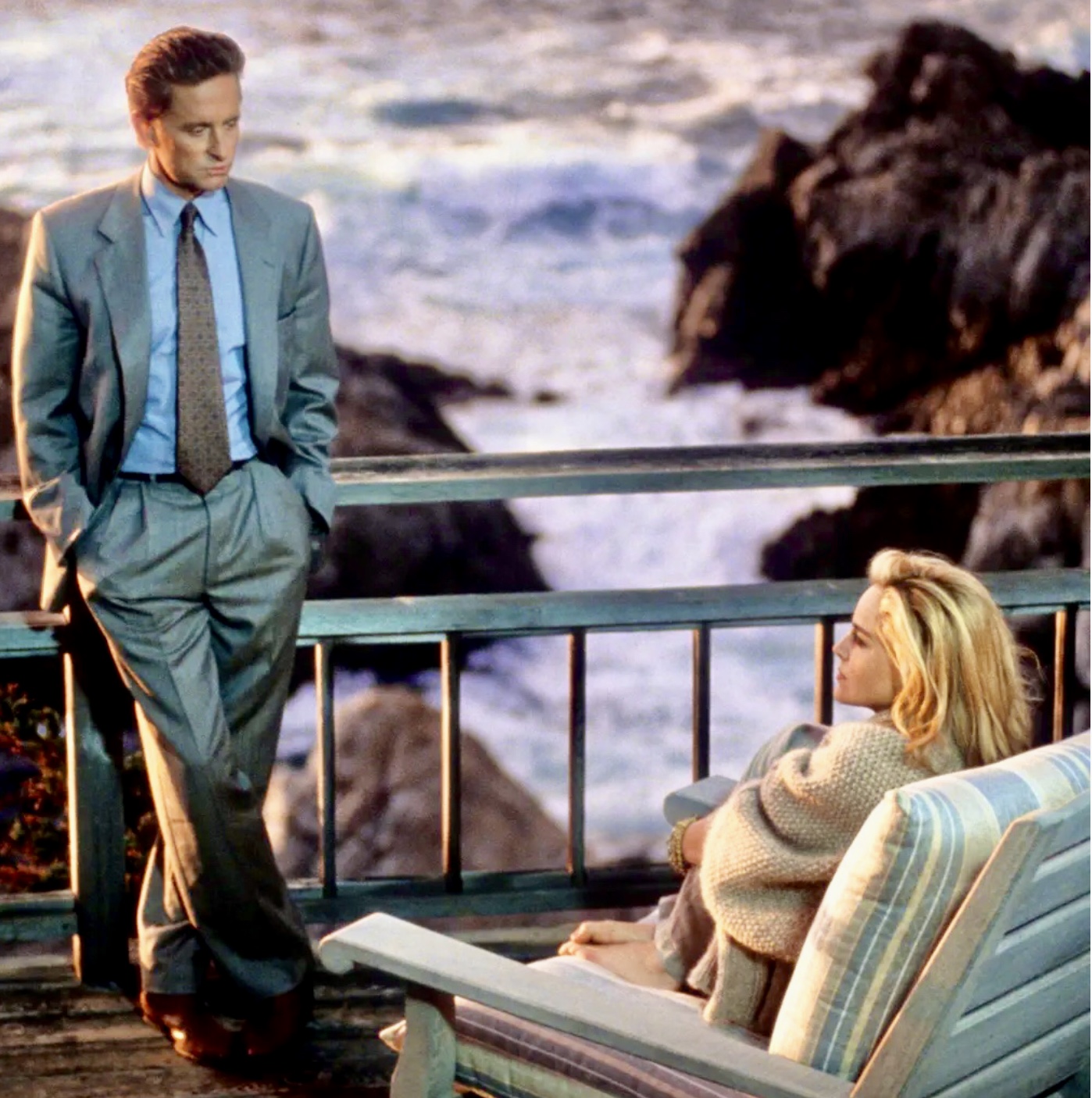 1992 movie Basic Instinct starring Sharon Stone and Michael Douglas filmed at Seven Coves
Wisdom is recaptured underthe dome of Kepler's planetarymotion, in the library
In 2021 wisdom will be recaptured in the quiet rapture of a book or a powerful telescope looking deep into the reaches of the expanding Cosmos. Or perhaps it will be far more passive, less purposeful or intellectual. It may simply be a moment where time stills because we are not distracted by the world's ills. In this sense the bolt of intuitive enlightenment may simply hit you under the canopy of Seven Coves mysterious Cypress trees during the late hours of a golden tinctured afternoon.
When seeking tranquility and shelter from the recent chaos of the world, there is nothing like stealing time and settling in with a good book in a comfortable time worn lounge chair. One of the most inviting nooks within the overall compound at Seven Coves is the Lodge Library and adjoining reading rooms. This double story Art Deco Architectural masterpiece of a Library replete with built-in oak bookshelves and a custom wrought iron rail and oak ordained spiral staircase is further highlighted by a silver-and-gold-leaf domed ceiling which depicts a mural of Johannes Kepler's "Laws of Planetary Motion." The library is stocked with a vast collection of both popular reading materials and a rare book collection. The Library itself cost more than $2.5 million dollars to bring to fruition and housed one of the greatest collections of historic archives and manuscripts covering worldwide adventures and exploration, a theme that Steve Fossett, the former owner of the Lodge, was rightly passionate about, as he was definitively one of the world's greatest explorers and adventurist. At one-point, Steve Fossett held hundreds of World records in numerous disciplines. He was friends with Richard Branson, whose Virgin Group sponsored a number of Fossett's sailing and aviation attempts. This included the "ultimate flight" when in February 2006 Fossett flew the Virgin GlobalFlyer for the longest uninterrupted and unrefueled aircraft flight in history, covering 25,766 miles. He was the first person to complete a solo circumnavigation of the Earth in a hot air balloon. He broke records of speed and distance as a sailor and was one of the sport's most prolific distance record holders. He participated in races across many disciplines, including the Iditarod, Ironman and Paris to Dakar Rally. He also swam the English Channel and climbed some of the highest mountains on Earth.
To further indulge his appetite for adventure and exploration Steve put endless hours into collecting and curating one of the world's most significant libraries featuring the subject that mattered most to him…. and by all accounts was a well-informed collector and expert curator. His library shelves featured significant works in the fields of aeronautics, Arctic and Antarctic exploration, circumnavigation and mountaineering. There were important manuscripts and archives of some of the most notable figures in the field of exploration, including Captain James Cook, Charles Darwin, Sir Francis Drake, Alexander von Humboldt, Lewis and Clark, William Schouten and Ernest Shackleton. Highlights include a copy of Barthelemi Faujas de Saint-Fond'sDescription des Experiences de la Machine Aerostatique de MM. de Montgolfier, which describes the first manned flight, and a copy of Aurora Australis, the first book printed in Antarctica by Shackleton and his team and a first collected edition of Sir Francis Drake's voyages and a copy of the first edition of Leo Africanus' A Geographical History of Africa. In summary, an extraordinary reading room and Library filled with extraordinary books by an extraordinary man.
Fossett disappeared in 2007 after taking off on what was supposed to be a short pleasure flight only to have his crash site discovered almost an entire year after his demise well after the largest and most expensive search and rescue effort ever conducted in the US came to abrupt end.
Gardens Healing and restorative effects
The lockdown in 2020 have fostered a hunger for personal freedom and green spaces, parks, hiking trails, and gardening. The importance of nature as a source of healing has become increasingly clear. Unfortunately, adults and children alike have been couped up with a mask and with little fresh air or room to roam and stress relief can be hard to come by, yet it's something people are seeking this year. COVID caused a dysfunctional world to accelerate into a far more decentralized and technology dependent society and time spent by parents and children in front of a screen instead of out in nature has evolved and grown to disturbing proportions.
This Holiday season, the 1911 children's book The Secret Garden has been released in film for the fourth time in its illustrious history and critics calling it "a sparkling COVID antidote". For those who are tired of being stuck inside during this pandemic, look no further than Seven Coves gardens and trails for a safe and therapeutic way to get outside. Overgrown and mysterious, or pruned and manicured, Seven Coves offers it all, amidst its eight separate gardens and awe-inspiring sea coast trails and panoramas.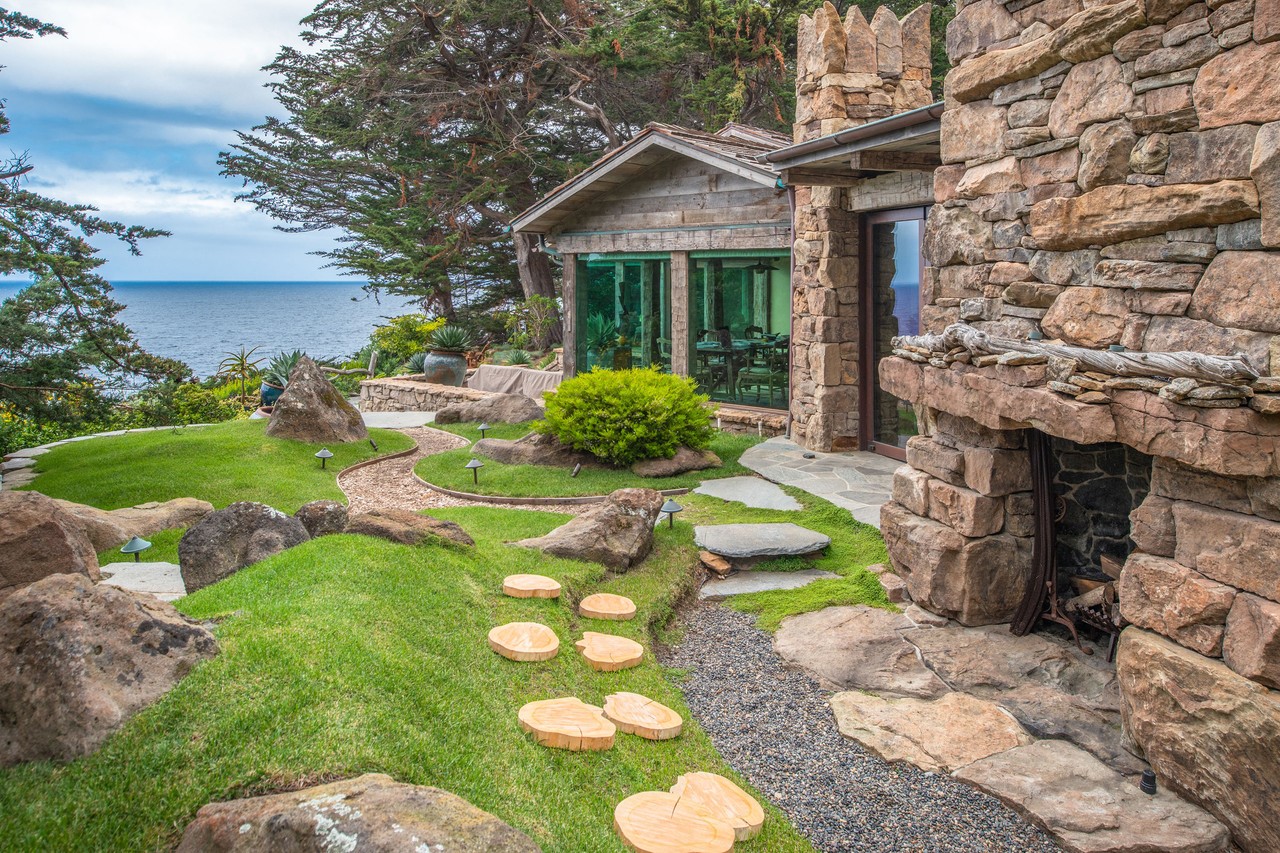 In this respite of Highlands coastline, an already awe-inspiring natural landscape has been enhanced with over 150,000 pounds of mossy boulders, a broad variety of garden plants, ferns, succulents, grasses, groundcovers which have been complemented by large floating flagstone steps, gracious footpaths and lighting. Strategically cited water-features and viewing benches that have been placed throughout the property's garden paths and coastal trails remind the observer to live in the moment and take it in, for it surely will not get any better than where he or she stands. Seven Coves guests find a healthy and carefree distraction in exploring the estate's vast grounds. It is typically on one of these jaunts that they often discover their own secret garden, where they can mend the wounds of the past and transform hopeless grief into possibility.
The varied plant life thrives in essentially five distinct microclimates. Succulents and salt-resistant groundcovers are utilized throughout the shade of the cypress forest; tall, long-bladed fescue meadow grasses are used in the middle of the property with its dappled sunlight; bougainvillea, flowering plants, junipers, and more delicate, sun-thriving groundcovers are used in the courtyards and in lawns with protected eastern exposures; large stands of rare native white succulents (Dudleya farinosa), native (Limonium) sea lavender, and various sedums run wild and soak up the sea mist in and along Fossett Point to the north; and, finally, a more manicured garden with waterscapes, a koi pond, and a mix of ferns, and native, salt-tolerant flowering species such as Hebe's, and Ceanothus thrive in the protected northeastern sun-exposed areas in the front quarters of the Lodge while a variety of orchids grown in the greenhouse add color and comfort within.
While feeling completely rural and private, Seven Coves is less than 4 miles south of the quaint town of Carmel-by-the-Sea and less than 15 minutes from Pebble Beach Resort and its world-famous golf courses. The property resides in one of the most coveted alcoves in the area known as Carmel Highlands, and from these Highlands one can make their way, less than 1 mile north to the hiking trails of Point Lobos State Reserve; where early Northern California oil painter, Francis McComas famously proclaimed that he had discovered."Gods greatest meeting of land and sea." And if that is not enough, the Soberanes Redwood forest and the white sand beaches of Garrapata Beach reside only four miles to its south. Seven coves staff truly enjoys arranging unique experiences for its guests, including private hiking excursions up in the Big Sur area, exclusive golf reservations to some of the world's best golf courses, proprietary wine tasting excursions into Carmel Valley appellation, they have even helped coordinate two days of silent retreat for a couple of their guest at the Camoldoli Hermitage in Big Sur.
This rare magical compound is only a short drive from San Francisco and Silicon Valley through the scenic coastal route Highway 1 between Carmel and Big Sur. It is available as your private retreat to renew and recharge. For information and availability, visit SevenCovesCarmel.com.
Possibilities for living and entertaining are spread across four parcels and five houses, each with a variety of bespoke finishes which enhance the natural surroundings. Mean-dering paths weave through-out the property, providing the opportunity to enjoy the thoughtfully placed oceanside gardens and travel down to the Pacific's edge on a selection of coastal stairways. Situated in a place of extraordinary privacy and located on one of the most coveted alcoves in the Carmel Highlands.