Elevate your celebrations with these local bottles
By Erin Hunt Moore
While sparkling wine lovers agree that the perfect time for bubbles is, well, any time, sparkling wine pairs perfectly with the holiday season. Although this holiday season may look a little different than we're used to, with smaller dinners and more intimate soirees, more take-out and home cooking, there isn't a better time for sparkling! In this year of challenges, consider adding locally crafted bottles to your dinner menu and gift list, giving our local wineries a needed lift after recent fires and difficult pandemic months. If a day or weekend trip to wine country is on your holiday itinerary, be sure to make reservations in advance to ensure properties are open and you understand their current reservation policies.
We've selected a number of sparkling wines to highlight from our neighbors up north in Sonoma County, established icons to newcomers, and smaller, interesting labels. All are available for online purchase and direct shipping, which is helpful in these times!
THE CLASSICS
DOMAINE CARNEROS
Although Domaine Carneros officially has a Napa address, the Carneros AVA stretches across both Sonoma and Napa. Domaine Carneros provides a lovely stop between the two. Founded by the noble family behind Champagne Taittinger, it is one of the most stunning, elegant estates in the region with its French-inspired château, glass-walled jardin d'hiver, expansive terrace, and sweeping valley views. Domaine Carneros produces traditional method sparkling and still wines from almost exclusively estate grown Pinot Noir and Chardonnay grapes.
2013 Le Rêve Blanc de Blancs ($120)
Gorgeously crafted from 100 percent Chardonnay, this is that very special bottle for a gift or celebration. French for "the dream," Le Rêve is Domaine Carneros' respected tête de cuvée, the winery's finest sparkling wine and frequently named America's Best Sparkling. Expect lovely notes of toasted brioche, honeysuckle, yuzu, citrus blossoms, and a hint of ginger, with a palate opening up to honeycomb and lychee.
2014 Jardin d'Hiver Cuvée ($59)
This limited edition cuvée, a dry and richly layered, late-disgorged ultra-brut, is a completely new style at Domaine Carneros. This special bottle was released in honor of the Château's beautiful new Jardin d'Hiver, a grand glass room overlooking the sweeping vineyards and rolling hills of Carneros. Aromas of caramelized pear, toasted macadamia nut, fresh flowers, and crisp green apple with a hint of lime zest combine with notes of pear, lychee, key lime, and honeydew melon on the palate. Exquisite!
Visiting the Estate: Domaine Carneros offers tastings on their terrace by reservation. With its expansive outdoor space with stunning views and array of curated tastings and pairings, Domaine Carneros is a perfect and safe setting for enjoying the best of wine country. Visit Domaine Carneros online for more information.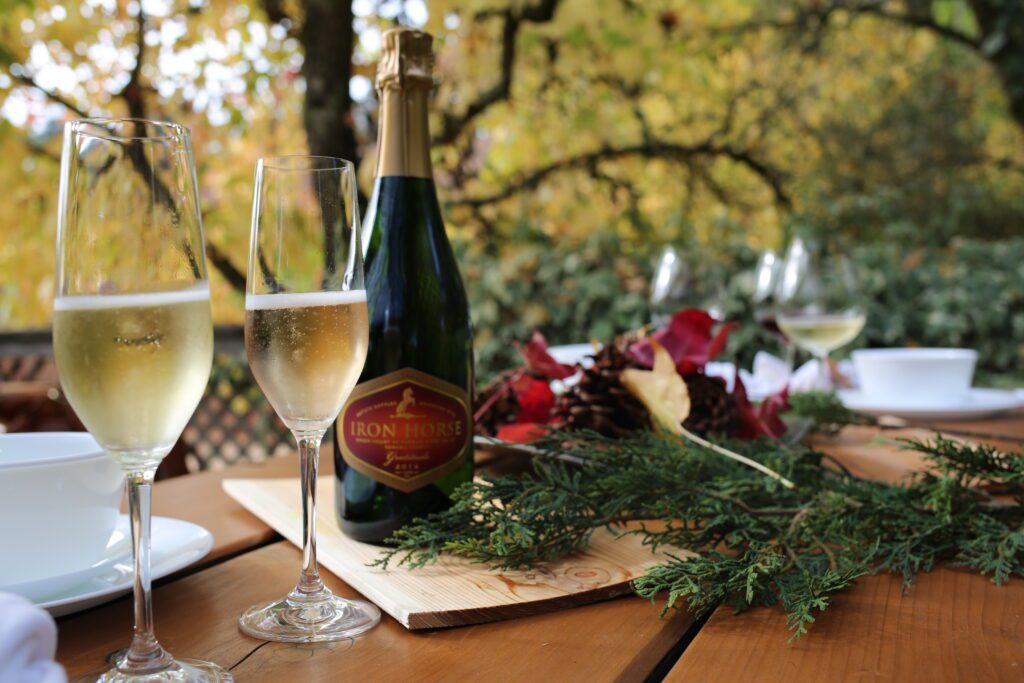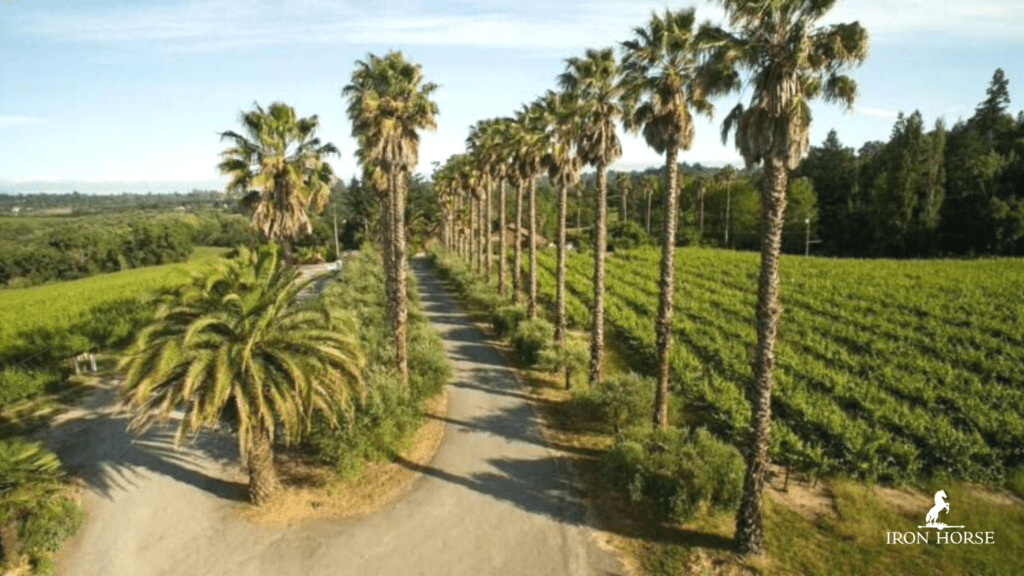 IRON HORSE VINEYARDS
Founded by Barry and Audrey Sterling in the mid-1970s, Iron Horse is a family-run winery and ranch producing elegant, beautifully balanced estate sparkling and still wines from its own Green Valley AVA in the Russian River Valley. In addition to producing world-class wines, Iron Horse is widely respected for its commitment to environmental issues, stewardship of the land, and positive impact on its own community and the world beyond.
2016 Classic Vintage Brut ($48)
Sometimes, you've just got to go with Vintner's Choice! This is considered the "flagship" of the Iron Horse bubblies and is co-founder Audrey Sterling's favorite sparkling, which says a lot. On the nose: rising dough, orange marmalade, and baked apple. On the palate: ripe red apple, mandarin orange, and hazelnut.
Brut LD 2012 ($110)
This is your bottle for that special celebration, a gift for your connoisseur, or to ring in the much-anticipated new year. The Brut LD (meaning late-disgorged or aged longer) is Iron Horse's tête de cuvée or top-of-the-line sparkling. The longer aging creates a rich, refined, and creamy sparkling with aromas of rising dough, orange marmalade, and baked apple and notes of ripe red apple, mandarin orange, and hazelnut. Crispy pommes frites with sea salt and black pepper or truffle popcorn, anyone?
This holiday season watch for the release of Iron Horse's special cuvées, Gratitude and Resilience, beautiful bottles with proceeds supporting post-fire relief efforts.
Tastings are available on-property by reservation. Visit the Iron Horse online for more information.
J VINEYARDS & WINERY
It's impossible to miss the beautiful bottles from J Vineyards & Winery, with their elegant signature "J" (often a graceful swish of vibrant gold). Founded in 1985 by geologist Judy Jordan, J has as long been known as a top producer of European inspired—yet distinctively Californian—sparkling and still wines. Winemaker Nicole Hitchcock leads J today in crafting their acclaimed portfolio of 12 sparkling wines and additional varietal wines.
J Cuvée 20 Brut ($38)
This should be a staple at every holiday gathering: a delicate dance of bubbles with soft flavors of lemon meringue pie and a lovely nose of toasted almond layered with apple, dried cranberry, and ginger snap. The perfect aperitif, pair this versatile sparkler with Dungeness crab cake or lobster roll, fresh popped white cheddar popcorn, or goat cheese rolled with herbes de Provence.
J Brut Rosé ($45)
Pink just feels festive! This lively, pink salmon-hued sparkling Rosé is the perfect party starter. Lovely nose of jasmine blossom, raspberry, tangerine, and kaffir lime leaf combine with notes of ripe strawberry, Bing cherry, blood orange, and lemon meringue. Pair this lively sparkling Rosé with tuna poke or grilled prawns or citrus-forward dishes.
Visiting J
The world-class winery and tasting room is just south of the town of Healdsburg off of Highway 101. The property offers a breadth of beautiful tasting menus and pairing experiences from in-house Chef Shelton. For additional information on where to find and purchase wines or to make reservations, visit online.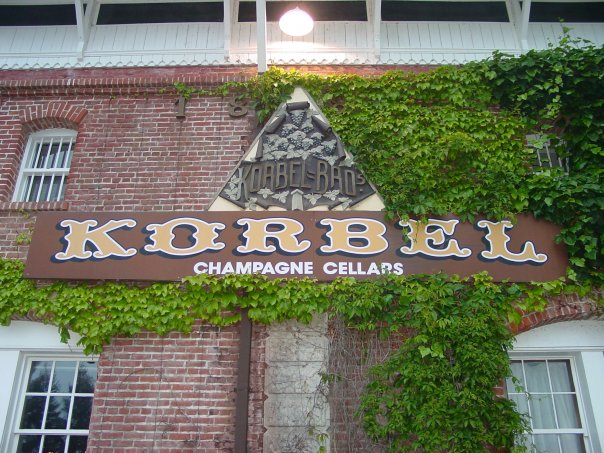 KORBEL
Korbel is known for its crowd-pleasing, excellent value and widely available sparkling wines. But what many may not be aware of is the rich history of the winery dating back to the 1880s. It started as and remains a family-run operation founded by the three Korbel brothers from Bohemia (formerly part of Czechoslovakia and Germany) in the mid-1800s. They then sold to winemaker Adolph Heck in 1950. It remains privately owned by the Heck family today.
Korbel 2017 Russian River Valley Natural ($16)
A crisp, delicately dry sparkling wine, this is your oyster wine! Fruity and well-balanced, the 2017 RRV Natural is a blend of Chardonnay and Pinot Noir grapes, giving this sparkling a lovely range, from notes of art green apple, citrus, and tropical fruit to strawberry and peach elements.
Korbel 2016 Master's Reserve Blanc de Noirs ($30)
A truly interesting bottle, the 2016 Sonoma County Master's Reserve Blanc de Noirs is primarily a red grape blend, using five different grape varieties: Pinot Noir, Zinfandel, Gamay, and Sangiovese, with Chardonnay the only white used. It has lots of expected red fruit (strawberry, raspberry, and cherry), but the full-bodied red grapes add a kick of spicy black pepper with some earthy elements, balanced with peach and subtle citrus notes from the Chardonnay.
Visiting Korbel
Nestled under the stately redwoods, the historic winery and tasting room traditionally offer tours and tastings daily, but have been limited to reservations in these times. Visit Korbel online to order wines or learn more about a visit.
BUZZWORTHY BOUTIQUE BRANDS
AMISTA VINEYARDS
Dry Creek Valley has not traditionally been known as a sparkling wine region, but family-run Amista Vineyards took up that gauntlet and is now in its 10th year as the premiere producer of sparkling wines in the valley. Amista is owned by Mike and Vicky Farrow, with rising star winemaker Ashley Herzberg overseeing their sparkling program. Amista's sparkling wines are estate grown and crafted in the traditional method, focusing on Chardonnay and Rhône varieties.
Amista Blanc de Blanc ($46)
This is a crowd-pleaser! Crafted from 100 percent Chardonnay, this wine has beautiful acidity and a dry finish which lingers. Inhale aromas of Asian pear and crisp green apple with hints of lemon meringue and citrus blossom. It is bright and crisp on the palate with layered citrus zest and a touch of ripe pear.
Amista Sparkling Syrah ($46)
With a rich berry hue, this wine is absolutely beautiful in the glass. Expect aromas of freshly picked strawberries, blackberries, and lemon zest. The palate is delicate and light, yet striking in depth of character. You won't want to stop drinking this wine.
Visiting Amista
With extensive outdoor grounds extending to the banks of Dry Creek, Amista offers a range of well-spaced, thoughtful tastings and experiences by reservation, including a daily vineyard adventure walk. Visit Amista online to learn more.

BREATHLESS WINES
Founded in 2017, Breathless Wines is a boutique family winery in Healdsburg, CA started by sisters Sharon Cohn, Rebecca Faust, and Cynthia Faust. Together with acclaimed winemaker Penny Gadd-Coster, this all-female team is dedicated to crafting refreshing method champenoise sparkling wines that pair perfectly with life's special moments. And they are sweeping up the awards. This is a group to watch, and drink with!
Breathless Brut ($27)
This is a lovely expression: light, refreshing, and delightful! Enjoy pink grapefruit, green apple, and citrus flower aromas and a touch of tropical fruit with just a hint of yeast. Look for a beautifully balanced, smooth finish. This wine is made with 60 percent Chardonnay and 40 percent Pinot Noir and aged 24 months.
Breathless Blanc de Noirs ($32)
The Sweepstakes winner for Best Sparkling Wine at the 2020 San Francisco Chronicle Wine Competition, this is a gorgeous sparkler! On the palate, taste brioche and a hint of berry with bright citrus aromas. This wine combines 93 percent Pinot Noir with 7 percent Pinot Meunier and aged 32 months.
Visiting Breathless Wines
The vintage 1920's style Healdsburg tasting room is crafted from recycled shipping containers and offers a spacious outdoor garden for leisurely picnics, Muglaini wood-fired pizza, and Italian sabrage lessons. Guests are welcome to book reservations Thursdays through Mondays, 11:00 a.m. to 6:00 p.m. For more information or to purchase wine for pick-up, delivery, or shipment, please visit Breathless online.
BRICK & MORTAR WINES
Sonoma-based wine and hospitality veterans Matt and Alexis Iaconis, acclaimed winemaker and advanced sommelier, respectively, founded this winery in 2011. Brick & Mortar focuses on single-vineyard Chardonnay, Pinot Noir, and Syrah from select, high-elevation Napa, Sonoma, and Mendocino vineyards. They recently added methode champenoise sparkling, vin pétillant-style rosé, and a new line of canned wines. Their wines are elegant, balanced, and food-friendly: the European wine drinker's California wine.
2016 La Perla Brut from Spring Mountain ($55)
A new release for Brick & Mortar, this elegant, aromatic sparkling is made from 100 percent organic fruit from a biodynamically farmed vineyard on Spring Mountain (St. Helena). You can expect notes of lemon custard, spiced apple, and white blossoms from this wine.
2016 Block House Vineyard Brut Rosé, Napa Valley ($45)
This sparkling is pure, copper-hued elegance with velvety-smooth bubbles. Made with 100 percent Pinot Noir from the Yountville area of Napa Valley, this is a traditional method sparkling wine made into a rosé with the addition of 4 percent still Pinot Noir. On the nose, expect red cherry, almond blossom, strawberry, Chinese five spice, and chalky mineral tones. On the palate, this wine is both powerful and subtle, with citrus notes, spiced orange, cherry compote, and ginger cake. This wine is billed as naturally made, vegan, and gluten free.
Where to find: In addition to purchasing direct online through Brick & Mortar, select sparkling wines are showcased at Region, the newly opened tasting room in Sebastopol's cutting-edge maker district, the Barlow. This innovative industrial district houses a number of tasting rooms, restaurants, clothing boutiques, a craft distillery, coffee roaster and more. For more information on ordering and enjoying these wines, visit Brick & Mortar online.