Ittoryu GOZU's thoughtful take on beef begins with a red-roofed château in the snowy mountains of Japan.
Born in the heart of Canada's cattle country, I've been familiar with beef for a long time. Growing up, I grazed on barbecue roast beef on a bun at the annual rodeo and dined on flame-grilled ribeye steaks at family reunions. Certified Angus beef was a staple on local menus from holes-in-the-wall to the finest dining rooms, and as a young adult I procured a sous vide cooker and learned to finish filet mignons with a torch. When I moved to California, I added yet another important piece of bovine knowledge—the tri-tip—to my repertoire.
The rising popularity of wagyu led to a deeper appreciation for beef. On my last pilgrimage to Japan, I boarded a bullet train an hour out of my way to a restaurant dubbed "The Beef Wonderland" for a taste of rare Tosa Akaushi (Japanese Brown Cattle) cooked yakiniku-style with hitotema, which the owner roughly translated as "time and effort." Closer to home, I spotted a balsamic-rubbed American wagyu tri-tip in a Noe Valley butcher shop. "I better do this justice," a friend said nervously as he fired up the Weber. After half an hour under a watchful eye, a knife sliced through the revered roast like room-temperature butter. The room was silenced, in the way only great food can accomplish, as the perfectly medium-rare wagyu melted in our mouths.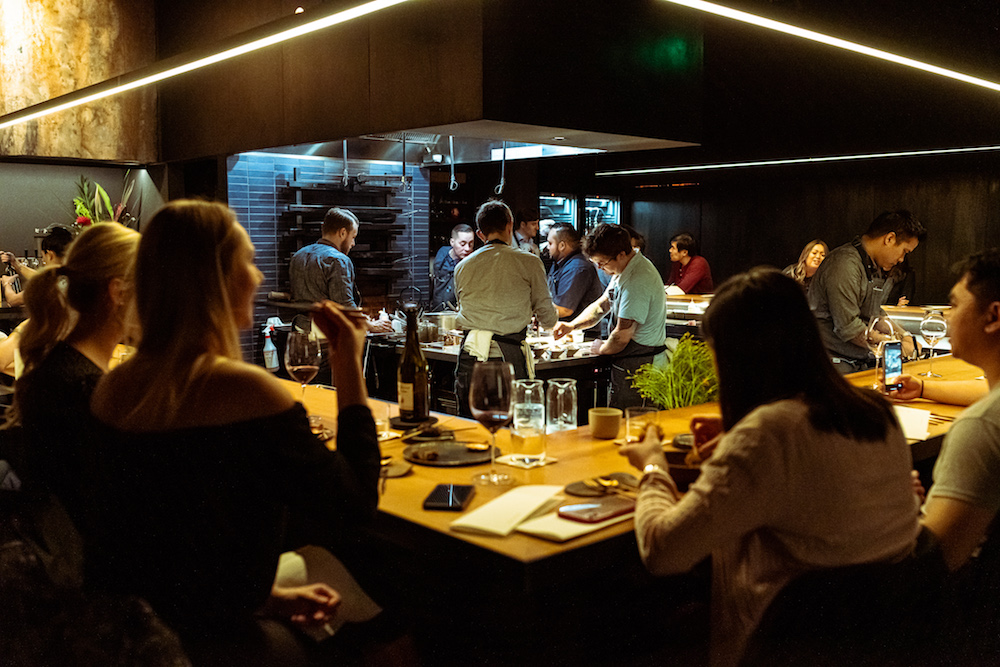 Itadakimasu / I humbly receive this meal
Like a Lagotto Romagnolo to truffles, my latest quest for exceptional beef brought me to Ittoryu GOZU, where respect for the animal and cooking with fire are central to the dining experience. In light of the indoor dining restrictions, the restaurant launched GOZU-Chan Highball Garden and Robataya in late July, a relaxed outdoor experience featuring socially distanced tables in the courtyard adjacent to the restaurant. At this al fresco dining room, flames flicker from a portable konro grill helmed by Chef/Owner Marc Zimmerman—a kindred spirit in the appreciation of beef.
Hailing from Indiana, Zimmerman worked in a number of high-profile Las Vegas restaurants before relocating to San Francisco. He was tapped to open the first Alexander's Steakhouse in the city and spent nearly eight years developing restaurants for the group, including locations in Taipei and Tokyo. Although he had his first taste of wagyu while working at Tom Colicchio's Craftsteak in Las Vegas, it was at Alexander's that the idea for GOZU began to take hold. "Beef, and wagyu in particular, began to fill my mind constantly," he says. "I began thinking about how we could do more, use more of the animal, and show it the full respect it deserves."
One of the most coveted menu items in the world, wagyu is a breed of Japanese cattle known for its rich flavor and melt-in-your-mouth texture thanks to its fat, which has a melting point near body temperature. Factors such as aging and marbling determine its grade, with A5 being the top tier. After spending nearly a decade chasing the best beef around the world, Zimmerman's opened GOZU, his first solo venture, last November. He sources his A5 wagyu from a private reserve in Hokkaido called Chateau Uenae, which raises "craft" Japanese Black Wagyu cattle bred for impeccable consistency and unmatched flavor.
The farm is the sole producer of Hokkaido "Snow Beef," named for its genetic predisposition for finely grained marbling in which delicate streaks of intramuscular fat distributed throughout the muscle resemble lacy snowflakes. This is the rarest regional variant of Japanese wagyu; only one or two cows receive the esteemed classification on a monthly basis.
Located in a small coastal town with frigid temperatures, these purebred cattle grow a thick coat that encourages a unique style of fat dispersion. The fat in this exceptionally rare wagyu boasts a lower melting point than other wagyus, and the result is an intense, almost creamy, sweetness that coats the taste buds with every bite. The cattle are also treated with utmost respect: raised outdoors, groomed regularly, and fed a diet heavy on Hokkaido's famous sweet corn.
GOZU's nose –to tail philosophy continues Chateau Uenae's tradition of respecting the animal. Zimmerman does intensive research into underutilized and traditional methods of using every part of the cow, such as the fermentation of beef into garum, a technique that dates back to the Roman empire. At GOZU, scraps are used to make shoyu, bones are used as charcoal, and fat is rendered to make sauces for many of the dishes.
Oishi katta desu / It was delicious
In the GOZU-Chan courtyard, Zimmerman overlooks the konro grill on which skewers are cooked over kishu binchotan. Sipping on an ume toddy, a warm plum whisky cocktail that helps take the edge off San Francisco's nighttime chill, I observe other diners congregating over plates of sizzling meat, seafood, and vegetables. The popular fingerling potatoes combine tallow with caviar, melding together the flavors of land and sea. Similarly, the wagyu-stuffed morel offers ingredients that complement one another richly: the tender wagyu brisket confit alongside grains of sweet, sticky Koshihikari rice, wrapped inside the earthy-flavored, honeycomb-textured mushroom topped with a silky yuzu beurre blanc. Brentwood corn halves are grilled with creamy, European-style butter, topped with crisp granules of wagyu bacon, and dusted with shichimi. The broccoli rabe, a tart intermission between the buttery meat skewers, awakens the senses with an aromatic karashi mustard and tendrils of shaved miso-cured jidori egg yolk. The velvety prawn is an explosion of umami from the koji butter, which brings out the sweet brininess of the shellfish.
The beef is handled just as carefully, as expected, with the use of innovative ingredients that complement its rich flavors. A koji-aged Lone Mountain wagyu tri-tip sandwiched between supple morsels of Tokyo negi has a bold, beefy taste, yet its fat is silky and sweet—thanks to the higher percentage of healthy, high-quality fatty acids found in wagyu. The A5 Miyazaki wagyu strip loin, served with dashes of roasted garlic purée, is just meaty enough to provide a pleasant texture between the pillowy layers of buttery fat. One of the most surprising dishes was the niku-dango, meatballs made simply from wagyu scraps and glazed with a wagyu-based tare. Expecting a firmer texture closer to tsukune (its yakitori counterpart), I discovered that these beef meatballs were melt-on-your-tongue tender—perhaps another reason Snow Beef is named as such.
Another must-try: the burnt ends, a delicacy originally popularized in Kansas City you won't find on the menu at steakhouses. Forged from the crunchy, crusty points of a brisket, these caramelized nuggets of flavor are akin to "finding a pearl in an oyster," as American barbecue authority Doug Worgul puts it. A smoky departure from the other skewers, the burnt ends held their own, showcasing Hokkaido Snow Beef's versatility in this unexpected form of preparation. Brushed with a mildly sweet tonkatsu sauce and topped simply with a tangy bread and butter sunomono, this dish inspired an array of different flavors and textures. The caramel notes of beef were highlighted by the crisp charred crust which melted into the tender meat with a mouthfeel that was sweet, velvety, and creamy all at once—not unlike the milk Hokkaido is also so renowned for.
Last but not least was the ultra-rare, olive-fed, A5 Kagawa wagyu ribeye cap, which offers a denser texture and distinctly bold umami flavor courtesy of the cattle's special diet of toasted olive peels.
Betsubara / Always room for dessert
GOZU-Chan's sweets menu features its signature wagyu tallow-infused chocolate chip cookies served piping hot from the oven. Also on offer are mochi ice creams and a grilled Tenbrink Farms peach with shoyu caramel, served with milk bread ice cream featuring the distinctive full-bodied taste of Hokkaido milk. S'more bites made with caramelized Okinawan brown sugar marshmallows, a wonderfully fluffy graham cake, and shard of Tcho chocolate melt in your mouth as smoothly as the rounds of wagyu that came before it—the evening's delights coming full circle.
At many restaurants, one might select omakase (which runs approximately $150 per person at GOZU) as a way of receiving the best tasting experience, but at GOZU it's also a means to keep yourself in check—otherwise you might just get carried away, ordering seconds and thirds, chasing the high of discovering brilliant new flavors and textures. Not just a chophouse, and certainly not a traditional steakhouse, GOZU is an educational space where beef lovers can thoroughly savor the experience.
Gochisousama deshita / Thank you for the feast
While Ittoryu GOZU can be simply translated to "one animal (beef) discipline," Zimmerman explains that the restaurant is not only about wagyu. Rather, "it is about working with animals and sea life from Japan and California, studying the nuance of flavor, and cooking them in their entirety over live fire." When indoor dining reopens, GOZU's next iteration will feature a menu that more fully integrates beef, while still providing a balanced experience including sea life, market produce, and poultry. With all the time Zimmerman's team has had to further develop the philosophy of the restaurant, he teases that they've "also found some flavors that are uniquely GOZU."
Despite the setbacks of the pandemic, Zimmerman is unwaveringly passionate. "I wouldn't trade it for anything. I'm grateful for the opportunity to chase my dream in one of the greatest food cities in the world, [and] I'm proud of our scars and the strength our team has acquired through the sheer endurance of these crazy times."